header("HTTP/1.1 301 Moved Permanently"); header("Location: http://www.snipercentral.com/us-m1c-m1d/"); exit; include 'inc/menu.php'; displayHeader("US M1C & M1D Sniper Rifle"); ?> U.S. M1C & M1D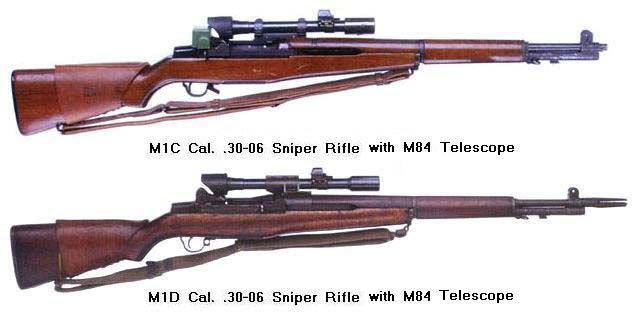 US Army File Photo
---
Calibers:
.30-06 Springfield (7.62x63mm)
Magazine:
8 round internal box magazine.
Barrel Length:
24" (610mm)
Barrel Profile:
4 Grooves, RH Twist
Weight:
~11 lbs (~5 kg)
Overall Length:
43.6" (1107mm)
Stock:
Standard M1 Garand
Sights:
2.5x power M81/M82, and 2.2x power M84 were all used
M73B1 2.5x Telescopic site (Weaver 330C) was an alternate
Features:
T4 Cheek pad, and M2 flash suppressor were accessories. The more advance T-37 flash suppressor was never "officially" adopted.


The M1 was adopted as the standard issue rifle in 1932 and started to enter service in 1936, which led to constant refinement of the rifle. This precluded any work on a sniper version of the M1, but as the war broke out, there was a large demand for scoped rifles, and this lead to the adoption of the M1903A4 and also the authorization to produce a sniper version of the M1. Work was slow and finally the M1E7 and M1E8 were evaluated. In June of 1944 the M1E7 (renamed M1C) was adopted as the standard issue sniper rifle and replaced the M1903A4 making it "Limited Standard". The M1E8 (renamed M1D) was adopted in September of 1944 as a "Substitute Standard". The only difference between the C and D was the scope mounting system.

Only small numbers of M1C/D's made it to the frontlines in WWII, so they were never really battle tested, until the Korean conflict, when they were still the standard issue sniper rifle. There they proved satisfactory with the max range being about 600 yards, with fairly reliable hit percentages from 4-600 yards. Of course the 2.5 power scopes were a severe limiting factor to the max range. There was no military match ammo that was issued to snipers, so they just used standard ball, which I'm sure hurt the accuracy of these weapons also. The rifles continued their service until the mid 60's and the vietnam conflict. The M1C also became the USMC standard issue sniper rifle in 1951, and was used extensively by the USMC during the Korean conflict. The USMC adopted a new scope in 1954 known as the Model 4XD (a 4x Scope produced by Stith-Kollmorgen) but it did not see much combat use.

I have shot M1C's and they are an acceptable performer out to about 500 yards, after which its tough to hit man size targets. It is tough to be objective having been spoiled with the M24 and other modern sniper rifles. These are classic sniper rifles, and they bring in a hefty collectors premium for good rifles, but they are a fine addition to anyones rifle collection.
---
Return to rifles list
include 'inc/footer2.php'; ?>