header("HTTP/1.1 301 Moved Permanently"); header("Location: http://www.snipercentral.com/u-s-m25-xm25-sniper-weapon-system/"); exit; include 'inc/menu.php'; displayHeader("U.S. Army & U.S. Navy M25 & XM25 Sniper Weapon System"); ?> U.S. Army & U.S. Navy M25 & XM25 Sniper Weapon System



Thanks to Clint Morris for the image

---
Caliber:
7.62x51mm NATO (.308 Win.)
Capacity:
20 or 5 round detachable box magazine
Mechanism:
Rotating bolt, gas operated, air cooled,
Semi-automatic magazine fed rifle
Weight:
10.8 lbs (4.9kg)
Length:
44.3" (112.5cm)
Barrel:
Match Grade, Heavy Contour, 22", 1:11 RH twist
Stock:
McMillan Fiberglass, glass bedded.
Trigger Pull:
Specially tuned 4 1/2 pound match
two-stage military trigger
Sight:
Typically B&L 10x Tactical (Leupolds are also used)
Max Effective Range:
900 m (983yards)


The M25/XM25 is a joint venture sniper rifle, built for both the US Army Special Forces and the US Navy SEALs. It was orginally developed by the 10th SFG base at Ft. Devens in response to a requirement for a match grade M14 for Special Forces sniper teams. USSOCCOM was dubbing the rifle the "Light Sniper Rifle", and its also known as the "Sniper Security System" and "Product Improved M21".

The M25 is similar to the M21 in many regards, its a National Match M14 glass bedded in a McMillan fiberglass stock, uses a special gas piston, a National Match spring guide and a BPT (Brookfield Precision Tool) Advanced Scope Mounting System. Most rifles use the B&L 10x Tactical scope. Some of the Army rifles use some of the Leupold Ultra MK4 series of scopes. (Both the M3 and M1), and the Navy rifles have been seen with Leupolds also (MK4s and VariX-III LR M3s). Ops Inc suppressors have also been used on some of the rifles.

The rifle has been referenced as both the M25 and XM25 in US Navy and US Army docs, so I guess the rifle has two official nomenclatures. The M25 is NOT a replacement rifle for the M24, it was requested by the USSOCCOM to fill a specific need, and it served extremely well in the Persian Gulf war. The rifle is still considered a "transitional system" but as far as I know there is no developement being done on a new semi-auto sniper rifle for SF.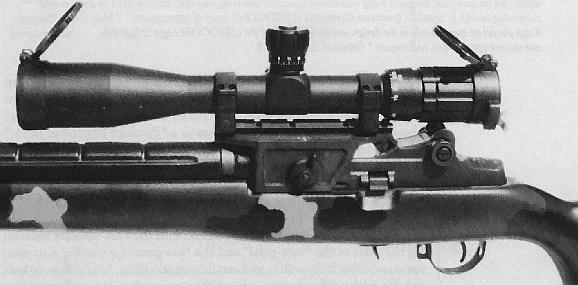 Close-up of a US Navy M25

---
Back to rifles list
include 'inc/footer2.php'; ?>