header("HTTP/1.1 301 Moved Permanently"); header("Location: http://www.snipercentral.com/philippine-mssr-marine-scout-sniper-rifle/"); exit; include 'inc/menu.php'; displayHeader("Filipino MSSR"); ?> Philippine MSSR - "Marine Scout Sniper Rifle"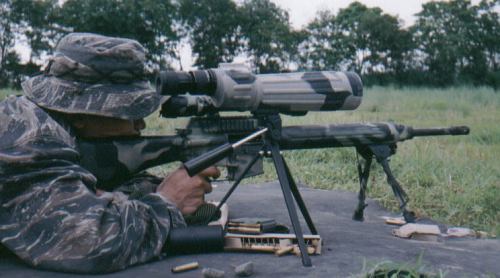 NSWAG with 3rd Gen MSSR

---
Caliber:
5.56x45mm NATO (.223 Rem)
Operation:
Gas operated semi-automatic
Scope:
Tasco Armored 3-9x40mm
Bushnell 3-9x40mm w/Mil-Dots (3rd Gen).
Feed:
20/30 round detachable box magazine.
Weight:
10 lbs (4.55 kg)
Length:
42.25" (107.3 cm)
Barrel:
24" (68 cm) DPMS Heavy Stainless Steel Match
20" (50.8 cm) DPMS Heavy SS Match (NSWAG 3rd Gen)
Barrel Twist:
RH 1 - 8.5", or 1-8" (3rd Gen)
Stock:
Black synthetic M-16A1 design with Cheek Rest.
Black syntehtic M-16A2 (3rd Gen)
Trigger:
J&P match trigger
Accuracy:
At least 1 MOA with M855 ammo


The MSSR was developed out of a need for a designated sniper rifle for the Landing Battalions of the Filipino Marines. They were operating on a limited budget, and didn't have the expert gunsmiths to modify a M14 or any of the other standard rifles used for sniping. But they do have the experts who know how to work on M16's. They have been producing the M16A1 under license for several years, and all the troops are framiliar with the handling of the weapon. So they did the logical thing and built a sniper rifle on the M16A1 platform.

The armorers take an existing M16A1 lower receiver and replace the upper with a DPMS match upper and Barrel. This includes a floating aluminum handguard tube and a Harris bi-pod is attached to that. They use a Tasco Armored 3-9x40mm scope, not really my first choice, in fact, not a very good choice in my opinion. But they did have a very limited budget to work with, so this is probably the one area they thought they could get away with cutting. They use a J&P match trigger that has been fine tuned. The rifles are tested and only get issued if they will shoot 1 MOA or better with M855 ammo.

I am not a fan of the 5.56mm being used in sniper rifles, but this is a unique case were it isn't such a bad plan. The limited ranges found in the Filipino jungles helps reduce some of the short comings of the round. The rifles will generally shoot right around 1 MOA out to 600 meters. The ease of training due to framiliarity with the M16 helps to reduce training costs, both for the sniper and the armorers. All in all, its not a bad implentation, and shows some creativity in developing a sniper rifle with a set of rigid constraints.

Update The Filipino Marines have started deployment of the 3rd generation MSSR with the Naval Special Warfare Group (NSWAG) and some Marines starting the transition. Changes to the 3rd Gen includes the DPMS 24 inch heavy barrel (with the NSWAG opting for the 20 inch). The new barrels have a change of twist from the old 1-8.5" to a new 1-8". The rifles also have a DPMS gas port, A2 pistol grips, and use three scope rings rather than two. The new 3rd Gen MSSR has also replaced the rubber coated Tasco scope with a Bushnell 3-9x scope with mil dots. The standard ammo for the MSSR has been changed from M885 to the federal 69 grain match. The MSSR has also began evaluation of Remington 700P's to be used as an intermediate range sniper rifle to compliment the MSSR and their long range .50 that is used in small numbers. With the upgrades to the MSSR, it has become a very nice rifle for its intended mission. Thanks to Lt Col John Martir of the Philippine Marine Corps for the updated info and images!!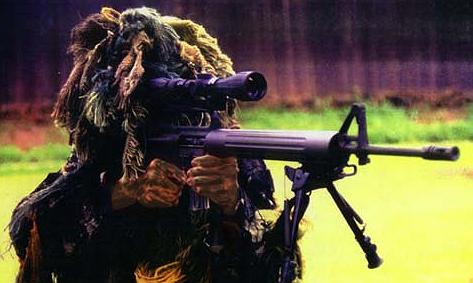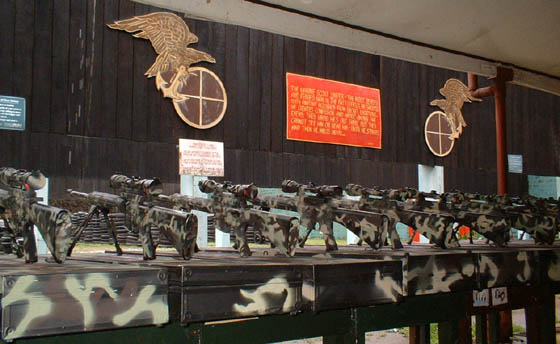 Marines take delivery of 3rd Gen MSSR



MSSR 1 and 2

---
Return to rifles

include 'inc/footer2.php'; ?>