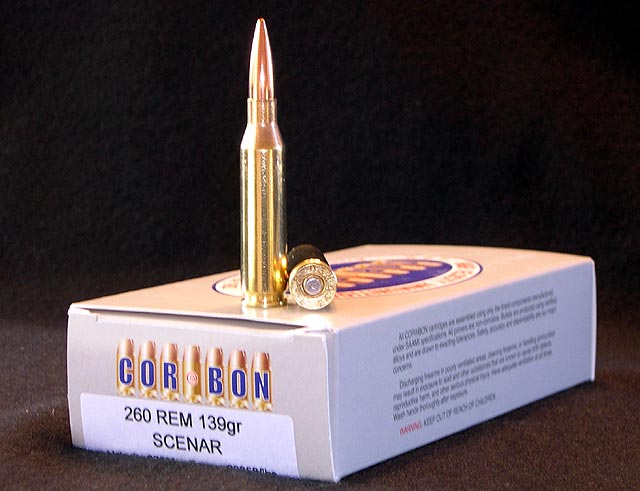 Manufacturer: Cor-Bon
Date Fired: 22 Sep 2007
Time Test Began: 1015
Range: Deer Creek Shooting Complex
Wind: 3-5 MPH
Temperature: 55° F
Elevation: 3200′ ASL
Lot Number: 20070101
Factory Velocity: 2750 fps
Product Number: PM260REM139
Purchase Price: $22.60 USD
Bullet Used: Lapua 139gr BTHP Scenar
Ballistic Coefficient: .615
Sniper Central Custom Remington 700 Tactical Rifle (SC2) Test Results
Average Velocity
Standard Deviation
Extreme Spread
Accuracy w/flyers
Accuracy no flyers
Best Group
2748 fps
13.43
39
.467″
.467″
.210″

Great load using the 139gr
Velocity is almost exact (2748 vs 2750) to the published velocity
Uses Remington brass
Very accurate load with very good velocities for this bullet in the shorter barrel
KMW Long Range Solutions Custom .260 Tactical Rifle
Average Velocity
Standard Deviation
Extreme Spread
Accuracy w/flyers
Accuracy no flyers
Best Group
2837 fps
18.01
57
.459″
.459″
.217″

4″ longer barrel gains 89 fps over the SC2
Very accurate out of this rifle with consistent groups
Faster than advertised velocity with this 26″ barrel
Velocity of over 2800 fps gives this load better ballistics at 1000 yards than the 300 Win Mag 190gr Match.
NOTE: "Accuracy with flyers" includes the raw averages including groups where the shooter called a bad shot before rechecking the placement of that shot. The "average without flyers" is the average group size with those "flyer" groups not added in.