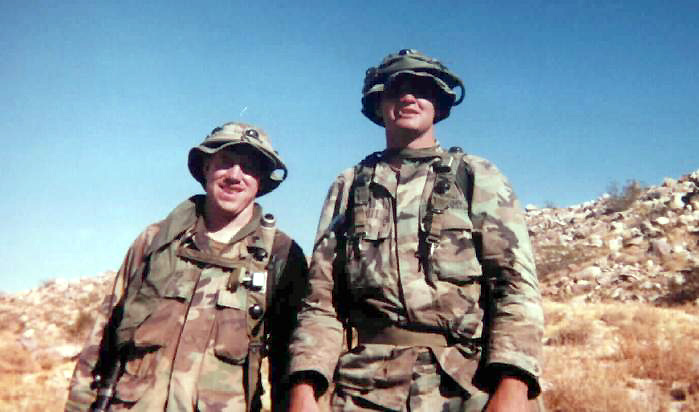 Mel (pictured on the left above), the founder of Sniper Central, was a sniper team leader for Co C. 1-163rd InBn(M) for about 4 years, based in Missoula Montana. The callsign for his Sniper Team for that entire duration was Blackbird 66 and you will see reference to Blackbird on several of these page. These times were immensely enjoyable and a great learning experience where he had the opportunity to go through and graduate the US Army Sniper school at Ft. Benning GA as well as attend and graduate a FBI SWAT sniper school taught by a FBI HRT training team in Missoula, MT for the local Police departments. This page is devoted to Mel's sniper team from the past. For a vast majority of that time, Spc. Witt was the other team member with Sgt. Ewing and he too was a graduate of the US Army Sniper School at Ft. Benning GA and is now a UH-60 Blackhawk Pilot. Below are some links to some of the things we did way back then…
Our Invasion of NTC. Includes an evaluation of sniper operations in a mech. environment and some background on our team.
From the desert at NTC to the snow of Montana… we trained for it all!