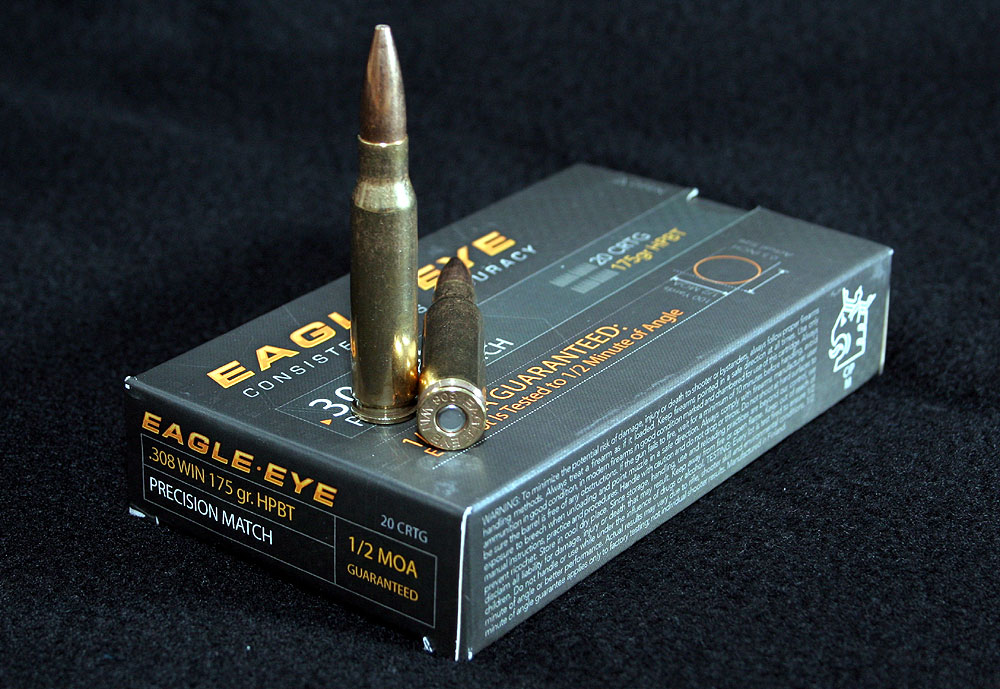 Manufacturer: Eagle Eye
Date Fired: 24 July 2015
Time Test Began: 0829
Range: Deer Creek Shooting Complex
Wind: 1-3 MPH
Temperature: 63° F
Elevation: 3200′ ASL
Lot Number: 31101408/3
Factory Velocity: 2600 fps
Product Number: EE308175hpbt
Purchase Price: $36.00 USD
Bullet Used: Eagle Eye 175gr BTHP
Ballistic Coefficient: .500
FN SPR A3G Test Results
Average Velocity
Standard Deviation
Extreme Spread
Accuracy w/flyers
Accuracy no flyers
Best Group
2648 fps
12.07
36
.872″
.872″
.412″

Excellent Standard Deviation and good extreme spread
The FN liked this ammo fairly well
Eagle Eye makes all their own components including their own bullet and brass
Snowy Mountain Rifles Paladin Test Results
Average Velocity
Standard Deviation
Extreme Spread
Accuracy w/flyers
Accuracy no flyers
Best Group
2677 fps
15.52
50
.744″
.744″
.559″

Very good standard deviation again, impressive
Groups were consistent, but not exceptionally tight
We love that Eagle Eye makes their own bullets and brass, will be testing further at longer ranges to see how their unique bullet performs.
NOTE: "Accuracy with flyers" includes the raw averages including groups where the shooter called a bad shot before rechecking the placement of that shot. The "average without flyers" is the average group size with those "flyer" groups not added in.