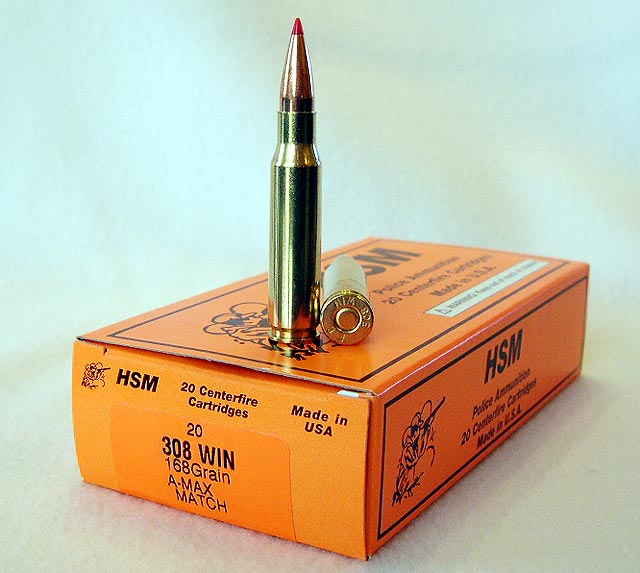 Manufacturer: HSM
Date Fired: 26 April 2008
Time Test Began: 0830
Range: Deer Creek Shooting Complex
Wind: 0-2 MPH
Temperature: 33° F
Elevation: 3200′ ASL
Lot Number: 1902-7AP
Factory Velocity: 2600 fps
Product Number: 308-15
Purchase Price: $18.99 USD
Bullet Used: 168gr Hornady AMAX
Ballistic Coefficient: .475
Remington 700 SPS-V/P Test Results
Average Velocity
Standard Deviation
Extreme Spread
Accuracy w/flyers
Accuracy no flyers
Best Group
2668 fps
34.78
94
.586″
.586″
.408″

Standard Deviation and extreme spread were high
This rifle liked this ammo and shot it very well
Velocities quite a bit higher than factory published figures
Actually shot this ammo better than the Bravo 51
Tactical Operations Bravo-51 Test Results
Average Velocity
Standard Deviation
Extreme Spread
Accuracy w/flyers
Accuracy no flyers
Best Group
2670 fps
24.94
80
.695″
.695″
.647″

Standard deviations and extreme spread were a little better than the 700P, but still not good
Groups were extremely consistent, just not that tight for the Bravo.
Was fighting mirage from the suppressor during test, may retest this one at later date.
NOTE: "Accuracy with flyers" includes the raw averages including groups where the shooter called a bad shot before rechecking the placement of that shot. The "average without flyers" is the average group size with those "flyer" groups not added in.