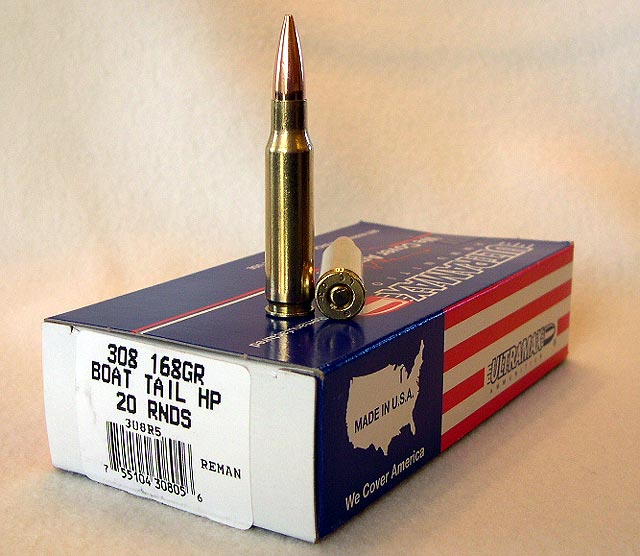 Manufacturer: UltraMax
Date Fired: 26 April 2008
Time Test Began: 0903
Range: Deer Creek Shooting Complex
Wind: 1-3 MPH
Temperature: 34° F
Elevation: 3200′ ASL
Lot Number: 08007010605
Factory Velocity: 2680 fps
Product Number: 308R5
Purchase Price: $18.40 USD
Bullet Used: 168gr Sierra HPBT Matchking
Ballistic Coefficient: .447
Remington 700 SPS-V/P Test Results
Average Velocity
Standard Deviation
Extreme Spread
Accuracy w/flyers
Accuracy no flyers
Best Group
2684 fps
25.69
70
.683″
.683″
.522″

Standard deviations and extreme spread was fairly high
Velocity was almost exactly the published velocity from Ultramax
Decent accuracy for low cost remanufactured ammo
Lake City Brass
Tactical Operations Bravo-51 Test Results
Average Velocity
Standard Deviation
Extreme Spread
Accuracy w/flyers
Accuracy no flyers
Best Group
2679 fps
31.68
91
.692″
.692″
.305″

Standard deviation and extreme spread was even worse than the 700P
Showed good accuracy except one ugly group with no called flyers.
Velocity almost exactly the published velocity.
NOTE: "Accuracy with flyers" includes the raw averages including groups where the shooter called a bad shot before rechecking the placement of that shot. The "average without flyers" is the average group size with those "flyer" groups not added in.