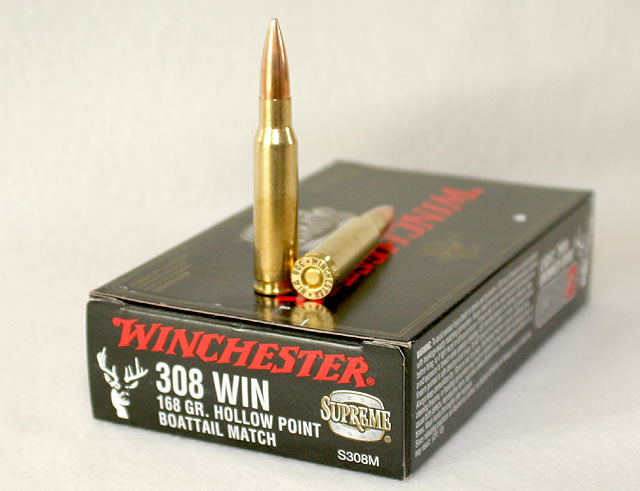 Manufacturer: Winchester Ammunition
Date Fired: 30 June 2007
Time Test Began: 0748
Range: Deer Creek Shooting Complex
Wind: 3-5 MPH
Temperature: 65° F
Elevation: 3200′ ASL
Lot Number: 106XA71
Factory Velocity: 2680 fps
Product Number: S308M
Purchase Price: $28.99 USD
Bullet Used: Nosler 168gr BTHP Match
Ballistic Coefficient: .452
Remington 700 SPS-V/P Test Results
Average Velocity
Standard Deviation
Extreme Spread
Accuracy w/flyers
Accuracy no flyers
Best Group
2652 fps
16.16
56
1.25″
1.25″
.678″

Ammo failed to meet claimed velocity even with 26″ barrel and high altitude.
One unexplained (felt good) wild group of 2.158″
Fairly high priced
Tactical Operations Bravo-51 Test Results
Average Velocity
Standard Deviation
Extreme Spread
Accuracy w/flyers
Accuracy no flyers
Best Group
2672 fps
13.84
49
.786″
.483″
.483″

Velocities from the bravo were close to factory claims
Two of the three groups had called fliers
Ammo showed very good accuracy potential from the bravo… if the shooter can get his act together.
NOTE: "Accuracy with flyers" includes the raw averages including groups where the shooter called a bad shot before rechecking the placement of that shot. The "average without flyers" is the average group size with those "flyer" groups not added in.