Many people may not have heard much about Hawke Sport Optics, but they are trying hard to change that, and one of the ways they are doing it is to get their scopes into shooters hands to check them out. They are also growing their dealer base to make the scopes more available once they are known. In an effort to receive some further recognition they contacted us here about reviewing one of their scopes that might fit the tactical role. We have here a Frontier 6-24x50mm scope with mildots. The Frontier series of scopes is their high end scope line with some long range features. Let us take detailed look at the scope and see how it performs.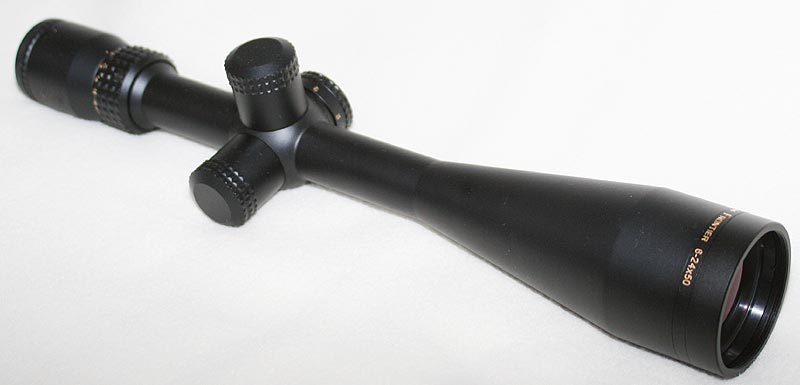 Hawke is a U.K. based company and like most sport optic companies out there they have their scopes manufactured for them. The Frontier line of scopes is completely manufactured in Japan and is intended to compete with the higher end scope market. It comes packaged in a nice box and looks professional from the get go. There is a printed booklet of instructions that contains some basic instructions in six different languages as well as a printed warranty card. The booklet is a generic one for all of the Hawke models, so it is not really that informative beyond the basics. The scope also comes with a 3″ sunshade and lens cleaning cloth. There is a stretching lens cover that slips onto both ends of the scope to protect the lens when not in use.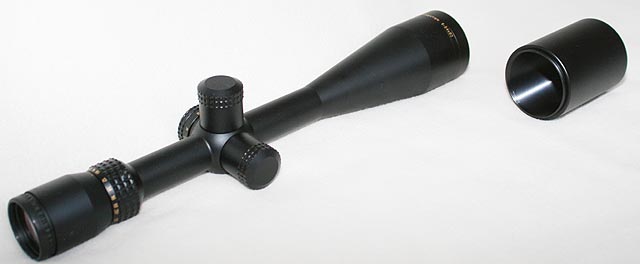 The tube is a single piece aluminum one inch tube that is nitrogen filled. This particular scope has a very nice matte finish that is fairly non reflective and feels nice. There is nothing really distinguishing about the tube or the overall shape of the scope, everything just is about as it should be in terms of the overall construction and look and feel. It all appears to be very nice quality and has that quality feel to it. There are some features on the scope that does remind us a bit of Nightforce scopes, which it would not surprise me if they were built at the same factory, though I do not know if that is the case or not.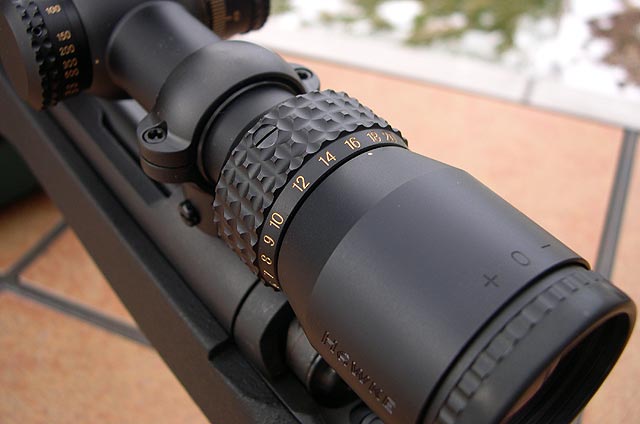 The eye piece is a fast focus eyepiece design which tends to be the norm on higher end scopes. There is a fairly generous amount of adjustment range for the dioptre adjustment for those that do not have perfect eyes and elect to shoot without corrective eyewear. It was easy to get a nice sharp view of the reticle. The power ring adjustment has some fairly aggressive serrations on it to aide in gripping the power ring to zoom in and out. The force to move the power ring is fairly high, enough to keep it from moving accidentally while the operator is going about business, and it does move smoothly throughout the zoom range. The zoom range is a full 4x range going from 6-24x. The mildots on this scope are calibrated to be accurate at 10x and it is a 2nd focal plane reticle meaning its size does not change when zooming in and/or out. What this also allows with this particular scope is that you can set the zoom power at 20x and then count each mildot as a half mil. This allows for some very accurate mildot measuring helping give more accurate range estimation when milling your target. You can compare the image below, at 6x to the one above that was taken at the same target at 24x. Notice that the reticle size is the same and has not changed, but the image is much closer. That is the trait of a 2nd focal plane reticle.
The adjustment knobs on the scope are quite nice. They are a larger knob, but yet they have full dust covers that fit over them. The knobs themselves have serrations at the top for good grip as well as being nice and tall with clear marks and numbering indicting the amount of travel. The adjustments are 1/8 MOA per click, which I typically am not a fan of for long range shooting because of the large number of clicks you have to keep track of going from one range to the next. There are 9 MOA of adjustment for each revolution and a tad over 6 total revolutions in the elevation knob giving a total of 56 MOA of vertical adjustment in this particular sample. The advertised number is 50 MOA and that is what I would plan on as when you get to the extremes things can get a little imprecise in any scope. 50 MOA is not as much as I would like in a long range tactical scope, I like to see at least 60 MOA for a .308 rifle, but with a tapered base 50 MOA can be made to work. A 20 MOA taper may be too much cant and may not let you zero at 100 yards/meters without bottoming out the elevation adjustments on this scope, it all depends on how much and in which direction you need to adjust your scope for your initial zero. A 15 MOA base would probably be a wiser choice and it will allow you to, or be close to giving you enough elevation adjustment to get from 100-1000 yards with a 308. The elevation knob does have hash marks under it to give you a reference point on how many revolutions you have gone up or down.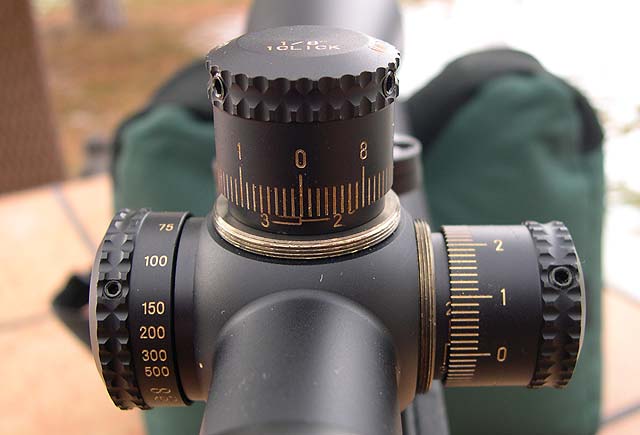 The windage knob does count up in both directions which I am a fan of, but because of the 1/8 MOA clicks and only 9 MOA per revolution, the numbers overlap at only 4.5 MOA, which when long range shooting you quickly can run past with just moderate wind conditions. Once overlapped, keeping track of where you are can be a little tricky.
On both the windage and elevation knobs, the clicks are very nice with a good audible and tactile click. The amount of force to get a click is just about right. The side focus knob is also nice and smooth to adjust throughout its range. The focus knob has a really light friction that is almost like a muted click. It is something that is not present on most scopes and it is a nice feel and works well. The focus range gets a bit tight at long ranges jumping from 500 to infinity in just one mark on the knob and I would like see a bit larger amount of adjustment range at the higher end of the focus knob, but it did function as it should.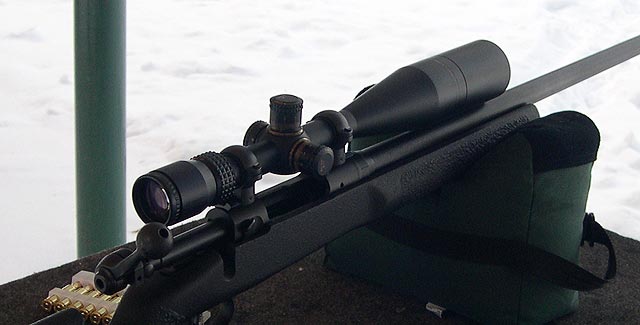 We mounted the scope on a Savage 10FCP we were reviewing with a pair of Burris Signature Zee rings. The scope zeroed without problems and we shot the scope through the box without any issues indicating good repeatable adjustments. The plain mildots were very nice to use and as I have mentioned in other reviews, I am fond of the plain old mildot reticle with its uncluttered simplicity. We noticed that the indicator mark for the knobs was sometimes difficult to see for the windage knob which can lead to your wind being off a click or two in either direction if you are not careful. The elevation had the same issue if it was at the bottom of its range. I would like to see that indicator mark extended a bit further down to help with this. The direction indicator is printed on the top of the knob on a slightly slanted portion and as long as those marks are facing the shooter they can be read from behind the scope, but if rotated half a turn you cannot see them.
The scope has a nice generous eye relief of almost 4″ which is more than most scopes and makes this scope a good candidate for magnum rifles. I would also like to comment about the quality of the optics, as to my eyes it appears to be very high quality. I have said it before, judging optical quality is extremely difficult, I wish there was a quantifiable way of doing it. But when comparing this scope next to Ziess, Leupold Mk4's and other high end scopes, it compared very favorably. The brightness and clarity of the optics is excellent and there appeared to be less color distortion then just about any scope compared next to it. They have really done a great job with the optics on these scopes.
Overall the scope is very nice though I would much prefer a 30mm tube and more vertical adjustments and 1/4 MOA adjustments instead of the 1/8's. 50 MOA of elevation just isn't quite enough for serious long range shooting that the optics is capable of. The scope on a whole is a very high quality scope that should do well provided the internals are built as nice as the rest of the scope and they hold up. The lifetime warranty is an indicator that believe they will, in which case the scope should do well for them, now it is just a matter of getting the word out. There is also a 4-16 Frontier side focus model that has the same knobs and optics but with 1/4 MOA clicks, it would also be worth looking at for the tactical role as well and may even be a better choice.
Sniper Central