NOTE: This review is from our archives. Howa now is much more widely known with many new and different models on the market. But we will leave this review posted as it still is a good source of details and performance on these rifles.
---
Believe it or not, Howa has been building quality barrels and actions for a long time. Howa is based in Japan and generally has always built barreled actions for other companies (S&W & Weatherby to name a few). The barreled actions are high quality, and have a very good reputation. Legacy Sports International decided to import the barreled actions into the USA, and even decided to take it one step further, and started mating barreled actions to very nice Boyd's stocks. They have several different versions, but what we are interested in most are the varmint rifles, which can easily double as a tactical rifle. This review would have never happened if it were not for Matt Koenigsberg from Kings Mountain Feel free to contact him if you have purchasing questions about these rifles. Matt contacted me and was very willing and eager to have me evaluate one of these rifles. He was confident enough to send me out a new in the box rifle, never been fired, no tune ups, nothing. A fresh factory rifle, and he was confident it would shoot down around .5 MOA. Did it? Read on to find out.
The most suitable rifle for tactical work would be the Supreme Varminter with a "pepper" laminate stock (black laminate) with matte black finish. This is a similar combo as the Ruger tactical rifles, and is attractive, as seen below. These rifles are also available with stainless metal finish and with a nutmeg colored stock.
The stock is right handed, period. There is no shooting this rifle left handed. The stock has a serious monte carlo cheek piece and a right hand only palm swell, which is very comfortable. These stocks are manufactured by Boyd's, who is little known to the public, but is probably one of the largest stock makers in the USA. They make very very high quality stocks. We all know the effects weather has on wood stocks, but laminate is a huge improvement over solid wood, but still has a little bit of flex in really damp conditions. A synthetic stock would certainly be preferred for tactical use, but, I feel laminate stocks (including rugers tactical rifles) are acceptable and up to the task. The stock on this Howa had heat venting slots on the forend, which probably is not necessary for tactical use, and shows its varminting background. Over all, the stock is very comfortable, but a complaint I do have, is that the finish is a smooth satin, which becomes slick with skin oil, face paint, and grime (common in the field) and I had difficulty keeping my cheek weld on occasion (face wanted to slide down the stock). I suppose some 90 grit sand paper would solve that problem. (I had to return the rifle, so I figured I shouldn't do it on this one….)
The barrel is fairly heavy (.825″ at the muzzle) and 24″ long (my preferred length for .308 rifles). The barrel also was tapped mid way up the barrel for long tube scopes (unertl target scopes, etc) and something you don't see on many rifles. Don't know how much they'll be used, but nice none the less. The barrel has a 1:12″ twist for both the .223 and the .308. I would like to see 1:10″ for .308 and 1:9″ for .223. There doesn't seem to be any plans to change this though. The muzzle has a nice recessed crown, seen below: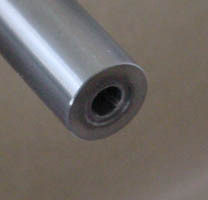 The rifle weighs in just below 10lbs (9.9) and has a good heft, about on par with most tactical rifles. It balances well on sand bags and other rests, and offers a solid platform to shoot with. The rifle also absorbs recoil well and is comfortable to shoot. (I tested the .308 version).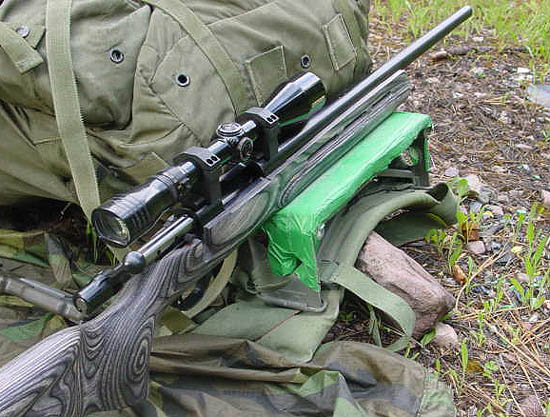 The trigger came from the factory at about 4 lbs and with just a tiny bit of creep. Overall, for a factory trigger, it was excellent!! Its also adjustable, but I did not mess with it at all (for liability reasons when resold). The trigger itself is wide and has ridges, much like Remington triggers, and really was very nice considering the price of the rifle and how its mass produced. The hinged floor plate worked well and all the fit and finish was excellent for this category of rifle.
Well, so now you have all the boring details, what about the good stuff? Will this rifle shoot? I headed out to my local favorite shooting spot with some Federal 168gr Match ammo to conduct my accuracy test. I zeroed the rifle and in the process threw out a group of 3 just for zero purposes, and not even trying hard, and yielded a 1.1″ group. Oh boy, if this was any indication, this thing was really going to shoot well, that group was so sloppy, it doesn't even count! So, I settled in and fired off my first "Real" group of the day which produced a nicely separated .88″ group. Keep in mind, this rifle had NEVER been fired, was fresh off the assembly line, and I was not properly breaking in the barrel. I was starting to settle down and the next group gave me .68″ (pictured below). As you would expect, things got better as the day went on. The best group of the day is pictured below and measures only .27″.
Is this a .25 MOA rifle? No, not really. That group was lucky, but still shows some great capability. I would say these rifles are around .6 MOA. For the day, my average group size was just a tad over that. But still, for a $650 rifle, this is pretty darn impressive!! If this rifle is a true representative of a production line rifle, there is a lot to get excited about. If they were to drop the action into an HS Precision stock, put a 1:10″ barrel on it, they would have a guaranteed hit if they can keep quality high.
If the budget for the department is limited, and the weather conditions don't get too extreme for the laminated stock, this rifle would be worth evaluating for your department.