Industry Optic Romania (IOR) Scopes have been around since 1936 and one of the world's largest manufacturers or military optics, but their history in the USA is actually fairly new. They have had a good reputation for good "Eastern European" rugged scopes with excellent glass. Their flagship tactical scope is their 2.5-10x42mm Tactical model, which we were able to acquire 2nd hand for evaluation.

When looking at the scope you notice that everything appears to be thick and rugged, and they truly are. Everything about this scope is built to be durable and rugged. As I mention above, we acquired this scope second hand and it had seen some use, and it has held up great in terms of functionality. The knobs are robust, the tube appears to be robust, the power select ring is stiff but firm, etc. The exterior is a matte finish all the way around and also is durable. It has a European style focus on the eyepiece and a fixed parallax. The magnification zoom range is from 2.5-10x with a 42mm objective and a 30mm tube.
The target knobs are a bit different than most scopes. The first thing is that the markings do not really make a lot of logical sense. Each click is .5 MOA, which is a good number for a field scope (though doesn't work for a target scope) but there are 5 clicks between each marked number (making 2.5 MOA). So, it is not very intuitive when trying to keep track of how much you need to adjust or have adjusted. On the current production scopes, these markings have changed and are more intuitive on these new production scopes. The other odd thing is how you adjust the scope for "Zero". You have to loosen the top two screws, and move the adjustments to zero, then tighten back down, instead of the traditional adjust to zero, then loosen set screws and slip the knobs around to zero. There is nothing wrong with it, it is just different. The clicks are accurate and audible and the adjustments worked well. There is 88 MOA of vertical adjustments which will get you to 1000m with the 308 with a 100m zero. (though you may need a 10+ MOA canted base, depending on your rifle & mounts, etc)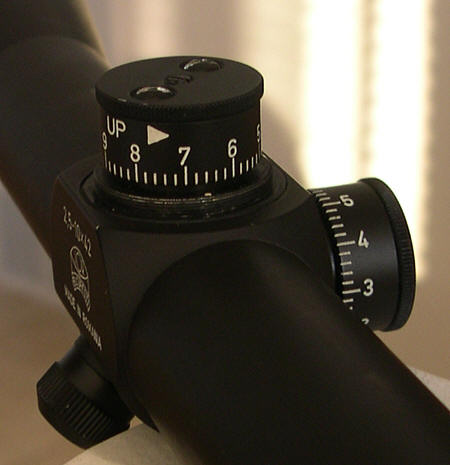 The reticule on this scope is the Valdada MP8 reticule which is in milradians, but are not dots. They have small hash marks for each half mil, slightly larger lines for 1 mil marks, and large hash marks for each 5 mils. The thing I really like about this reticule is that it extends to 10 mils below the horizontal. The reason I like this is because you can now use these marks for hold over lines out to 800+ meters with a 100m zero with the 308. Of course, the added mil marks (15 total in the vertical) can help mil closer and larger targets. The stadia lines are very thick though. This scope is not good for shooting tight groups at 100m, but it is very good for picking up the reticule against dark back grounds and in low light situations.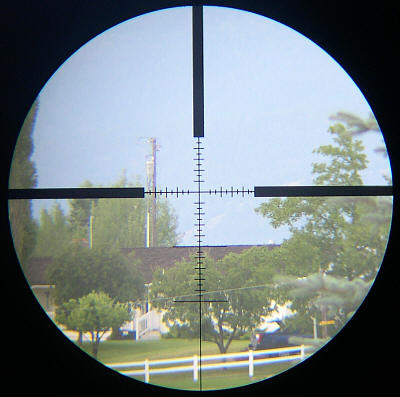 The optics on the scope are outstanding, some of the clearest and brightest I have seen. From edge to edge the optics are very sharp and clear. I was able to pick up mirage on a sunny day in the 200-300m range, allowing me to read the wind without a spotting scope (it worked in this particular situation, but this will not work in all conditions). The scope has a fixed parallax, but with this one, it was not at 100m. It appeared to be set for parallax free at 200m, or perhaps 150m. The parallax was noticeable at 100m, but in reality, this is a tactical scope designed for sniper use from 300+ meters and where the parallax was set at was just fine.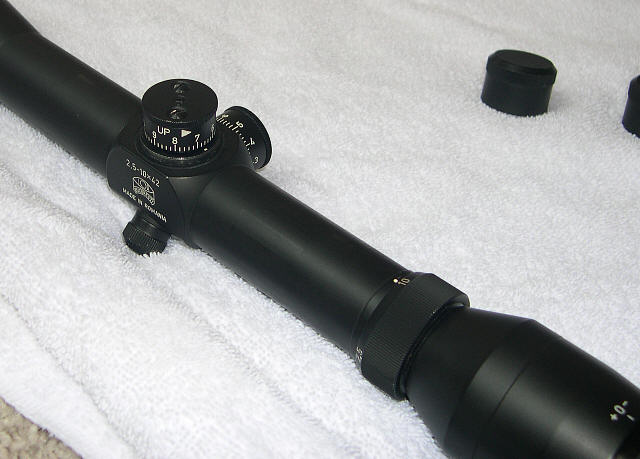 Overall, this scope is very good, and I was pleasantly surprised by the quality of the optics. These scopes are not cheap, but then again, they are not at the top end in price either. IOR-Valdada has always had very close ties with German optics manufacturers and Zeiss actually came in and work with IOR many years ago to help with their optics. Well, it shows in these scopes! The overall feel of the scope is "field" use, and this is where it is best suited. The rugged construction, thick stadia, effective reticule design and excellent optics add up to a very good sniper scope where it will serve very well.
Sniper Central