When we reviewed our first IOR scope, how ever many years ago, we went in a bit skeptical and were surprised with the excellent optics and robust design of the scope. No, it was not the prettiest scope in the world, but it performed, and performed well. That original review was done on an older generation variable power scope, we then brought in a fixed 10x scope of a newer generation with an illuminated reticle and was again impressed by its optical clarity and solid construction. Now we figured it was time to do another review but we wanted to test one of their newer variable power scopes and see how it would do. So we brought in one of their 4-14x50mm Tactical Rifle Scopes which is a good all around power range for a variable power tactical scope.

The 4-14x50mm IOR is physically a long scope, though not overly large in the other dimensions, and when you put the included 4″ sunshade on the scope it becomes considerably long. But one thing a long tube does provide is a generous amount of mounting flexibility to insure that you get the perfect eye relief. The quality of the finish on the tube is nice and appears to be typical IOR durable. IOR states that these scopes will operate in any weather from -40 to +140 including high humidity and rain. While we did not test those extremes we did have it out in 20 degree F for a day of shooting with no problems.
The tubes are "O" ring sealed and filled with nitrogen and the reticles are photo engraved on the lens. All of these things help with durability in field conditions. The construction and design are typical IOR, perhaps not the most elegant, but certainly up to the task of tactical scope use. That is not to say the finish and design are ugly by any means as this is a good looking scope.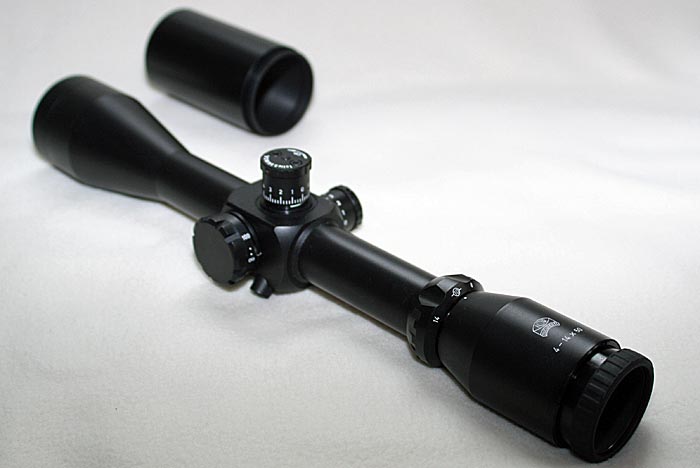 The knobs on this particular 4-14 model are the standard IOR tactical knobs with .25 MOA clicks. They are fairly large and easily readable with 13 MOA of adjustments per revolution on both the elevation and windage knobs. But a nice thing about these IOR knobs is that they still have a dust cover cap that fits over the top and screws to the tube. This is a nice compromise to allow for storage and transportation with the caps on and then a nice larger knob for field operations. Though the knurls at the top of the knobs are not the largest, a bi-product of getting dust caps on, so they may not have as good of grip as a larger external only knob like a leupold M1, but it still provides enough grip for just about any condition. The clicks themselves are well defined and positive.
The windage knob counts up in both directions and the overlap starts at 6.5 MOA which allows for a good amount of wind compensation before having to worry about keeping track of which way you have overlapped. There are no direction indicators visible from behind the scope, so you'll have to memorize which way is left and right. The elevation direction should be obvious but the windage is not clear from behind the scope. Of course, if you are only using this one single scope that is not a problem, but if you have multiple systems with different optics based on METT requirements, then it may be a training issue of insuring you know which direction is right and left based on the optics in use. The spec sheet says the scope has 75 MOA of vertical adjustment, this particular sample had 78. A good amount, especially if combined with a 15 or 20 MOA canted base, to provide for long range shooting. There are also horizontal marks beneath the knobs to indicate the number of times the knob has been rotated.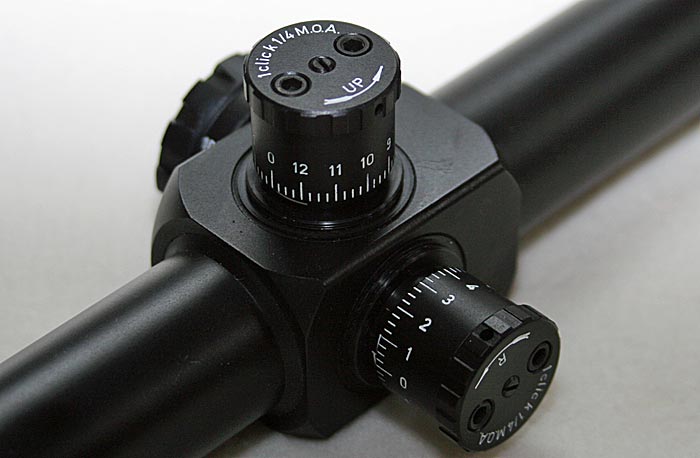 The side focus knob on the left of the scope was easy to adjust and worked as it should, though the adjustment range was small allowing for quick focusing but not as precise. As you can see in the photos, the actual indicator markings span a very small range, though a sharp focus seemed to be no problem to achieve. The focus knob is a bit more aggressively knurled on the end than the windage and elevation knobs with does allow for easy gripping in all weather conditions.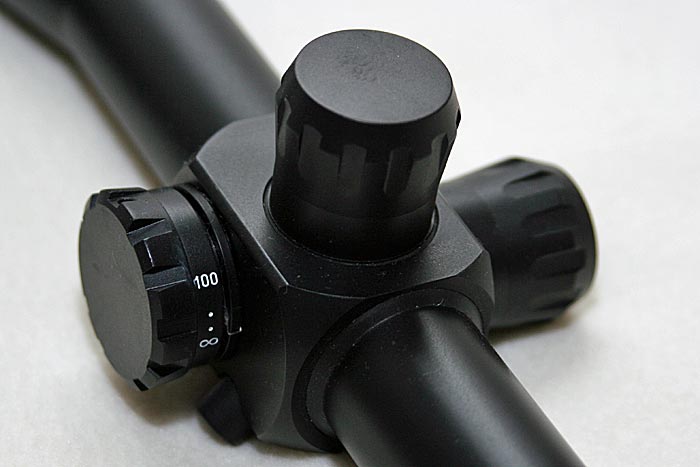 There is a fast focus eye piece that adjusts between +4 and -4 and is typical of European optics. It worked as it should with nothing really notable to report. Just in front of the eyepiece resides the power ring for adjusting the magnification between the 4x and 14x power range. The power ring is somewhat stiff which does keep it in place very well, but the ring itself is fairly thin with a smoother type of serration that are also fairly small. There are two larger indentions on each side of the "10" marking, but it is not enough to allow for a positive grip. Combined with the stiffness of the adjustment, it is somewhat difficult to adjust the power through the range especially while behind the rifle and scope. Most people do not change power all that often, but others in tactical situations do and some do it in conjunction with the reticle to aide in range estimation. What ever the case, the zoom is not easily adjusted from behind the rifle and it takes some man handling especially with gloves on. Nothing overly disconcerting, but something to get used to.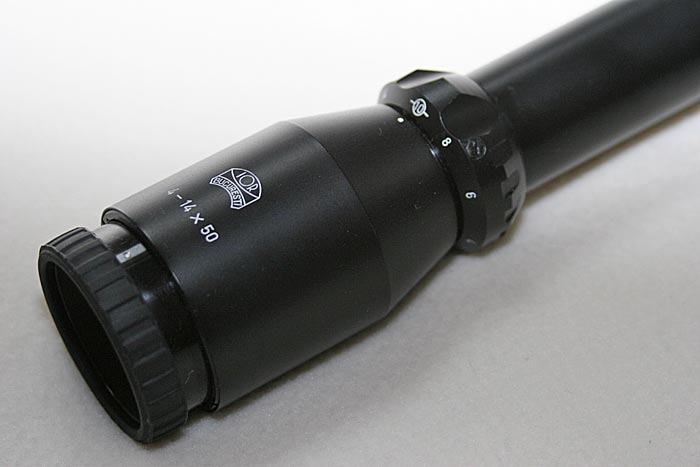 This is a 2nd focal plane scope which means the MP8 reticle is only accurate at one power magnification, 10x in this case. The power ring is nicely marked around the 10 to clearly remind you of that fact. The MP8 was one of the original "hash mark" style milliradian reticles to hit the market and it is still a good reticle to use, not to mention it has been copied by several other scope makers out there. There are larger hash marks to indicate the full mil values and then smaller hash marks to indicate the half values which allows for some very accurate milling. It has 10 mils below the horizontal stadia and then 5 above, to the left, and to the right. This is a simple and effective reticle that is not too terribly cluttered and has become quite popular.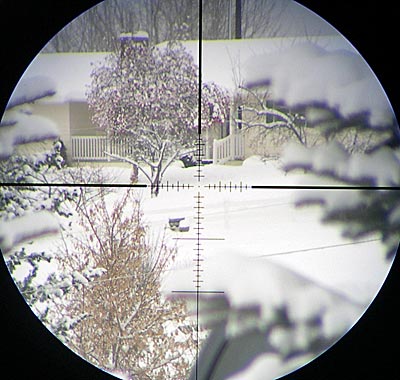 The optics on the scope are excellent and the scope is a pleasure to look through. The glass is from Schott, Germany, which IOR is always willing to remind you of, and they have some excellent MC-7 coatings. This does combine to make a very bright and sharp image which we have found to be excellent on all IOR scopes we have used. There is also a good amount of eye relief that should allow this scope to be used on just about any rifle in any caliber.
For the shooting portion of our evaluation we mounted the scope on our old reliable Remington 700P mule rifle with a set of High Burris Signature Zee rings mounted on a Warne 20 MOA tactical rail. The weather in Montana was typical winter weather of 20 above (F) but with little wind. Through out the shooting portion the scope functioned as it should with no real surprises. We fired it through the box without any noticeable shift in the point of impact when we got back to the starting point. Beyond the hard to adjust power ring while behind the scope, which was exaggerated by the cold, we had no real operational complaints with the scope.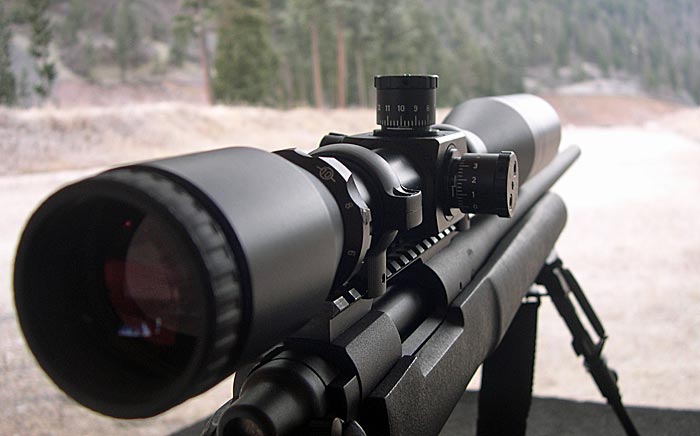 This scope is another example of the quality scopes that IOR is producing. They are also a very forward thinking and flexible company and have some other interesting tactical scopes we want to get our hands on in the future. This scope, while not perfect, is a good representation of a high quality variable power scope that is available on the market today for the tactical sniper team.
Sniper Central (Originally posted in 2009)