When it comes to discussing the best optics in the world, Leica always manages to get mentioned, but is this reputation justified? We managed to get a Leica Televid 62mm spotting scope for review to find out if the performance lives up to the hype.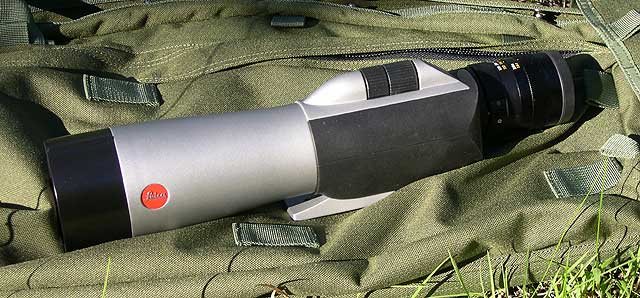 Sniper Central received a Televid 62mm from a USA dealer of Leica optics along with a zoom eye piece (16-48x with this spotting scope). The model number on the eyepiece is 41012. The eyepiece was very easy and straightforward to attach to the body, and then a little time was devoted to understanding the controls. The focus has two turn dials up top, one for coarse focus and one for fine. Once used to the controls it worked very easy and very precise. Once we pulled out a standard tripod and mounted the spotting scope to it, the setup was complete. Nothing fancy or out of the ordinary to mention.
The first thing a person might notice about this spotting scope is the $1000 price tag for the body alone, not including an eyepiece, which is another $400 on top of the spotting scope. But one very important thing rings true here, as it does in many things, and that is "you really do get what you pay for", and I'm here to tell you that this is certainly the case, as this spotting scope is outstanding.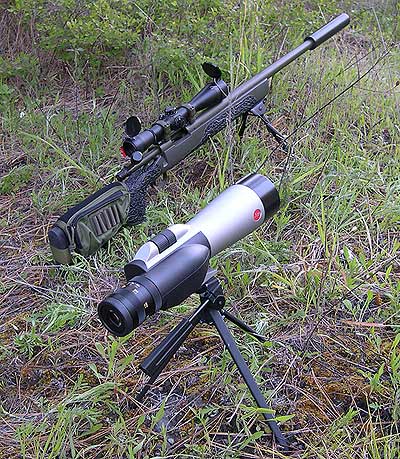 We had the 41012 variable power eyepiece for this scope and the optics were absolutely clear at all magnification ranges. It was very nice to also have two focus adjustments, the fast focus got you close real quick, and then the very fine adjustment allowed you to get it perfect. We used the spotting scope during normal hours and early morning and the light gathering and clarity were top notch. We primarily tested the scope in the field on our unknown distance range and used it to spot from 400m – 700m. With optics this clear, there were no problems picking up trace with standard 308 loads (we were shooting M118LR on all occasions).
One morning during a shoot at about 620 meters, the sun peeked over the mountains at just the right angle and we actually "saw" the bullet travel down range. I am not talking about trace, I am actually talking about the physical bullet, we were "watching" the actual bullet, it looked a lot like a tracer but was not lit up, just shiny. Now, this was more because of the angle and lighting conditions from the sun. But we were so amazed we pulled out a $200 spotting scope and were able to barely see it, but we did see it. With the Leica, it was clear as can be from about 100m from the muzzle until bullet impact. Amazing.
The only real negative about this spotting scope is the color. If it were to be used as a tactical spotting scope, it would need to be painted. The construction is rugged and its very well built, so it should hold up fine to tactical use. So some dura-coat, bo-flage or krylon would be needed to make it more tactical. Beyond that, I highly recommend this scope.
Sniper Central