Here at Sniper Central, we do not just solely focus on the dedicated high end and expensive sniping gear, we also are constantly on the lookout for products and equipment that may not be dedicated sniper gear, but would still work well. We do this because it seems by just attaching the term "Tactical" to any product allows the manufacturers to charge more for it. But there are plenty of pieces of equipment that are not designed as "tactical" but will work perfectly well and usually cost substantially less. That is the subject matter of the scope we are reviewing here. Leupold discontinued the commercial availability of their Mark 4 line of tactical scopes and replaced them with the Mark 5, Mark 6, and Mark 8 scopes, which are all excellent but also quiet expensive. Their VX-3i LRP is an offering that is more affordable and is tailored for competition shooting, but we think we have found another offering in their commercial lineup that also is a solid choice and may work well for tactical use. The VX-5HD scope is a very nice commercial hunting scope, but it has lacked the tactical features that might make it work well for sniping. But we did find one specific model that might work. This is the 3-15x44mm with CDS knob and the impact-29 MOA reticle. It is the only model in the VX-5HD lineup that offers a reticle that can work for tactical use. But can this scope really do the job? And even if it does, why would you want to consider it over one of their Mark series? That is what we are here to find out.
With this being a commercial product and a not a part of their tactical lineup, the VX-5HD comes in the standard commercial box and comes with the normal Leupold accessories which include a bikini style lens covers, instead of flip up caps, and then the normal instruction manuals and warranty cards. It does also include a voucher for a free custom CDS dial that Leupold will make to your specific specs, which is a nice feature and one we will talk more about. The scope is matte black which works for tactical use, but it also has the traditional golden ring around the objective bell housing, which isn't desirable for tactical work, but easy to cover up.
With the eyepiece, Leupold has also moved away from their old traditional slow focus eyepiece and has adopted a fast focus eyepiece style which in this case has serrations on it to help with gripping it in order to rotate it and adjust it. With the older style the entire eyepiece would rotate around and then there was a lock ring to lock it in place, not any more. The ocular lens rotates through the complete diopter adjustment in about 1.3 rotations, but there is no indicator mark to use to track where it is at. With the eyepiece extended all the way out, there is no looseness or side to side movement that you might see on a lower quality scope.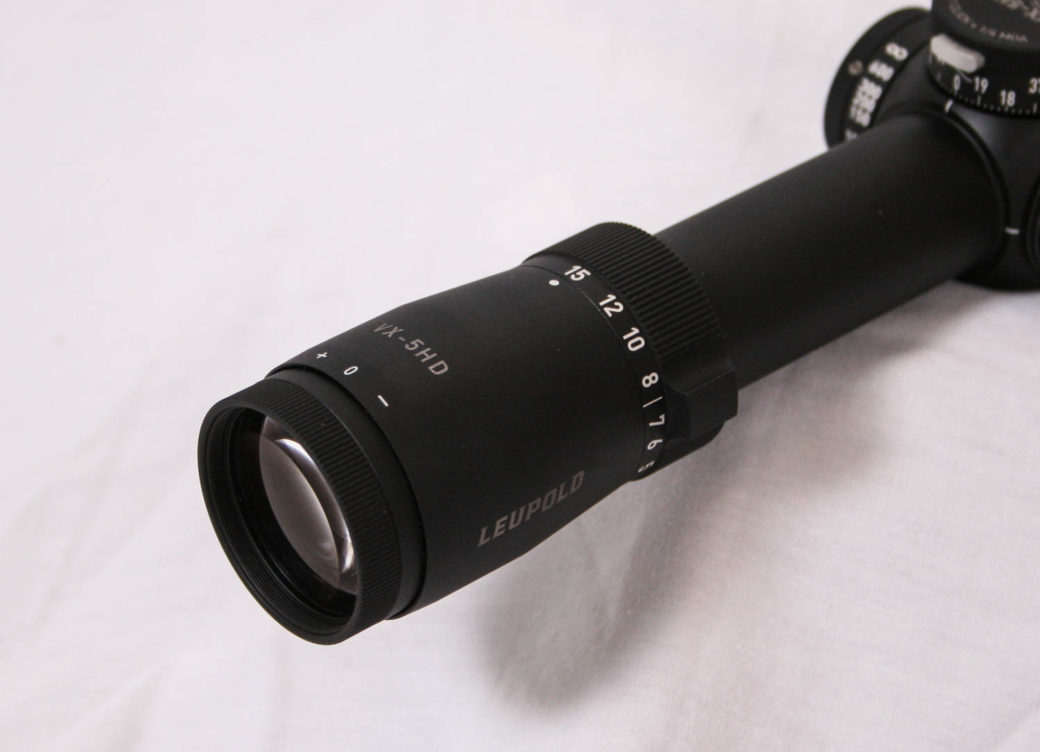 The eyepiece is larger than the older Leupold eyepieces, but it is still not large compared to others. Just in front of the eyepiece is the power selector ring that is clearly marked from 3x to 15x using a bright white font. This power selector ring is offers a fair bit of resistance but the thumb protrusion and serrations help here. It does rotate smoothly through the entire range with equal force throughout. The markings and full range covers just a bit less than half of the circumference of the dial. There is a hash mark at the 7.5x location to indicate the half way point in the zoom power, this can be used to double the size of each marking on the reticle. This is possible because the reticle is located on the second focal plane and it is only accurate at one power. On Leupold scopes that is always the highest magnification, 15x in this case, and so at 7.5x where that mark is, each reticle hash is double giving the operator another option for using the reticle in a different way.
In front of the power ring, the 30mm one piece aluminum tube extends just over 2.5″ that can be used to mount the rear scope mounting ring. The finish of the tube and the entire scope is a very matte black anodized finish that is of high quality. When we visited the Leupold factory, they let us know that they were the second largest aluminum consumer in the western USA, second only to Boeing. They go through a lot of it with their scopes and their one piece tubes are very nice and machined from a solid block of aluminum on their CNC machines.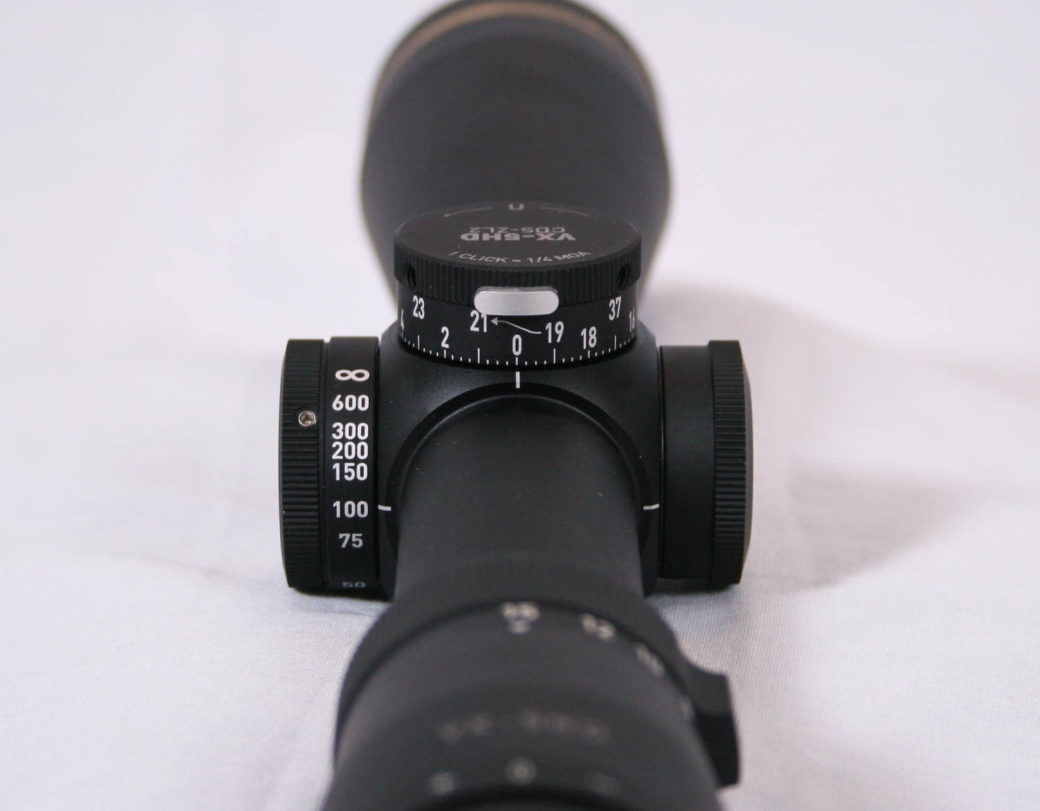 The shoulder where the scope controls are located is a lower and rounded profile shoulder. The "Custom Dial System (CDS)" elevation knob itself is also a lower profile external style knob that has a nice shape to it with two levels of marking numbers. Each click is .25 MOA and there are 20 MOA of adjustment per rotation. Leupold indicates that there is 75 MOA of total adjustment, but we cannot test this easily as the CDS knob has both a zero stop (right at zero with no buffer below 0) and a hard stop on the top end of the second rotation, giving you a hard 38 MOA of elevation to use. If you need more than 38, you will have to hold over, which the MOA reticle actually makes pretty easy. The zero stop is actually a zero "lock" feature and the knob locks in at 0 and can only be moved if the silver button located above the 0 mark is pressed and the knob then rotated.
The clicks on the elevation knob are excellent with a good feeling muted click, though there was a tiny bit of slop detected. It is so minor that it is not noticed unless you are looking for it. 38 MOA gives enough adjustment for most standard sniping cartridges to go from 100 to 1000 yards, the M118LR needs 39.5 at sea level and standard atmospheric conditions. The knob is easy to operate and works well and is easy to read and grip with its wider diameter and serrations along the top. With its hard cap at 38 MOA it'll not be suitable for lots of extreme range shooting unless used in conjunction with the reticle, but at only 15x that is probably not the best fit for this scope anyway. The voucher for a free custom marked BDC dial that can replace the standard MOA marked CDS dial is a very nice feature for tactical work and setting up the scope specifically for your rifle.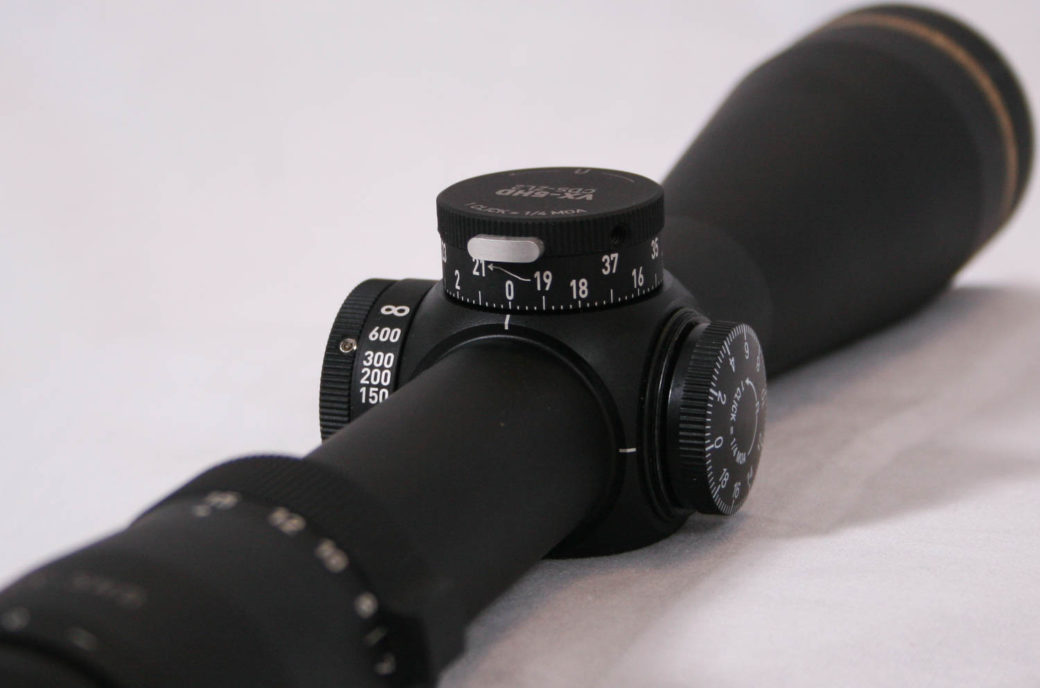 While we like the elevation knob and think it would work well on a tactical rifle, the windage knob is a different story and we do not like it at all. The knob is capped, which we have no problem with, but when you pull the cap off, the main problem becomes apparent. The knob is finger adjustable, but there are NO visual reference point indicators that are visible from behind the scope. There are markings on top of the knob, but that is not useful at all for tactical use as you cannot glance and see where you have your windage set to. On top of that, the serrations on this knob are very light and the clicks are heavier than the elevation knob. This things combined make it a pain sometimes to precisely dial in your clicks, as well as keep track of them. The design is a tool-less design that allows the operator to "lift" the knob and rotate it around and set it to zero without having to use any Allen wrenches or other tools. We have not seen any of these types of systems yet that does not introduce a lot of slop between the clicks, and this Leupold design is no different. We were very disappointed in the windage knob and wish that they would just do a knob of similar size and shape as the elevation knob with good clicks and at least some basic reference points visable from behind the scope.
With the problems of the windage knob described, we do need to mention that many tactical shooters and snipers prefer to hold off for windage instead of dial it into their scopes, and the Impact-29 MOA reticle on this scope is ideally setup for just that and in fact makes the poor wind knob bearable. The reticle, as you will see in the picture later in the review, is a Christmas tree style reticle that helps with hold overs and hold offs and can be used effectively with this scope as well.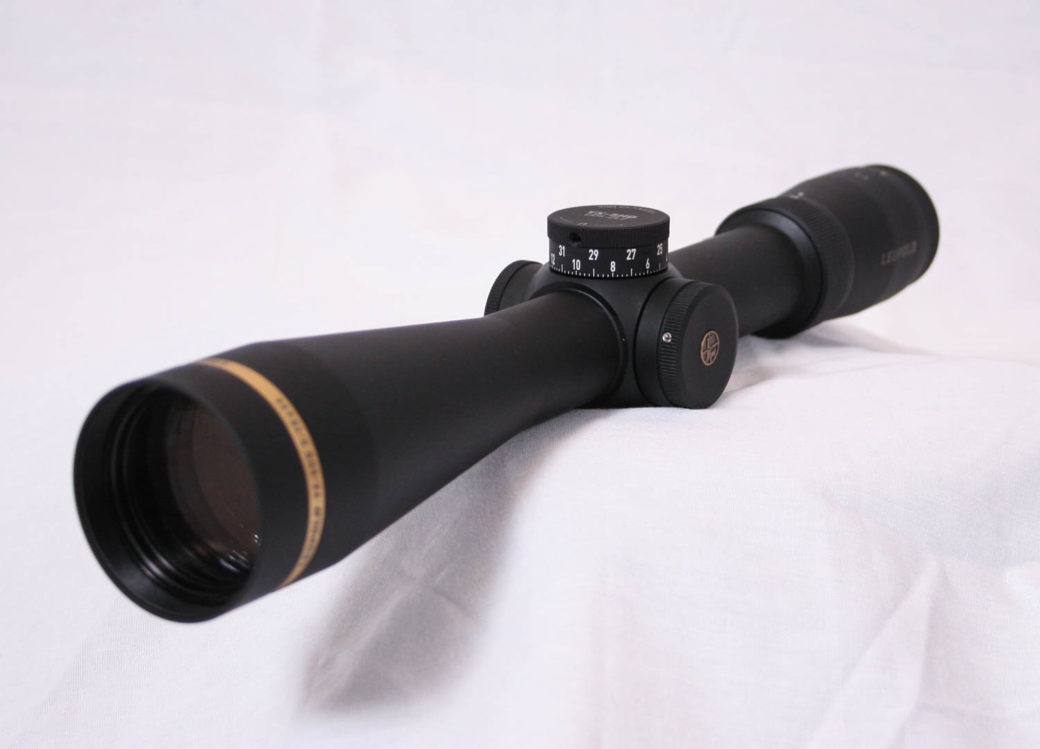 On the opposite side of the windage knob is the adjustable parallax, or side focus knob which actually has yardage marks labeled on the knob from 50 up to 600 and then infinity. The entire rotation of the knob only covers about 60% of a full rotation, which we would like to see increased to allow for more precise adjustments, but it does rotate smoothly and it works well enough for what we asked the scope to do. We were able to focus a sharp image easily in all of the shooting conditions we tested. There are serrations on the top of this knob that matches the same on the elevation knob and it does provide a good gripping surface.
In front of the shoulder of the scope there is a scant 1.3″ of scope tube in which to mount the forward scope mounting ring. This is a surprising small amount of space but was common on some of their earlier 4.5-14x scopes as well. If you are not using a picatinny rail, you may have a hard time getting the scope mounted in a good position. Luckily, most all tactical shooters use a rail. From there the tube opens up nicely to the objective lens bell housing where the famous Leupold Golden Ring is located. Because the objective lens is only 44mm, the bell is a bit smaller than many tactical scopes which allows for it to be mounted a bit lower than most.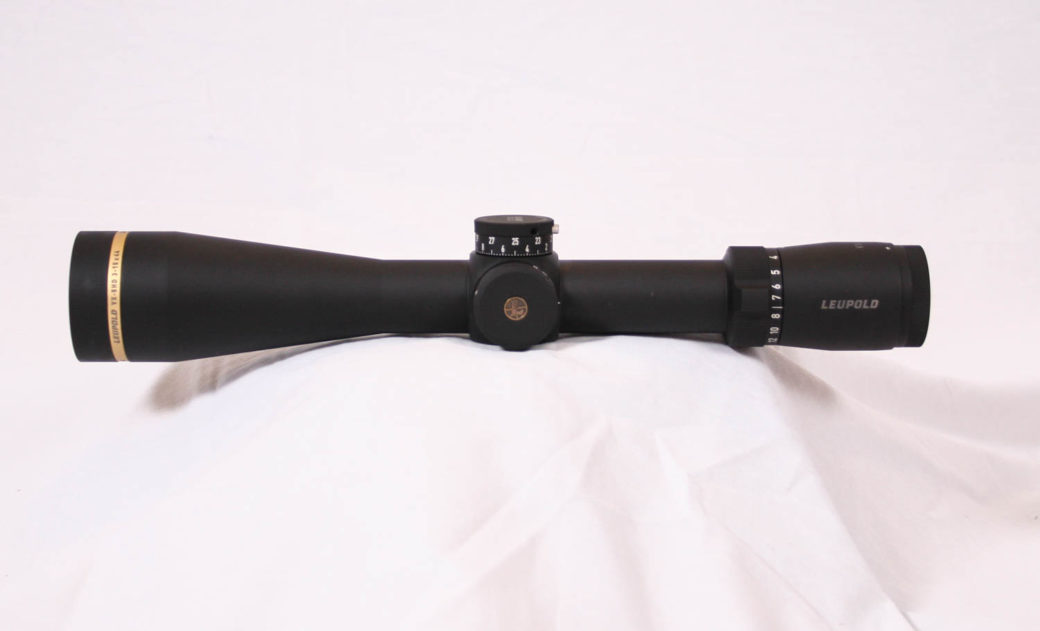 That golden ring on the bell housing is easy to obscure and if you use a flip up scope cap it will cover it up for you (see our pictures with the scope on the rifle below). If you use a sunshade with the scope, you'll need to cover the ring another way. The overall dimensions of the scope are pleasing and the size is not large and it weighs in at just over a pound, so fairly light weight. The finish is well done and as we mentioned already, it is very matte giving off almost no shine, further enhancing its ability to double as a tactical scope.
The glass on the scope is uses High Definition lenses and Leupold's Twilight Max HD Light Management system, hence the HD in the name. The optics do seem to compare very well with other scopes giving a bright and crisp image from edge to edge. They even claim the lenses and coatings offer 30 extra minutes of shooting light, though we are not sure what that is in comparison to. But the low light ability is good and the clarity and contrast are very nice. This particular model does not have an illuminated reticle option for this reticle.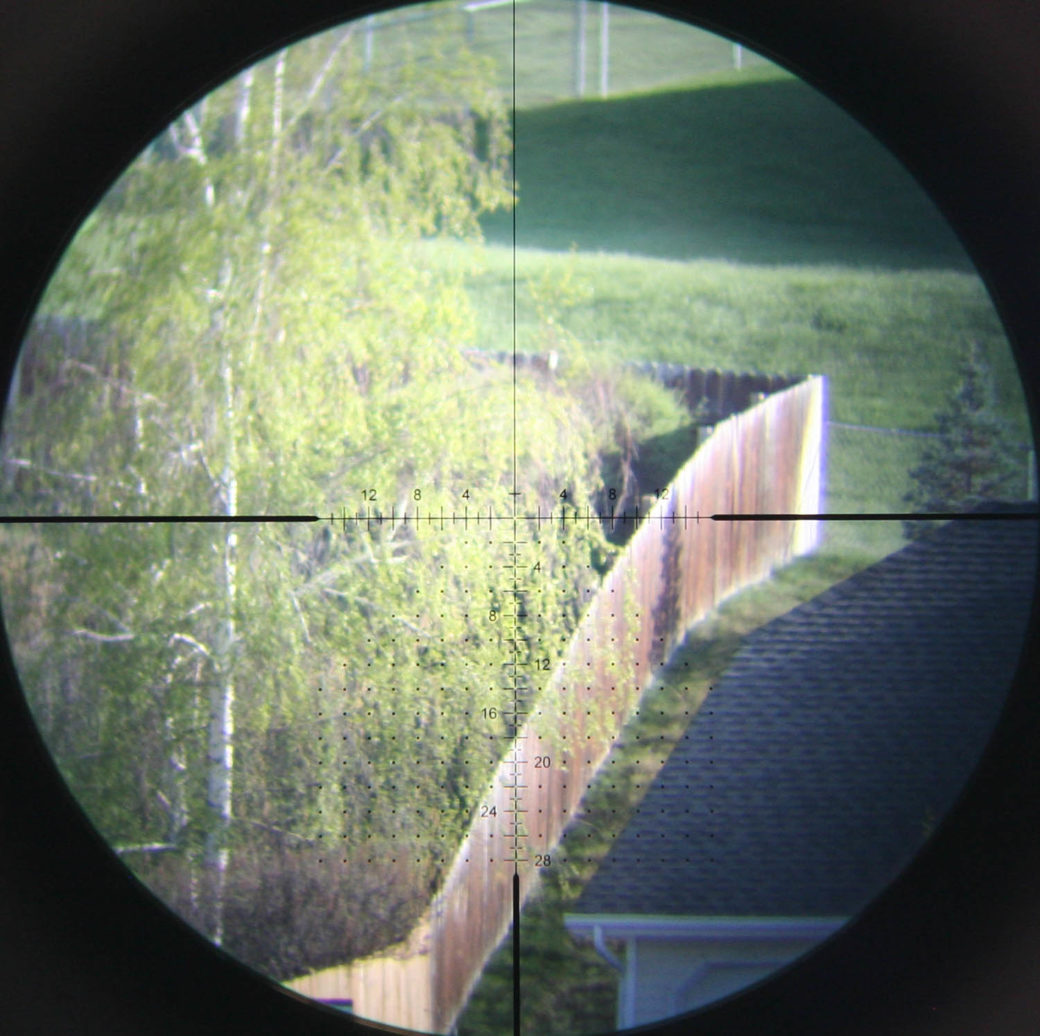 The reticle is called the Impact-29 MOA and as can be seen above, it is a Christmas tree style reticle with hash marks along the horizontal stadia as well as hash marks going down the lower vertical. The dots to the left and right in the lower quadrants represent blocks of 2 MOA spacing. This makes it easy to hold over as well as hold off for windage making the scope work well for quick DMR style engagements. Of course, the large number of dots can be a bit busy and distracting, but they are small enough in this case that it is not too bad. The numbers along the stadia help to keep track of the count, which tends to be helpful in MOA reticles as the numbers can get high. The marks can also be used to perform range estimation calculations just as you would with a MIL reticle. Since the reticle size never changes, Leupold was able to make it a good thickness that works for precision and yet is still visible against busy backgrounds. While FFP reticles are nice for tactical scopes, the SFP scope does allow you to do some little tricks with the reticle. Such as setting it at 7.5x as we mentioned earlier and then the auto ranging trick where you zoom in until 2 MOA covers the distance between the belt and the top of the head of a human target and then just read the magnification. That is how far away the target is in hundreds of yards. That only works on this particular scope where the reticle is accurate at 15x.
For our practical tests, we needed to mount the scope onto a rifle for some live fire testing. If you are not familiar with how we test rifles and scopes, feel free to read that article now. Due to our plans to use this scope on some future tests and articles, we did not mount it to our normal 700P test rifle, instead we used a set of Leupold Mark 4 30mm Medium height rings and mounted it to a Howa 1500 tactical rifle chambered in 6.5 Creedmoor and bedded into a McMillan A5 stock. (You will be reading more about this rifle in the future). Because it has a 20 MOA rail on it, mounting the scope was easy and ring spacing was not a problem, though we do have it pulled as far back to the rear as is possible. The Medium height rings were a tad higher than we wanted, but still not bad.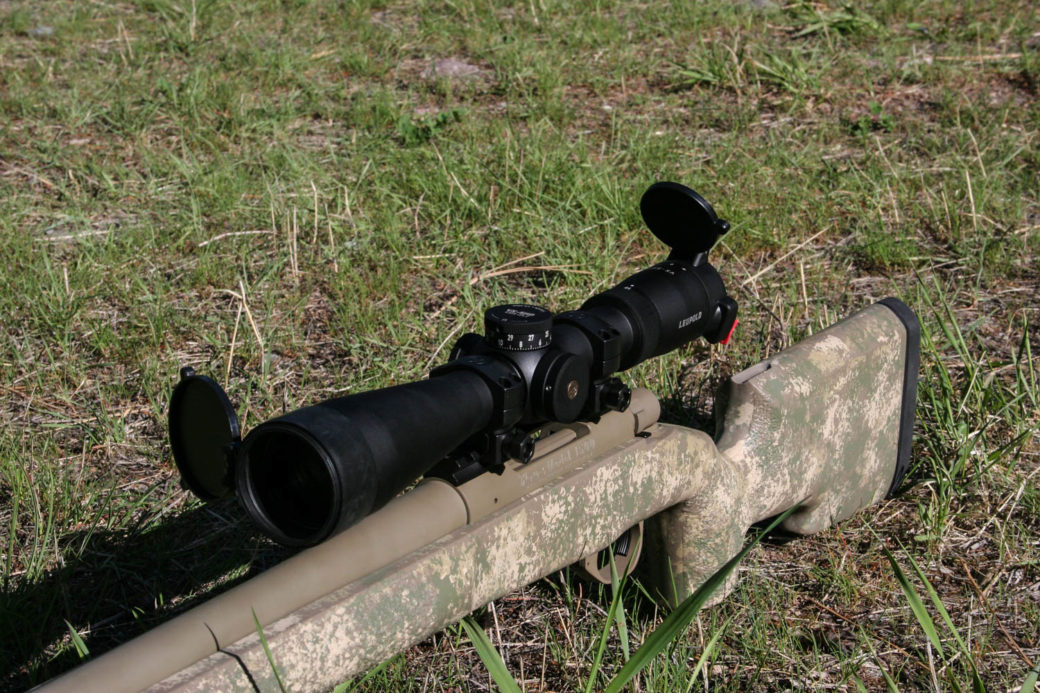 We were using Choice Ammunition 123gr Scenar match ammo for all of our tests at the range, which seemed to be shooting okay in this rifle, though not great. The first box test was no problem and the adjustments seemed to be tracking very true and when the size of the sides of the box were compared to the reticle, they appeared to be the proper size. The tape measure would confirm that later as well. This is where we really started to not like the windage knob, but at least it was tracking true.
The next test was our click size measurement test and we fired our first group, which measure a tad under 1 MOA, and then dialed in 20 MOA of left and fired our next group, it too was right around 1 MOA. Finally we dialed in 20 MOA of right back into the scope and fired one more round to insure the adjustments came back to the original group, which it did. The distance between the two groups measured 21.1″ compared to a theoretical 20.94″, showing an error of only 0.8% which is well within our 3% that we allow for this test.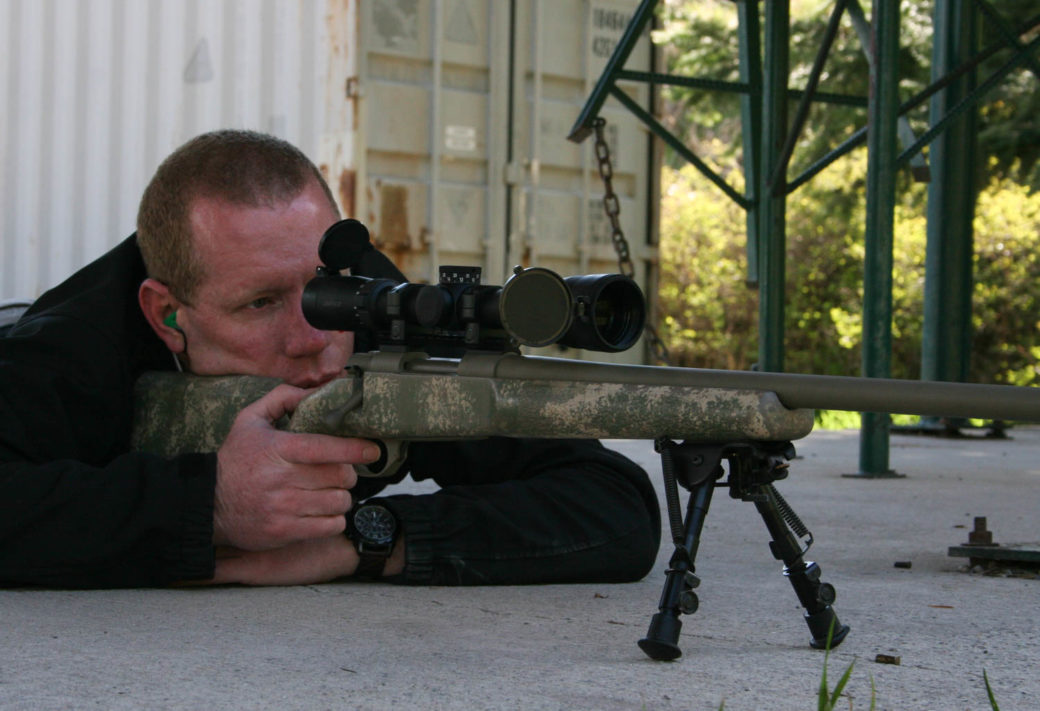 Firing the scope and rifle combo at mixed precision targets from short to medium range worked well and the scope, beyond the windage adjustments, performed very well and the reticle was also a good choice. The focus knob had no problem giving us a nice crisp image and as we mentioned before the optics are very nice. We still had a few more tests to run to see if there was any reticle drift during focus and zoom changes as well as test for a wandering reticle when tracking up and down. So out came the bore sight grid device.
With the grid mounted to the rifle and squared level, we adjusted the scope so the crosshairs were centered on one of the gross hatches. First we tested the side parallax adjustment and went through the entire range of adjustment from end to end and watched the reticle for movement. It stayed planted with almost no perceptible movement. We then did the same for the entire zoom range and had the same result. The results of these two tests were very good and the scope passed with no problems. We think a lot of that has to do with the fact that this scope is not being asked to do too much. The zoom range is a modest 5x centered right in a moderate range, not trying to zoom too high. The focus is set to a workable range that is just below 50 on the close end, again, not trying to do too much. It seemed to work.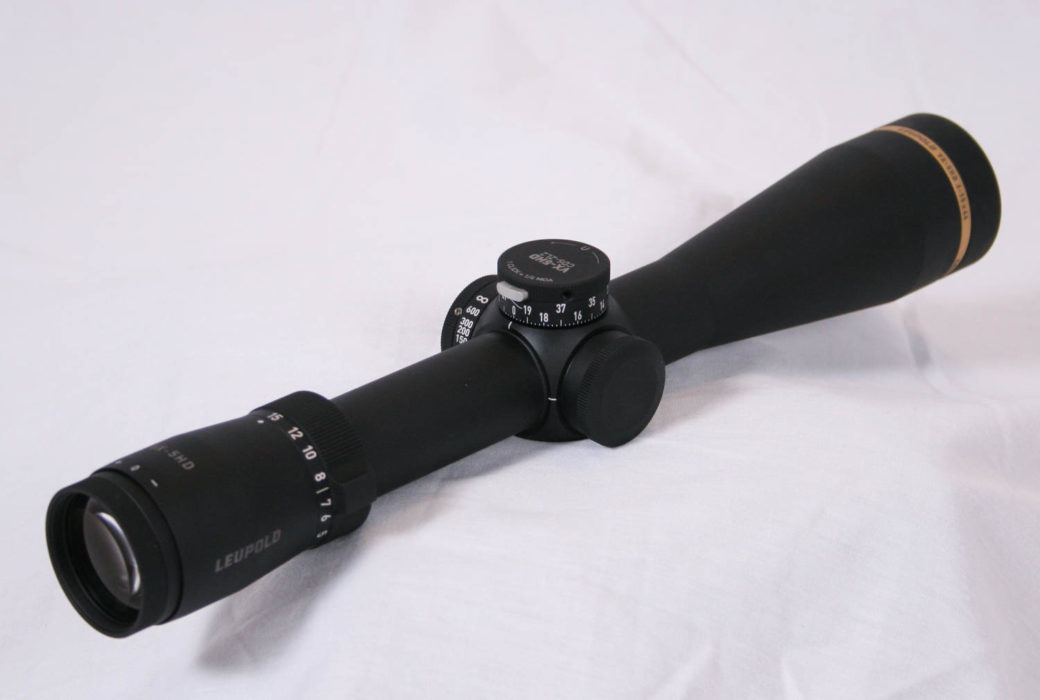 The final test was to align the reticle on one of the vertical grid lines and then adjust the elevation through its total 38 MOA of adjustment and watch how it tracked along the line. Again, a solid result as it stayed exactly along the vertical line and did not wander right or left. We did the same with the windage along a horizontal line and had the same results. This was another confirmation of very good tracking with the internal mechanisms.
Functionally, this scope is rock solid. The quality seems very good, the glass is very good, everything tracks and operates to standards that are very high and impressed us. The magnification range is excellent for a midrange tactical scope that would be used in the field without going too high to hurt your field of view or light gathering ability. The zero-stop and lock feature is useful and while it is restricted to just the 38 MOA of vertical adjustment this amount fits the magnification range very well. The reticle is a very usable tactical reticle that allows for quick hold over and hold off engagements and provides range finding capability. You get all of these very practical features in a scope that runs $1100 USD, which is less then an equivalent tactical scope with all the same features and capability would run. We have talked enough about the windage knob and while we don't like it, we can live with it especially if using the reticle for wind corrections. Back when we first started Sniper Central over two decades ago, there were not many tactical scopes on the market and it was not uncommon to use a commercial target scope for tactical use, we didn't have a lot of choices back then. Today we do, but there is nothing wrong with using this non-tactical scope for tactical work, it would work without any problem and we give it a solid 4 stars out of 5 and our SC Endorsed tag.
Sniper Central 2019