Two decades ago, the only real bipod option on the market was the unit from Harris and that bipod is still considered the market leader. But it seems that every year now there are more and more bipod options available for snipers and marksmen. Available options cover a wide assortment of complexity, durability, flexibility and of course, price. Some bipods are well over $300 USD, and the argument can be made that some of those bipods are even worth that kind of money. Magpul has similarly been expanding its offering of available products and they just recently came out with their own bipod with their own unique twist and design. We thought we would take some time and review one of these new bipods and see how it compares to the old reliable Harris and try to make our own determination on its suitability for sniper use. The model we elected to review was their Picatinny rail mounted version in Flat Dark Earth (FDE, or more commonly known as "tan").
Magpul built its company on designing and manufacturing polymer magazines, stocks and other accessories. So it should come as no surprise that the construction of their bipod also includes the use of polymers, combined with both steel and aluminum. This use of polymers is one of the things that allowed them to keep the overall weight low. But polymers are also not as durable and strong as steel, so there was the need to incorporate some of the hard stuff in the design. It is nice that a bipod is light weight, under a pound in this case, but that is not a higher priority than strength and durability.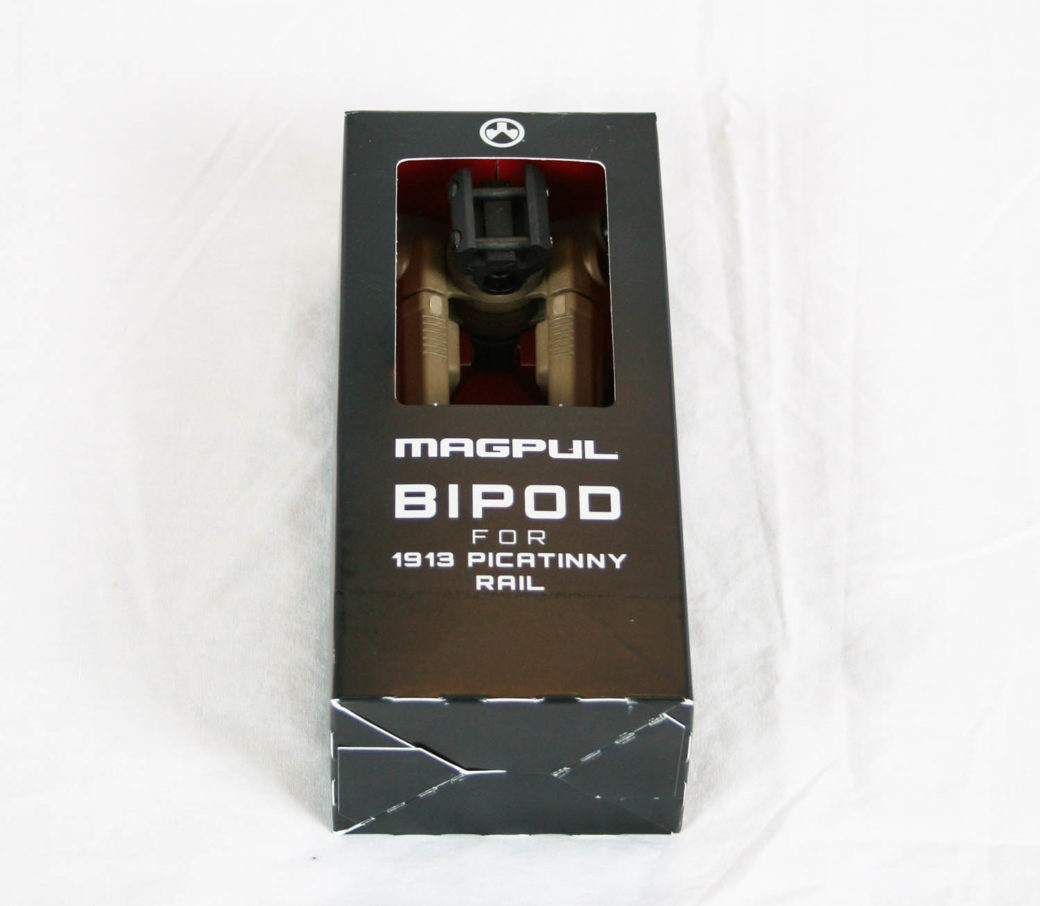 The bipod comes in a nice box with some simple instructions and other basic information. There are several different mounting heads available on these bipods including a direct M-Lok mount, which should come as no surprise from Magpul, and a mount that attaches to a Picatinny rail. We elected to try out the rail mounted version, though an M-Lok mount would be nice on any of the modern AR platforms and chassis bolt guns that have a M-Lok forend. A third option, a quick detachable sling stud mount, will be available in the next few months. This is a good idea as the sling swivel stud is still the most popular method of mounting a bipod, as least on bolt guns.

Neither the M-Lok mount nor the rail mount system are quickly attached or detached. The two screws on the rail mount system can be tighten with either an Allen wrench or a flat head screw driver and are not intended to be attached or removed often. The M-Lok method is equally as slow to attach or remove as well. The mount is attached to a gimble style head that can to pivot in several directions. This includes not only being able to cant the rifle left and right, like a Harris swivel version bipod, but also there is some left and right yaw movement that will help prevent having to slide the bipod legs as the shooter pivots left and right through their firing arc.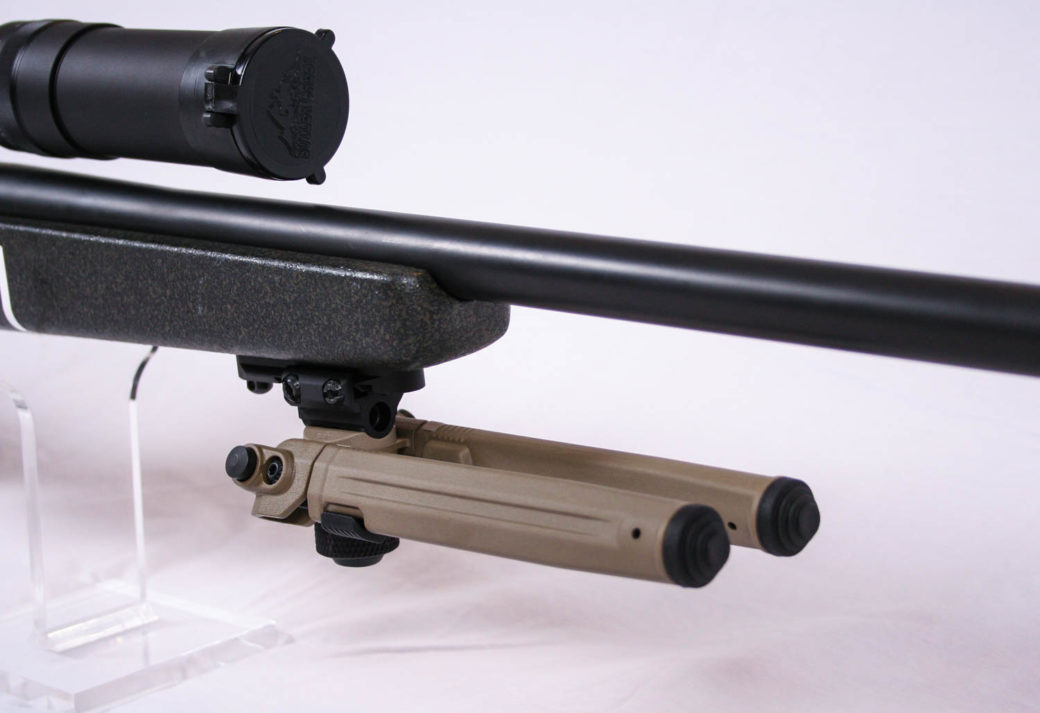 The mount itself is a bit tall when attached to the rail, but the rail design and thickness has something to do with that as well. The M-Lok setup is not quite as tall and provides a little lower profile. There is also a friction tightening knob on the bottom of that mount that is easy to reach and suitably large to provide the leverage to tighten it down the friction to keep the rifle from flopping around on the bipod.
The legs pivot either all the way forward in the up position or straight down when in use. There are no intermediate locking points like you find on an Atlas bipod. When the legs are brought down, they snap into place and a button at the top of the leg must be pressed to allow the leg to swing back forward. The system seems to work well enough and is easy to operate with enough tension to keep the legs "up" when not in use. Each leg also has a flat button on the top trailing edge that is pressed to extend the leg out to one of its multiple leg notches. Each leg can extend up to 4″ longer than its lowest point, giving a length of 6.2-10.2″. The feet on the legs are interchangeable with different styles, though we did not have any other feet beyond the standard rubber ones that are included.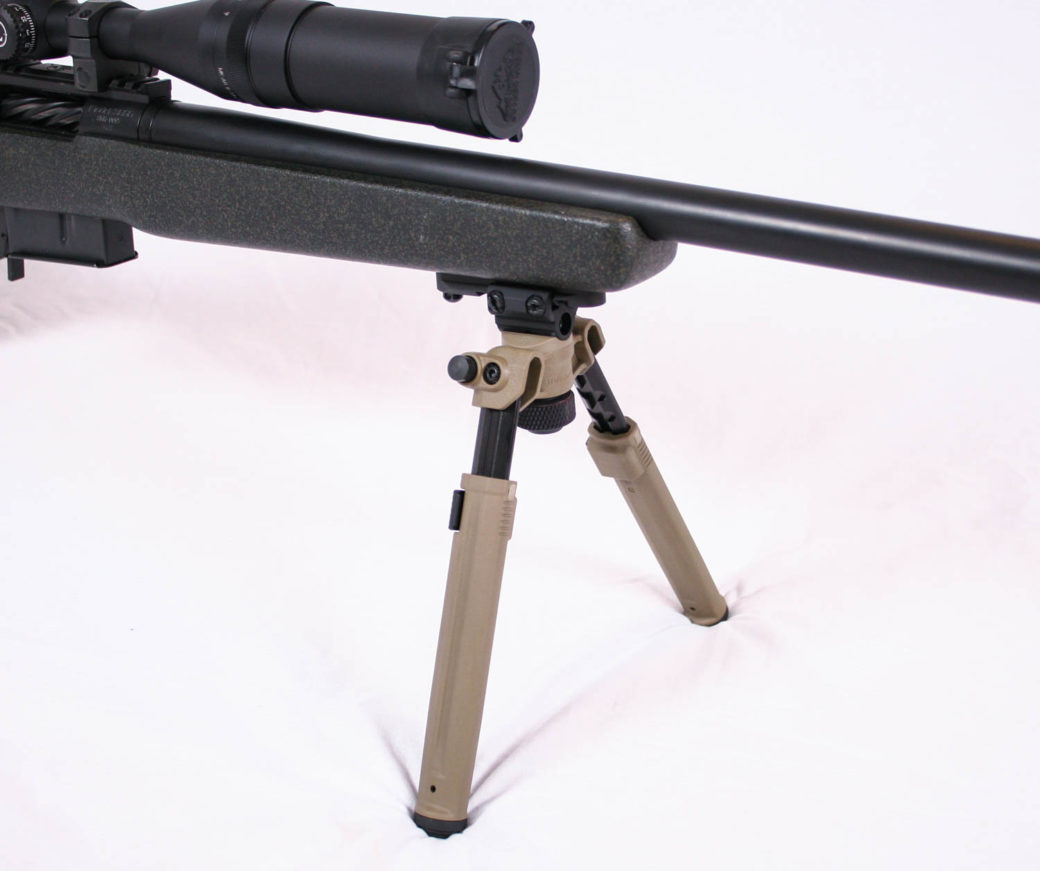 The bipod feels fairly sturdy with the steel reinforced legs, but we wanted to run the bipod through some typical shooting scenarios just to see how it worked and would hold up. The rifle we mounted it on is a Snowy Mountain Paladin chambered in .308 with no muzzlebrake. Because the bipod has the pivoting features, we will compare it mostly with the Harris swivel version bipod, which runs about $10 more than the Magpul.
We used the bipod though a series of shooting sessions from both the bench and prone firing positions in both the dirt as well as concrete. The first thing we noticed when using the bipod was that the legs have about 1″ of back and forth movement when they are in the locked down position which is more than the Harris displays. Initially we thought this would be an issue and we figured we would have to "pre-load" the bipod to keep things in check. When we did that for the first time, everything tightened right up and stabilized the bipod and rifle.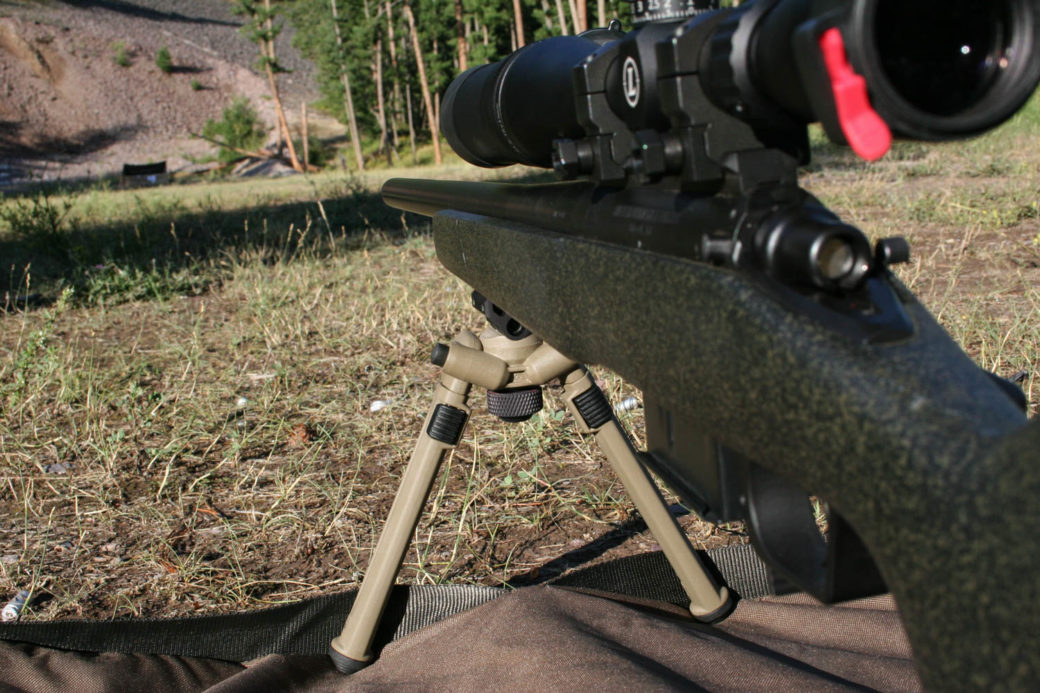 If you are not familiar with the method of pre-loading your bipod, it is just a method of pushing the rifle forward against the bipod, or essentially leaning into the rifle. This pulls the legs back against their stop and firms everything up, taking out any slack in those legs. This is a common method used to help prevent rifle "hop" when firing from a bipod on hard surfaces. As was the case here, it can also firm everything up and make it more stable. In order to do this, the legs have to hold fast and not slip which can sometimes be hard to do when firing from hard dirt or other surfaces where the bipod feet will slide. The feet on the Magpul bipod have good grip and we were able to pre-load it without slipping when firing from a carpeted bench top, concrete, and soft dirt. Of course, the straps on the shooting mat held the bipod in place as well (see picture above).
Like the Harris swivel bipods when not equipped with an aftermarket Pod-Lock, the Magpul tension adjust knob was difficult to get really tight, even with its larger diameter knob than the Harris. So with it cranked down hand tight, it was still perhaps a bit more lose than we would prefer. The ability to both cant as well as yaw the rifle without sliding the bipod feet is nice and an advantage over the Harris.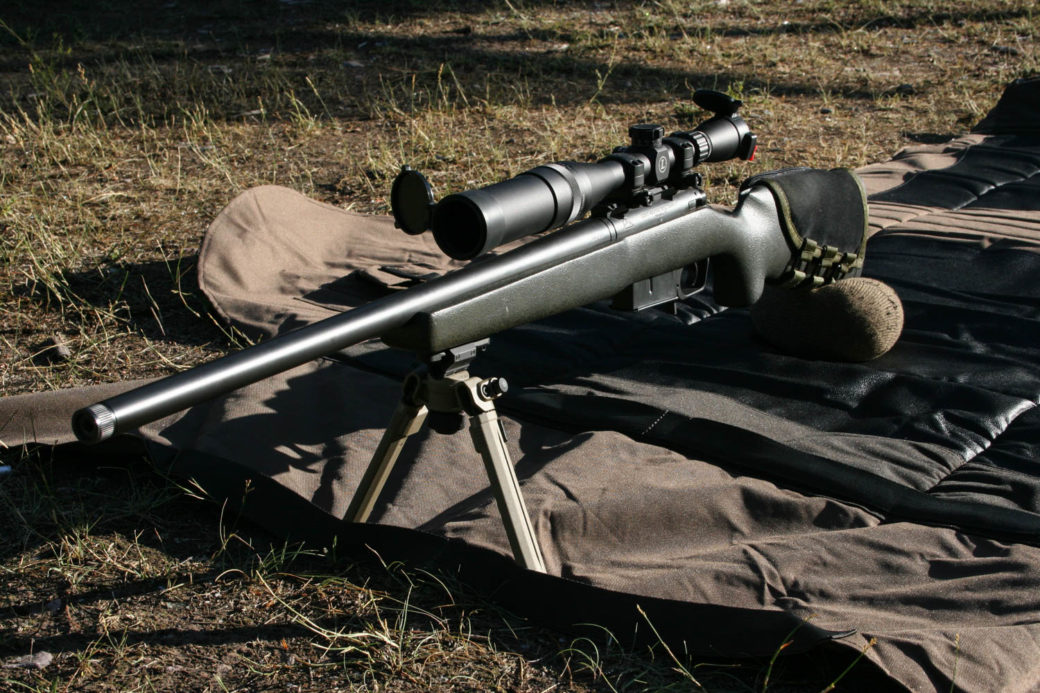 The extendable legs are not spring loaded, so you have to extend and retract them by hand, or actually, both hands. One hand to press the button, the other to extend or retract the leg. There are notches that makes it fairly easy to quickly get to a new height and drive on. The buttons did not have a particularly robust feel to them, but the design is simple and their location is tucked up and out of the way to hopefully help them from getting damaged.
Throughout the firing tests, the bipod performed well and provided as good of a shooting platform as could be expected…as long as you preload it. While our test .308 rifle is not a high recoiling rifle, it was enough to provide a decent test and we found no faults and were even able to shoot respectable .5 – .75 MOA groups from the prone position using only the bipod and a rear sandsock.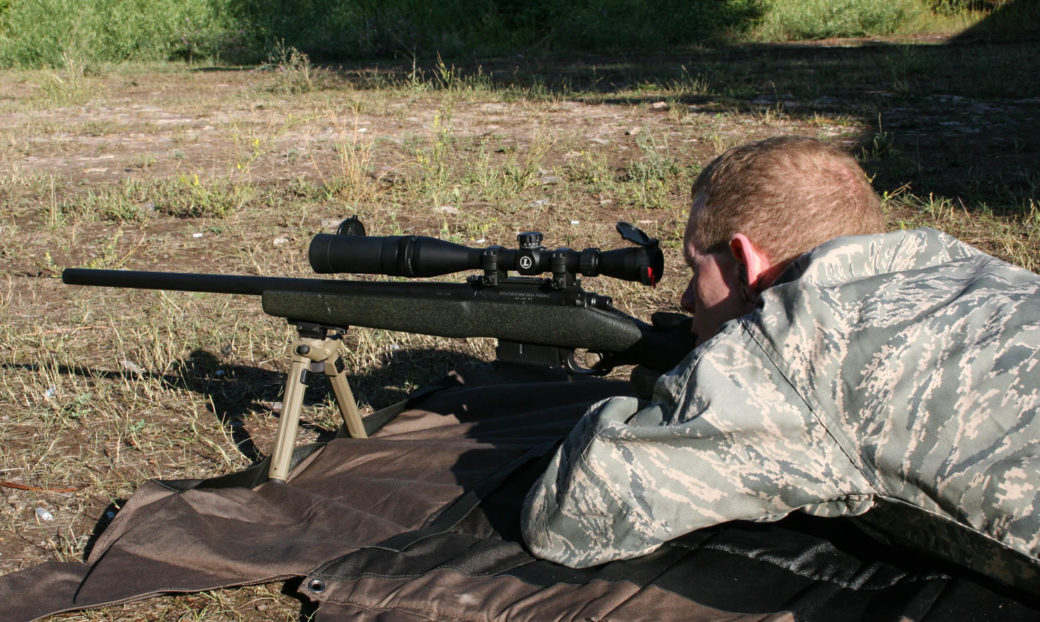 Overall the bipod is not bad. It still has a plasticky feel to it, but anymore with the proven capability of the Magpul PMags and the track record of some of their other polymer products, our durability concerns are tempered. Of course we will continue to use our test bipod to see if there are any weak points, but right now we are satisfied. The mounting options, pivoting features, and even color options are all nice aspects of the bipod and the price is slightly less than the Harris. We don't like how tall the mount and gimble are as it leaves a low hanging bipod when the legs are swung up and that is just a higher chance of getting in the way. But that can be lived with.
If any of you, our loyal readers, experience any issues with your Magpul bipods, let us know so we can determine durability. But as far as we can tell right now, these bipods should work well and they provide an acceptable alternative.
Sniper Central