The hunt for good quality tactical stocks at affordable prices is an ongoing struggle that thankfully is getting a little easier to achieve. Injection molded stocks have long been affordable, but the quality, primarily in regards to stiffness in the forearm area, has always been a problem. There have been recent innovations that have helped in these regards but injection molded "Tupperware" stocks still struggle to meet operational demands. But there are other ways to make more affordable stocks that will standard up tactical field use, and one of the newer stocks trying to crack this egg is the Magpul Hunter 700 available in both long and short action.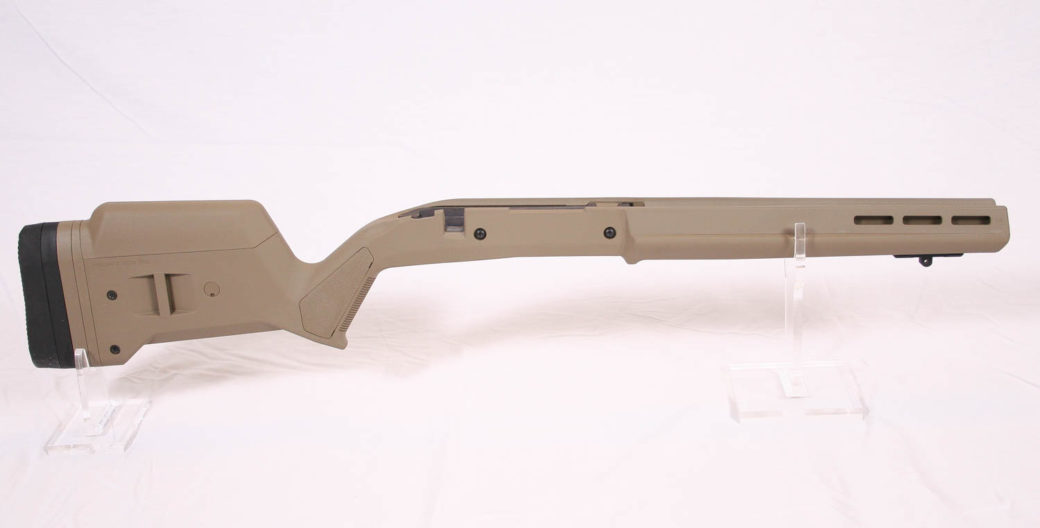 Magpul Industries has been around for a long time and is perhaps best known for their polymer AR series magazines, known as P-Mags. These are very popular, and for good reason. They are well made, durable, lightweight and even quiet when compared to their steel magazine equivalents. But Magpul has a very large assortment of product lines that they offer, mostly tailored around the firearms and military industries. Things such as stocks and grips for MSR and AR rifles, sights, slings, rail accessories and the list goes on. Throughout all these lines of products, a common theme in most of them is their advanced use of polymers in their design and construction.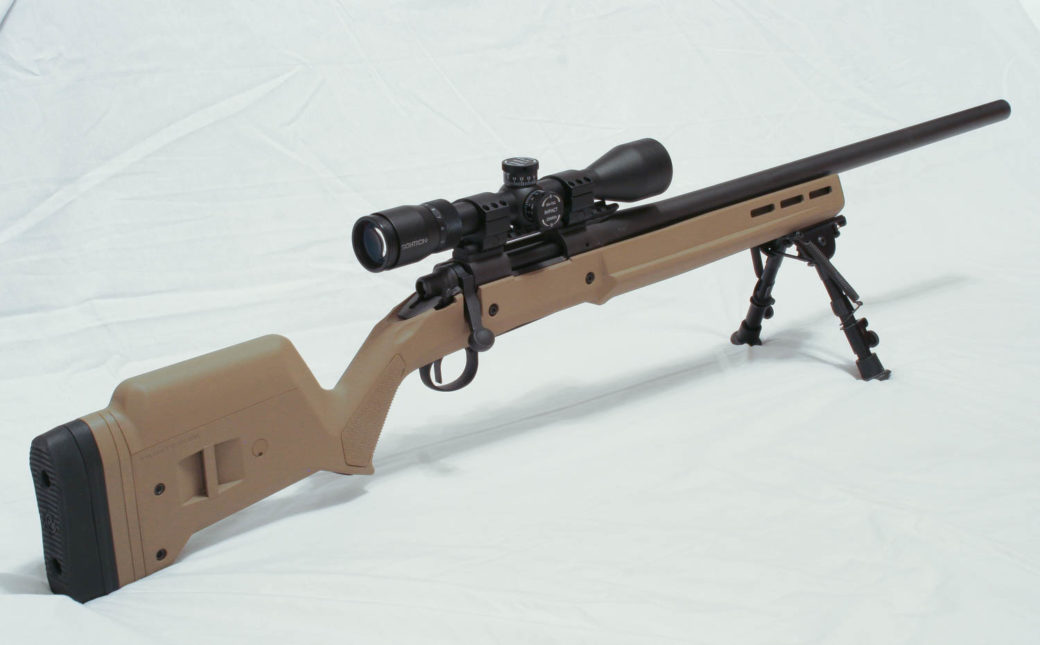 The Hunter series of stocks is currently available for the Remington 700, Ruger 10/22 and the Ruger American rifles. As you might imagine, the stocks are made using their reinforced polymer process. This is not to be confused with the typical injection molded construction found on the very cheap stocks associated with cheaper rifles.
The Hunter 700 arrives in a large Magpul box with their familiar logo and design style on it and it looks very familiar to their other product packaging. When you remove the stock and handle it, it quickly becomes evident that it is not a cheaper flimsy stock because of just how rigid it is. While it still has the plasticy touch and feel, like a polymer rear buttstock on an AR rifle, it does not flex like cheaper injection molded stocks.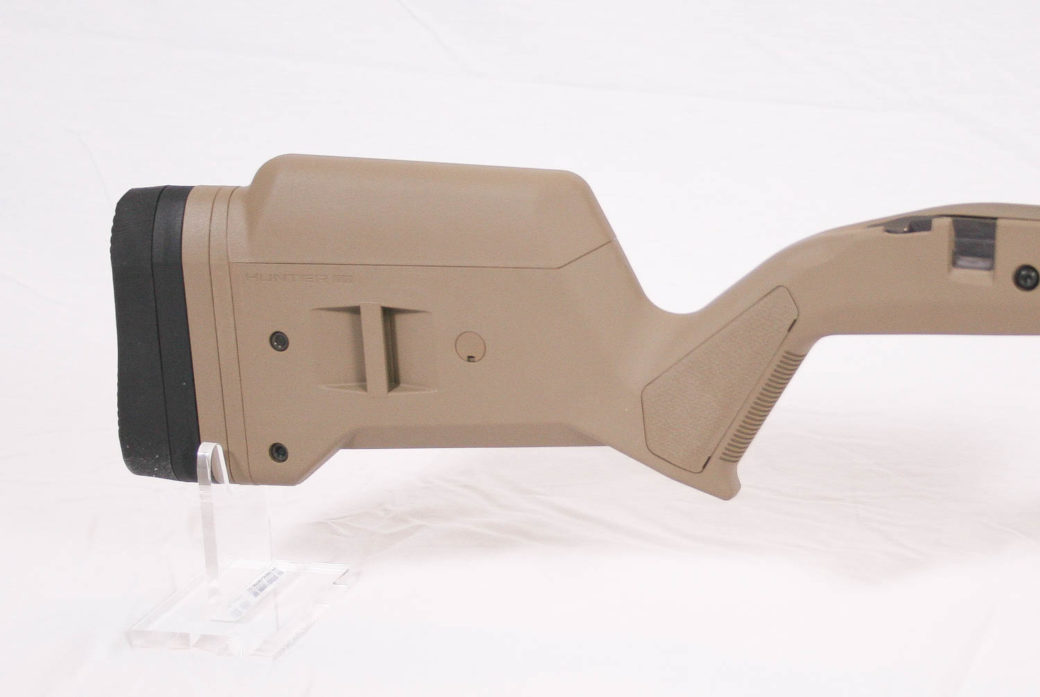 The shape of the stock itself is what we would call "semi-tactical". There is a flat and wide forearm area with a slight upward slope to accomodate shooting from sandbags. The buttstock has a spacer system with removable spacers that allows the length of pull to be adjusted from 13.0-15.0″ and there is a raised cheekpiece to allow better eye alignment with the scope. While the cheekpiece is not adjustable, it is removable and there are other cheek pieces of different heights that are available for purchase that allow for changing the cheek height. With the M-Lock slots at the front, it adds further flexibility and modularity to the design.
The pistol grip is one of the areas where the stock is more hunter than tactical. It is not a vertical style grip, slanting back and it does not have any sort of palm swell and is thin. Though there is some nice texturing on it and the side grip panels are removable and replaceable. The entire theme of the stock seems to be modularity, allowing you to tailor the stock to your own liking.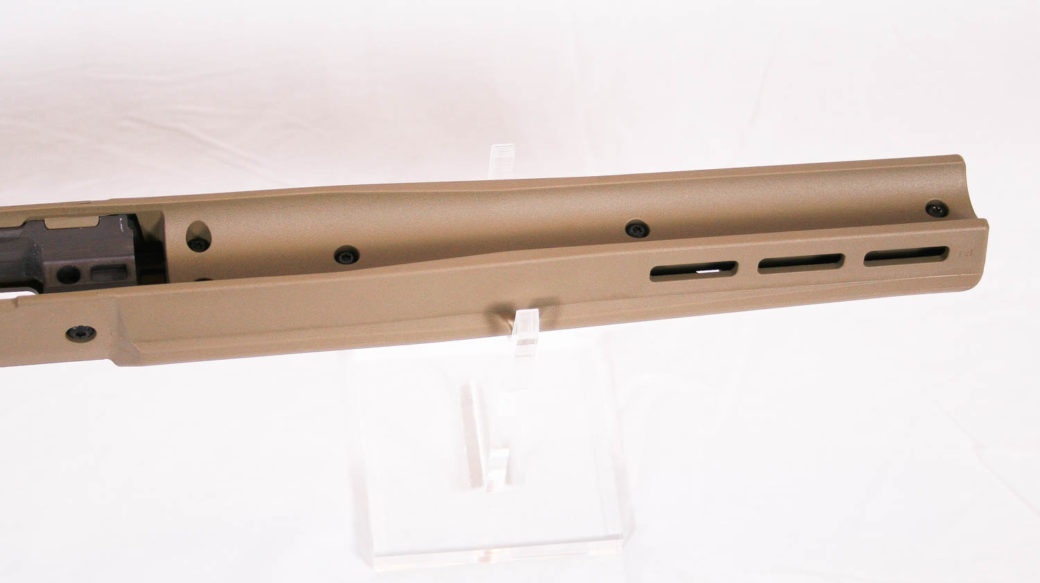 The barrel channel is wide enough to provide free floating for all of the normal Remington barrel contours and it will fit up to a medium Palma contour, which the Remington heavy barrel profile is. There are some M-Lok slots on the sides and bottom of the forearm to allow mounting of accessories and we utilized one of the Magpul sling swivel stud M-Lok mounts in order to mount a Harris bipod. The stud runs about $20. As we mentioned, the forearm is nice and stiff allowing for easy free floating of the barrel even when the weight of the rifle is resting on only the bipod.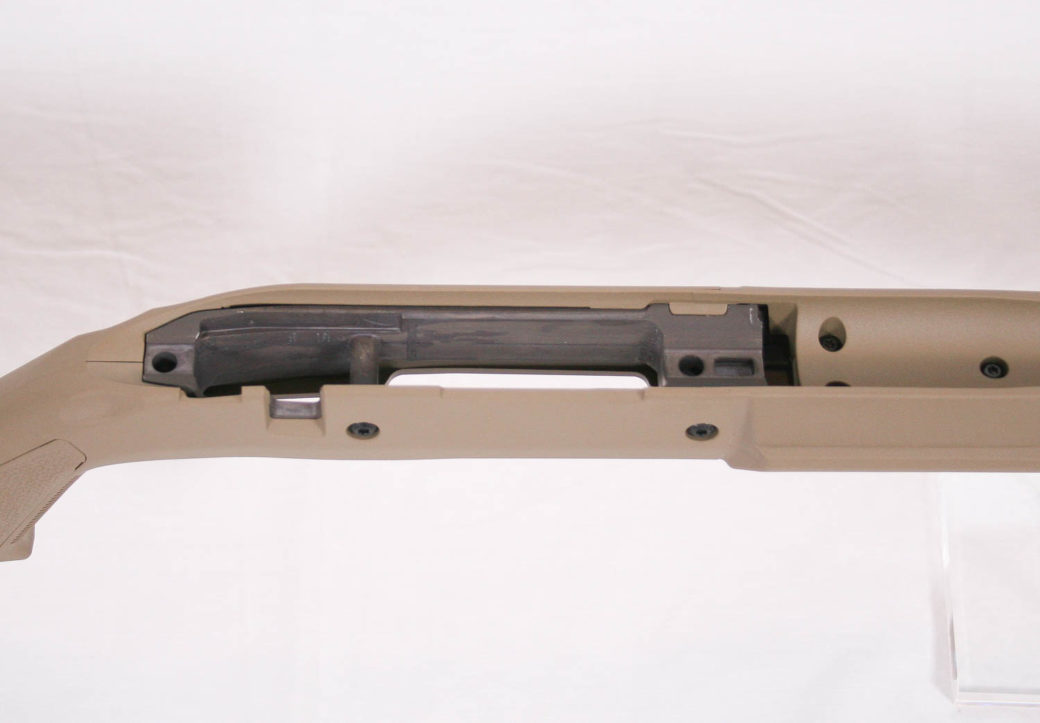 The stock also features a cast aluminum V-bedding block in which the Remington 700 action is mounted. Do note that it is cast aluminum and not CNC milled like the HS Precision or Bell & Carlson bedding blocks are and the V-Bedding style does not closely match the contour of the action but instead just gives a few V runners that the action mates to. Its not as nice as a full milled block, but they have proven to be effective and accurate. Provided the molds remain in good condition and the engineers at Magpul are watching their casting techniques, the accuracy and quality should be good enough for this style of stock.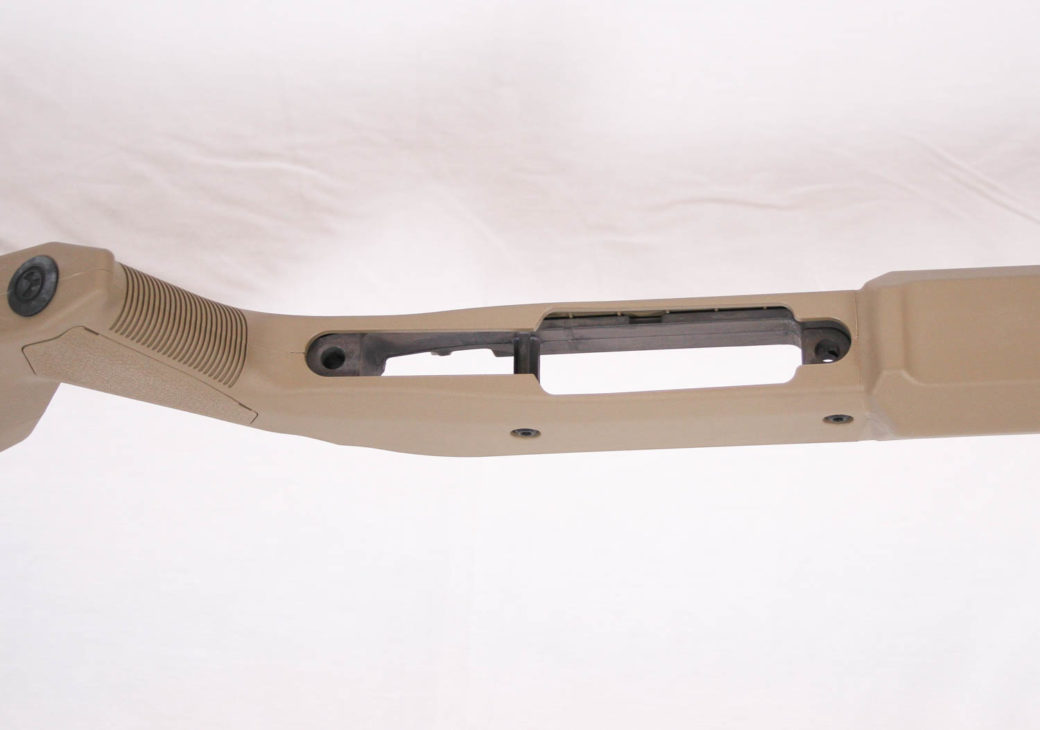 Continuing with the modularity goal of the stock, it is setup to accept either a factory BDL style hinged floorplate without any modification, or you can spend between $70-$80 and get the DBM floorplate made by Magpul using, you guessed it, polymer. This DBM kit comes with one of their own five round P-Mags and everything needed to mount the DBM floorplate and trigger guard. There is no gunsmithing required and it can be done by just about anyone.
We tested both the BDL floorplate as well as the DBM setup and they both fit well and mounted solid. The DBM setup has a nice magazine release at the front of the trigger guard that allows the magazines to drop free when pressed forward. Again, everything has that plastic feel, but at least it is hard plastic.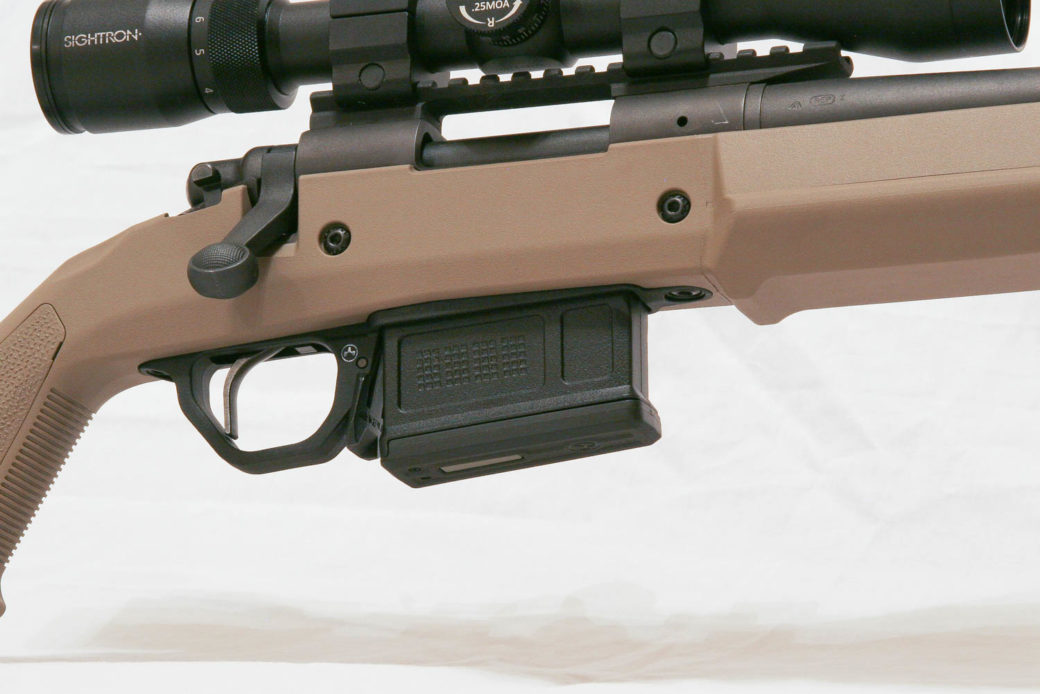 We used a Remington 700 SPS Varmint 308 barreled action to test the stock and with our normal T-Handle torque wrench we were able to quickly mount up the barreled action and factory BDL floorplate. The Hunter 700 is setup out of the box to be truly a drop in fit and the fit was nice. It took a little bit of fiddling with the DBM floorplate to figure out how it was mounted but once we figured it out (the instructions could be better) it was straight forward… until we tried to dry fire the rifle. If you look at the picture above, you can see our straight trigger and where the shoe is in relation to the trigger guard. As you can tell, the rear of the triggerguard with its forward slanting edge, interferes with the trigger keeping it from pulling to the rear. Of course, a standard curved trigger is NO problem and works great (we tried). But if you have a straight trigger shoe like this one, be aware, the DBM floorplate may be a problem. Beyond that, the setup worked very well.
Firing the rifle is about what you would expect. It has a plasticy feel (yes, we have mentioned it several times) but the rifle fires just like normal. The stock weighs 3 pounds, which is on the light end of the spectrum for a full tactical stock, but is not considered "light". The cheekrest area can get slick with facepaint and/or sweat, but that is not uncommon on many, if not most, synthetic stocks.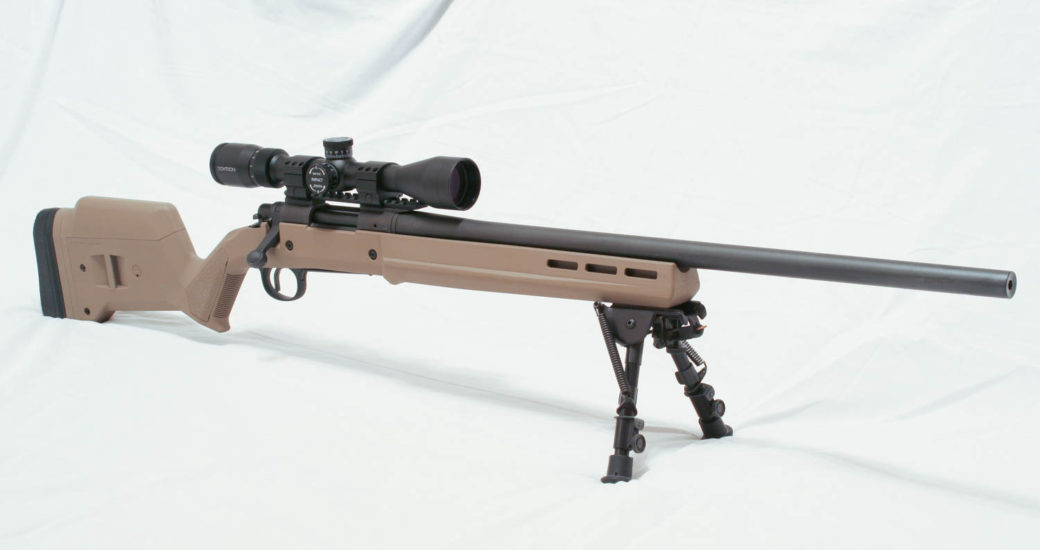 The ability to tailor the stock to your fit and purposes is nice and is one of the trends on tactical rifles today. The quality of the stock is good enough, though it certainly is not going to rival a McMillan, Manners, or HS precision, but it certainly will get the job done. The cost of the stock is lower, but not exactly cheap either. The MSRP is $260, which is certainly cheaper than a HS Precision, and just a tad lower than a Bell & Carlson tactical stock. But, if you want to mount a bipod, you will need to spend another $20 for one of the options such as a sling swivel stud or a M-Lok rail. The price advantage does grow when you look at the spacer system, which comes at no cost.
All in all, the stock is certainly functional and if you like the look and feel of it, it'll perform. The stocks are also available in several different colors, ours was FDE Tan, if that wasn't obvious. The DBM setup is also worth looking at, $70-$80 for a real DBM is a good deal.
We will not be replacing any of our McM stocks with a Magpul, but we certainly will not turn away from a rifle that has one on it either. Magpul has just released their "Pro" chassis system as well and while we don't care of the looks of it, it seems to have all the popular chassis features that people want these days. Though the $1000 price tag may be a bit hard to swallow. We'll be looking at one of those in the future.
Sniper Central