Springfield Armory has been around a long time and they are very well known for their M1A rifles and their extensive line of pistols. But now they have added to the lineup a new bolt action rifle called the 2020 Waypoint.

The rifle is what we consider a "semi-custom" rifle with many features of a custom built rifle, but built with only a limited number of configurations and in much higher quantities. So while the rifle action incorporates many custom type features like an integrated recoil lug, enlarged ejection port, ECM raceways and a floorplate that uses AICS patterned mags, you are limited to only a few colors and calibers.
The barrel options are also interesting. The barrel is available in either fluted stainless steel or wrapped carbon fiber with a muzzlebrake on all rifles. There are several barrel length options including 20″, 22″, and 24″ depending on caliber and the contour is what we would call a heavy sporter, or light palmer profile. We have not gotten our calipers on one yet to get exact measurements, but the stainless barrel "appears" to be a tad thinner in diameter than a Remington 700 heavy barrel. The carbon fiber wrapped option is thicker.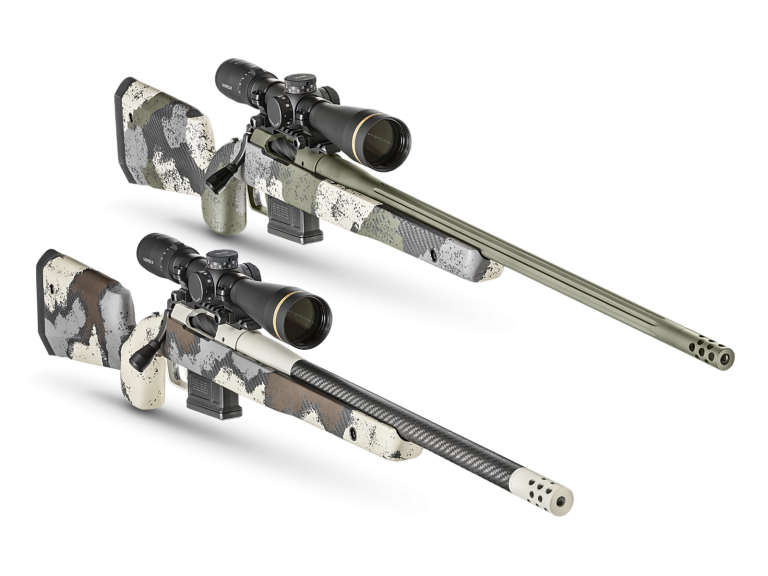 The stock is an AG Composite carbon fiber stock with a near vertical pistol grip and available with an adjustable cheekpiece or fixed. They are available in two patterns (pictured above) and the design looks nice. The metal work is also cerakoted green or light tan.
To see all the details, visit the 2020 Waypoint page on the Springfield Armory page. The rifles are marketed as "hunting" rifles, but there is clearly a tactical twist to them. The muzzlebrakes are not the best for tactical work, but the lightweight (under 8 pounds) is very desirable and they appear to be a well thought out rifle. We suspect the action is sourced from an OEM provider, but that is not a bad thing. They come with a .75 MOA accuracy guarantee and even trigger-tech triggers and the pricing isn't bad ranging from a MSRP of about $1700 – $2400.
We will be getting one here for review as soon as we can.
Sniper Central