The Model 85 is a first-rate sniper rifle, capable of precision fire to ranges of 900 meters. The synthetic stock is manufactured in different colors, according to preference, and is fitted with butt spacers to adjust overall length. A detachable bi-pod is standard, and is one of the finest ever put on a rifle! The M85 took part in a U.K. military trial in the 80's to determine the next issued sniper rifle for the U.K. It was pitted against the AI, H&K PSG-1, SIG SSG2000, and a Remington 700. It came down to the AI and the M85 with the AI (L96) ultimately being selected by the narrowest of margins (and with some controversy….) The L96 was modified and is now the L96A1 and still the current sniper rifle for the U.K.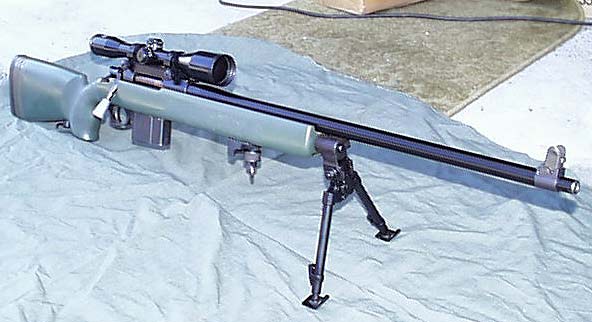 The Model 85 has guranteed first round hit capability up to 600 meters, and 85 percent first round hit capabilities from 600 – 900 meters. The weapon also has a silent safety catch, a threaded muzzle for flash suppressor, and an integral dovetail mount that accepts a variety of sights. The satandard scope is a 6x42mm Schmidt & Bender with a BDC from 200 – 900 meters. Emergency iron sights are also fitted.
This is by far my favorite rifle ever manufactured. In my humble opinion, this rifle has the perfect combination of great looks, excellent accuracy, superb functionality and a stellar service record. Parker-Hale quit making this rifle, and for a while had gotten out of the rifle making business altogether, and Gibbs Rifle Co. (Who had recieved the Parker Hale M85 manufacturing license) also ceased producing this outstanding sniper rifle and they are now only available on the used rifle market.