Patriot Arm's Inc. was introduced to me by one of the good folks on our forums (Thanks Jeff). Jared is the owner of the company and is a great guy. He agreed to send out a production rifle he was building for a customer for evaluation. The "Genesis" as its called is a custom tactical rifle that comes in a set configuration with some options available to the customer when ordering.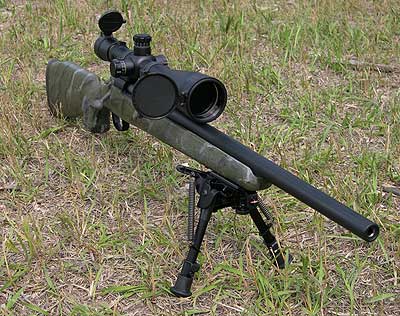 The rifle that was sent to me is a sold customers rifle and represents a typical production rifle. The rifle is based on the traditional Remington 700 BDL Action. It had a black/OD/grey marble colored McMillan A1 stock that was glass bedded. It had a 5.5 Contour Broughton's barrel (Other barrels are available upon request). The barrel was 20″ with a 1:11″ twist. The crown of the barrel is worth noting, it is a deeply recessed 11-degree crown that is done by Patriot Arms, and I like it as it offers great protection from getting dinged up. The trigger is a Remington factory trigger that has been reworked by Patriot Arms. On this test rifle the trigger was set to 1 (one) pound 12 ounces. While it was exceptionally set, it was way too light for tactical work. It was great for getting group sizes on the range but I was very ill at ease when doing the field evaluation on my unknown distance range. I asked Jared about this and he said his triggers normally come at 2.5-4 lbs and the trigger I had is NOT typical, which is good. Overall, the rifle as tested is light (9.5 lbs with optics) and compact, and was pleasant to handle in the field. The metal work was finished in matte black, with the bolt was finished in gray. The metal work is available in Black, Gray, or OD Green. Available colors for the A1 stock are OD/gray/black (marble), Woodland Camo, Desert Camo, Solid OD.

For 100y group sizes I used Federal Gold Medal Match 175gr, PMC 168 Match, and US Military M118 173gr. The rifle came with a Leupold 6.5-20x Vari-X III Tactical Scope. As usual, the glass was excellent! I shot my groups at one of the local ranges, Deer Creek, it was broken clouds and about 80 degrees, altitude is 3200ft. The summary is simple, this rifle is a shooter! Federal GMM had the small group of the day at .18″, PMC had the small average of the day, shooting a .19″ as a small and averaging .34″. That is exceptional considering some groups had called flyers, etc. The barrel does heat up quick and after about 10-12 rounds the groups open up. The rifle, being short and relatively light, does exhibit more muzzle jump than the bigger and heavier rifles like an M24. The rifle HATED M118 (the older style ammo) and I couldn't get a sub 1 MOA group with M118. That is not unusual for some rifles. This is a solid .25 MOA rifle, as evident by when I did my part, it always did its. I don't know if all Patriot Arm's rifles are .25 MOA rifles, as there is no guarantee of the sort, but this was an "off the shelf" rifle and it shot beautifully. I also shot the rifle long range at my unknown distant range. I used PMC Match exclusively and shot from 300-600 yards at my hardened steel plate. I even shot prone unsupported at 300 yards for a handling exercise. The rifle performed well at all the ranges and seemed to hold to published ballistic charts fairly well, indicating that we are getting velocities close to published numbers. I have no faults with using the rifle at all the ranges I tested it at.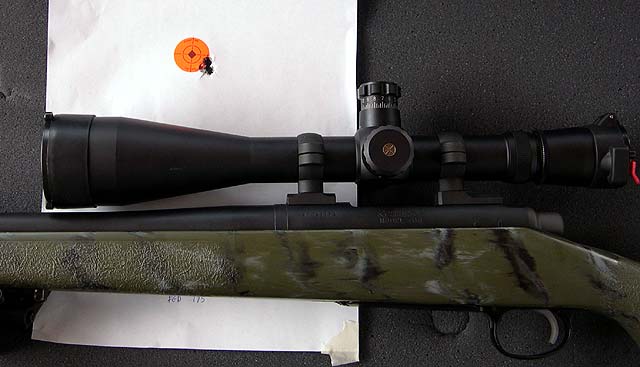 This rifle was a real joy to shoot and I'm glad to know about Patriot Arms now. Jared has a great rifle going and seems to be turning out a great product. The price seems good especially if all rifles perform as this one did. I highly recommend the Patriot Arms Genesis rifle.
Patriot Arms Inc.
P.O. BOX 669
Buford, GA 30515
706-367-8881
j_joplin@msn.com
www.patriotarmsinc.com

Just let him know when ordering that you are going through Sniper Central. Check out the additional images below.