Rifle building has been around for hundreds of years and many of the processes and procedures for building a rifle have not changed over that period. Sure, some new ideas and methodologies have been introduced and those processes have evolved over time, but for the most part, the process of building a rifle has not radically changed for centuries. New firearms are designed, new cartridges are invented, and even newer and better tools are created for building a rifle, but when it comes to breaking into the industry and creating a name for your new rifle manufacturing business, how does one go about doing it?
This was the question facing a small group of individuals two years ago when they set out to make the best possible long range precision sniper rifle, all from scratch. Now bare in mind that these individuals were not trying to start a new custom gunsmithing shop where they would build a custom rifle to order, but rather they were literally trying to build a complete firearms factory. This included plans of introducing additional firearms types and models in the future. As a true firearms manufacturer, they would need to build their own barrels, actions, stocks, and all the other little parts that are necessary. Yes, this was quiet the undertaking, but the question still remained, how does one distinguish themselves in a market that is highly competitive?
The answer came in a typical 21st century solution thought up by a group of young and ambitious multi-national go-getters with strong financial backing. That answer: go after the problem with the most advanced and precise technology available on the market today. If you are thinking this sounds like an idea that might have originated in Silicon Valley in the USA, you would be on the right track. But this new company is not based in Silicon Valley, but rather in beautiful Austria. Austria is a small country that is already known for its excellent gunsmithing and firearms tradition with renowned manufacturers such as Steyr, Glock and Kahles Optics all found within its borders.

Episode Twelve – We visit Ritter & Stark in Austria to see their facility
The name of this new company is Ritter & Stark GmbH and they are located in the Alps in Southern Austria near the Slovenia and Italy borders. Sniper Central recently had the opportunity to visit the factory in person to get to the know the company and to be introduced to their first rifle offering, the SX-1 Modular Tactical Rifle (MTH). The SX-1 MTH is now currently available for both government and individual purchase.
The R&S factory is located in the small town of Feistritz im Rosental, which is not exactly a booming metropolis of high tech manufacturing, it is actually more like a quaint alpine mountain retreat. That facade is rapidly shattered as soon as you walk through the doors to the factory. Here is where the modern day high technology standard of manufacturing becomes apparent at R&S. There factory floor is not lined with traditional drilling presses and lathes, but rather it is lined with numerous 5-axis CNC machines of varying size and capability. As R&S brings the high precision gun building process into the 21st century, the dirty and worn factory floor is replaced with a clean and clear factory where the workers have clean hands and keyboard counsels at their workstations instead of work aprons and greasy tools.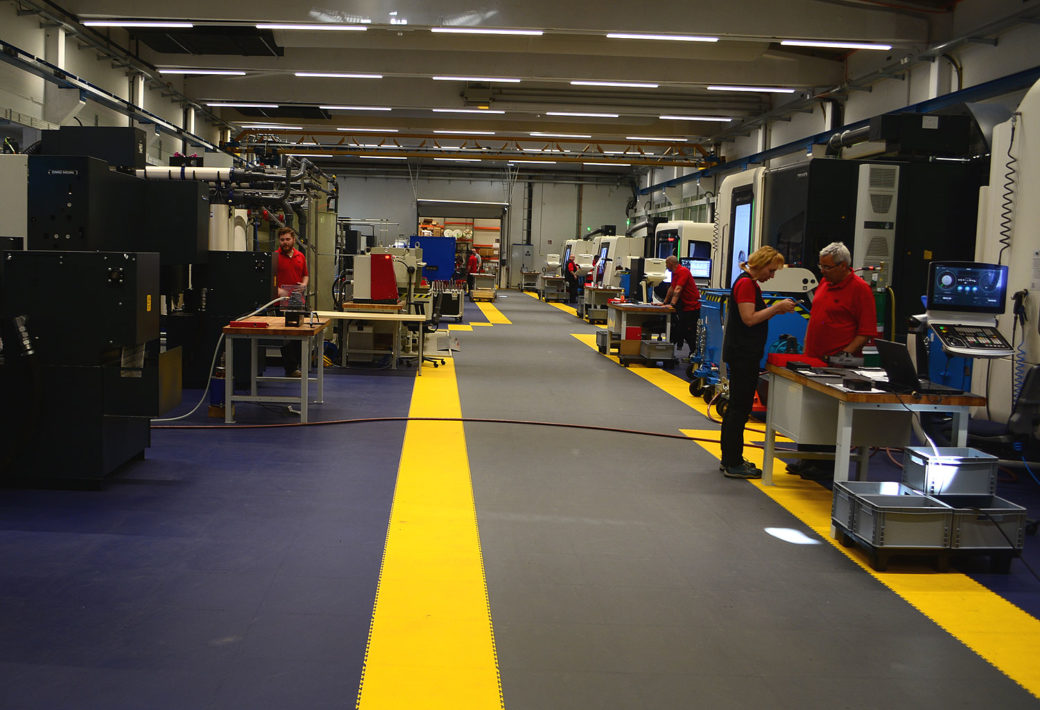 Following the work flow through the factory from beginning where the raw metal for the barrels is received all the way to the finished product, one is impressed to watch the metal take shape into a rifle. Looking beyond the fancy machines reveals that the thoughtfulness of the ultimate goal did not stop at just purchasing very capable CNC milling machines, but extends into every element of the manufacturing and quality control process at R&S.
All of that manufacturing capability is really of no value if the rifle design itself will not perform as needed. We were introduced to Max, the head designer of the SX-1 MTR rifle and one of the many entertaining characters at R&S, and he explained the intricacies of his rifle design. Max is actually fairly young and came to the company from Russia and some of the Russian reliability and durability traits are found in the design of the SX-1 MTR. We will be performing a full and detailed review of the SX-1 MTR at our facilities in Montana very soon where we will go over all the finer points of the rifle. Max has a very unique view on rifle durability and some of the tests he and his engineers have performed on the prototype rifles in an effort to destroy them are things that would make any US Marine proud. (Rumors of throwing a rifle off the roof of the factory onto the pavement, or jamming six bullets into the barrel and then firing a live round behind them, may not be rumor….) We were able to test fire the rifle in the Ritter & Stark 100 meter indoor shooting range that is located on top of the factory itself and can report that our initial impressions are favorable and we were able to see good results even in this quick test.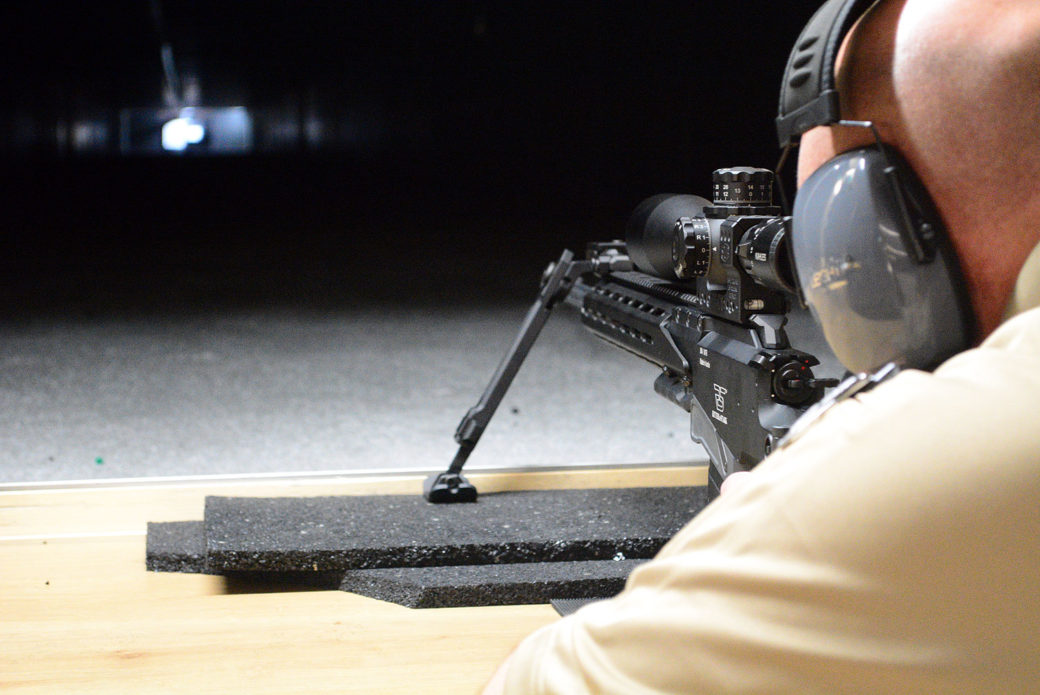 The primary design philosophy of the the SX-1 MTR is extreme quality combined with a modular design. That modular design extends to the barrel, chamber, and breach which are of a single unit. This means it is very easy to do a quick barrel change, which means the entire chamber and breach are changed as well. The chamber is actually a part of the barrel itself which negates any headspacing issues when changing a barrel. The barrel change is performed in only a couple of minutes and if the new barrel is a caliber that is different than the one being replaced, that is no problem either as the floating bolt head is also easily changed as well, retaining the same bolt body with the total caliber change taking about 3 minutes. We will get into those details with the upcoming full rifle review.
Further evaluation of the factory floor reveals various barrel making stations that include contouring, rifling, chambering and fluting their own barrels using the different high precision CNC machines. Everything is done to the highest quality standards with the lowest possible tolerances that their machines can hold, exceeding the common quality standards in the firearms industry.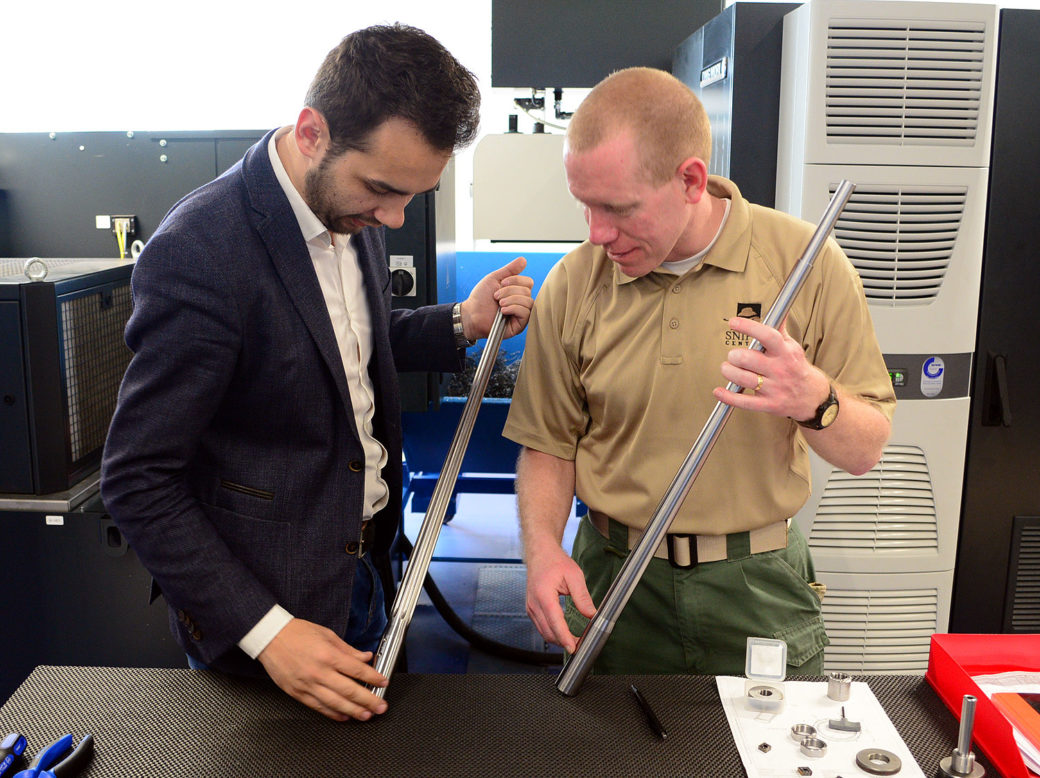 The R&S rifling process is propriety and secret and is done using ECM without introducing any stresses on the barrel and is extremely versatile as to what rifling and rate of twist can be incorporated into any barrel. Runout on the barrel is kept to within 0.02mm from chamber to muzzle. This equates to less than .0008″, to put it in US units of measure. Their muzzlebrakes are also designed and manufactured in house and the barrel threading, while currently in a metric thread, can be done to any thread specification that might be desired or needed. The only parts on the rifle that are not manufactured at R&S are the buttpads, the magazines (Magpul or Accuracy International), and bipods.
After each of the individual parts have been machined and before any further processing, the parts are checked with gauges and corresponding parts directly at the work stations to insure the newly manufactured part is within the specified tolerances. Later the parts are examined by a 3D Coordinate Measuring Machine (CMM) and every part goes through a visual inspection as well. The CMM itself is programmed to perform vital measurement checks in various important points on that specific part, the amount of points depends on the which part is being checked. According to R&S, there is no sense in having extreme precision measuring equipment if you are not going to use it to its full capability.
R&S also has their own laser engraver and after the parts are inspected and then the finish applied, then any part receive markings are ran through the laser engraver. Again, the quality of the equipment itself is exceptional and the result is as well. Many high end custom rifle builders will devote many hours to the details of the rifle and the results are always excellent. Here, R&S has devoted the time and money to the proper setup and selection of the equipment which in turn allows the attention to detail to come through on a larger scale.
With all of the parts made to exacting specifications with any defects being rejected, we wondered if critical parts like a bolt or bolt head could be interchanged or replaced without any safety issues. Because of those exacting tolerances, the answer was yes. The parts are all made to the same specifications which includes the chambers and the bolt parts, so they can be safely interchanged without effecting head spacing. This is unlike most factory rifles today.
Once all of the parts are completed, the final assembly process begins. There are multiple assembly stations where an individual worker is assigned a subgroup, or assembly, to assemble for the day. Once the assemblies are all done, the completed assemblies can then be attached to each other to create the completed rifle. R&S discovered that this was a more effective way of assembling the rifles and prevented errors and increased productivity and quality.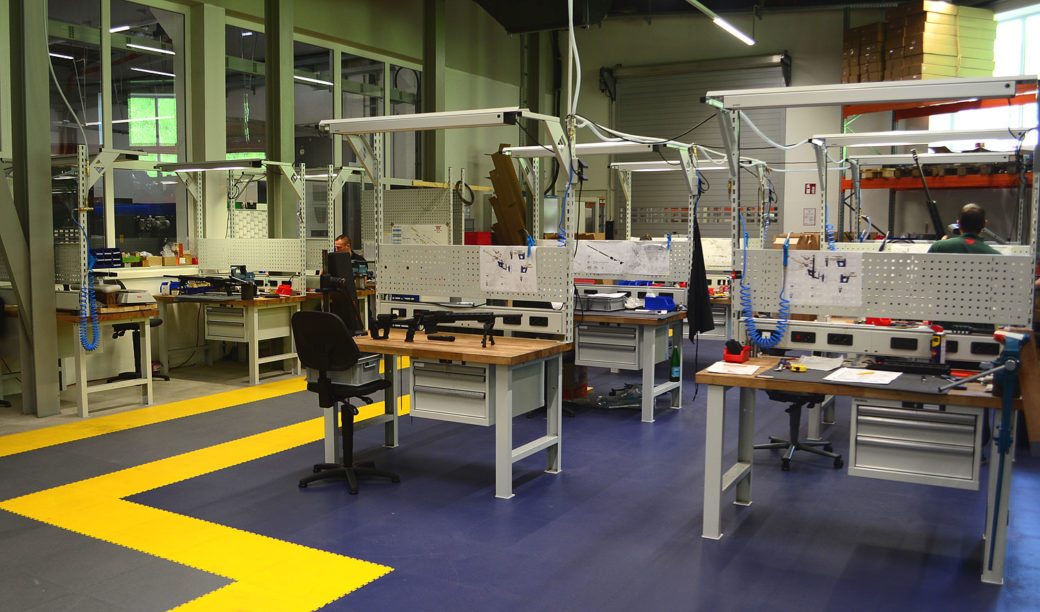 Each completed rifle goes through an extensive quality control test to insure that they meet their overall high standards for the completed rifle. This process involves firing each rifle and then packaging it in their own R&S branded rifle cases. The entire process from start to finish is controlled and thought out in a meaningful manner and then has been adjusted through trial and error to meet their standards.
As has been mentioned, Ritter & Stark is truly an international company with many of the employees coming to the company from other countries. Their adopted "business" language is English, with some German words thrown in which they jokingly call Genglish (Jing-lish). The important part of their business culture is that they all share the common goal of developing the best firearm that is technologically possible with current engineering and machining. The best way to describe the way the company is setup and operates is to think of a Silcon-Valley startup where the latest technology is utilized with young an innovative employees given free reign to revolutionize an existing industry. To observe the lengths to which they will go to insure the highest precision possible is exciting and refreshing, but the real test will be with the end result of their product. Looking at the ground work they have laid and the precision they are achieving, the results are very promising, but we will know for sure when the test rifle arrives.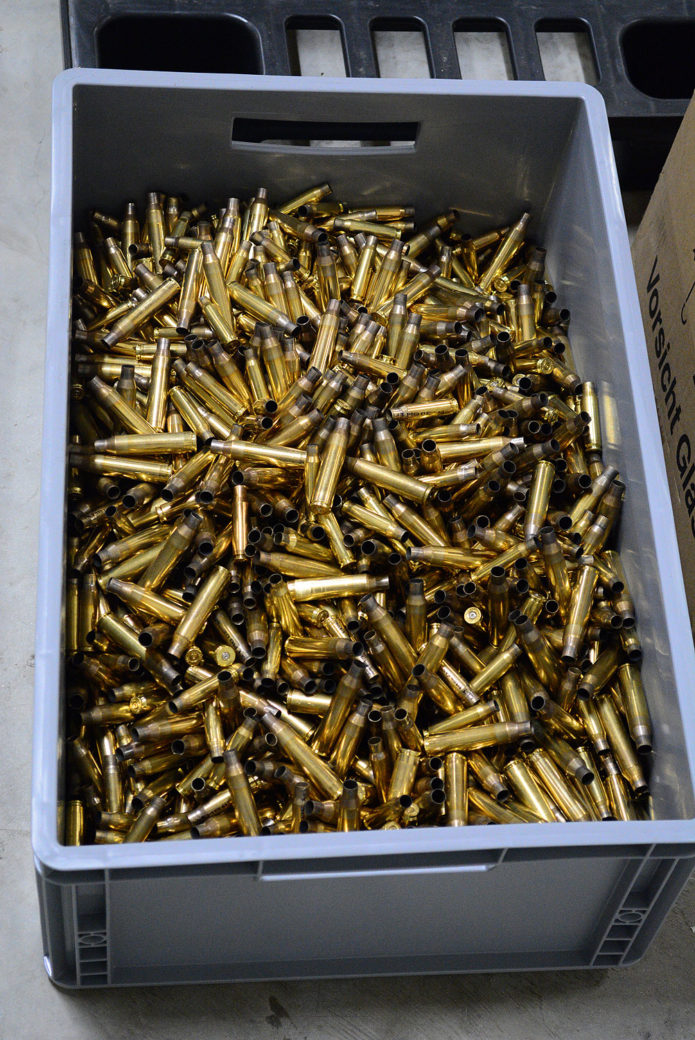 Is it all roses and perfect? No, there are a few concerns that we have. Of course, with all this technology and infrastructure outlays, comes cost. The rifles are not cheap and they are just now starting to hit the USA shores with costs in line with other very high end rifle. Additionally, we noticed that among all of the very young talent that is working at R&S, we did not find the older wise and seasoned gun builder that could provide the tricks of the precision rifle trade. This was a concern and we brought it up with R&S and what we learned was that while their design and manufacturing team is young, they are by no means inexperienced. Max and his team have experience building several F/TR champion rifles and have been a part of the Special Firearms Design faculty at the Moscow State Technical University. Several of their production and assembly workers have been trained at the legendary HTBLVA Ferlach gunsmithing school there in Ferlach, Austria. What was different was that R&S is aimed at 100% uniformity and interchangeability of the parts which means there can be no hand fitting or manual grinding. Their gunsmithing expertise is used to setup control processes to insure quality and accuracy instead of hand fitting everything.
Something they have been doing is working with police and military snipers from Austria, Slovenia, Czech, and Serbia to help develop the SX-1 MTR. We were able to meet and spend a day on the range with one of these snipers to discuss the SX-1 MTR. We will call or new sniper friend "C" and when we asked C for a direct comparison between the SX-1 MTR and their current issued sniper rifle we received some great feedback. What we were more impressed with was that he had just completed a 80km (50mile) trek through the Alps carrying the SX-1 MTR, gaining and descending thousands of meters during that hike. He did this to provide some operational feedback to R&S about the deployability of the rifle in the field. Did he find any shortcomings? Yes he did and he was honest about them with us. The impressive part was that R&S had already designed a fix for the biggest problem and were in the process of incorporating it into the current version of the rifle.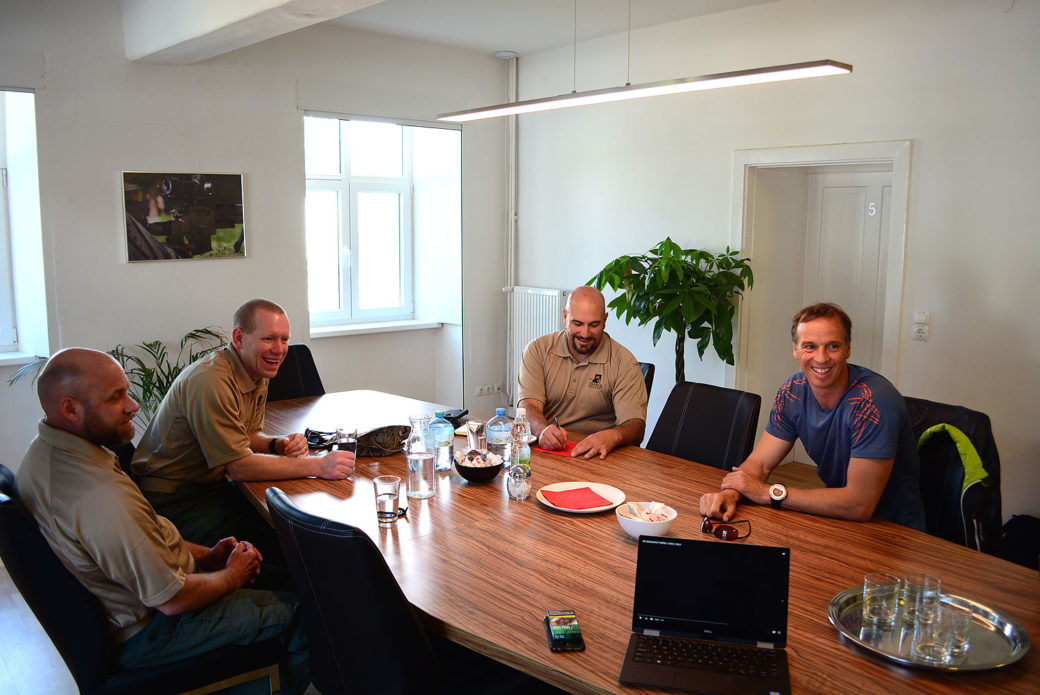 The ability to rapidly address issues that come up during development and user trials is another required trait of a modern startup and it was good to see that philosophy adopted at R&S. This rapid customer response and development cycle can be a big asset to the company and the ease of being able to change rifle specs with the modern machinery should go a long way toward their success. To help insure a smooth introduction into the sniping community in the USA market, R&S has hired a former U.S. Special Operations (Ranger) sniper to head up Ritter & Stark USA and EuroOptic has been setup as the first distributor here in the USA. We were also able to see, handle, and fire their new SLX rifle that is somewhat more affordable without some of the features of the SX-1 MTR. The SLX shows great promise as well and will likely be more attainable to a wider audience of precision shooters.
To summarize our visit, yes, we were impressed with what R&S has already been able to accomplish and with what their ultimate goals are. The gun industry is old and established, so it was exciting to see a new business startup come in with a blank sheet of paper and then see what they were able to come up with. They are less than two years old and are now trying to crack into the high end precision rifle market. We think they have the potential to do very well and they have the financial backing to support them, now it will depend on delivering on the promise and the dream… not unlike any other modern day startup.
Sniper Central
Update: We visited in 2017, unfortunately, R&S is now out of business.