Who is Aaron Roberts? (Not to be confused with John Galt). Aaron Roberts is a former Ranger and then head of Blackwater training, as well as a long time national competitor in various rifle disciplines. But more importantly, he is the founder and head of Roberts Precision Rifles (RPR), a custom rifle building company located in Texas. One of the interesting things that RPR states right there on their web page is that they specialize in bolt action rifles only and that they do not work on pistols or AR platforms. With a declaration like that, it is no surprise that they have a solid reputation as a high end precision rifle builder for both tactical and competitive rifles. RPR has their preferences of what parts and pieces they prefer to work with, but because they are a true custom rifle builder, they will use whatever the customer would like. As such, that makes it a bit more difficult to do a full rifle review on one of their rifles as it is only one of countless number of configurations that are available from the builder. So in a review like this, we tend to look more at the build quality and what we find there versus focusing on the individual parts since those can easily be changed when ordering your own rifle. For this review, we have a rifle that was ordered from RPR with specs that are very much tactical in nature, chambered in 6.5 Creedmoor. With that in mind, lets look at the details.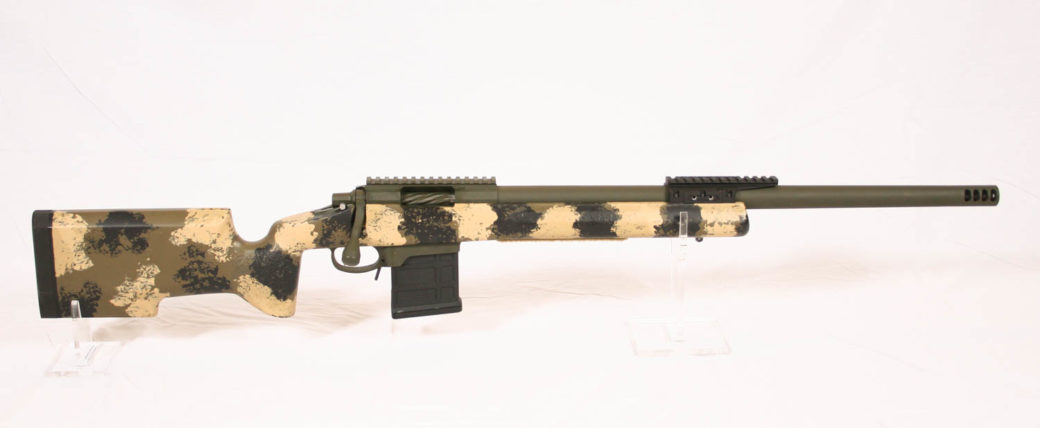 Right from the get-go, we liked what we were looking at. The rifle has a definite tactical look to it and appears to be ready to deploy right now. The rifle was built to order for a customer, who graciously offered it to Sniper Central for review. The stock that was selected for this build was a Manners T4 fixed stock finished in a GAP Camo pattern which consists of a light tan mixed with darker brown and black. It is a popular camo pattern and for good reason, its effective in many different and common environments. It is nice to be doing a review on a rifle with a traditional style stock instead of the current fad of chassis systems. We fully understand the advantages and desirability of wanting a chassis, but we do like the traditional style fiberglass stocks, and the T4 is a good one.
The butstock has a straight comb without any sort of raised cheekrest and as is the normal Manners style, the shape of the buttstock has flat angles on both sides for the cheek. It is worth noting that the rifle can be fired right or left handed. There is a butthook on the bottom rear of the buttstock that is shaped nicely for the use of your non-shooting hand in conjunction with a rear sandsock. There is also a nice recoil pad to help provide comfort and recoil reduction during firing.
In front of the buttstock is located a pistol grip that is nearly vertical and very well placed and shaped to allow excellent trigger manipulation. There is a deep thumb recess that adds to the comfort of the firing hand as well. Around that pistol grip is some rougher texturing to help provide additional gripping friction, which a fiberglass stock would need if it were left smooth.
At the rear of the action where the tang is located there is a large flat area that extends back behind the tang all the way to the pistol grip. The safety, a standard two position Remington style safety in this case, is located on the right hand side of the tang. The operation of the safety is as simple as ever, forward for fire, to the rear to put the trigger mechanism on safe. The size and shape is very familiar though the silver color stands out a bit against the more tactical colors of the rest of the rifle.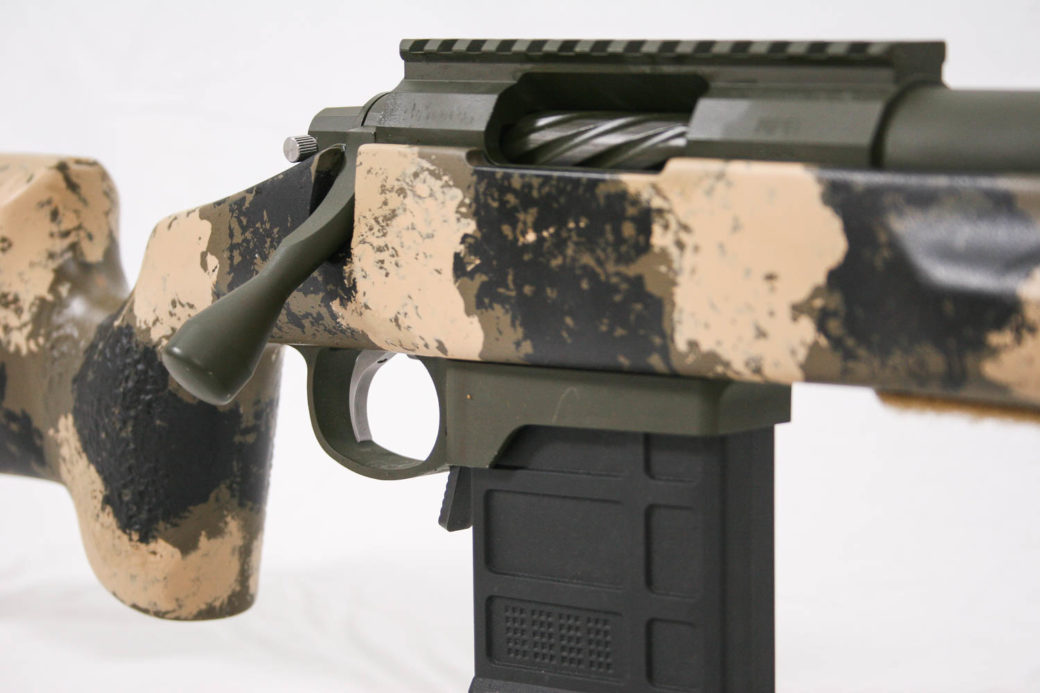 That trigger is a high end trigger from Huber Concepts and was specified by the customer to be set at 2.2 lbs. Our digital trigger scale measured it at an average of 1.30 lbs and was consistent. The trigger is a little different than most as there was actually a little bit of takeup without a definitive resistance point and "break". It just kind of released the sear at 1.3 lbs every time and then continued to travel a bit further. The thin trigger shoe is curved and smooth and once again is finished in a matte silver, which continues to look a bit out of place on a dedicated tactical rifle. The trigger is nice, but did not seem to have the attributes we like on a tactical rifle, and the weight of pull would need to be increased as well before field use, which is easy to do as it has an external adjustment.
The floorplate and trigger guard is a steel unit manufactured by Pacific Tool & Gauge and is compatible with the Badger M5 footprint and has the PT&G "Stealth" styling. The trigger opening is not as tall as other styles, but has a long opening in front, providing plenty of room for a gloved trigger finger. Right in front of the guard is a magazine release that protrudes down below the guard and is very simple and easy to operate, as has become standard on these style of DBM floorplates. The magazine well on this particular PT&G setup extends down below the stock and is easy to insert the magazine into and it also drops an empty magazine free without having to pull it out. This rifle came with a Magpul 7.62 10-round P-Mag, but the floormetal is compatible with steel AICS magazines as well. For daily tactical use, we would likely opt for a 5 round magazine as it fits up flush against the bottom of the magwell and does not protrude down as far which could interfere during stalking or hide setup.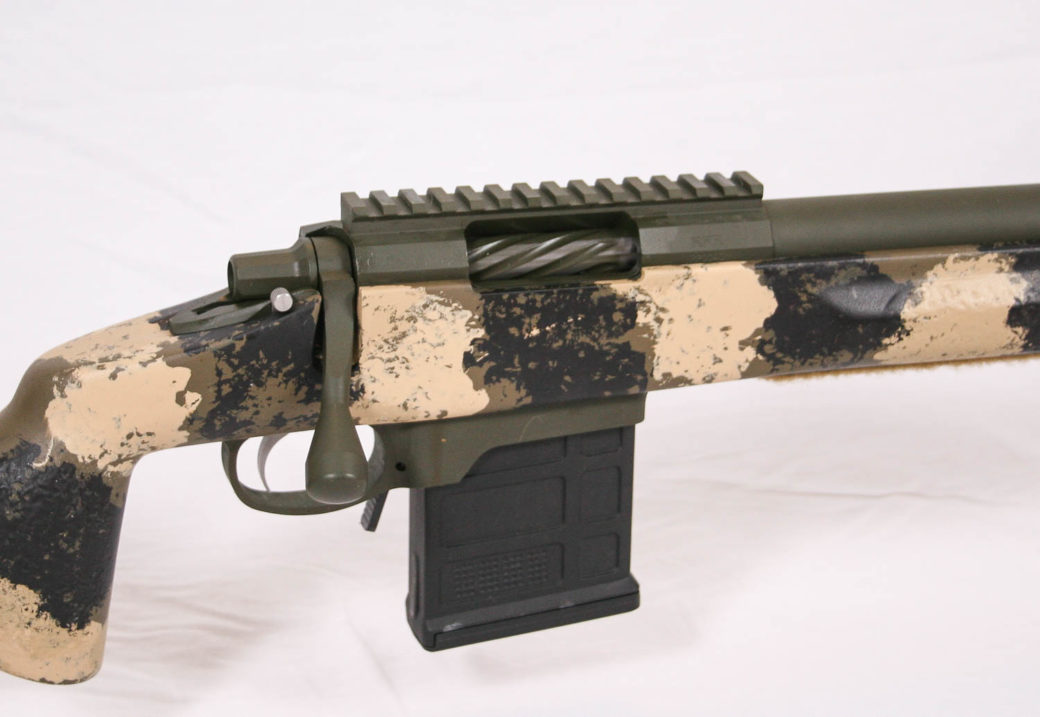 The action on this particular rifle is marked with Roberts Precision Rifles (RPR) and no particular model and is a custom Remington 700 compatible action. RPR indicates on their web page that they like to use Stiller, Surgeon, Defiance, Big Horn, BAT, and Stolle actions. This particular RPR branded action is a Defiance action and having visited the Defiance factory before we can attest to the quality and design of these actions. The action has flat angled sides left and right with a semi-closed port design and a 20 MOA rail milled in as a part of the action.
The bolt release button is on the left hand side of the action and is easy to operate by pressing it in and then pulling the bolt to the rear to remove it. The lever/button is a bit stiff, though should wear in through usage as this rifle was nearly new. The rear bolt shroud has a unique design to it, though it functions no different than a typical Remington style shroud. It has multiple flat faces on it and tapers down more quickly which saves a small amount of weight and offers a unique appearance.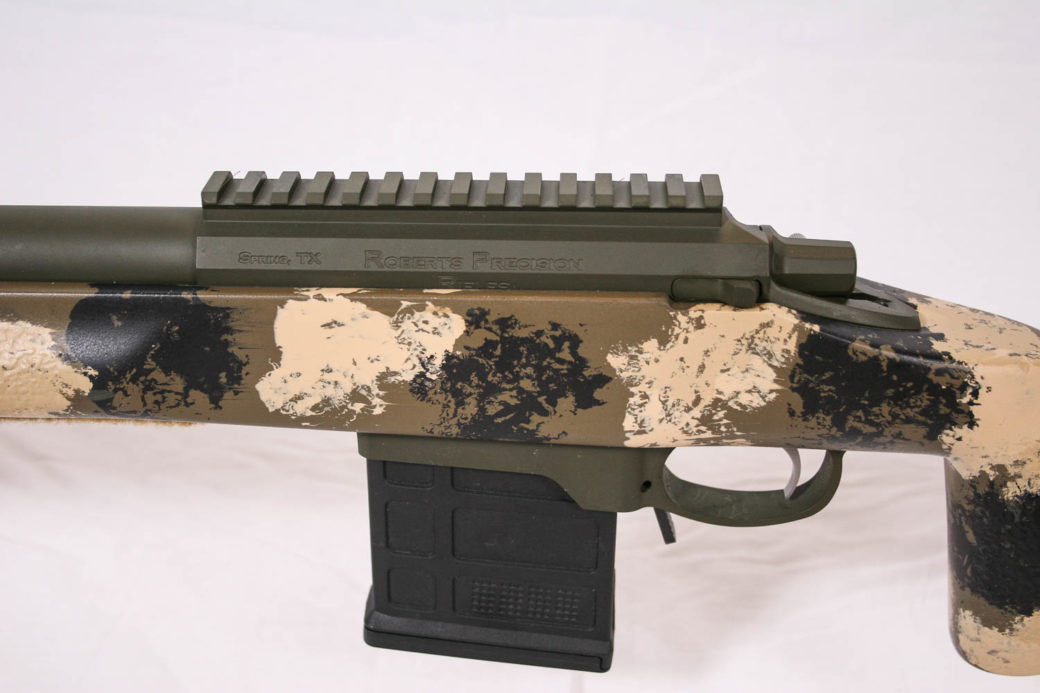 The rear tang is a bit thicker than the more tapered design of the Remington 700, but that thickness provides durability and strength, as does the smaller ejection port area and overall design of the action. The action also has an integrated recoil lug instead of the separate recoil lug piece found on the 700. By milling the action, rail, and lug all from a single piece of metal, the strength and rigidity of the overall unit is very high.
The bolt incorporates a larger tactical style bolt knob that is milled as part of the handle and is large enough to be useful without being too large. The handle is swept back slightly to place it in a bit better position for bolt manipulation than a straight bolt design. The bolt body incorporates spiral fluting that shaves a little more weight and also gives an escape route for debris that has made its way into the action. The head of the bolt has the typical two lugs but utilizes an AR-15 style extractor instead of the Remington C-Clip design that can fail.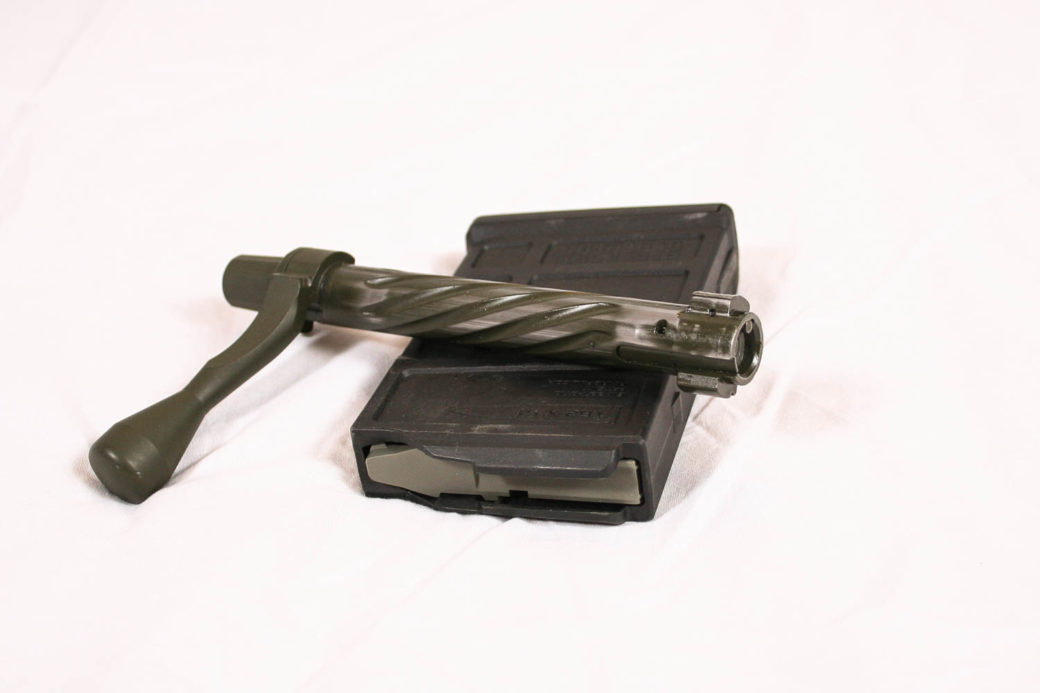 When closing the bolt there is a smooth feel of tight tolerances which also is apparent when cycling the bolt to the rear and then forward. The tolerances are tight and right now in the early stages of this particular rifles life it is a smooth precise, but not super quick yet. As the finish on the bolt continues to wear and as the bolt and receiver are cycled through use, this will smooth out and loosen even more. As it is now, the precision is obvious, and there is very little movement of the bolt from side to side even when it is pulled all the way to the rear. Typical of the high quality Defiance actions. The action is pillar and glass bedded to the stock, the only way that RPR believes in mating the stock to the action.
In front of the action the stock widens out into a well designed beavertail style forearm that provides a flat and stable area for firing from a bipod or resting it on a sandbag or other field expedient rest. On this rifle, there is also a forward mounted Universal Night Sight (UNS) mount used for night vision devices mounted in front of the Day Optics Sight (DOS). It is a bit odd that the UNS is matte black and not OD Green like all of the other metalwork on the rifle. The forearm also has a single swivel stud to mount a bipod and then flush cups mounted on the left hand side of the stock, both front and rear, for use with a sling.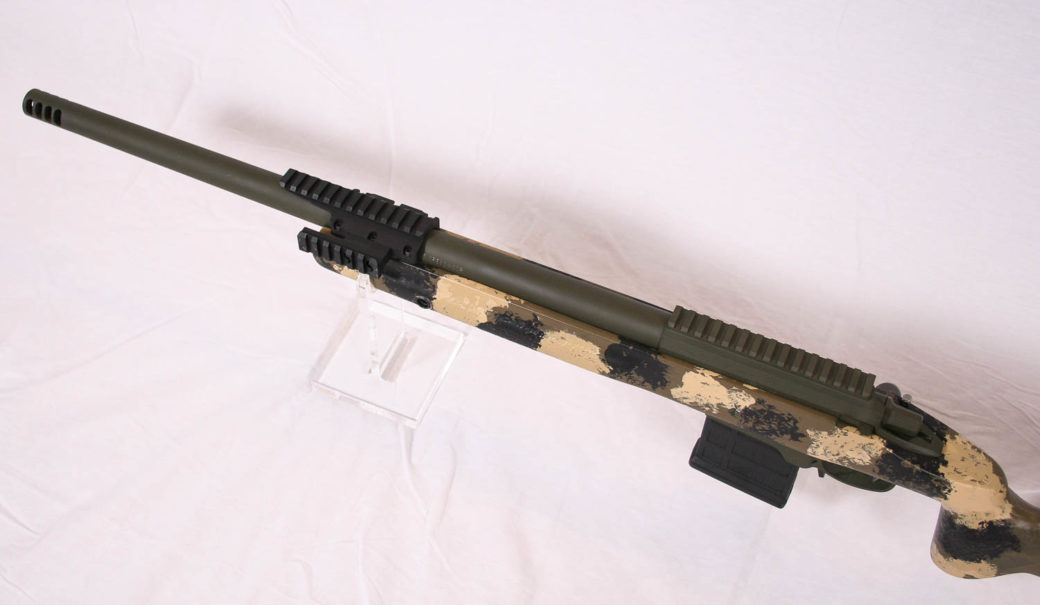 The barrel on this rifle is a Hawk Hill barrel using the US Army M24 SWS barrel contour, which obviously from the pictures, is a very heavy straight contour barrel. This barrel is 22″ long and uses a 1:8″ twist which is the standard rate of twist for the 6.5 Creedmoor cartridge. At the front of the barrel is a multi chamber muzzlebrake that adds another 1.75″ to the length of the barrel, putting it just shy of 24″ in total length, matching the M24. The muzzlebrake has the chambers cut in a way to deflect the muzzleblast up and back to keep it from kicking up dust as much as possible.
All of the metalwork, except for the UNS mount, is finished in a OD Green cerakote finish which is not actually one of the three colors in the GAP camo pattern of the stock, but still looks good none the less. The finish is even and smooth over all the metal surfaces and the rifle has a very tactical look to it, as it should. The very heavy barrel and stout action give the rifle extra weight and heft with a weight that pushes 12 pounds by itself and touches 14 pounds with optics. For a field rifle, that weight will add up over time as you lug it through the woods, but it also provides a solid and stable shooting platform to aid with accurate long range shooting. Everything is well made on the rifle and the overall quality is very high.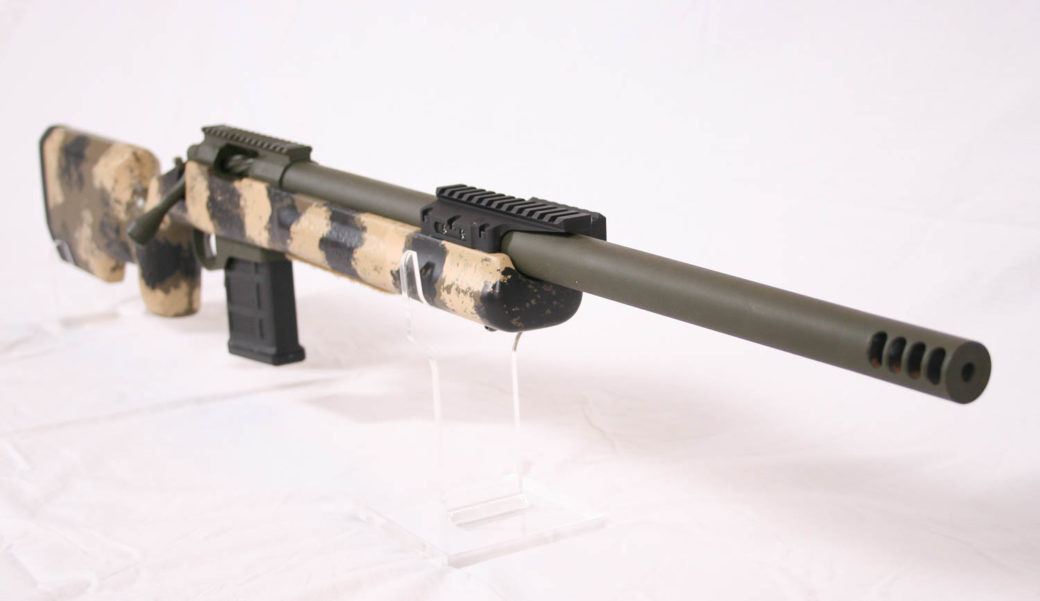 For our testing, we used a Gen 1 Vortex Razor 5-25x50mm mounted using an EFT mount that was already configured for this rifle. With the continued popularity of the 6.5 Creedmoor round, the ammo selection is becoming larger every time we review a rifle chambered in this cartridge. For this test, we selected four different factory loads that we thought would provide a good representation of what this rifle can do. Those loads consisted of the Winchester 140gr HPBT Match, Federal 130gr Gold Medal Berger, Hornady 140gr ELD, and then to represent a more affordable load, the American Eagle 120gr Open Tip Match (OTM). If you are not familiar with how we test rifles, please read our article on how we test scopes and rifles.
The weather for our accuracy tests was a calm summer morning with overcast skies, 54 degrees Fahrenheit, and little to no wind blowing, only 0-3 mph. The conditions were just about ideal at the start of the testing and just a slight breeze picking up by the end of the session. The results of our 100 yard accuracy tests to evaluate the ultimate accuracy capability of the rifle can be seen below.
To summarize our accuracy tests, this rifle can shoot! We were very pleased with the accuracy with all of the ammo we shot. As is evident by the overall average of group sizes, the Federal 130gr GM Berger ammo shot the best overall and even had a sub .25 MOA group and an average that was an impressive .365 MOA. We do need to note that the bolt was stiff when dropping on those long Berger bullets, indicating a tight chamber. The best group of the day went to the Hornady ELD at .139 MOA, but it was not as consistent as the Federal. The most consistent ammo was the cheap $21 a box American Eagle. The accuracy was not sub .5 MOA, but every group seem to measure right in the mid .6″ and was extremely consistent. The recoil on all of the loads was very mild, a result of the very effective muzzlebrake and the heavy 14 pound weight of the rifle and scope combination. The shape of the stock also contributes to this and the rifle is very quick to come out of battery and easy to keep near the original point of aim.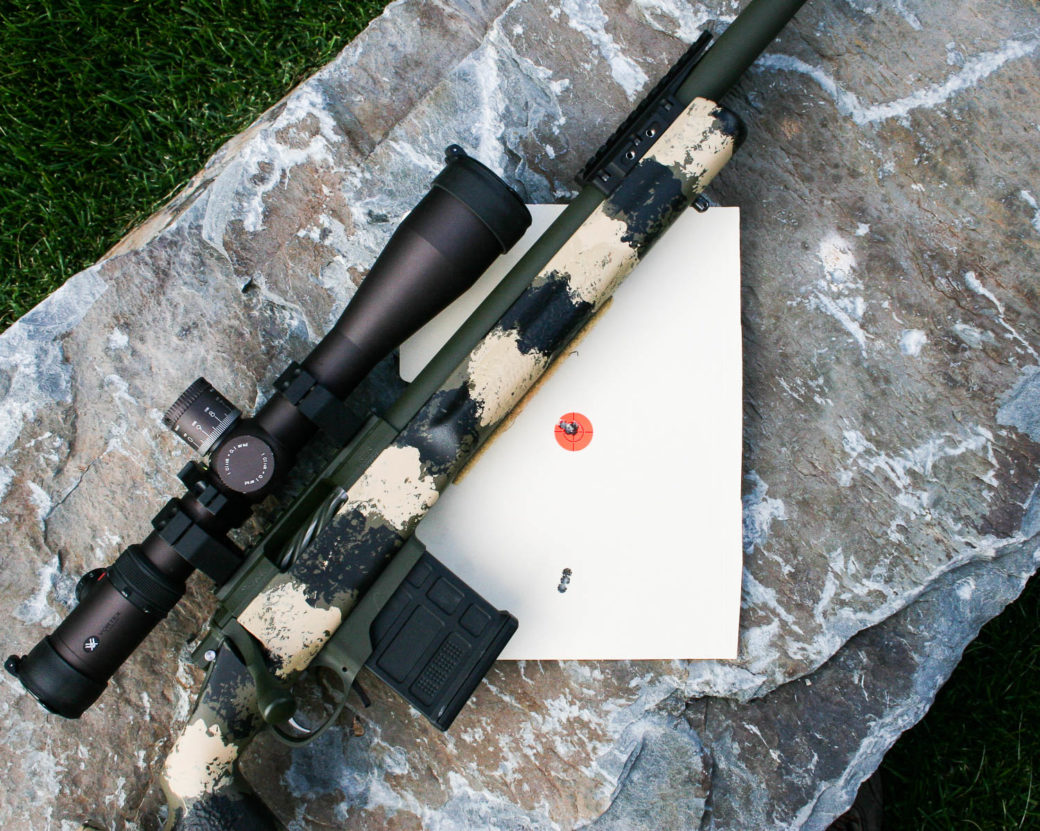 When shooting, be aware that you cannot easily single feed this rifle. It needs to strip the round from the magazine which is normal for these custom actions, but can be a slight hindrance when needing to rapidly load a single round when things are in a pinch. Obviously it helps that it utilizes a DBM and a quick mag change can do the trick, but there are times when mags are empty or out of reach, and its nice to drop in a round and close the bolt and fire. The rifle feeds very smooth and reliably from the magazines allowing for quick and easy rapid bolt manipulation for followup shots. Additionally the extraction and ejection was very positive and there were no feeding or ejection issues during all of our testing.
The muzzle blast from the break is very sharp, so while the recoil was minimal, you were well aware of when you fired a shot. It is loud. This is a biproduct of an effective muzzlebrake, as it is doing exactly what it is designed to do. The Huber trigger as it was set on the rifle is is too light for tactical work, though it would be fine for competition. We tested the rifle with and without tactical gloves and it was not as much of a problem with a bare trigger finger with its better feel, but with the less tactile feel when you are wearing gloves made the trigger break a bit sooner than we anticipated a few times. It did not help that there was not the clear defined resistance point either. The weight of pull is an easy fix and is shooter dependent, we just wanted to mention it here. The cheek piece with this particular scope and setup was just a bit low, an Eagle or TacOps cheekpad would help with just that little bit of extra height as well has giving your cheek just a little bit more grip to keep it from sliding.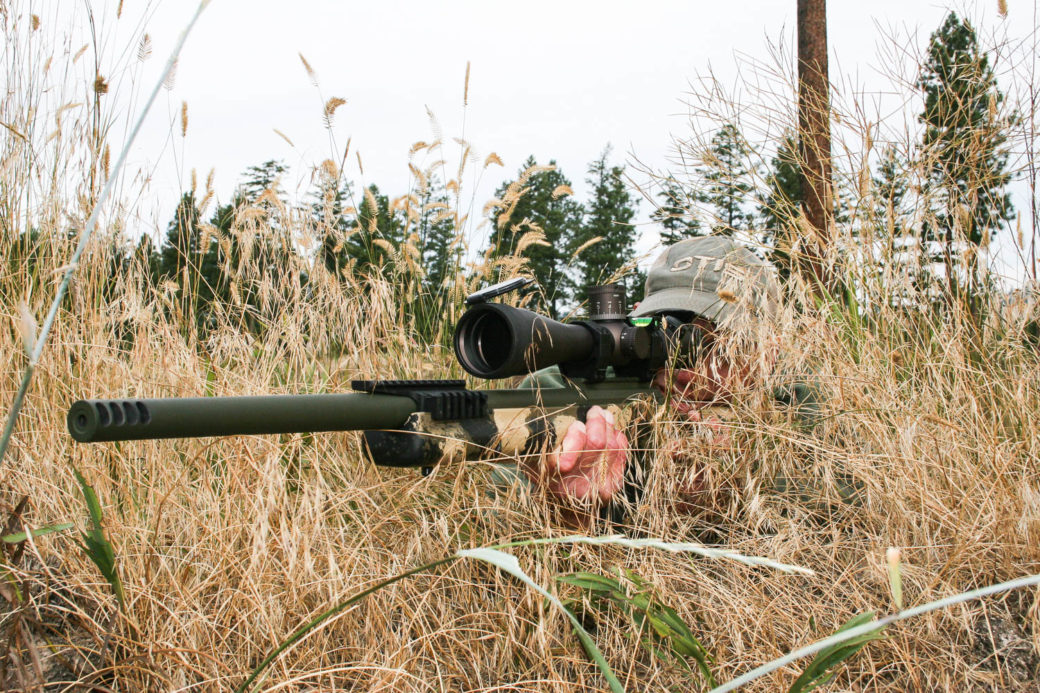 For our 300 yard rapid fire head shot test, we selected the Federal 130gr Gold Medal Berger load since it shot so well. We dialed in 1 MIL of up elevation and then performed the test. Due to the excellent accuracy of the rifle and its well managed and controlled recoil, we thought we might see a very high score, and we were not disappointed. It is always a challenge to slow down with this drill and take your time to insure good shooting fundamentals to improve accuracy, which is weighted higher than speed, but the RPR came back on target easily and allowed us to take three well aimed shots in only 18 seconds.
300y Head Target Test
Time Score (18 secs)
40
Accuracy Score (.330 moa)
136.4
Energy Score (1666 ft-lbs)
25.5
Total
201.9
Looking through the spotting scope we were able to see two of the bullet holes that were close together and we thought we had a good score, when we went down range, we confirmed we had a good score. The total group size measured 1.035″ from center to center, which is .330 MOA at 300 yards. When we compared it to our 300 yard head shot leaderboard, the total score easily placed it in the number one spot. We recognize that this is not a definitive test of a rifles capability, that is not the intent of the test. But it does show us the potential level of capability combined with its usability as a tactical rifle in a stress induced environment. On this particular day, it excelled, which shows us great potential.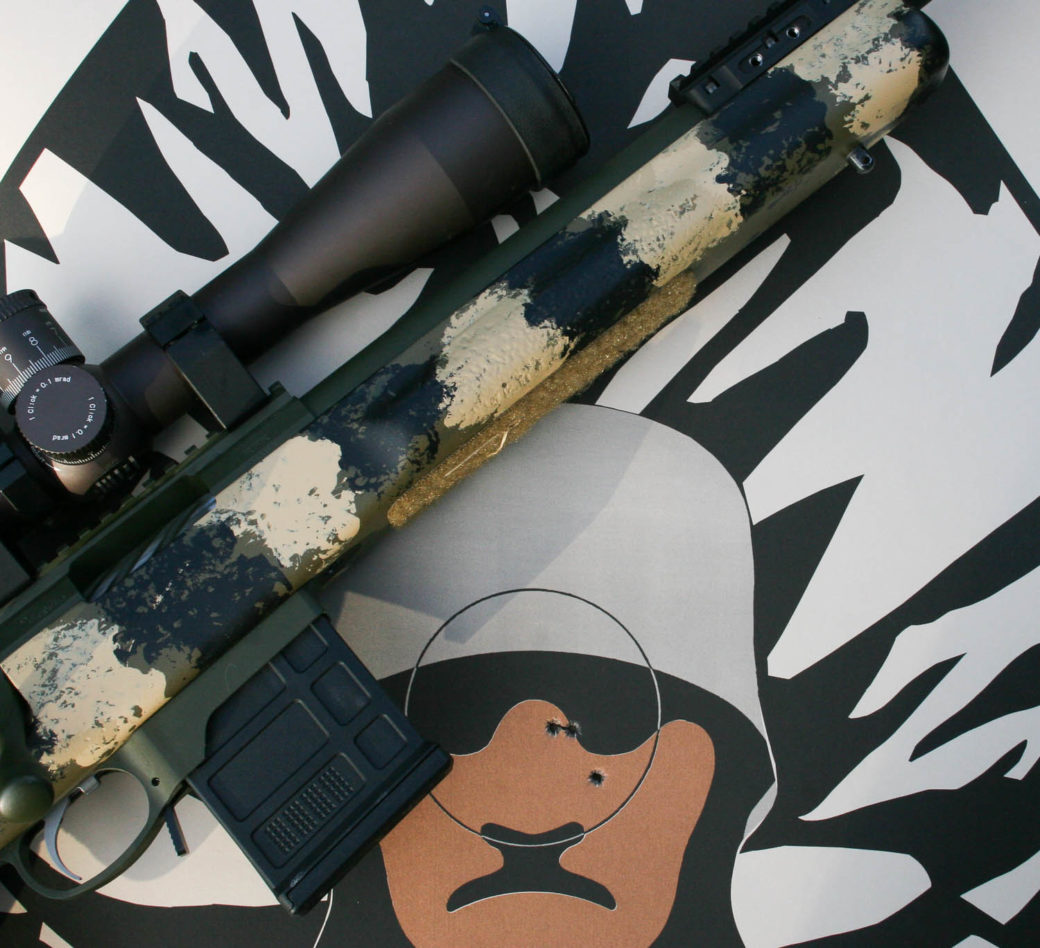 Overall this rifle is excellent and we were very impressed with its layout, build quality and especially performance. We would have no reservations taking the rifle into the field for LE or Military operations and its shortcomings were minor and easy to overcome with a few changes or additions. The weight is certainly a factor to consider, but for anyone who has carried a M24 or similarly heavy rifle, you can deal with it. The price is also not cheap, this one rang in at $4500, but it is in line with other full custom built rifles. So who is Aaron Roberts? He is the guy at the head of an excellent tactical rifle building company, and we hope he keeps it that way.
Sniper Central 2018