Many of our USA based readers will not recognize RPA as their rifles are not imported into the USA. But those outside of our shores probably have heard of the RPA line of rifles, especially if they are in the competitive and tactical shooting arena. RPA is a large, UK based precision rifle manufacturer that offers several tactical rifles as well as their target, hunting and custom rifles. We were invited to perform a review of their Rangemaster .50 BMG rifle as well as take a look at some of their other .308 tactical rifles. Since these rifles are not imported into the USA we made arrangements to have a UK member of SC to visit with RPA and perform the familiarization and review of these rifles.

The evaluation was performed at the military range in Kent where Stephen Higgs, the sales manager at RPA had everything arranged for our time with the rifles. Everyone knows that the .50 rifles are supposed to be big, and the Rangemaster is, but not in the same square box shape as many of the other .50's out there, it has a very clean and ergonomically correct shape to it.
The pistol grip is well sized with a slight curve and palm swell that fits the hand nicely. Since .50's are pretty much always fired from the prone position, the free hand sits nicely at the rear of the stock. We liked the fact that you could get your whole hand around it, and not just the web of your hand. The stock is folding to allow for easier transportation and when locked in the extended position there is zero movement in any direction, a very pleasant realization when compared with some other folding stock designs out there. There is also a monopod on the rifle with a button lock that is pushed to release it up or down, and for fine tuning the height, you screw it up or down. It is a nice monopod, but as we have said before, monopods have limited use in a fluid battlefield where things rarely stay still, but against static hard targets at long range where a .50 would be useful, a monopod would be handy for very precise aiming. The butt plate is adjustable for length of pull and height as well.
The barrels are built by Border Barrels in Scotland and are built to RPA specifications. The barrels are 32″ long and are threaded for a muzzlebrake or suppressor. The muzzlebrake was designed by an ex-rocket engineer who understands the use of thrust and the expelling of hot gasses, and it really pays off in its effectiveness.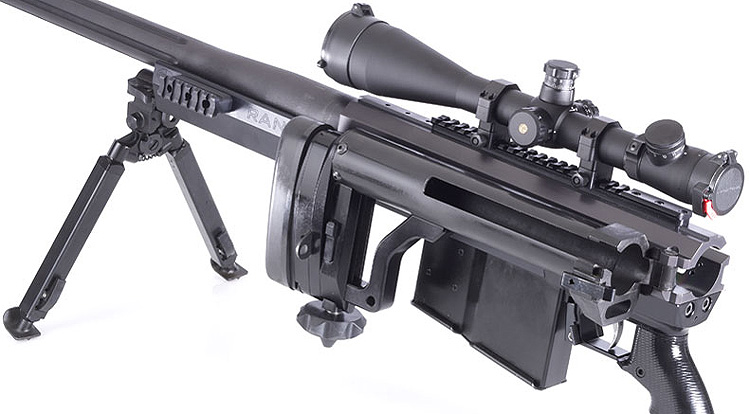 The rifle has a 5 round detachable box magazine that slides into the housing smoothly with no grittiness. As is common on many magazine fed rifles you insert the front first and then bring the rear up until it clicks into place. A firm tug downward is always a good confirmation that it is secure. The bolt has 4 lugs which allows for a short 60 degree throw and very rapid chambering of a follow up shot and has a well sized handle. The bolt is very smooth and locks into place nicely and the whole thing has the feeling of high quality throughout.
The trigger is a two stage design that has a fairly short first stage and then an extremely crisp break at 3.3 lbs on the 2nd stage. There is no over travel and the trigger was very nice to operate. The trigger shoe is wide with some nice ribs to aide in trigger control. The safety is well positioned right above the pistol grip on the right hand side of the action that allows for operation with your firing hand without moving it away from the pistol grip. The safety moved easily with a flick of the finger, but perhaps a bit too easy for our liking, forward for fire, back for safe. The magazine release is ambidextrous and a bit different than most magazine releases. There is a slight movement forward to operate it, but once you are used to it, it works well and prevents an accidental magazine release by catching it on clothes or anything else.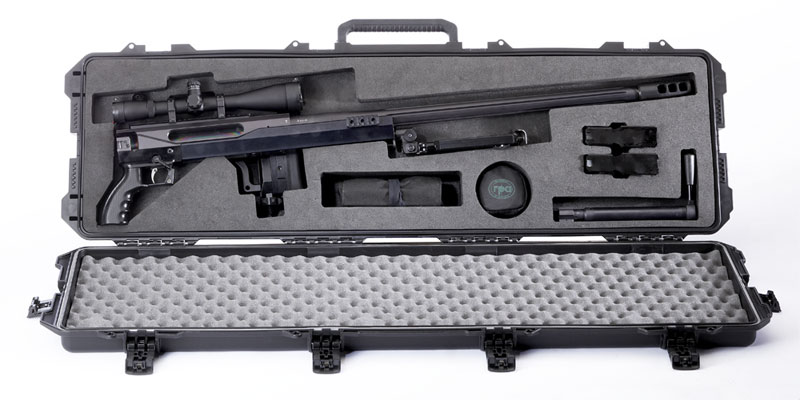 The rifle is designed with the capability of mounting RPA's own over the barrel rail system for the attachment of night vision optics in front of the day optics. This particular rifle had a Schmidt and Bender PMII 5-25x56mm Tactical Scope mounted and dialed in before we arrived. It made an excellent combination and with the ability for night amplification this would make a very effective system. This was confirmed during the shooting portion of our evaluation.
When firing an unfamiliar .50 for the first time there can be some tepidness, but that was quickly all put aside after we fired the first shot. The effectiveness of the muzzlebrake is excellent and in combination with the weight of the rifle, the recoil was very manageable, being about the same as a .30-06 sporter rifle. It was impressive and it truly is a rifle you could fire all day.
The initial target we engaged was an APC at 600m. Yes, fairly large and an easy target but it allowed us to get familiar with the rifle and optics. After a few hits and feeling more comfortable we moved to a 12″ target at 1350 meters (1476 yards). Stephen fired the first few shots getting a hit on the 3rd. Our first shot was 1 foot low and right hitting right in front of the target and knocking it back with debris. While we were not able to conduct any ultimate accuracy tests, RPA guarantees .5 MOA with all of their rifles, including their .50 BMGs. That guarantee is impressive, and the rifle remained very consistent throughout our shooting session while engaging several APC's at 900M as well as other long range targets. There was some stiffness when operating the bolt after some of the ball machine gun ammo was used, but there was absolute smoothness when using RPA's own match ammo.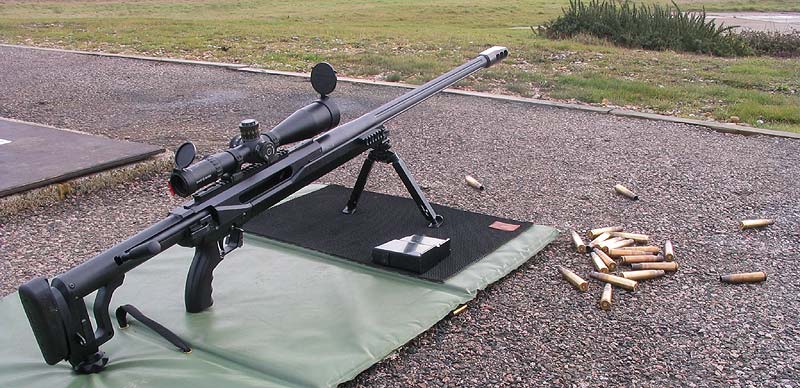 While we do not feel a .50 BMG makes the best standard use sniper rifle due to its shear size and weight, they are becoming more widely used in military circles. In fact, there are even some law enforcement agencies around the world that are using them for barricaded targets and hard target interdiction, especially as the threat of terrorism continues to develop around the world. These RPA 50 rifles are very well thought out and perform the task admirably. We even tested the rifle with a Suppressor and while effective, it did remind us of exactly how much work that muzzlebrake does. We would recommend to those units that have access to RPA rifles and are looking for a .50, to take a look at the Rangemaster, it will be worth your time.

We also had the opportunity to fire the RPA Intercepter and Rangemaster 7.62 on a 400M popup range. Both of the rifles where chambered in 7.62×51 NATO (.308 Win) and are dedicate tactical rifles. While we did not get an extensive opportunity to measure ultimate accuracy or shoot them at long range, the experience did give us a pretty good feeling about the rifles.

The Rangemaster looked and handled very much like its .50 BMG big brother. It has the same folding stock design, though composite this time instead of metal, and a very similar and effective muzzlebrake. The rifle fired very well during the pop up engagements with and excellent ability for rapid follow up shots. The 10 round detachable box magazine worked well with a magazine release on the font of the trigger guard. All in all, a nicely designed and implemented tactical system, though it is a bit heavy for a .308 rifle.
The Interceptor rifle had a more traditional style synthetic stock that is fully adjustable and the rifle itself appeared to be quite accurate during our time with it. It utilized the same 10 round detachable box magazine as the Rangemaster but this rifle did not have the muzzlebrake and as such the recoil was stronger and the follow up shots were not as rapid as the Rangemaster rifle. The composite stock is RPA's own design and are built by specialist stock builders. This stock is a good design and quite comfortable with a non slick finish to it and a comfortable palm swell in the pistol grip. During our time with the rifle we discovered no real short comings and enjoyed the rifle considerably.
We are grateful to RPA, Stephan, and the Kent range for their hospitality and for letting us take a better look at their excellent rifles.
Sniper Central