I remember back in the mid 1990's walking through a gun show and coming up to a Timney Trigger booth and asking them if they had a replacement trigger for a Savage 110FP I had at the time. What was the response? They literally laughed. To them the Savage was not a real rifle. A lot has changed in the past decade or so. Not only does Timney have a replacement trigger for Savage rifles, but Savage has become a legitimate player in the main stream firearms market, especially now that Winchester is no longer making rifles. Savage has been around for a very long time but their model 10 and 110 rifles have always been considered a "budget" rifle though one with surprisingly good accuracy. Now the argument can be made that Savage is the company that is perhaps the most in tune with the shooting public and the modern trends as they have been quick to release products outside the norm like their recent long range varminter with a .22-250 barrel with a 1:9″ twist in a factory rifle. Remington still only puts 1:12″ twists in their 308 rifles, let alone anything besides 1:14″ for a .22-250. But we are not here to talk about Varmint rifles, we are here to talk about Sniper rifles. Savage has been making the 10 and 110 FP for many years, but a few years ago they introduced the 10FP McMillan with a McMillan A2 stock. Around 2006-2007, I'm not sure of the exact date, they upgraded that offering and created the 10FCP HS Precision and 10FCP McMillan which now has the excellent McMillan A5 stock. This is the rifle that we are reviewing here. I would probably consider it the top of the Savage line for Tactical Rifles.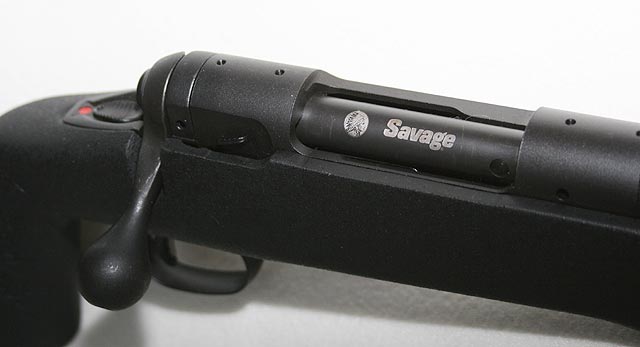 The Savage 10/110, and their Stevens 200 sister rifles, have been going through some action changes over the past few years. The rear portion of the action used to be flattened like the Remington 700 actions and in fact you used to be able to use any set of Remington 2-piece bases on a Savage action, but a few years ago they changed that so that the rear portion of the action is rounded just like the front as you can see in the picture above. While you can no longer use the same rear base as the Remington 700, you actually can now use the same exact base for the rear as you do for the front of the Savage when using two piece bases. I suspect not having to mill down the rear of the action saves labor and time, which means money, though the added height kind of gives it a tall or bulky look to the rear, but it is certainly still functional.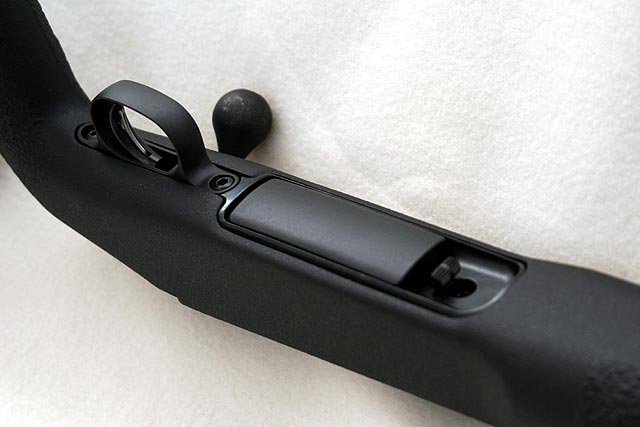 Another change, even more recent, with the Savage actions is that they switched to a center feed magazine design which should help with reliable feeding, but it is a completely different floorplate and inlet design which pretty much rendered all of the after market stocks useless. This, in my opinion, may have been a mistake as a good aftermarket industry tends to help the longevity of a rifle, especially in the precision tactical world where stocks tend to get changed out. Of course, we are a very small market share and it was probably a calculated decision and risk they had to take. But be aware, B&C and other stock makers have not all switched to the new design, and some are holding off. If you are building a custom rifle like our sub $800 project outlined in the members area, you may need to hunt for an old style Stevens or Savage action. For this rifle, it has a detachable box magazine that holds four rounds. The DBM floorplates are unique but I don't know that anyone would be swapping out the excellent A5 stock too soon.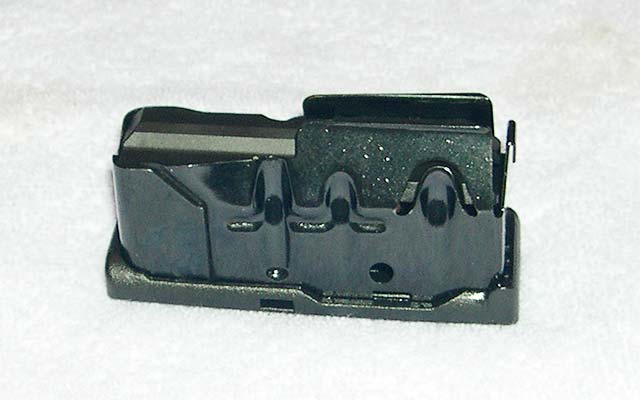 The magazine itself is well enough made and functioned without a problem for us. It is a center feed design which seems to work quite well. Another round or two capacity would not hurt though.
The barrel is Savage's standard heavy weight barrel of 24″ length. It is a nice heavy profile and provides some weight out front to help tame recoil and muzzle flip. The crown is a standard Savage recessed crown. The twist on the Savage 308 heavy barrel rifles is 1:10″ which will stabilize all the heavier weight bullets. The barrel is free floated all the way back to the receiver as well. Of course, the Savage barrel nut is there as well and some say that is one of the reasons why the savage rifles tend to shoot so well, it allows for a good tight head space from the factory. The theory there sounds logical to us and is somewhat ironic that a cost cutting measure would actually help improve accuracy.

Of course, the stock is excellent. It is a McMillan A5 stock with the standard McMillan black paint applied and the typical 3 swivel stud arrangement, 2 in the front, 1 in the back. The A5 is the most popular McMillan stock and for good reason, it is a fantastic design. It is very comfortable to shoot and it really helps line up everything well for the shooter. There really isn't much to be said about the stock design, it speaks for itself. But, I will mention a few things about the stock on this rifle and the execution. The stock on these FCP McMillan rifles are not glass bedded and there are no pillars as you can see in the picture below: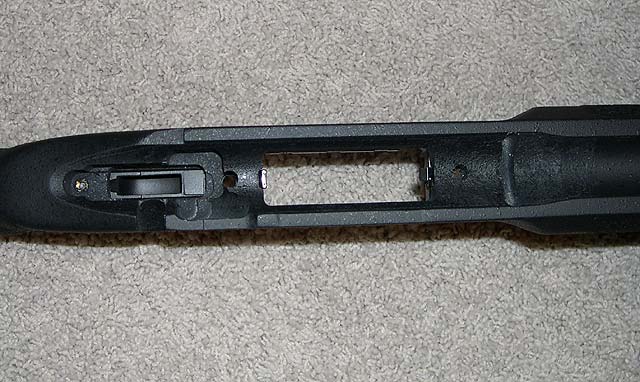 It is the same slightly rough finish that McMillan provides with their inletting. It is perfectly setup for glass bedding, but there is no glass bedding. Yes, these are factory rifles and not custom rifles and I actually did not expect for them to be bedded though that is the first thing I would do if I were purchasing one of these rifles, just go ahead and schedule the job with your gunsmith of choice as I think there is some easy accuracy to be gained. The stocks are not "sniper fill" either from McMillan, which is a denser fill to add weight and strength to the stock, and without pillars you will want to be careful not to torque the stocks down to the 65 inch-lbs that is so common. You'll probably want to be around 40 or 45 or risk crushing some of the stock.
Because of the lack of glass bedding or pillars in the stock, I may recommend the 10FCP HS Precision for utilization right out of the box. They have the aluminum bedding block and the HS Stock Savage uses is the very nicely designed vertical pistol grip version which is very nice as well. But dont get me wrong, the A5 is great stock and the one we would probably prefer in the long run, just after it was glass bedded.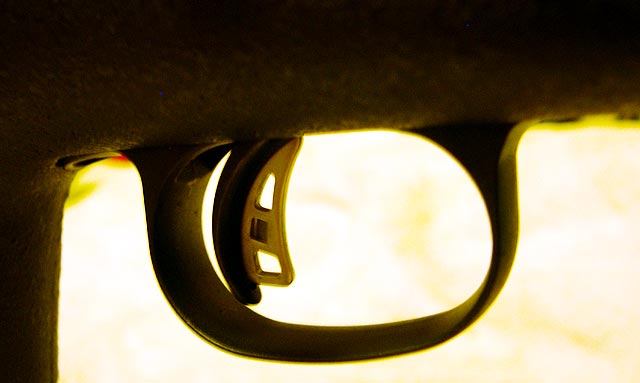 The trigger is the Savage Accu-trigger which kind of caught the shooting world by surprise when it first came out and was one of the innovations I was talking about that Savage seems to be leading the industry in. The blade that protrudes from the center of the trigger seems a bit odd at first but in reality you quickly forget it is even there and in regards to the target settings on the heavy barrel rifle triggers from the factory, it is very light. We measured this trigger at just a tad over 1.5 lbs. That is lighter than I like tactical triggers as I personally prefer 2.5 – 3 lbs on tactical rifles. But the light trigger is very good for target shooting. This trigger does not have any take-up besides the little blade and it broke rather nice for a factory trigger.
For the range session we mounted a New Hawke Frontier 6-24x50mm that we were reviewing at the same time in a set of Burris Signature Zee rings on a set of two piece weaver bases (the same front and back). We used medium height rings and everything mounted up without any problems.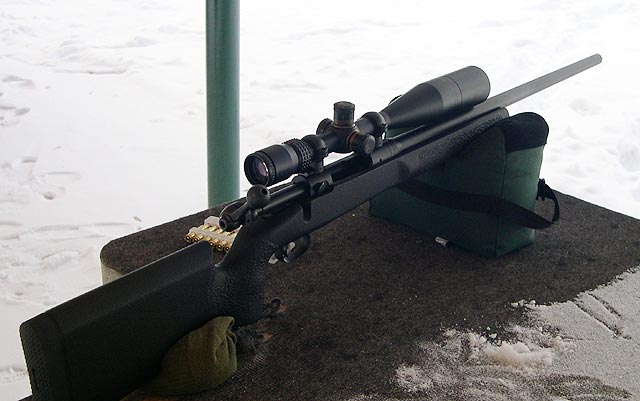 Well, it is January in Montana so you can expect the conditions to be a bit chilly, but if you shoot year around you learn to deal with it. As you can see from the photo above, there was snow on the ground as there usually is this time of year and it was a nice frigid 10 degrees F (-12 C), which we were glad we were at least in positive numbers as compared to a day or two before. The only downside to cold weather shooting when trying for accuracy is that you are bundled up fairly well which prevents good solid shooting fundamentals because of the thick jacket and the requirement for gloves. But we bundled up and headed out to see how we could do with the Savage.
The rifle functions well enough, typical Savage action which is not as smooth as a Remington but still smooth enough. Everything fed and cycled fine from the magazine and in fact it was a non issue to single feed even with the magazine in, which actually surprised us. The lighter than we are used to trigger took some time to adjust to, but it was nice. With the thick jacket on, heavy weight of the rifle, long barrel and 308 match loads, which are fairly mild, the recoil was very tame with almost no movement off of the target when a shot was fired. Rapid follow up shots were very easy. The A5 stock also figures into that because of the way it is designed to help direct recoil straight back helping to minimize barrel flip.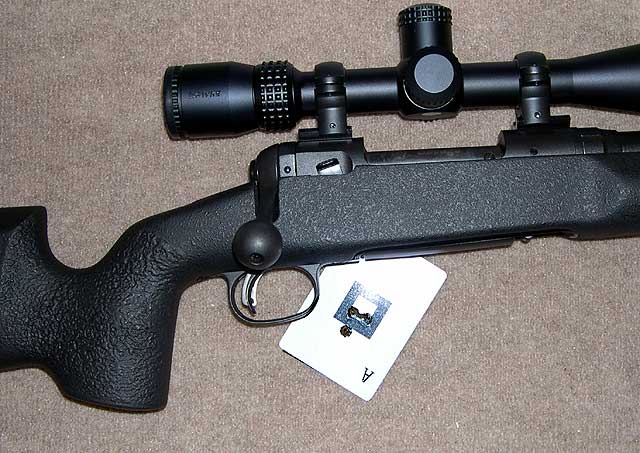 The accuracy of this out of the box rifle was good for a factory rifle. Even when contending with the weather conditions, we were able to get some good groups with Federal Gold Medal Match 168gr ammo. The average group size was .682 with a best group (the one pictured above) of .568″, just a tad over .5 MOA. We did fire some HSM M118LR 175gr and the groups opened up a little. We also extended the range a bit and fired at a bit over 400 yards with no problems at all and accuracy at that range was good as well, but we did not measure groups. We normally like to take the evaluation rifles out to our long unknown distance range, but we were not able to this time.
To conclude, the 10 FCP McMillan is a very solid rifle. It does need glass bedding and I would expect accuracy to improve with a nice bedding job, and I would even venture to say that the 10 FCP HS Precision may be a tad more accurate "out of the box" because of its bedding block. But the A5 stock is great and the rifle is very nice to shoot. The large bolt knob is nothing fancy, but very functional and a nice feature on a tactical rifle. The trigger aides in getting good groups, but I personally would adjust it a bit heavier for field work, even with the safety of the depression blade on it. All in all, Savage has done a good job of pushing the envelope for factory built rifles in terms of features and innovation and we hope they keep it up.