We recently had a very unique opportunity to examine and review one of the 300 limited edition Schmidt & Bender PM II Precision Sniper Rifle scopes that you see here. We were actually planning on doing one of our full evaluations on the scope but then we stepped back for a second and realized we has already done a full evaluation on the same base scope that this one was based on. Knowing that and then recognizing that we did not want to diminish the value of this potentially collectible scope by mounting it, we changed our minds. So, we thought we would just do a general examination of the scope and show some detailed pictures for our readers. If you want to know how the scope performs in the field, then read how this same scope, but non limited edition version, did in our full review.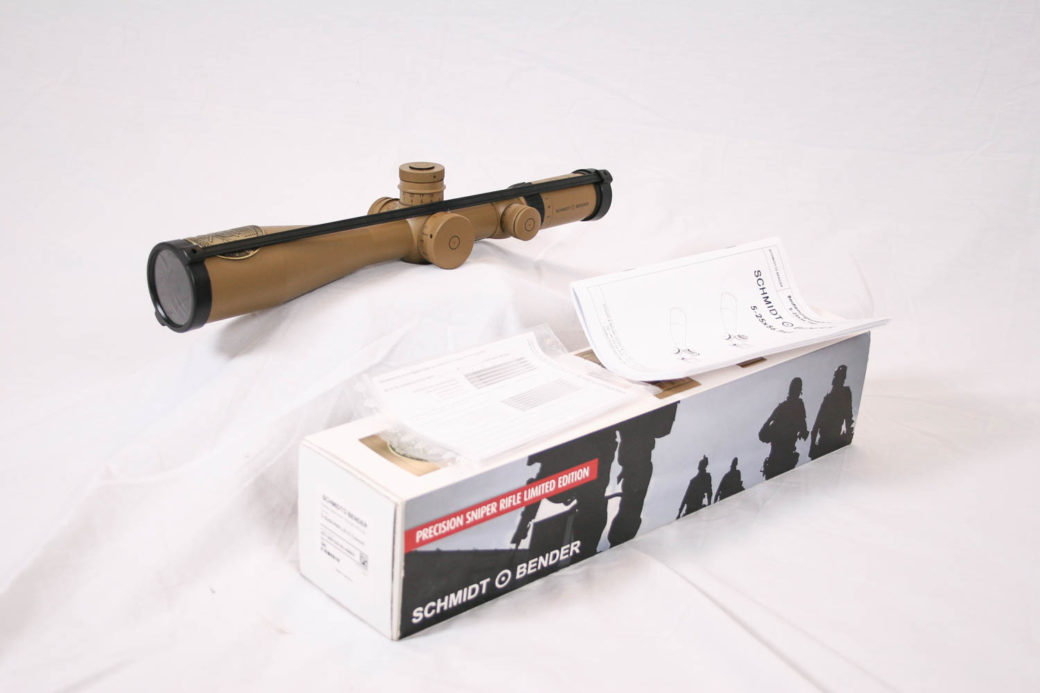 If you were not aware, Schmidt & Bender was awarded a contract for the Day Optic Sight (DOS) for the USMC M40A5 series of sniper rifles about 10 years ago. They were proud of this achievement, but this is not the only contract they have received for military sniper rifles, actually, far from it. S&B is one of the premier scope builders in the world and have been used for decades on all types of sniper rifles from many different countries. They are proud of their military and law enforcement contracts, as they rightly should be, and they wanted to let the world know. So they made a limited run of 300 Precision Sniper Rifle Limited Edition scopes to celebrate their long history of military and police use. This Limited Edition scope is a typical PMII 5-25x56mm with Dark Earth (Tan) finish, Tremor II reticle and MTC knobs…and a really big medallion.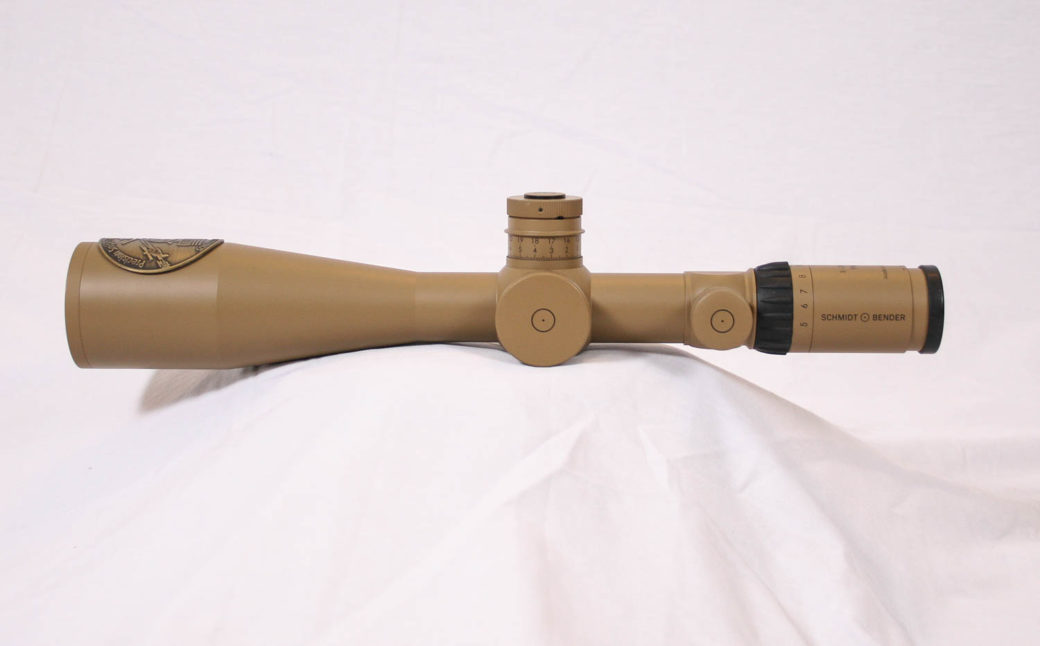 The scope comes with a S&B box that actually is dolled up a bit more than a normal S&B box and includes all the normal stuff including the standard warranty registration card, thick instruction manual, and bikini style lens covers. That instruction manual is mainly thick because it is written in three different languages, but it has all the information you need.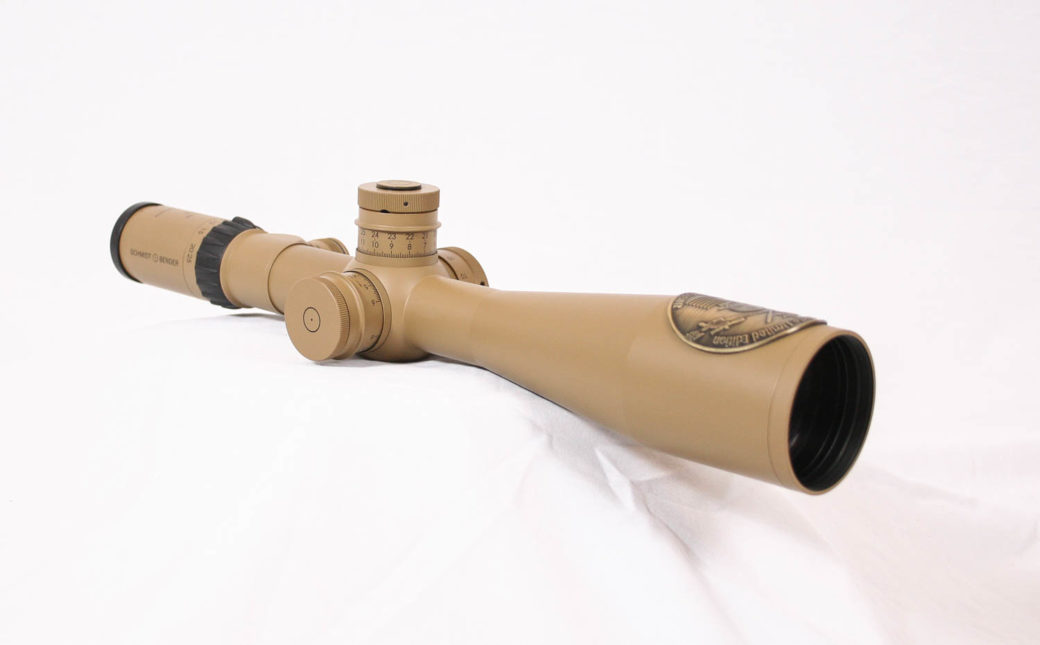 The scope itself is typical exceptional S&B quality. Everything is the same as the other PMII 5-25x56mm scope we evaluated, which means excellent. The tan coating is very uniform and looks great as well as feels very durable.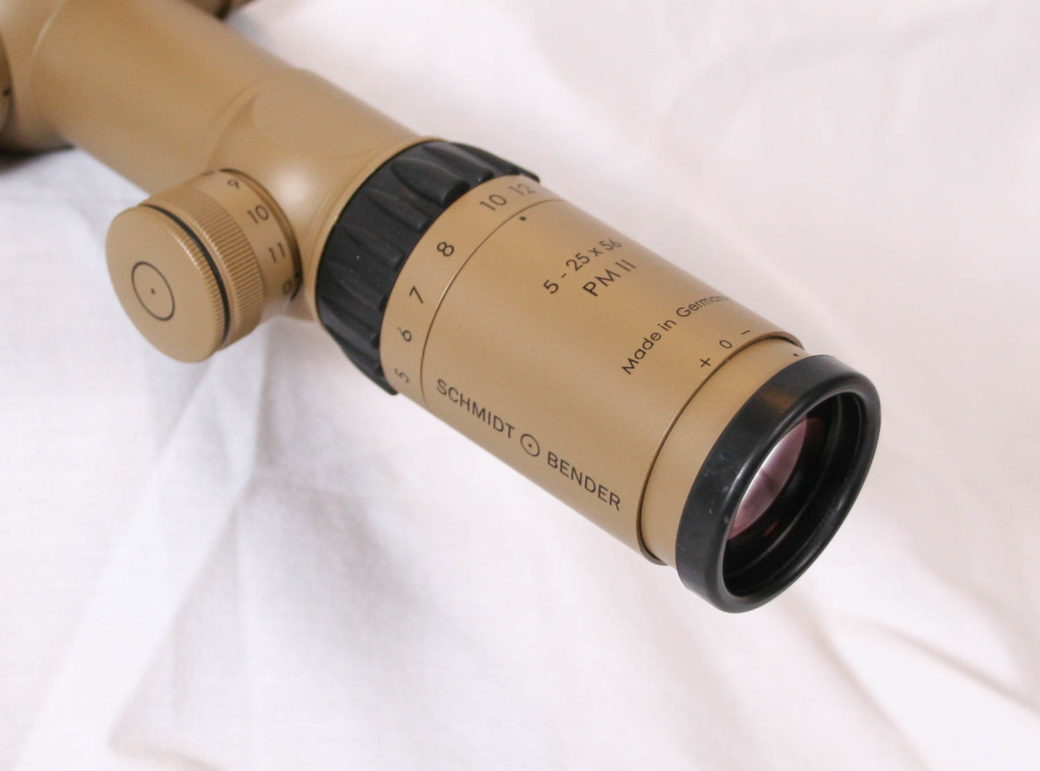 The rubber parts, including the eyepiece ring and rubber ring on the zoom power control ring, are left black and it offers a nice visual contrast to the tan. All of the lettering and numbering are also black and easily readable.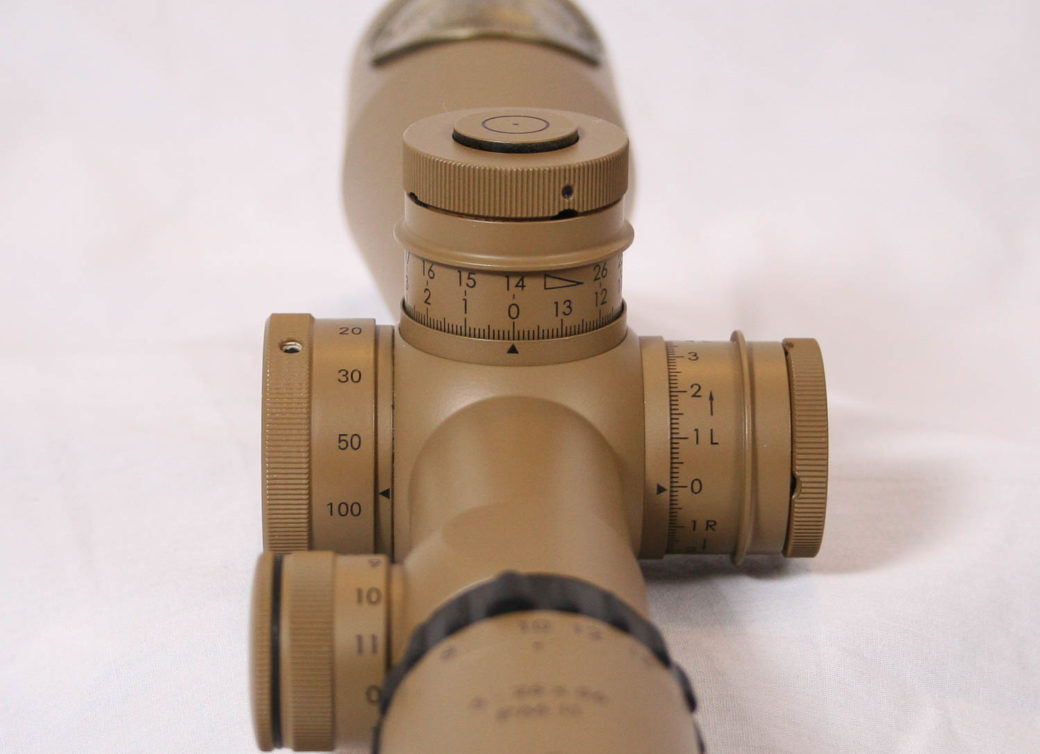 This version of the PMII includes the MTC (More Tactical Clicks) elevation and windage adjustments. Each click is .1 MIL and there are 14 MIL of adjustments per revolution with two revolutions available. That 14 MILS of adjustment will take a 308 from 100 to past 1100 yards in a single rotation. There is a smaller circular protrusion that pops up as a visual indicator when you are on the 2nd revolution. You can see this protrusion in the up position in the picture above. The knobs also lock by pushing down on the ring with the markings on it for both the elevation and windage. It is stiff and can be hard to do from behind the scope, but its doable and can be useful. Of course, there is also a zero stop on the elevation as well.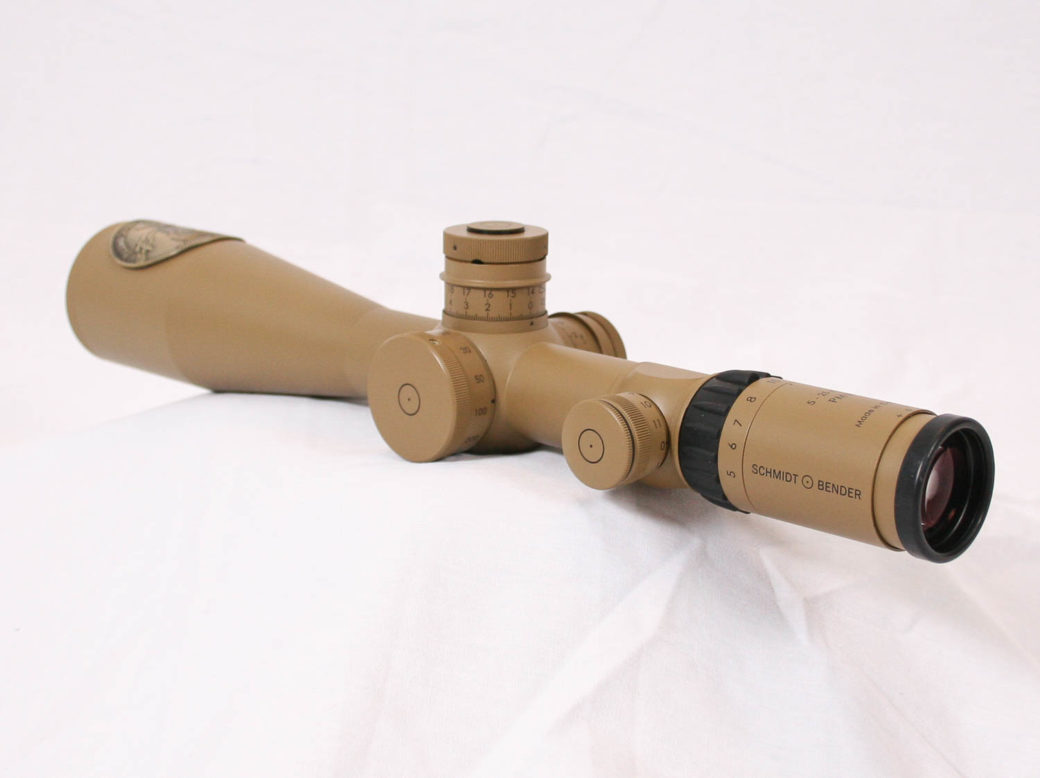 The side focus and illumination control knob are all the same as on the scope we already reviewed and we want to take a minute again to praise the smoothness of the side focus and commend S&B for using an entire rotation for the focus control! This allows for more precise control over the parallax focus. We wish more scope makers would do this for their long range scopes instead of condensing their entire focus range to a half of rotation, or less.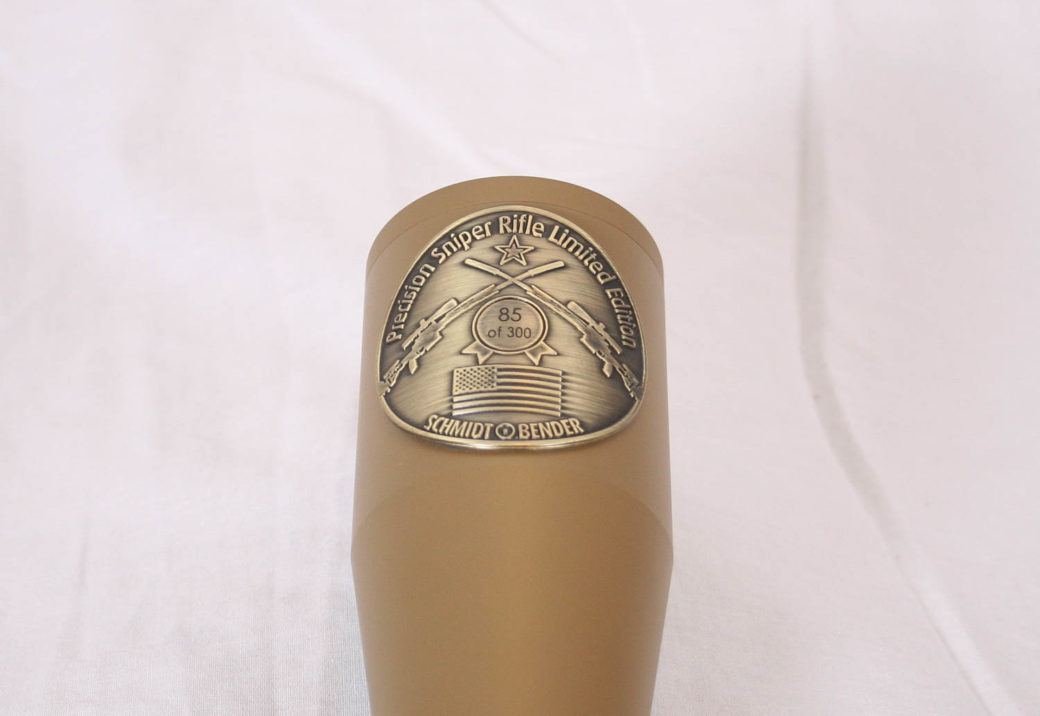 We do have to say that the medallion on the bell of the scope is a bit over the top and gaudy. Some other form of identification would have been more appropriate on a tactical scope celebrating use on a sniper rifles. Remember, us snipers prefer to remain discrete. But hey, it certainly makes it unique.
All of the mechanical functions of the scope are the same as before and yes, it still experiences the tunneling on the lower magnifications that we indicated in the full review. There are engineering reasons for that when dealing with a 5x zoom magnification range and it is better than the alternative. We know this is not our normal deep dive into a scope, but we just wanted to show our readers the Limited Edition scope as there are only 300 of them in the world. We see that there are still some available on Amazon and other places so if you would like a collectible scope with sniping history, grab one. The $3000+ price tag is steep, but that is what you pay for a good S&B scope anyway. Though it might be extra steep if the scope is never gonna be used as they were intended – getting smashed around in the field. The medallion and the limited quantity of the scopes makes it difficult for us to see these scopes being used on an actual duty rifle…which is a shame. They really are excellent scopes.
Sniper Central