There are not a lot of electronic devices that are used in the sniping profession. Because of this, most of the development of products for sniping happens at a much slower pace than modern technology. But one of those electronic devices that we do use a lot is the Laser Range Finder (LRF), and the development of capabilities and features with the LRF have been happening at a much quicker pace than other areas of sniping. When the affordable compact LRF's first came out, they were not very powerful and were lucky to be able to range a 700 yard non reflective target. They also had no features beyond just basic straight line ranging. The higher end models, primarily lead by Leica, were much more effective and could range to 1000 yards, but they were getting quiet expensive. Technological advances have now brought much more capability, though prices have stayed relatively high for the higher end LRFs. Bushnell has also done an admirable job keeping prices lower on their models, but reliable 1000 yard results on non reflective targets is hard to come by for the lower priced offerings. In fact, it has been hard to come by on the higher priced models as well. We consider reliable 1000 yard capability on non-reflective targets the minimum of what we want a LRF to be able to accomplish before we will recommend it. There have been a few, Leica and Zeiss being two of the nicer ones, and now we are checking to see if this new Sig Sauer Kilo 2000 will meet that standard as well.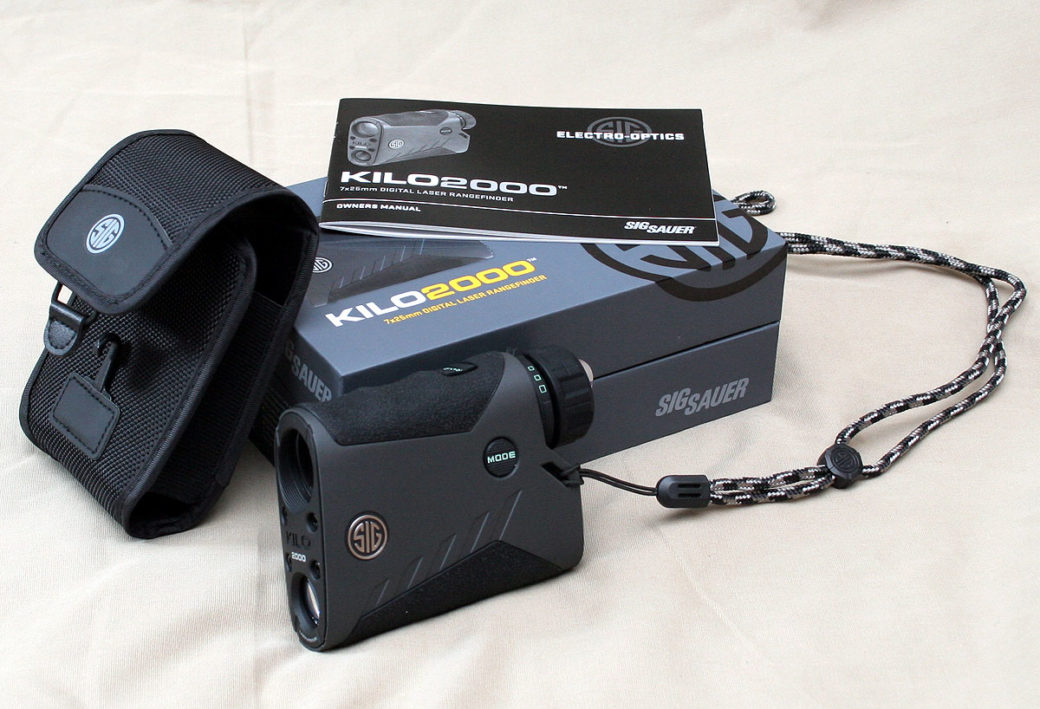 Sig Sauer decided a few years ago that it was going to branch out beyond making just their excellent handguns and limited rifle lineup and get into many other firearms and tactical related markets. Recently they introduced their Sig Optics sub brand and have released new models of rifles scopes, spotting scopes, red dot sights and other optics related products. One of them is this Kilo 2000 laser range finder. Sig is known for high quality products and we have even reviewed their sniper rifle offering the SSG3000, which performed very well. We have a concern that this large onslaught of new products may compromise their reputation of quality, and in our quest to find duty capable LRFs that wont break the bank, we figured we would bring in one of the Kilo 2000s for review.
The Kilo comes with the normal assortment of accessories that you would expect to find with a Laser Range Finder. This includes a very nice box, a Cordoba protective carrying case, a lanyard, battery, and a good quality instruction manual that has some good information in it. The packaging and presentation is of good quality and gives the appearance that Sig is doing their best to maintain their high quality standards.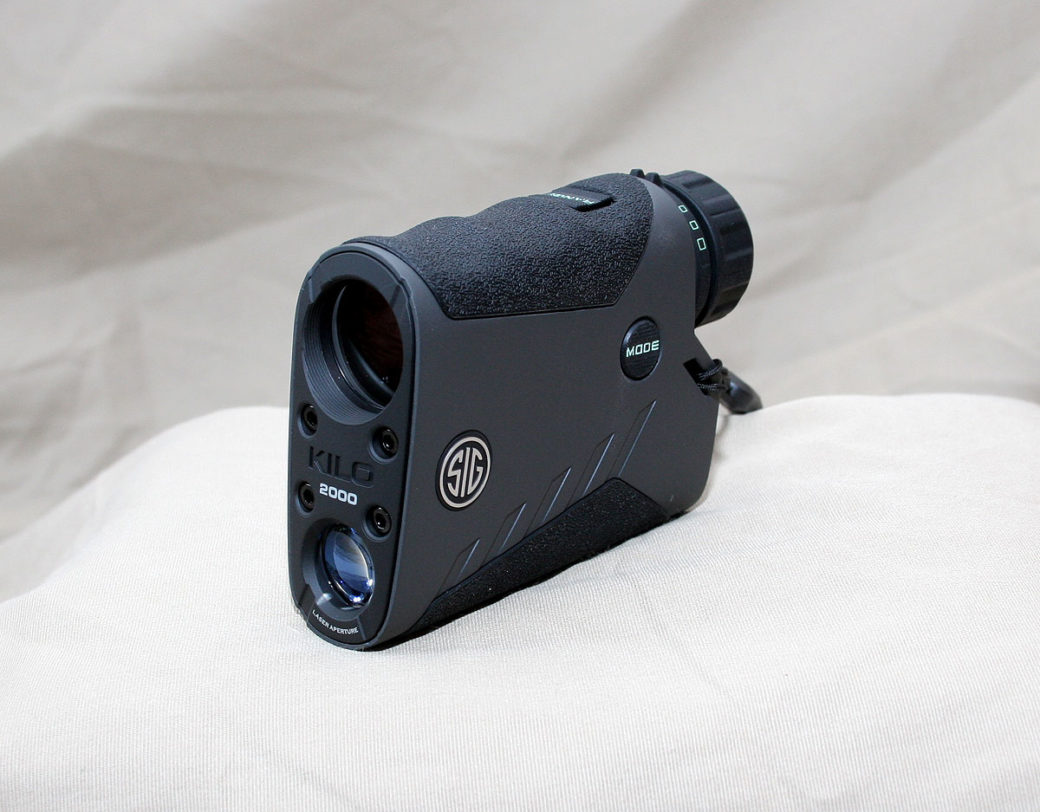 We have checked out numerous lower priced LRFs that have had pretty good lasers that could almost meet our 1000 yard requirement, but a continuous problem we run into is a less than durable plastic body on the LRF itself. On the Kilo 2000, this is not a problem. The body housing is made of magnesium, keeping it lightweight but yet offering a much more durable unit. There is also a good quality soft rubber attached to the top and bottom to provide a good gripping surface for use in all types of inclement weather. The magnesium metal has a bead blasted non-reflective matte finish to it and the rubber is matte black as well, providing a good tactical appearance to the unit. Though there are some nicely made SIG logo medallions on either side of the main housing that have a little bit of shine to them and for field use we would probably mark over them with a sharpie, or maybe even try and pop them off.
At the rear of the main body, and below the eyepiece, is the battery housing. The cap to the battery compartment is a nicely designed and built unit that has a flip up flap that is then used to loosen and tighten the cap. No more straining and struggling to get a good enough grip with your fingers on a cap, this is a smart and well executed design. It is these types of details that give us comfort that someone actually thought the design through and that Sig didn't just repackage some other LRF from a OEM manufacturer.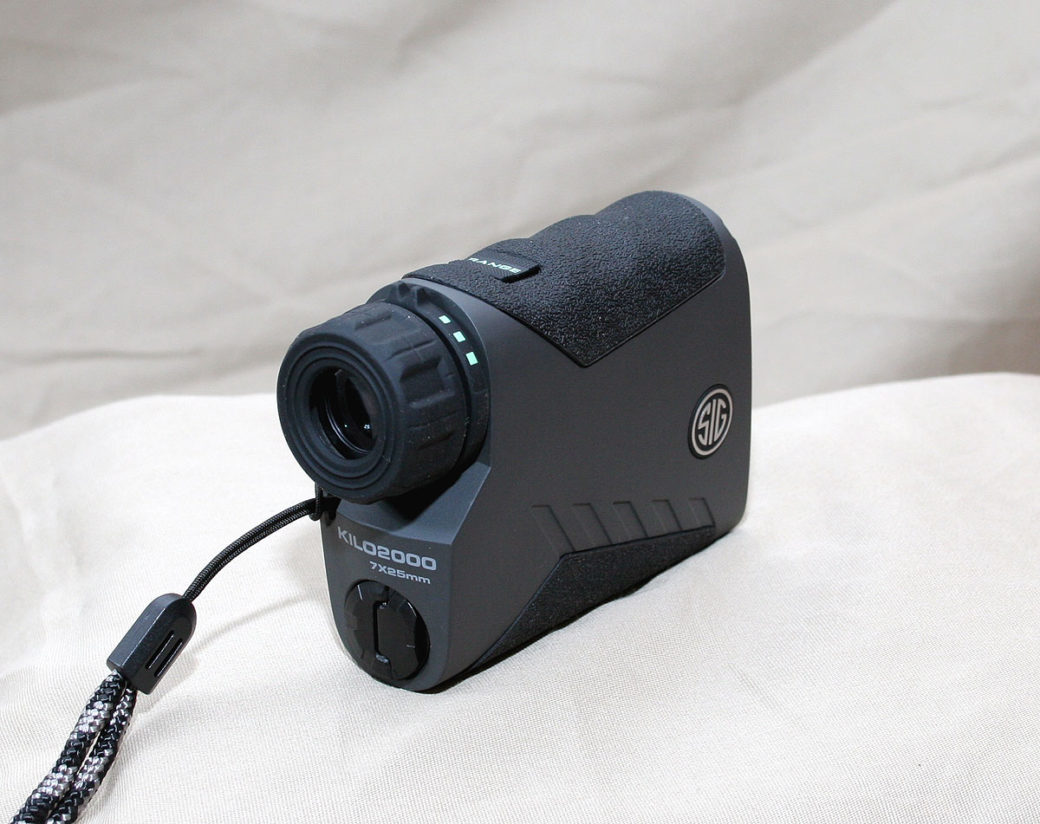 The eyepiece operates a little different than normal, or perhaps just a little different than we expected. The Kilo has an okay amount of eye relief, about .6″, or 15mm. This is just barely enough to allow a full sight picture while wearing glasses. The rear of the eye piece has a cup that rotates a quarter turn, but all that cup does is extend out and move back away from the eyepiece. According to the manual, it is used to adjust eye relief. But it actually doesn't move any of the glass so it is not adjusting the actual eye relief, but rather it is just pushing the users eye back away from the eyepiece itself, forcing eye relief. In that quarter turn it adjusts out 6mm. Perhaps the intention is to try and keep the eye from making contact with the eyepiece glass but still allowing it to rest against the eyebrow or glasses to help stabilize the unit when ranging long distance targets. When wearing glasses of any sort, the eye cup needs to be rotated all the way clockwise putting it as close to the eyepiece as possible and allowing the users glasses to get closer to the eye piece to get the full sight picture. When not wearing glasses, it doesn't matter where it is set as a full sight picture will be achieved. We have a feeling that the eye cup will likely be screwed all the way in most of the time.
Just in front of rotating eye relief cup is the actual dioptre, or focus, adjustment on the LRF. There is a rubber ring that has a little v-notch indicator on top that helps the operator grab it to adjust the focus. The adjustment is fairly stiff and we found it easier to adjust when the eye relief cup is twisted all the way back. There are filled box markings to the right and unfilled box markings to the left to give a reference point, but in reality, the operator will just focus until the picture is sharp. The Kilo is one of the very few dedicated LRFs on the market that has an adjustable focus. Most other LRFs are not intended to be high quality optical glass and therefore to not have a focus adjustment. Of course the combination binoculars and LRFs that are on the market do have this feature, but they are a whole different type of device. This focus capability was yet another indicator of a higher quality than average product.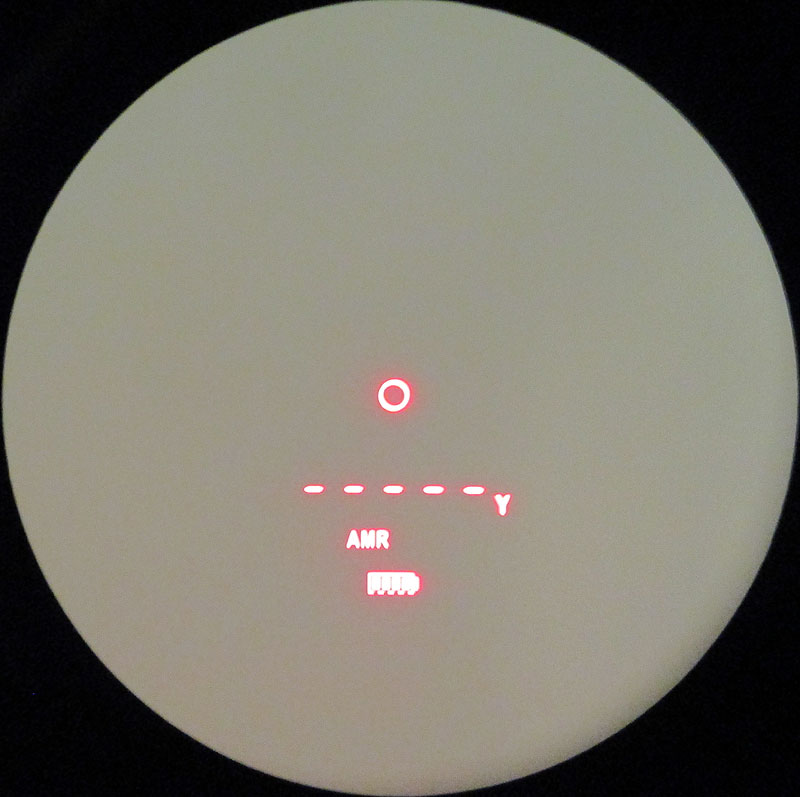 The reticle of the Kilo is a red illuminated reticle that is easy to read in all lighting conditions. There is a circle at the center of the viewing area that is the aiming point for the LRF. Below the circle is the range readout that can be displayed in meters or yards, indicated with a 'm' or 'y'. The readout is actually displayed to the nearest .1 yard, which again is a bit more than the standard whole yard display on typical LRFs. Sig indicates that the Kilo is accurate to within .1 yard at distances under 100 yards. The accuracy diminishes as the range extends, which is normal. Beneath the range reading is the AMR symbol or Angle Modified Range. This is the actual horizontal range as adjusted for the angle to the target. This feature can be turned off if desired, but is a tremendous help with slope dope shooting and has become common on most long range LRFs on the market.
The reticle has a unique auto dimming feature that we like. There is a sensor on the Kilo that detects how much ambient brightness there is and it will dim or brighten the reticle to one of 20 different brightness settings automatically. We tested it by using it indoors and turning a light on and off and it would take only about half a second and change the brightness level. It was quick and worked very well and the reticle was nicely lit and visible through all our testing in all light conditions. The operator can also turn off the auto brightness setting and select one of the brightness settings manually as well.
The size of the Kilo is actually pretty small, but with the magnesium housing it has a good heft to it that gives it a feeling of quality and durability. It weights right at half a pound which is easily feasible for field use and its small enough to drop in a cargo pocket for easy access. Of course, it is electronic, so some care needs to be taken to keep it functioning when you need it. It is also waterproof and fogproof and comes with a lifetime warranty on the optics and mechanics, and five year warranty on the electronics.
All of the settings are selected by using the "Mode" button on the left hand side of the housing and then using the "Range" button on top to make the selections when cycling through the different options using the mode button. You have to hold the mode button down for several seconds before it goes into the configuration mode, this will help prevent any inadvertent setting changes.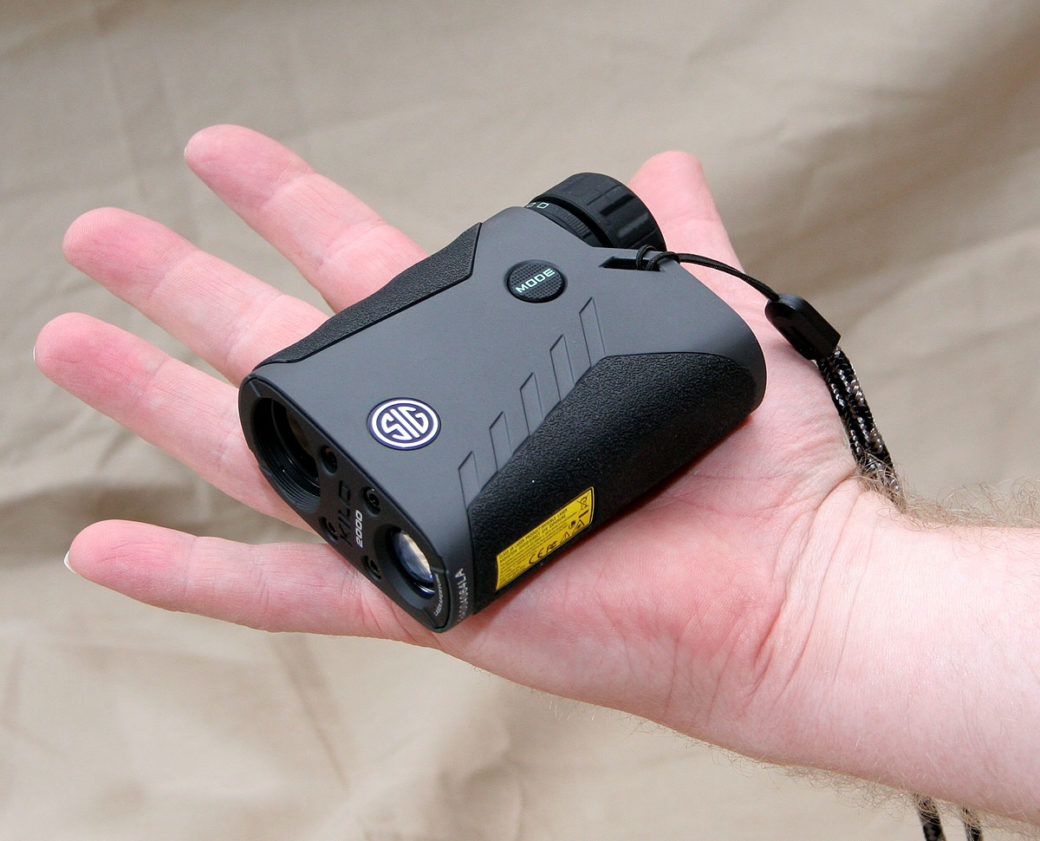 All of these features and details are nice, but the real question is, how does it perform? Will it meet our 1000+ yard reliable ranging requirement on non reflective targets? We are very pleased to report that it does! Sig likes to boast about its advanced electronics and how it allows the fastest return of ranges because it does all this fancy stuff that we really don't understand. What we do understand is that it works. The distances are reported extremely fast, and if you don't see a range in under a second, then it couldn't get a range. On typical LRFs, for field use, you can halve the claimed effective range of the LRF and use that number for your true capability in the field. So if a LRF says it is good to 1600 yards, you can count on 800 on non reflective targets in the field. Sig actually breaks it down for you with the Kilo. Reflective targets : 3400 yards, Trees: 1500 yards, Deer (Non reflective): 1200 yards. This is a good way to do it and based off our testing, they are not only accurate, but perhaps even a bit conservative as we were able to get ranges on trees and hillsides beyond 1500 yards. We are impressed.
The Kilo can be operated by just pressing the range button once and getting a reading back, but there is an additional feature called HyperScan mode that has some distinct advantages. HyperScan mode is activated by holding down the range button instead of just pressing it once. As long as you keep the range button held down the Kilo will continuously updated the range 4 times a second as you are scanning the target area. When you release the range button, it continues to display the last received range in the view finder. Its a very effective way to range those difficult targets that are far out there near the limits of the Kilo's capabilities. There are times also that you can get an accurate range by holding down the range button and hit all of the objects around the target if the target is small and difficult to get a specific range on. This is perhaps one of the most impressive features of the Kilo and is the key to getting good ranges at far away targets. A warning though for those operating in a tactical environment with the potential of night vision devices being used by the enemy. Remember that the laser that is used by LRFs are visible in many infrared night vision devices, and if you are holding down the range button, you are sending out a lot of laser shots that can give away your position. Though it is not often you would use a LRF during night.
The optics are not considered binocular grade, but they are much better than the traditional lower priced LRF and are good enough to be used for quick minocular scans, even without using the ranging capabilities. Then if you discover a target, a quick range read is right at hand. The optics are perhaps not as good as the Zeiss LRF, but certainly better than a vast majority of LRFs.
Overall, yes, we like this LRF and it goes up toward the top of our recommended LRFs. There is not a lot that we can find fault with and it has the capabilities we desire. Eventually technology will continue to progress and more capability will be available, hopefully Sig will continue development of the Kilo and stay at the top of the available LRFs on the market. The price is higher than some of the lower quality units out there, but not as high as the top end, which makes it a pretty good deal as well.
Sniper Central