Sightron Optics has been around for several years now and has had a good reputation for bright and solid scopes with very good internal tracking mechanisms. About two years ago they joined the side-focus revolution with the SII scopes and the opportunity came up where we would be able to review an off the shelf 4.5-14 version of this scope (Thanks Wayne). The scope was ordered brand new from our supplier and should be representative of what you would get if you purchased one of these scopes from your local shooting supply store. The 4.5-14 provides a very good middle of the power range scope with good flexibility and a good power range for the 308 and other mid power sniping cartridges.

The first thing that needs to be mentioned is that this scope is NOT one of the new redesigned "Big Sky" scopes from Sightron. In 2007, Sightron is releasing a redesigned SII series of scopes called the "Big Sky" which includes new glass and coatings that are suppose to be superior to their old glass. All of their SII line of scopes for 2007 and beyond will be of the Big Sky series. Like I said though, this scope is pre 2007 and has the old optics and coatings.
The Sightron scopes come from Japan and the high quality of construction is evident throughout the scope. The scope has a one piece aluminum tube with a traditional matte black anodized finish and is a nice shape and design. The power select ring is fairly large and has a rubber "ring" on it to help grip it in inclement weather. The power selector ring moves smoothly and with minimal effort throughout its range. One problem I did notice was that in cold weather, the rubber ring going around the power ring would slip. It only happened in very cold weather and wasn't that big of a deal, but it did happen and required that you squeeze the ring a bit tighter in order to make a power adjustment. The eye piece is also adjustable for reticule focus and works as normal.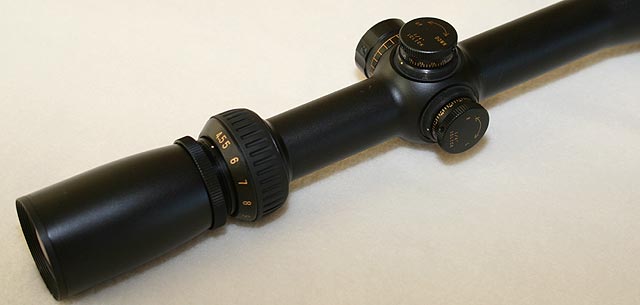 The knobs are a low profile finger adjustable target type knob with adjustments of 1/4″ per click at 100 yards. For a low profile knob, they are a nice shape and profile, though there are a few things I did not like about them. On the elevation, there is no indication as to which way is up (or right on the windage) viewable from behind the scope, and there is no vertical indication as to how many times you may have rotated the verticle knob. On a hunting scope, its not that big of a deal, but a side focus scope with mil-dots, which is clearly intended for long range use, there should be some provisions. And then, to top it off, there is 14.75 MOA per revolution… yes, 14.75. There are only 3 clicks between 14 and hitting zero again. This can be a confusion problem when you do get to longer ranges and you have come around zero again. You are no longer on whole tick marks. You can see the issue in the image below: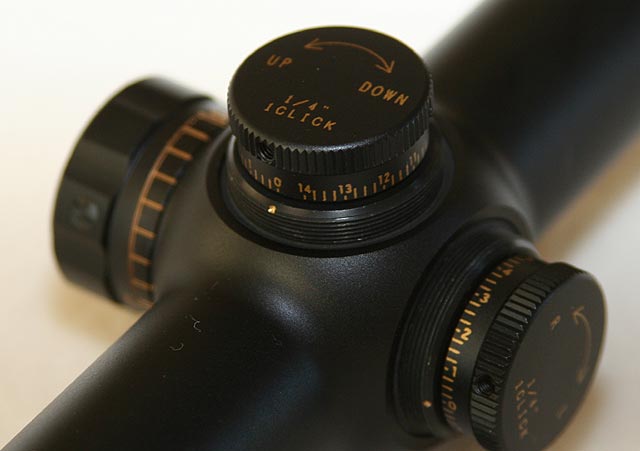 There is a claimed 58 MOA of elevation adjustment available which when combined with a 15 MOA tapered base should give enough adjustment to go from 100-1000 with the 308 Win. It mainly will depend on how many MOA are required to zero the rifle and in what direction the adjustments would need to be made. A 20 MOA tapered base might be cutting it close to get a 100 yard zero but in "theory" it should work. The knobs are "slipable" meaning you can loosen the set screw and set the knobs to zero after you have zeroed the rifle. The side focus knob is very smooth throughout its range and works as it should, easily focusing on targets at all sorts of ranges. I also like that the windage knobs count up in both directions, going up to seven before counting back down on the other side of the knob. Hopefully that makes sense, but perhaps a picture may help show what I mean on the windage knob.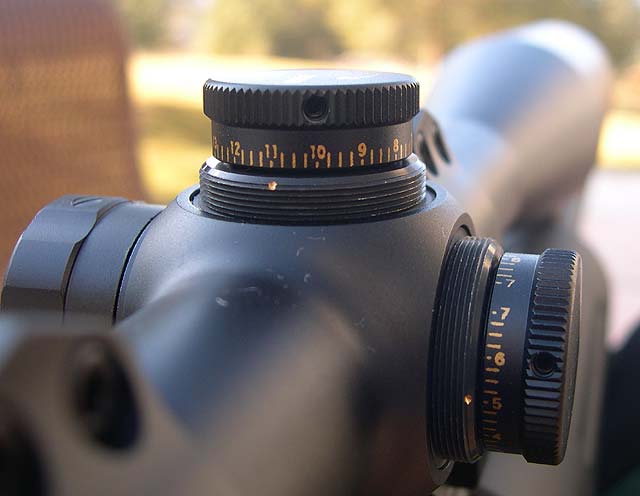 The scope also comes with a sunshade which is a nice addition to come with the scope as standard. Sometimes it is nice to get back to the basics and it was very nice to see a good ol' traditional mil-dot reticule without all the new tick marks and hash lines that seem to be becoming standard on tactical reticules. It is always nice to get back to the simplicity of the reticule that started it all. The mil-dot reticule on this scope has the .22 mil sized dots which is the US Army standard, and it is much uncluttered, efficient and very accurate once you know the measurements. In my opinion, there is no need to try to get cute and fancy with the reticules, if it aint broke, don't fix it! This is not to say many of the new reticules are not good or maybe even an improvement, but some reticules are getting carried away and can cause confusion, clutter, and even block some of the viewable area of the target. Anyway, I am happy with the reticule and it feels like meeting a very familiar friend. On this scope, the mil-dots are accurate when the scope is set on its highest level, which is 14x in this case.
The lenses are all multi coated and the optics on a whole are impressive, nice and clear and bright. It compares very well with other scopes in the same price range. The eye relief on these scopes is generous which makes it very suitable for use on high recoil rifles. The reputation has been good for durability and Sightron has a lifetime replacement warranty which is a good indicator that they stand behind the quality and durability of their scopes.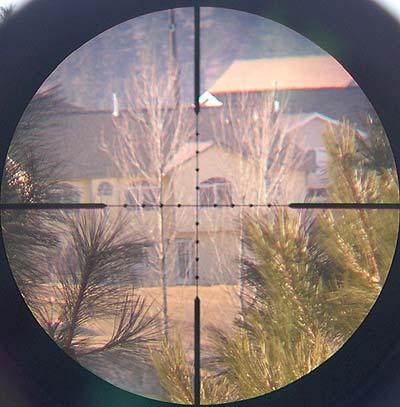 For the range work we mounted the scope on a DPMS LR-308B, and the combination was pretty effective. Sightron has a unique adjustment system that they claim is extremely precise and repeatable and all of our tests would back that claim up. It shot through the box very well and was an excellent performing scope. The optics performed well in low light shooting conditions as well as mid day brightness. A very solid performing scope in all the typical and important areas.
Beyond my issues with the knobs, and a slipping rubber ring on the power knob, the scope did very well. If I were looking for a scope for a tactical rifle, I would certainly explore what Sightron has to offer, especially with the new Big Sky improvements this year. But, I would probably be looking at a different model in their lineup with different knobs and more vertical adjustments, though the side focus is nice to have. Sightron has several other scope models that would fit these requirements and perhaps a future review on one of these is required.
Sniper Central