A while ago we reviewed another Sightron scope and it was a good scope, but with their other high end scopes available we were not sure if we were really missing even more performance. The Sightron scopes have a reputation of excellent optics with very precise adjustments, especially the S3 line of scopes which is their top of the line scopes. So we ordered a new Sightron 6-24x50mm Side Focus scope with the mildot reticule and have given it a review here.

One of the things that should first be mentioned is that this scope is a serious step into the high end scope class based off of its price. The street price of these scopes is around $800 which puts it right in with the Leupold Mark4, Zeiss, IOR range of scopes. That is some stiff competition with some excellent scopes. Sightron obviously knows this and is putting forth a serious effort to compete, and they start off by having a decent amount of stuff that comes with the scope in the box. There is a 80mm sunshade, instructions, warranty card, lens cloth, plastic lens covers, allen wrench for the turrets, a wipe cloth and a sheet with detailed dimensions of the reticule at various power settings. That sheet with the dimensions is very helpful and it is good to see it included with the scope.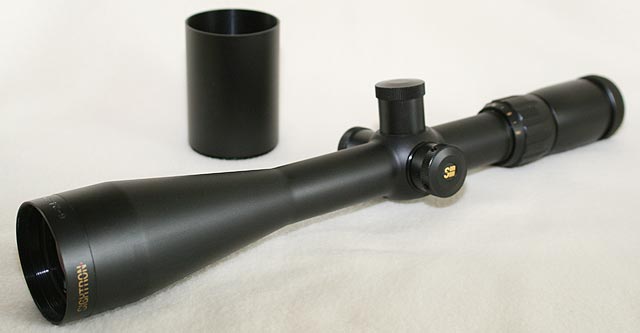 The overall fit and finish of the scope is nice with a good even matte finish on the scope and smooth rotating parts like the power ring and focus knob. The numbers and indicator marks are all in a subdued gold color which aids in the appearance of a tactical scope. The scope itself is not a specialty "tactical" scope but it is certainly targeted for that purpose. The solid one piece aluminum tube is 30mm and nicely shaped and appears to be very good construction through out. The fast focus eye piece is also smooth to rotate and precise with no slop. Everything on the scope is very nice quality from the outside appearance and feel. The scopes are manufactured in Japan and show precise Japanese manufacturing quality.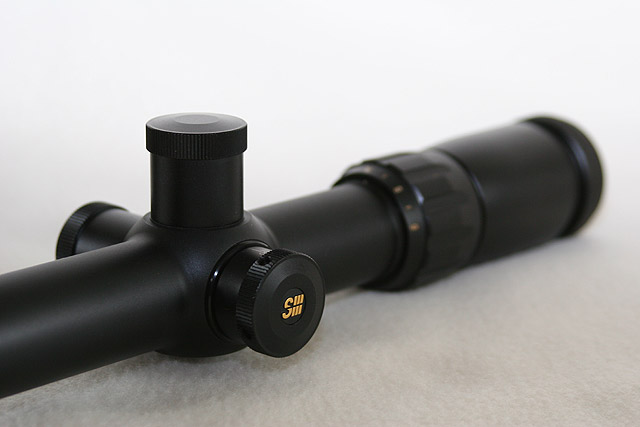 The knobs are a tall target turret design with dust covers. The turrets themselves are nicely shaped and have a knurled end to aid with grip. The clicks are very pronounced both audibly and tactile feel. You can both hear the clicks and feel them with no doubt when a click has occurred. Each click is a 1/4″ at 100 Yards, and there is 15″ of adjustment per revolution. There is a total of only 50″ of elevation adjustment at 100 yards, and for a 30mm tube, that is fairly low, but it is a high powered scope which is why that number is low. Shooting to 1000y with a .308 will require a tapered base, probably 20 MOA which will put it close to bottoming out with a 100 yard zero. This particular sample had 49″, so just right below the advertised amount.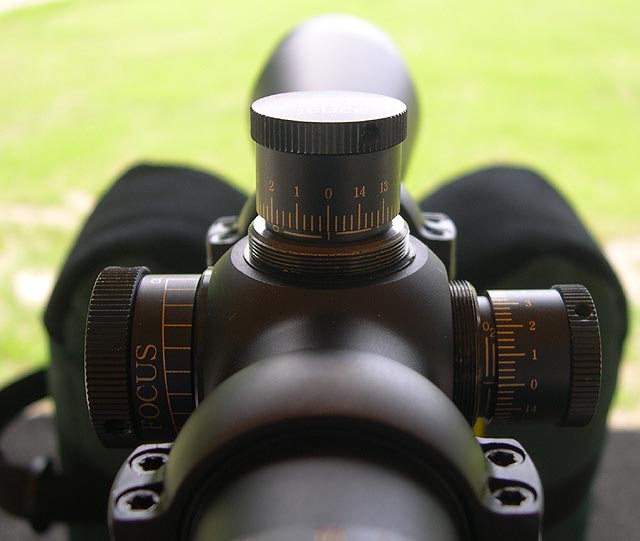 The markings are clear and the elevation knob does have horizontal hash marks in order to track how many rotations you are at on the knob. Though there are no direction indicators visible from behind the scope. I have mentioned this in other reviews of how I prefer to have an indicator visible from behind the scope so in stressful situations you have a clear reminder of which way is left and right or up and down. It is not critical, but just one of those things I would like to see more on tactical scopes. The same goes for the windage, I prefer the knobs that count up in both directions, but the windage knob on this scope only counts up in one direction. Again, not critical, but one of those things I like on my tactical scopes. The focus knob is smooth and precise and works very well.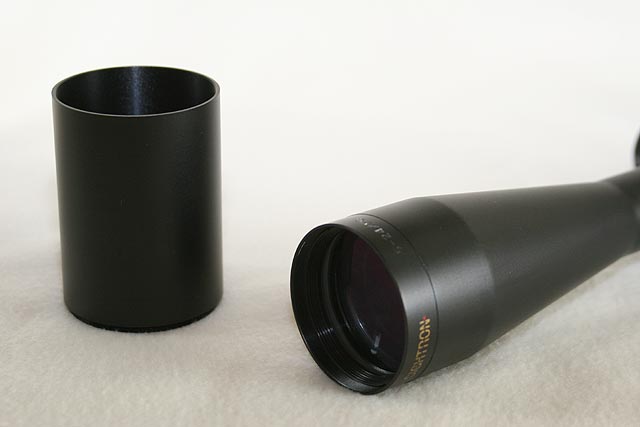 The mildot reticule is a standard mildot reticule with the US Army dot sizes of .22 mils which are round in the case of this scope. The reticule is accurate at 24x which makes it fairly large in the sight picture but also allows for some very precise measurements. The reticule is in the 2nd focal plane, so you must insure that you are on that 24x to make your mil readings. There is nothing really fancy with the reticule, just a good ol' fashioned mildot reticule, and that certainly is not a bad thing.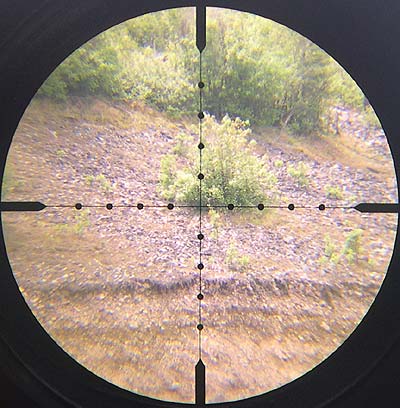 The optical quality and performance on the scope is outstanding with very crisp and solid sight picture. The optical quality is right up there with Leupold Mark4 quality, which we tested side by side with this scope. The low light performance appears to be excellent in the few times I was using it in those conditions. Optical quality is still very difficult to compare, but to my eyes it was excellent and right up there with the other very good scopes out there. One thing I should mention is that the field of view is a decent amount less wide than other scopes out there, typically not a big problem, but worth mentioning.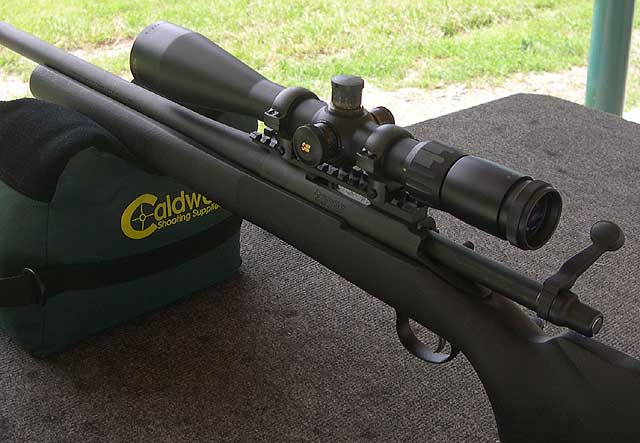 For range testing, the scope was mounted onto our Rem 700P test mule rifle using Burris Signature Zee Rings (high) mounted to a Warne 20 MOA tapered base. Mounting was straight forward with no problems, which I would expect to be the case. With the 20 MOA tapered base I was a bit worried about having enough down in the scope to zero at 100 yards, but alas, my fears were unfounded and the scope had enough adjustments and we were able to get a zero at 100y, which left around 45 MOA of up at our disposal for long range shooting. But, this put us down at the bottom of the adjustment range which can sometimes lead to imprecise adjustments when you start combining elevation and windage changes, and this is what we ran into when I shot the scope through the box. It was most evident when I went from right to left or left to right, I would gain or lose some elevation change when I only dialed in horizontal windage adjustments. It wasn't a whole bunch, but enough to be noticed. Typically the Sightron adjustments are very precise, that is one of their trademarks, and perhaps it was only this one scope, and I do know it was an extreme case at the limits with the elevation knob nearly bottomed out. If I had another 5 MOA of up dialed in the scope, I'm sure it would have been fine like all the rest of the Sightrons I have used.
Even with the less than perfect adjustments at the extreme, the scope performed very well, especially the optical performance. These scopes are excellent and perform great. If I were using one for tactical long range use, I would probably option to get the SIII 3.5-10x44mm Side Focus scope which has 80 MOA of adjustment. But this scope did perform very well and is worthy of being in the price category it is.
Sniper Central