Springfield Armory was the primary manufacturer of U.S. Military firearms from 1777 until it was closed by the federal government in 1968. That same year, Elmer C. Balance registered the trademark of "Springfield Armory" (no relation to the original company other than the name) and dedicated his company to the first civilian production of the M14 rife which had been the standard issue U.S. infantry rifle from 1959 up until the M16 replaced it during the Vietnam War. This new civilian version was called the M1A. Soon after its establishment, Springfield Armory, Inc was sold to the Reese family who has continued the production of the Springfield M1A since 1974.

Though the Military phased out the M14 as the standard rifle with the introduction of the M16, it has remained active in various USA military branches, and is still in use today in its original configuration as well as some different and unique variations. In the year 2000, Special Operation units were looking for the extra power of the M14 in a more compact version of a battle rifle for close-quarters (CQB) and to also to fill the designated marksman role. Thus, the creation of the Mark 14 Mod 0 Enhanced Battle Rifle (EBR) began.
The M14/EBR has long been a favorite among some here at Sniper Central, and we were pleased with the generosity of a longtime friend to loan us his cherished rifle for review here.
The goal of the owner of this rifle was to build an EBR that met the standards of what an EBR was suppose to be and to do this with off the shelf components. This EBR started life as a factory Springfield Armory, National Match M1A. The National Match version of the M14 has been a renowned rifle, known for its accuracy and reliability and they have contended for decades in Service Rifle and Conventional High Power Rifle matches. The action in its unmodified form functions smooth and cycles with a positive return upon release. Thus far the owner has not seen the need to make any changes to the original 22" National Match Medium Contour Barrel. The trigger has been fitted with a Athenswater trigger shoe which was designed for stocks with a pistol grip and changes the angle of the trigger squeeze more to the back than up. This is a nice addition which gives the trigger a more natural feel as compared to the factory trigger shoe. It is wide, smooth and comfortable, though we feel a ribbed texture might be a nice option. It has a two stage trigger, so upon initial squeezing of the trigger there is portion of take up, followed by a smooth crisp release, breaking at 4.5 pounds. A little heavy as far as typical sniper rifle goes, but for a battle rifle or Designated Marksman Rifle (DMR), it feels about right.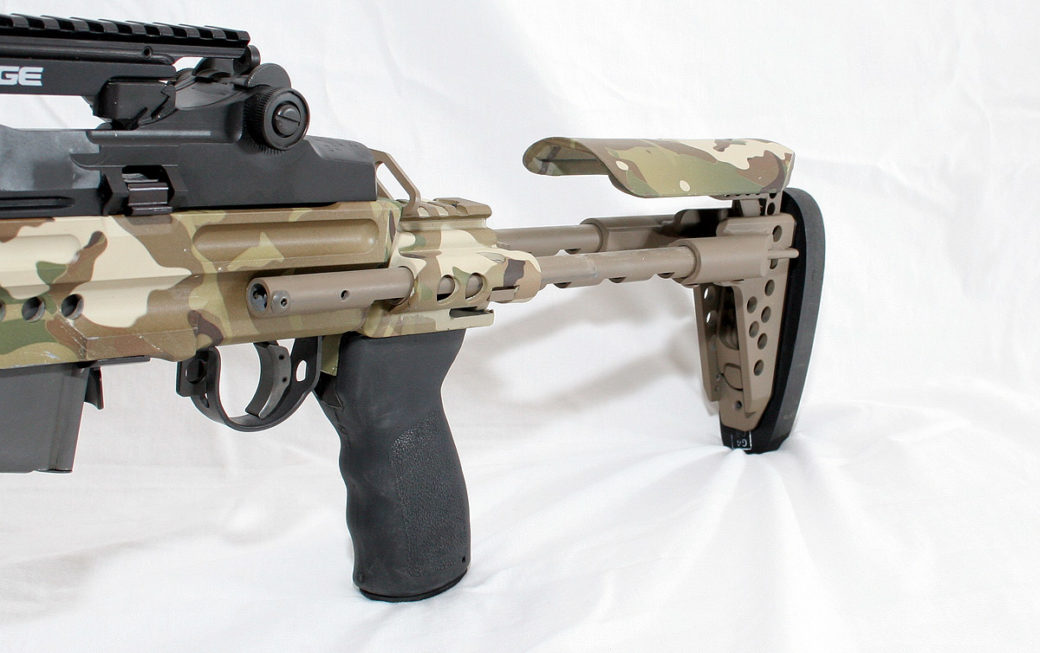 As a part of the conversion to an EBR, the owner decided to fit the rifle in a Sage International M14ALCS-HB Tactical Aluminum Chassis stock, a model that has been used in combat by Special Operations units throughout the world. The Chassis is machined from high strength aircraft grade aluminum and has a removable Kydex forend and comfortable ERGO pistol grip. Additionally it has a six position collapsible butt stock with a 1" recoil pad, adjustable cheek rest, and numerous Picatinny rails convenient for mounting additional accessories. Wanting to keep it unique, the stock received a hydro dipped coating by US Tactical. He chose to have the chassis coated in multi-cam while the telescoping butt-stock, Harris bipod mount and dust cover were coated with very a complimentary coyote brown accent. The work of US Tactical was very good, detailing the rifle all the way down to all the screws. Additionally the rifle is fitted with a dust/debris cover in the area where a selector lever would be found on a military M14. On many stocks there is a gap that would allow dirt and grime to enter the action, but Sage International developed an "EBR Full Auto Cut-Out Cover" to SAGE EBR specifications to fill this gap. Not only is the piece esthetically pleasing with the coyote brown accent, but it serves a functional purpose as well.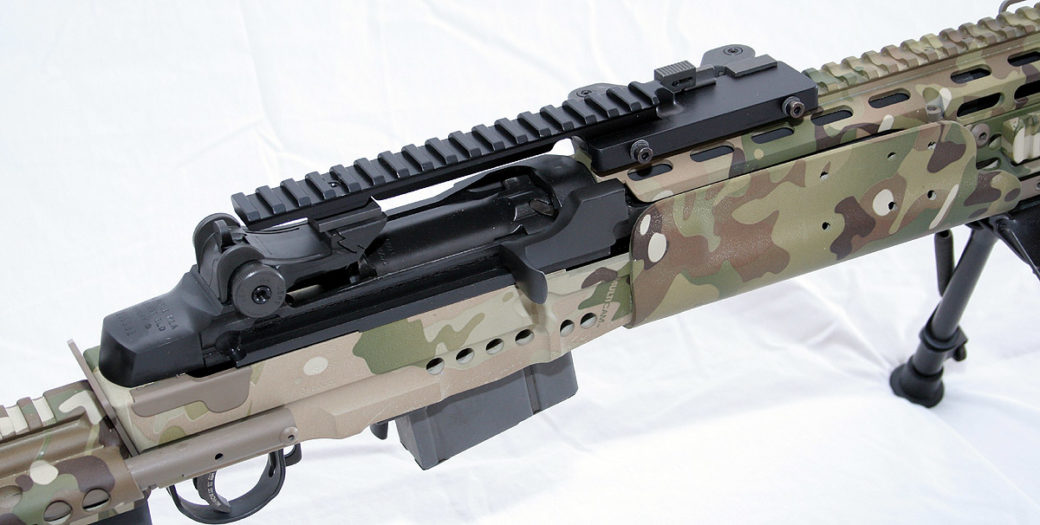 Our initial impressions of the SAGE EBR Chassis are that it is a very nice system. Ergonomically it is comfortable and friendly to shoot and the recoil is quite tame. The ergo grip provides a solid slip free grip, and the adjustable buttstock is nice but with the large 1" increments it does allow room for error with the eye relief of the scope. A twelve position telescoping stock with ½" increments would be a nice option to allow for small eye relief changes to better ensure accuracy and flexibility with any scope. The cheek rest is wide and stable and allows for a consistent cheekweld, though it is a Kydex material that can get a bit slick when sweat, grime, dirt and face paint is involved. Typically some moleskin can help here. It does need to be noted also that while firing, we noticed the screws loosened enough to cause the cheek rest to wobble. A quick tightening fixed the problem and we didn't have any further issues, but a dab of blue lock-tight would probably fix the issue in a more permanent manner. On an additional note, it is common practice for us to use a sand sock at the rear during our accuracy tests but due to the angle of the buttstock we found it difficult to maintain consistent support with the sand sock. This may only be an issue to consider if you are dedicating this rifle to long range engagements from the prone position, but when used in a Designated Marksman (DM) role this may not be an issue.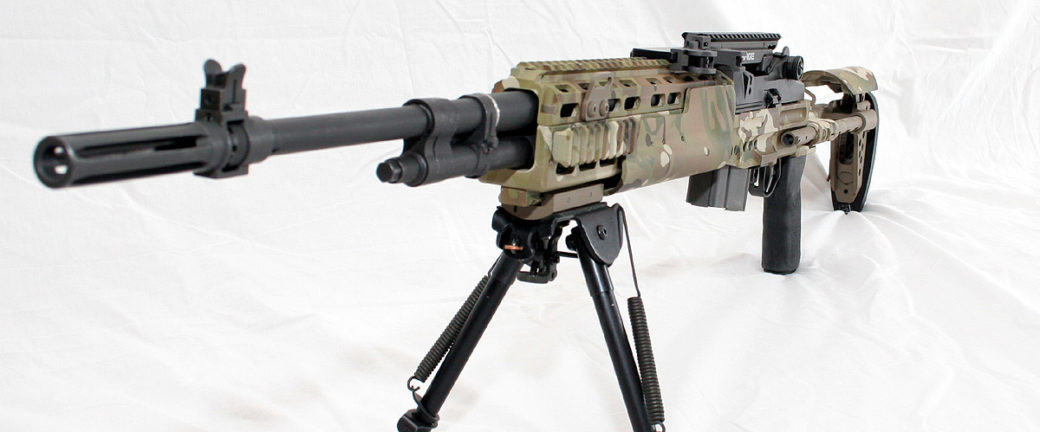 The M14 was never a light rifle which was one of the reasons why the M16 was developed and chosen as its replacement, and that weight is present with this EBR as well. Some of this weight can be attributed to its full length 22″ barrel. The overall rifle has considerable heft to it, nearly 13 lbs without any optics, bipod or ammunition. This is probably a bit excessive for a battle style rifle, though its right in line with typical sniper rifles today. Whether it is too much weight is left up to the individual operator and agency or group. The high weight does help control recoil.
For the shooting portion of this evaluation we used one of our tried and true Leupold MK4 4.5-14x50mm Tactical scopes' that has been utilized in past reviews. It was mounted to the rifle with a SAGE Int M14DCBS (Detachable Cantilevered Sight Base). This is a nice convenient mount that allows easy removal of the scope in case of failure in order to access the iron sights. While we typically advise against any removing of the day optics on a precision rifle, for an EBR setup it is a nice addition as the role of the rifle is a bit different.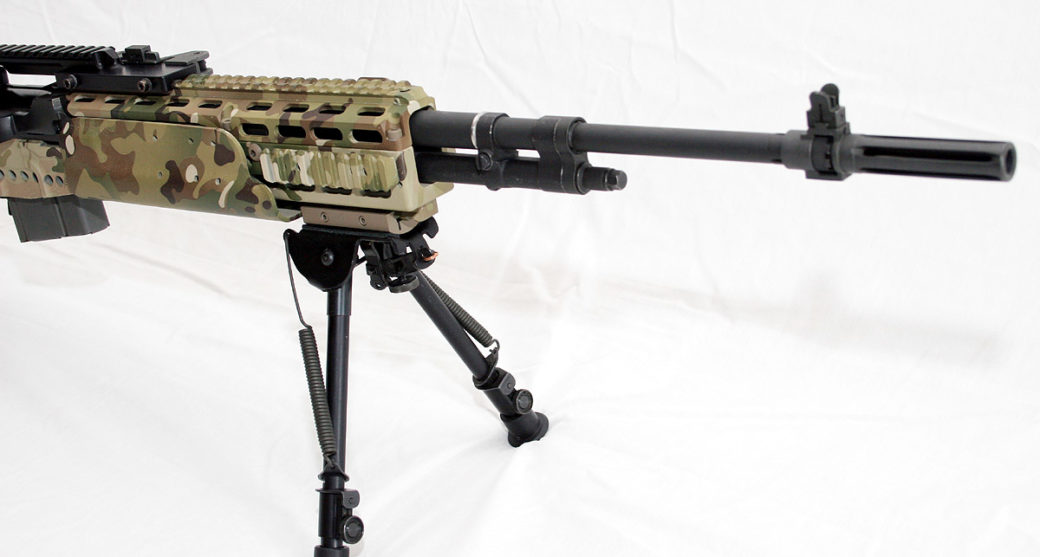 For our tests, we shot for accuracy on two separate days, both days being overcast and temps in the mid 60's. The first day we experienced 5-10 mph winds from left to right though day two was much calmer. We tested with three types of ammo: The standard Federal Gold Medal Match (GMM) 168gr Sierra Match King, HSM 168gr A-MAX, and Swiss P Target, also in 168 gr. The results of the accuracy tests are listed below:
| | | |
| --- | --- | --- |
| Ammo | Average | Best |
| Swiss P 168 gr Target | .97″ | .581″ |
| HSM 168 gr A-MAX | 1.02″ | .571″ |
| Federal 168gr Gold Medal Match (GMM) | 1.05″ | .505″ |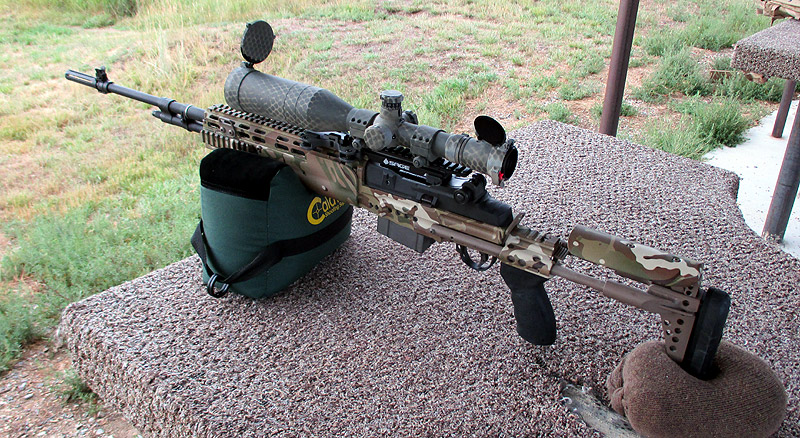 As you can see the rifle grouped well but beginning with the first group we fired, we experienced feeding issues. We liberally lubed the action and the problems continued off and on until we made a magazine change. Once we switched magazines the feeding issues were completely eliminated. We feel that the bad magazine caused some mental havoc, and may have caused the groups to open a little, as the worst groups seemed to come after a feeding issue occurred.
Based off of the group sizes when the rifle functioned consistently, and that this is a fairly new weapon (only 20 rounds fired prior to us receiving it), we believe that after a break-in period, this rifle is more than capable of groups less than 1 MOA and probably capable of averaging ¾ MOA with the right ammo. Additionally we had the opportunity to test the rifle on a full distance range were we engaged three steel targets ranging from 300-600 yards in a widely spaced left to right range fan. Using only hold offs and traversing wide ranges, we were able achieve first round hits on all three targets in under 12 seconds and could do even better with more familiarization.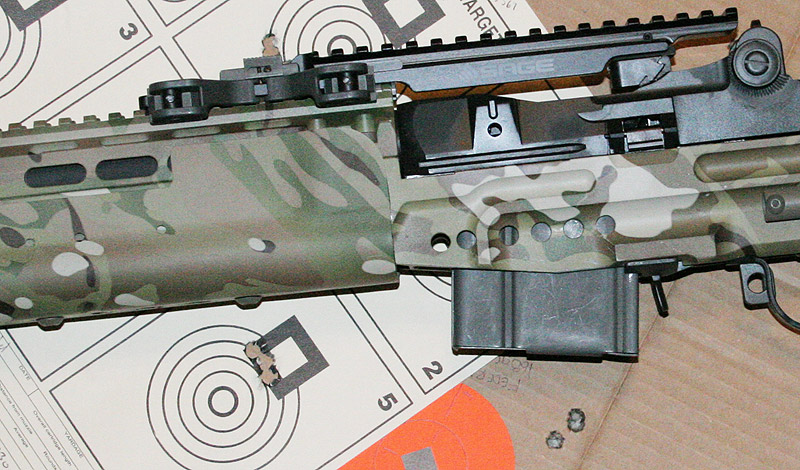 Our overall impression of this rifle is very good. Except for the feeding issues caused by a bad magazine we felt it functioned very well and consistent through the tests. It has shooter friendly ergonomics and allows for generous adjustments with the telescopic butt stock and cheek weld. The rifle is capable of grouping within 1 MOA and the recoil is manageable for quick follow up shots and engaging multiple targets. Looking at the features and its capabilities, this rifle seems to be an excellent fit for a DMR as it provides good accuracy to beyond 600 yards and the capability of rapid follow up shots. The rifle in the hands of a trained Designated Marksman would provide excellent capability when operating with standard infantry units and the rifle is still flexible enough to be used as a higher powered Battle Rifle when needed.
The core of the rifle should also be mentioned. The Springfield-Armory National M1A barreled action shows good promise with solid sub MOA performance for an out of the box 308 semi-auto rifle. The AR platform is all the rave these days, but the M14/M1A certainly shows great promise, though it is heavier, but recoil is very controlled and reliability, forgetting the bad magazine, was very good.