When Steyr Mannlicher released their new sniper rifle in 1969, the SSG-69, they helped revolutionize the modern sniper rifle world. The synthetic stock, detachable box rotary magazine, excellent trigger and other features showed the way to the future. This was back in a time when all the current sniper rifles had wood stocks and old traditional rifle features. The SSG-69 remained in production all the way up to just a few years ago and while it had some flaws, notably the fragile nature of those revolutionary magazines and trigger guard, the rifle was still very capable as a sniper rifle, and quite light and portable. Steyr's new rifle that was developed as a replacement for the SSG-69 was called the SSG-04 having been introduced in 2004 and it too was a good rifle and very accurate. Steyr attempted to fix all of the SSG-69's faults, but to us it took it away from the simplicity of the 69's charm. Then Steyr released a tactical heavy barrel version of their pro-hunter rifle known as the Pro THB. It was simple and seemed to be a natural decedent of the SSG-69's philosophy. We are now finally getting around to bringing one in to give it a full review to see how well it can function as a sniper rifle and if it might be a worthy heir of the 69's classic legacy.
The THB is available in a few different versions with 16″ or 20″ barrel and a few different rails. Later this year (2018) a 6.5 Creedmoor version of the rifle will be available with a 24″ barrel and green stock and we plan to review that setup as well when it is available. What is interesting to us is that Steyr has just announced the discontinuation of the Pro Hunter line of rifles, but the Pro THB is still listed as an ongoing line of rifles for the USA market. We do not know how long they plan to keep the THB around, but it seems like its a permanent model for the time being since they are releasing new versions. The THB also shares the action, bolt, trigger and bolt knob with the SSG-04 which is good for both the longevity of the rifle as well as for its potential performance as the SSG-04 is a very capable sniper rifle.
The THB arrives in a pretty standard cardboard box with nothing too fancy and with very minimal documentation. It has a digital printout of the factory test fire group, but it wasn't very useful and was difficult to determine how it was fired and since the group wasn't that impressive, why it was even included? Oh well, we do our own testing and fact finding anyway. Immediately, the thing that impresses us is the weight of the rifle. In the world of 15 lb sniper rifles, a 8.6 lb rifle is indeed noteworthy.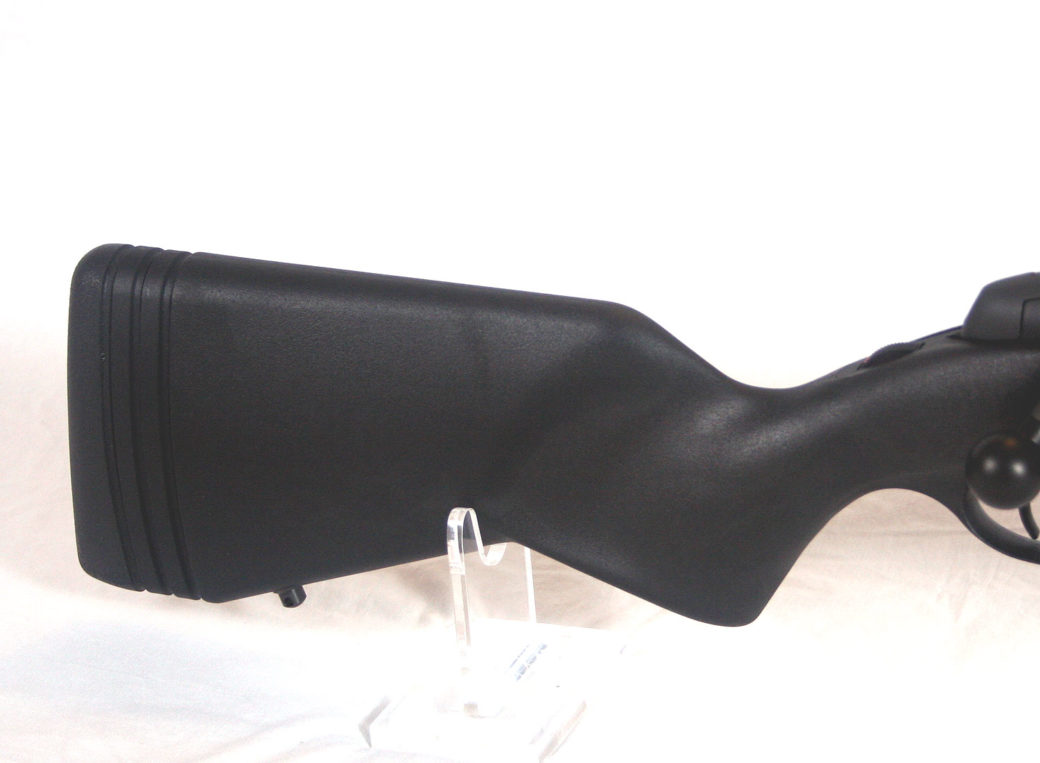 As you would expect with a modern sniper rifle, the stock is synthetic. The design and shape of the stock is perhaps closer related to a hunting profile than a traditional sniper rifle, but it is similar to the SSG-04 stock, just without the adjustable cheekpiece. The buttstock remains adjustable for length of pull with the use of a spacer system and the comb area is straight without any raised cheekrise, though it is fairly high as is. The pistol grip area is angled back and is not a vertical design, but it is shaped nicely to comfortably fit the hand without using a thick palm swell. Because that pistol grip is swept back, it does create a little longer length trigger reach which may make it a little harder for those with small hands to get a good trigger squeeze.
The texture on the stock is a matte black sandblasted style texture and it provides a decent amount of grip and holds the cheek well enough. The comb area is plain and can be used left or right handed. The stock also has a molded in trigger guard which has become more popular with the lower priced rifles on the market, though in this case the THB is not a lower priced rifle. It will mean that any aftermarket stock design will have to incorporate a trigger guard. The factory triggerguard is oversized to allow a gloved finger to easily fit inside it.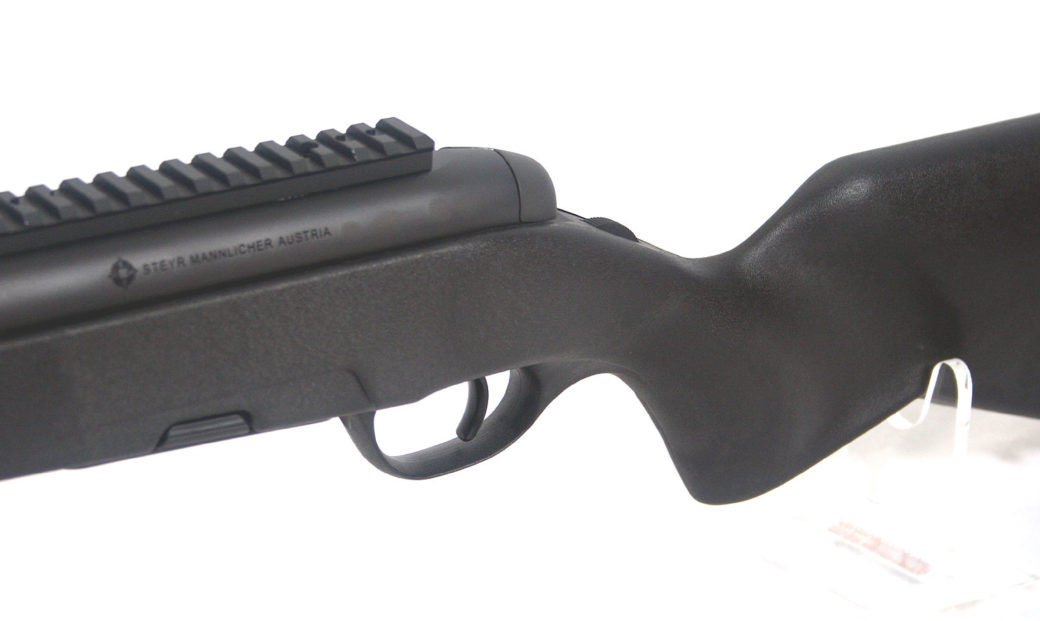 Located behind the rear action tang is the unique rotary safety mechanism that is also found on the SSG-04 and incorporates three distinct positions. With the wheel rotated all the way forward a red dot is exposed and the rifle is ready to fire. Rotating the wheel back one notch to a white dot places the rifle on safe but allows the bolt to be cycled safely. Finally, rotating the wheel back to its final position exposes a plastic protrusion that locks the safety in that position and also locks the bolt preventing it from cycling. This is also the position that releases the bolt for removal if it is rotated into that position while the bolt is open. The safety system works well, though it is easy to over rotate it when going from fire to safe to where you inadvertently go to bolt lock position. Not a major deal, but something we noticed.
In terms of safety, at the rear of the bolt shroud there is also a small little protrusion that is a part of the firing pin and it is a visual indicator of the bolt being cocked and ready to fire. That shroud itself is a nicely contoured shape that looks nice and elegant.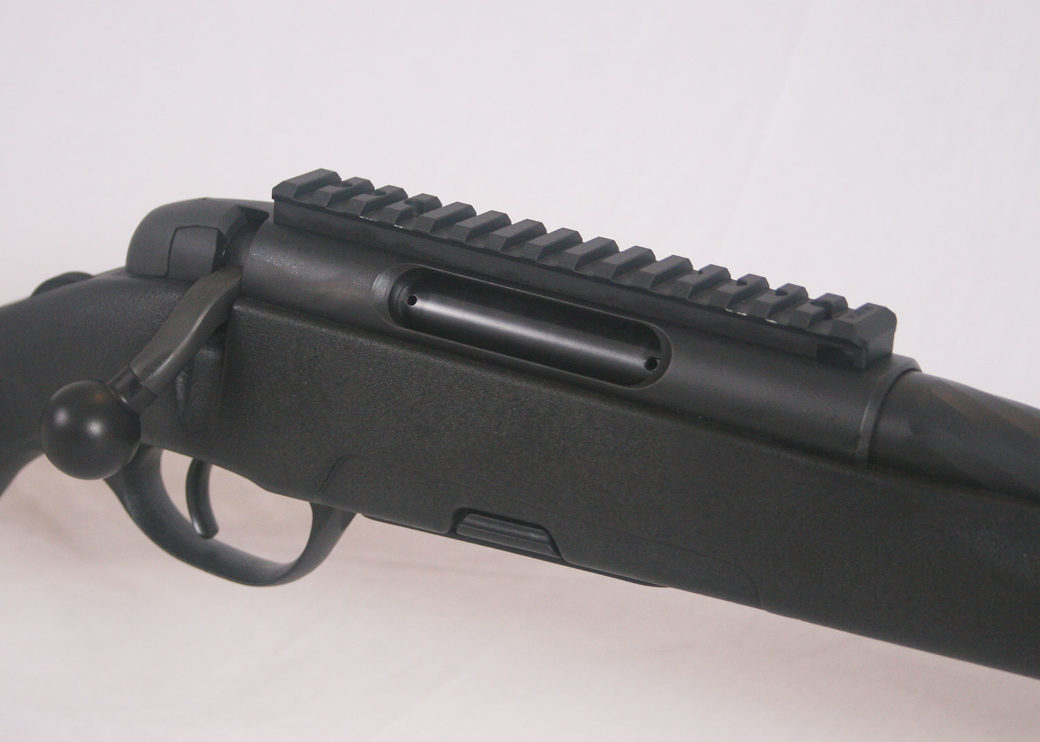 The action is rounded and closed over the top with a smaller ejection port. This style of action does provide a very stiff action and the original SSG-69 had a similar style, though the THB/SSG-04 is modernized and smoothed up. The rifle also comes with a 20 MOA canted rail mounted on top which is a nice feature to have from the factory. With the rounded bolt shroud, smoothly rounded action, clean ejection port, and no protrusions for the safety or bolt release, the action has a very clean and simple appearance to it.
The trigger sticks to the Steyr tradition of utilizing two-stage triggers. The first stage travel is about .25″ and it is light and smooth and with a very defined point when it hits the second stage. That first stage pull weighs in at just under 8 ounces. Once the second stage is reached we noticed a little bit of creep in this trigger and then it breaks relatively clean with just a bit of overtravel. Our trigger scale measured that second stage at 3 lbs 5 ounces (3.31 lbs) and it was very consistent. For a factory trigger, it is not bad. The trigger shoe is a traditional design, smooth and black and of average width.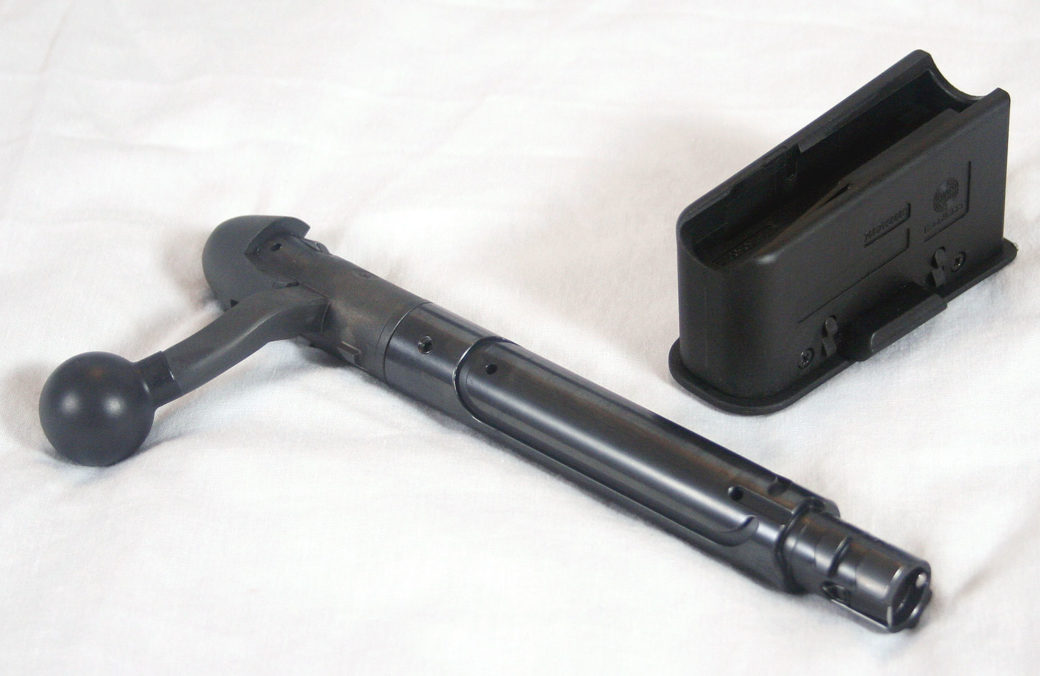 The bolt handle is swept back toward the shooter and has the same large bolt knob with hard coating as is found on the SSG-04. There is a sako, or M16 style, extractor with plunger to help with positive extraction and ejection. The two bolt lug design means the bolt rotation angle is typical but the wider bolt body allows for a very smooth bolt stroke. With the bolt pulled all the way to the rear there is a small amount of looseness and wobble, but is better than typical mass produced factory rifles like the Remington 700.
In front of the trigger guard a four-round detachable box magazine (DBM) fits flush into the bottom of the stock and is released by pressing in two tabs on either side of the magazine. This design is similar to the old Remington 700 DBM setup from a decade or so ago, though this one is easier to operate with a more positive engagement and disengagement feel. The magazine is made of a thick and robust polymer that feels like it should hold up well over time. It is a double stack design which keeps it short and compact. The rounds load easily from straight down without any need to load from the front of the magazine and push to the rear. A magazine release button or lever may be a better setup, but this design isn't bad.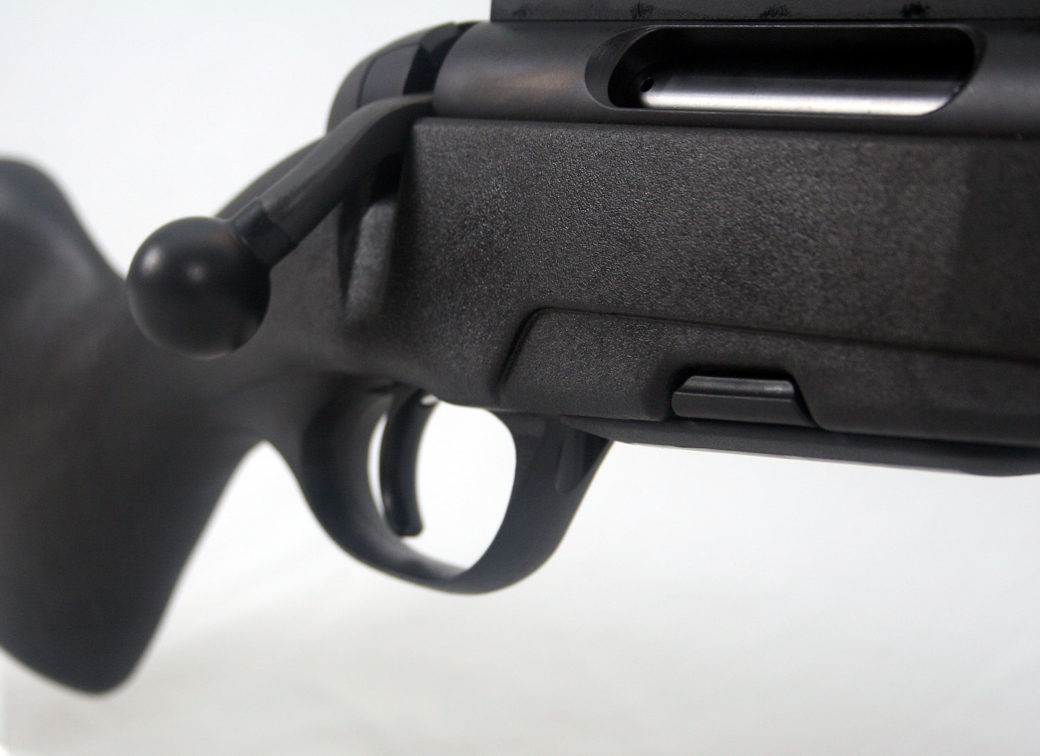 The barrel is also the same barrel configuration that is found on the SSG-04 and is cold hammer forged with a 1:12″ twist. The barrels have four lands and grooves with a right hand twist and like the original SSG-69 PIs of old, have a lighter weight barrel contour than the popular very heavy barrels on most sniper rifles today. This contour is one that gives extra rigidity while not piling on too much extra weight. At the action the barrel has a 1.148″ diameter and then it quickly tapers down and then carries a medium profile out to the muzzle where it measures .800″ in diameter. .80″ is not really much narrower than most other heavy barrel rifles, but it does not have that straight taper profile that most modern sniper rifles do so it appears thinner. To compare, we measured the diameter of the barrel on the SSG-69 PI at the same 20″ of length and discovered it was the same diameter.
The exterior of the barrel has the radial markings that are a biproduct of the hammer forging process and has a distinct look to it. Steyr elects not to do any further smoothing or profiling of the barrel and just leaves it as is. It is a different look that some like and others do not, but provides no functional purpose. At the muzzle end of the barrel the THB is different than the SSG-04 in that it does not have the muzzlebrake attached on metric threads. Rather it has a simple thread protect cap that covers an American 5/8-24″ TPI thread that can be used for a suppressor or muzzlebrake of the operators choosing. The thread protect cap is a larger diameter than the barrel, which doesn't look that great, but functions fine.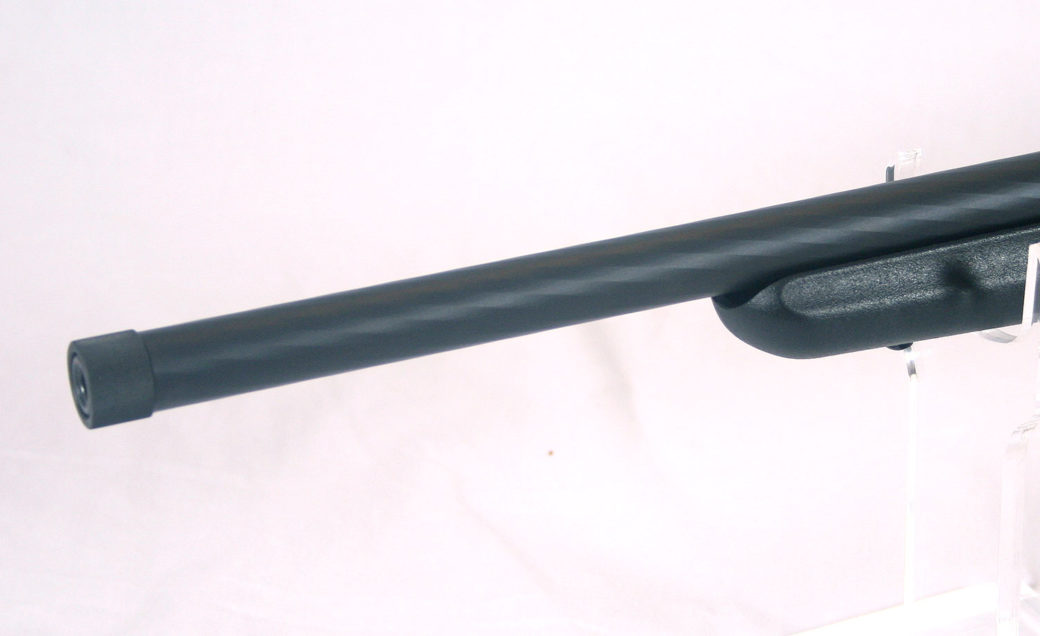 The hunter profile stock continues up on the forearm and it is thinner than most sniper or varmint style stocks and even has some concave grooves which likely shaves a few more ounces of weight. There is only a single sling swivel stud up front, so the use of a Harris style bipod will require the attaching of a sling to the bipod itself. The stock's forearm is stiff enough that the barrel remains freefloated all the way back to the action even when the rifle is resting on a bipod and putting pressure on the forward part of the stock. The stock can be flexed enough to touch the barrel with some hand force, which was expected with the polymer plastic style stock. A McMillan or Manners fiberglass stock would be better, but also much more expensive and heavier. In all of our testing on sandbags and bipods, we never found a situation where the flexing of the stock was enough to touch the barrel.
The overall look and feel of the rifle is of a compact tactical rifle that would be at home in the back of a patrol car or in an urban environment. It is very handy to tote around with its lightweight and shorter overall length of only 41″, measured with two of the spacers installed. The matte finish on the metal work is even over the entire rifle and it matches the stock's sand blasted texture and black finish well enough, though the stock has a bit more of a sheen to it.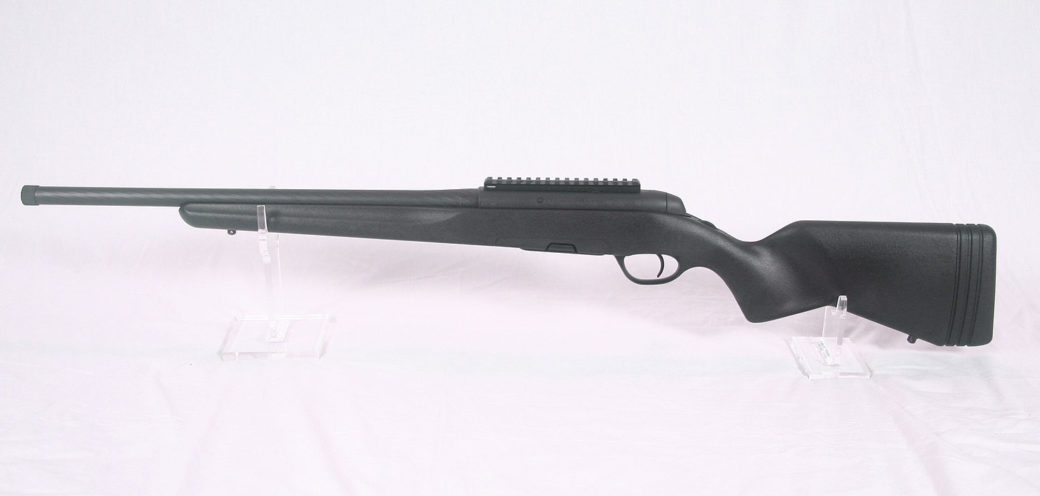 For our testing, we decided to use one of our 6.5-20x50mm Leupold scopes that we have for rifle tests and mounted it to the provided rail using some Leupold Mark 4 rings. If you are new to our site, please check out our article on how we test rifles. For our shooting session the weather was overcast and the temps were right around freezing with a light 2-4 mph wind. We assembled four different match grade loads and then some M80 ball ammunition as is our normal procedure. Our match ammo selection included the Federal Gold Medal Match 168gr which we consider the benchmark and then some Hornady 155gr ELD Match, Choice SC 178gr, and HSM M118LR equiv. The accuracy results at 100 yards are below:
| Ammo | Average Group | Best Group |
| --- | --- | --- |
| Federal GMM 168gr | 0.667″ (0.637 MOA) | 0.402″ (0.384 MOA) |
| Hornady 155gr ELD | 1.057″ (1.010 MOA) | 0.896″ (0.856 MOA) |
| Choice SC 178gr | 1.283″ (1.225 MOA) | 0.786″ (0.751 MOA) |
| HSM M118LR 175gr | 0.480″ (0.458 MOA) | 0.198″ (0.189 MOA) |
| Federal XM80C | 1.461″ (1.395 MOA) | 1.461″ (1.395 MOA) |
We probably do not need to point out which ammo the rifle liked best. The HSM M118LR ammo, which uses a Sierra Match King 175gr loaded to 2600 fps in military 7.62 brass, shot lights out. It was very consistent with the largest group still well under 1 MOA and with a smallest group under .25 MOA. The Federal Gold Medal Match shot very well also and we would not hesitate to use that ammo. It did not like the Choice 178gr or the Hornady 155gr ELD much and we did not get great results from those. We noticed that the two loads that shot very well used Sierra Match King bullets and the two that did not used Hornady bullets with very aggressive ogive shapes and high BCs. This is NOT any scientific test, but we seem to notice that the trend out there today is to favor the very high BC bullets over everything else without checking to see how accurate they are. Given the results in the THB, I would certainly be giving up BC for better accuracy.
The M80 ball ammo shot decent as well. We consider anything under 2 MOA to be good. We only shot a single confirmation group with it as there isn't a whole lot to be learned from shooting multiple groups of that ammo. It is ball ammo, and we just like to test how it shoots as a general bit of knowledge.
The rifle, as you might expect, has a more brisk recoil when compared to bigger and heavier tactical rifles, and it does not have a large recoil pad. But it was still completely manageable and not too abusive even over a longer shooting session. The short barrel and less weight out front leads to a bit more muzzle flip than other rifles, but you gain a lot with portability. When we tested the SSG-04 we ran into repeated problems with the brass not always ejecting free of the rifle and we would occasionally get "stove pipes". We asked for feedback from other readers with SSG-04s to see if it was a problem in their rifles and everyone who replied said "NO!". We can confirm with this THB that there were zero ejection or extraction problems, none. This seems to indicate that the SSG-04 we have is an anomaly. The THB feeds beautifully from the magazine, very smooth and with a small four round magazine we also wanted to test single feeding because emptying the magazine might be more of a problem. Many rifles with DBMs do not single feed by just dropping a round into the open action, but the THB has no problems with it.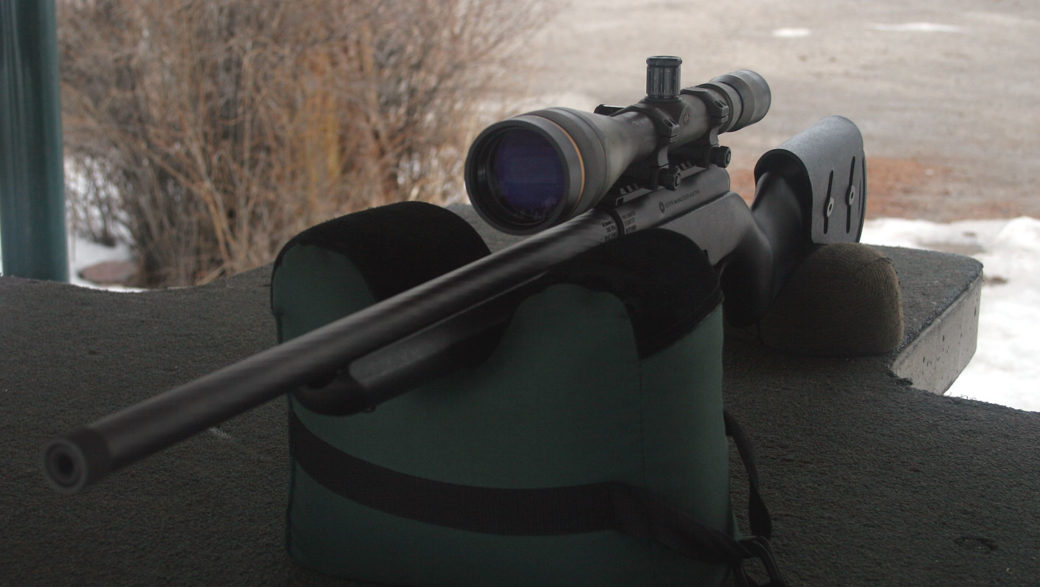 The medium weight barrel does heat up quicker than a big lump of a barrel, but it takes a decent amount of shooting in a short time period before it is a real problem. You may notice in our range pictures, that the rifle we used for our firing tests had a Karsten model B adjustable cheek-piece installed. The non adjustable factory cheek piece may need a little help when mounting a larger objective scope in order to get good eye alignment. We do feel that with a scope with a 40-44mm objective lens mounted low on the rifle you can do fine without an addon cheekpiece. Either way, if you needed, there are plenty of options to go with such as Karsten or a strap on cheekpiece.
When we moved to our 300 yard rapid fire headshot test, things were a little more tricky. The lighter rifle with more recoil and rifle bounce, combined with the thin and less stable forearm on the stock, made for a rifle that was a bit more difficult to get back on target for a good followup shot. This manifested itself with poorer accuracy and a slower engagement time. With the exceptional performance with the HSM M118LR ammunition, we selected that one for this test. The group measured 3.282″, or 1.045 MOA, which is right at what the benchmark is, but the shooter struggled getting a good aiming point and called the a bad shot and knew the group was not going to be great. In other words, the rifle is capable of much better accuracy, but because of the rapid fire pressure it exposed some of the issues with the rifle, just like it is designed to. The three shot engagement time of 24 seconds is also right at the benchmark time, but it felt rushed to get that and the accuracy paid the price.
300y Head Target Test
Time Score (24 secs)
30
Accuracy Score (1.045 moa)
43.1
Energy Score (1715 ft-lbs)
26.2
Total
99.3
When you look at the leaderboard list for this test you can see that the rifle did not do nearly as well as the SSG-04. The big reason is because the SSG has a muzzlebrake and longer barrel which allowed the followup shots to be rapid and the rifle to have more stability that helped it lay down that impressive group. Comparing the two rifles in ultimate accuracy you can see that they both shoot equally as impressive and both seemed to like the HSM M118LR and Fed GMM. This shouldn't be any surprise since they are essentially the same barreled action.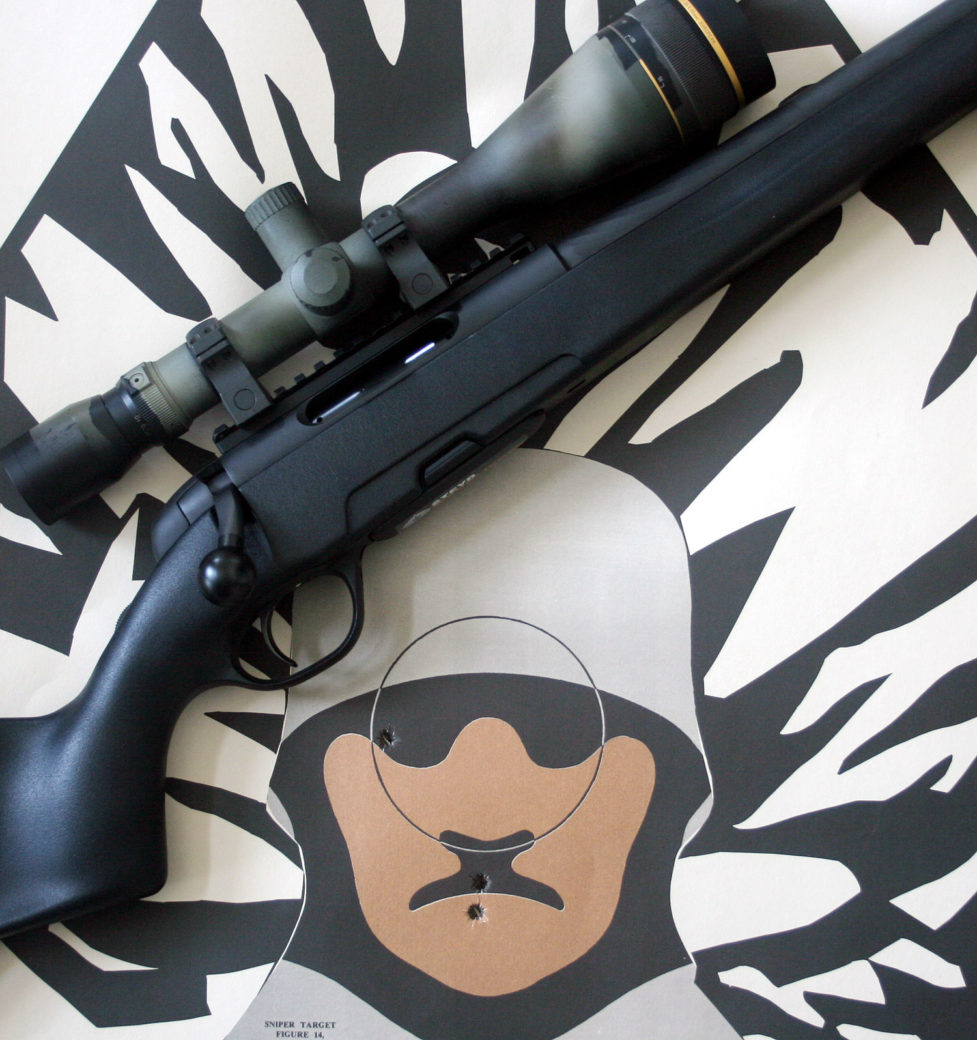 Overall, this is an impressive little rifle, especially for medium money of only about $1200, and it is factory built. It is not a big heavy bruiser of a sniper rifle, but it can fill that role quite well if needed. The rifle would really shine for a traditional sniper team that focuses on fieldcraft more than raw long range capability. The rifle is handy, smooth, portable and very accurate as it is essentially a stripped down SSG-04. We are extremely excited to test out the 24″ version chambered in 6.5 Creedmoor when it is available later this year, as that could be a very impressive long range rifle. The THB in 308 we reviewed here should not be overlooked, it really does perform. In fact, put a suppressor on it and you have a very capable sniper rifle in the traditional sense… kind of like the SSG-69. We like it
Sniper Central