The original concept of the Steyr scout was to fill Jeff Coopers "scout concept" for a rifle. Which involved mounting the scope forward, using a good all around caliber, make the rifle short and light for easy handling, etc. Their rifle, the Steyr Scout, is an exceptional scout rifle. After success with their scout rifle, they decided a couple of years ago to develop a tactical version of this rifle. They took the original scout, added a longer, stainless steel heavy barrel (matte of stainless finish available), modified the stock, and added a large bolt handle (off of their SSG PII rifle). The resulting product is their "Tactical Elite" and its a nice rifle. Tactical Grade? Perhaps.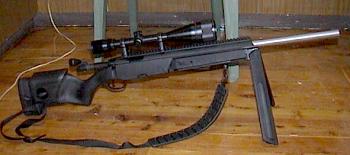 At the center of the Scout rifle is the SBS (Safe Bolt System) which is a different action then the rest of the Steyr line, and it was designed by Ulrich Zedrosser. It includes several innovations for safety, etc. The one really nice feature is the mud grove. Its an actual grove in the bolt that allows mud, dirt, snow, etc to escape the action. Several custom gun smiths are adding these to Remington actions, its nice to have from the factory on this Steyr. The bolt action is a 90 degree rotating design, and I love the large bolt handle. The Steyr trigger comes from the factory pretty light, in the 3 lb range.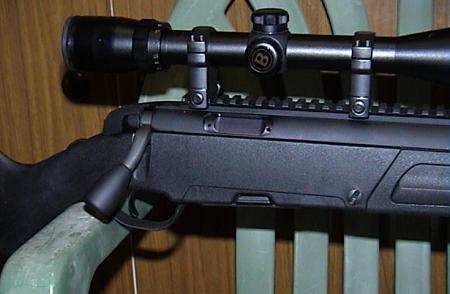 The stock is certainly unique. Steyr took the standard Scout stock and changed it in many ways. There is an adjustable cheek piece and butt plate to allow the rifle to fit just about any shooter. The integrated bi-pod design is retained. The nice trigger, solid engineering and a good heavy barrel all combine to make an accurate rifle. The tactical elite shoots 1 MOA, and sometimes even less with the right ammo and shooter. The rifles are easy to handle and do indeed make a suitable tactical package. They are not as accurate as the highest end custom tactical rifles, but this rifle does combine flexibility and ease of handling (compact design) to make a good tactical alternative.