While many people, especially the 400+ Law Enforcement agencies who are their primary customers, know all about Tactical Operations rifles and their amazing .25 MOA guarantee, not many people realize that they will do a tune-up, or accurizing job, on a factory Remington 700P. In fact, it was news to us. So, a willing SC subscriber was good enough to provide his rifle for evaluation once Tac-Ops finished their work to the rifle. We were very curious to take a look at the rifle and see just what work was done, what features were added, and most importantly, how well the rifle performed!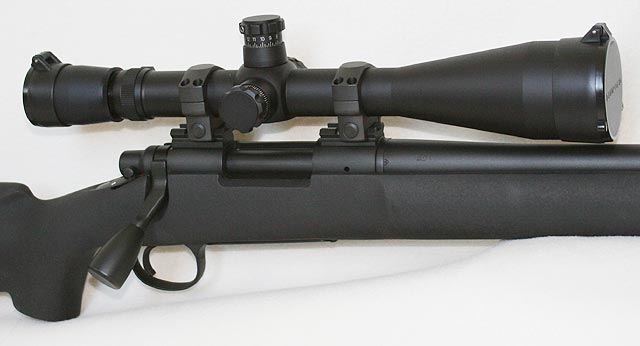 The idea behind the concept is to send in your good ol' factory Remington 700P to Tactical Operations along with $1575, and you get back a better, more accurate rifle. The concept is not new, as there are several other well known rifle and barrel makers that offer the same type of service. But the real question comes down to "is it really worth it?" The recent Remington 700P's have been shooting down close to .5 MOA with some occasionally breaking that .5 barrier which is pretty good for a factory mass produced rifle, and accurate enough for most agencies. So is making it more accurate enough to warrant the money and rework?
For this particular write-up, the customer actually took a new off the shelf standard Remington 700 SPS in 308 and sent it in. Tactical Operations then used a new 700P take off barrel and HS Precision stock from a 700P that was cannibalized for its action to build a Tango-51. Apparently Tac-Ops tends to have several barrels and stocks from 700P's laying around the shop. So, while the subject of this particular write-up was not a reworked 700P, the result is the same.

There is not much else that needs to be said about the 700P as it is probably the most popular tactical rifle built in the world. The basics are the same, Remington 700 action, heavy 26″ barrel with 1:12″ twist, HS Precision stock, etc. It is the same barreled action that you will find on any of the 700 heavy barrel varmint rifles, the only difference is that the 700P has a parkerized finish instead of a matte blue finish. Tac-Ops believes that Remington really has something special going with their barrel making process as they continue to have great success using Remington factory heavy barrels to build some very accurate rifles.
So, with the rifle in Tactical Operations hands, they get to work. The very first thing they do is check the barrel and action to insure it is suitable for a rebuild. A few Remington actions and/or barrels are out of whack and they will not tune up nicely, so they respectfully will decline the action or barrel if it does not meet the starting specifications. They will also not perform a tune-up on a LTR with the short fluted barrel, only the standard 700P 26″ barreled rifles will they do this work on.
They then take the standard Remington 700P 26″ barrel and cut it down to 20″. Tactical Operations is a short barrel fan for 308 rifles, and with the accuracy I have seen from their rifles, it is for a good reason. They will cut the barrel to other lengths per the customer's desire, but they WILL cut it down as part of the service is a new crown along with the threading of the barrel to a 9/16×24 class IIIA thread to accept a suppressor. They, obviously, provide a thread protector which is made out of 304SS. They also set the barrel back to zero and re-headspace using their reamer. A nice little no charge option is they will index the barrel so that the factory stamping is hidden under the stock. That has no functional purpose, it is just purely aesthetic. They also replace the factory recoil lug and install a Tac-Ops lug that is ground to 1/10th, or less, parallelism.
In regards to the action, they perform their own custom blue print job to the action, face the receiver, install their special Mud Gutter, machine the rails by hand (not with a reamer), de-burr the action, machine the rear bolt lugs, front lugs, bolt nose and the bolt face. One thing that Tac-Ops never does is lap anything, it is all machined extremely precise. That is a lot of work to the action and it becomes apparent with the smoothness and operation of the action.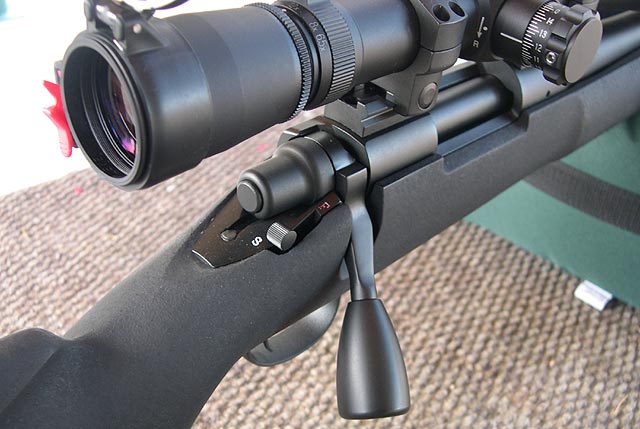 In regards to the trigger, they will not touch the new X-Mark Pro triggers, they literally throw them in the trash and purchase a new "old style" Remington trigger, stone it and then set it to 2 lbs. They also apply one of the Tac-Ops bolt knobs which are very classy and functional. Finally, they ship the barreled action off to Birdsong and have their excellent Black-T/Green-T finish applied.
While Tac-Ops are not very big fans of the aluminum bedding block stocks, they will ship it back in factory HS Precision stock. For an extra cost, they do offer the option of using one of their own fiberglass stocks with a Tac-Ops bedding job or even a McMillan for even a bit more money. The one important thing that comes with the use of one of these bedded fiberglass stocks is the .25 MOA guarantee!! They will not guarantee the .25 MOA with the factory HS Precision stock. A .25 guarantee from a re-work on a 700P is quite impressive.
So, there are the details of what the service entails, and as you can see from the pictures, the end result is a very nice rifle that bares some resemblance to the original 700P, but is nearly a whole new rifle, and one we really like. Probably the single biggest thing that I really enjoyed was the exceptional smoothness of the action. All of that machining of the lugs, rails and other parts of the action really make the action cycle very smooth compared to a factory Remington 700 which I had side by side with it for a comparison.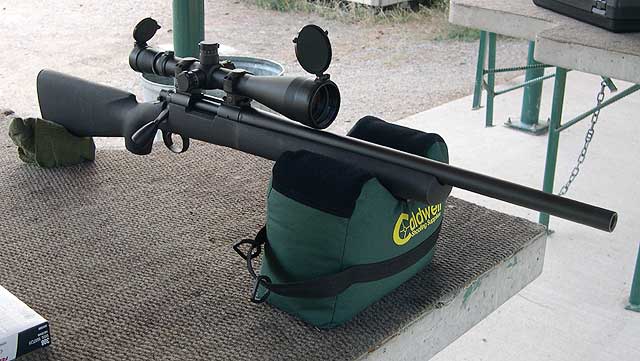 The Birdsong finish also adds a very nice touch as it is a very nice finish that is extremely functional and pleasing on the eye. The trigger on the rifle is lighter than I typically like on a tactical rifle, but it was also super smooth and broke exceptionally clean after a small bit of very smooth takeup. The overall feel of the rifle really is quite different from a factory Remington, everything is just smoothed and polished and much more pleasing. Of course, most all of these modifications are functional more than just for good looks and we needed to test the rifle out to see if it made an improvement.
The rifle came from Tactical Operations with a Leupold 6.5-20 Mark 4 scope mounted with Leupold Mark 4 rings on top of, catch this, Sniper Central 22 MOA 2-Piece Bases. I was unaware that they were going to use a set of our bases on this project and apparently they really like them, which made us happy! Though they did send them off to Birdsong to have them Black-T'd as well, which does make them look very sharp and matched the rifle.
The rifle came with a test target with two groups that were WELL below .25 MOA. They may not guarantee .25 MOA with the HS Precision stock, but by golly, they shipped the rifle with two test targets fired consecutively on the same piece of cardboard that were both below that. Now it was up to me to try and do the same…. though they fired their groups in 75 degree weather in So California, and I was in Montana in November…. um, shall I say a "bit" less than 75 degree weather?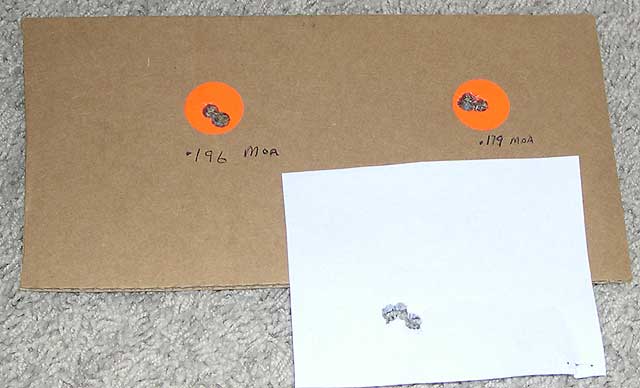 We fired the rifle on two different days, the first day was about 25 degrees (Fahrenheit) and the second day was around 40 degrees. On both days I was firing with a heavy jacket (no, not a shooting jacket) and with gloves on, welcome to Montana. I was not able to duplicate the performance of the test targets, and I contribute much of that to my shooting ability and shooting conditions. Though while I was unable to duplicate the sub .25 performances, I did get the rifle to shoot .34″. Tac-Ops was a bit disappointed in my performance as the rifle was shooting "house on fire" for them. They did offer the following tidbit which I was unaware of:
"Guns with aluminum bedding blocks or pillars and steel guard screws can actually loosen slightly in cold temperatures. The coefficient of thermal expansion is near double for aluminum as it is for steel. It is always best to let your gun sit in cold weather for at least one night, and then torque the guard screws to specification, then zero the rifle."
Oops… I did not do that. In any case, the rifle still shot very well and functioned flawlessly through out the tests. The smoothness of the action continued to impress and the overall functionality of the rifle is excellent. Of course, with the 700P stock, you have the same limitations (short pistol grip) and positives (wide palm swell, though some do not like that) and of course you have the same normal Remington 700 traits and limitations (2 position safety, aluminum trigger guard), but the positives have sure been made better (already smooth action made smoother, accuracy improved even more).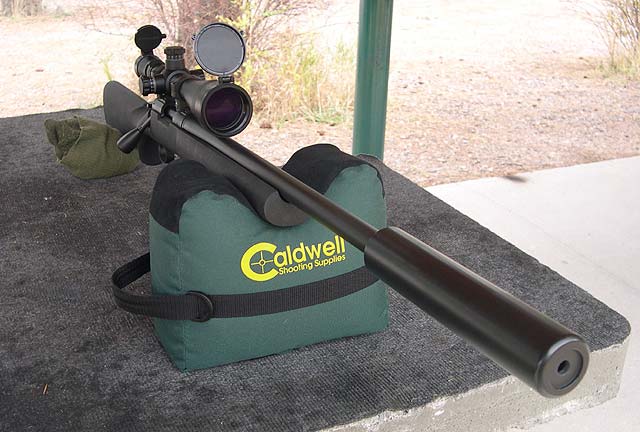 We fired the rifle with our .30 cal suppressor attached and the point of impact changed a little, as most rifles do when attaching a suppressor, and everything functioned as you would expect. The threading and thread protect is beautiful and fits exceptionally well. With the 20″ barrel the overall package with suppressor attached is very handy and not ungainly. It would be a very good Law Enforcement package as well as military sniper rifle. The weight of the rifle is not bad at all, especially compared to most custom tactical rifles with McMillan stocks and very heavy barrels.
The barrel, since it is a factory original barrel, is a 1:12″ twist barrel, and just to check it out, we tried some HSM M118 175gr ammo through it and it shot it just as well, getting some of the best groups with this heavier ammo. The 1:12″ is thought to be borderline for 175gr ammo, but in reality all the 1:12″ barrels I have shot have stabilized the 175s without problem. The same was the case here.
So, would this be something I would do to a 700P? Yes, I would. The price seems to be quite good considering what you get. The features that this tune-up includes, beyond just the accuracy improvements, are impressive and very functional. The Threaded barrel and Birdsong finish are two improvements that an agency may want anyway, and to get them as part of the package is a good proposition. It seems you are getting them at a discount in this case. I would say that what you get with this tune-up package is quite a good deal, but of course, $1500+ is nothing to shake a stick at, as you can get a complete 700P kit put together for that money, though this might be a very good upgrade path. Purchase the rifle, at a later date get the Tac-Ops tune-up, and then at a later date get one of their stocks and bedding job. Doing it this way would help spread the cost out making it a bit easier to live with…. and in the end; you have a .25 MOA guaranteed rifle that is a real gem.
Sniper Central