We are always on the stalk, looking for deals and value equipment that will work for those departments, snipers, or shooters that don't have the budget of the US Government. Over the years, a part of that search has focused on finding good spotting scopes that do not break the bank, which has not been easy. Spotting scopes tend to be one of those items that is left on the "low demand" list as they do not have direct impact on engaging in the art of sniping or long range shooting. They are 'only' used for the spotter to watch and make corrections or to locate and ID potential targets or to see bullet impact. While the use and need of a good spotting scope extends well beyond those needs, it still is hard to bump it up the priority list, hence the need for affordable alternatives to the exceptional high end spotters available on the market that cost well over $2000 USD. That brings us to the Vortex Diamondback 20-60x80mm straight eyepiece spotting scope we have for review here.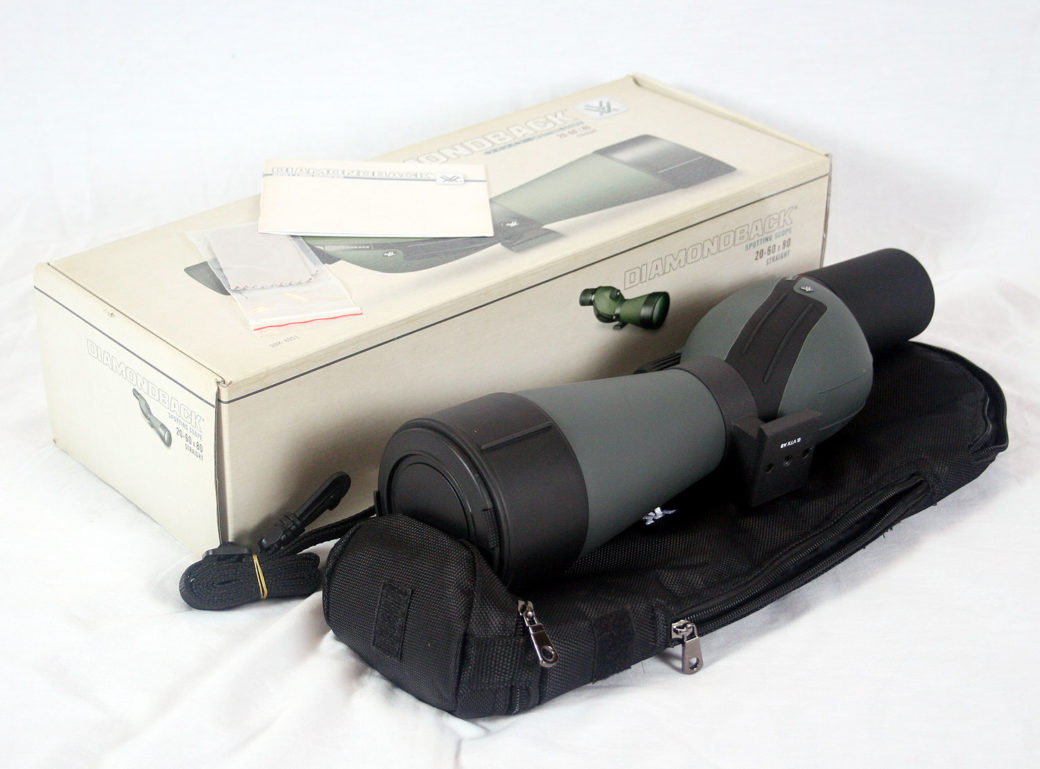 The Diamondback comes in several different versions with either a 60mm or 80mm objective lens combined with an angled or straight eyepiece housing. We opted for the larger objective version as it gives a larger field of view and a notably a longer eye relief. A longer eye relief is one of our higher priorities for spotting scopes as it allows for the use of the spotting scope without removing glasses or sunglasses. The box that the Diamondback spotter arrives in is a typical cardboard box with Vortex markings on it. The package comes with a soft padded nylon case (with strap), some instructions, lens cleaning cloth, objective lens cap, and a thread on cover for the eyepiece. The size of the scope is hyped by Vortex as being "compact", but it is not a compact or small spotting scope. We would classify it as average sized.
As is typical of our evaluations of optics, the first thing we look at is the country of origin, which in this case is China. Typically China is a bad omen for us when reviewing rifle scopes as we have yet to find one that holds up over time or has good internal mechanical mechanisms. The glass on Chinese scopes has actually never been an issue. For a spotting scope, without internal adjustments to worry about, our hesitation is not as forthright. It needs to have good optics, be fairly durable, and be able to focus clearly on the object under observation. If it can do that, it can work for us.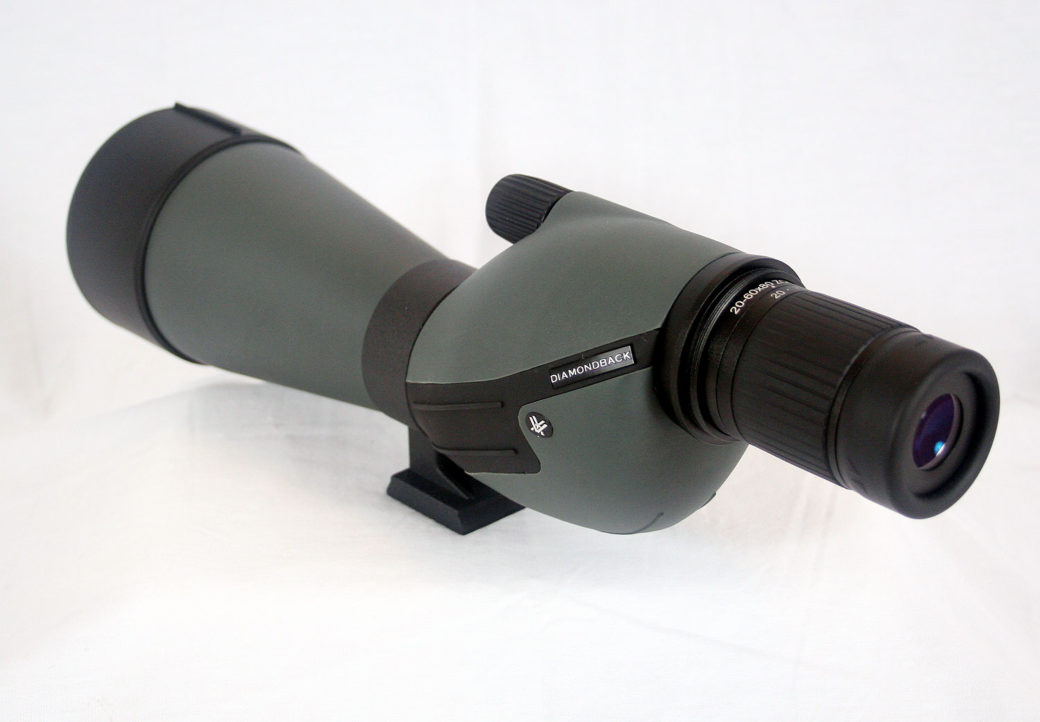 Starting at the eyepiece, there is a plastic extendable eye cup. It extends out about .37″ and is likely there to help provide focused viewing through the eyepiece. To extend it, you just rotate that plastic housing and it extends, it takes about a quarter of a rotation to extend the full length. It has a clunky plasticky feel to it and is very easy to turn, which in turns means it will not stay in place very well either. It does not really serve an important purpose, so we found ourselves just leaving it rotated forward and not being used.
The zoom ring at the front of the eyepiece has some rubber serrations on it which helps provide a nice grip in all weather conditions. The eyepiece rotates through that full 20-60x zoom range in about 1/3 of a rotation and does so with light resistance. It turns fairly smooth and there are some markings on top with a 20 on one end and a 60 on the other with lots of little dots between the two numbers. Beyond the two extremes, you really do not know what zoom power the eyepiece is set to. The thread on eyepiece cover attaches in front of the zoom control and provides full protection when installed.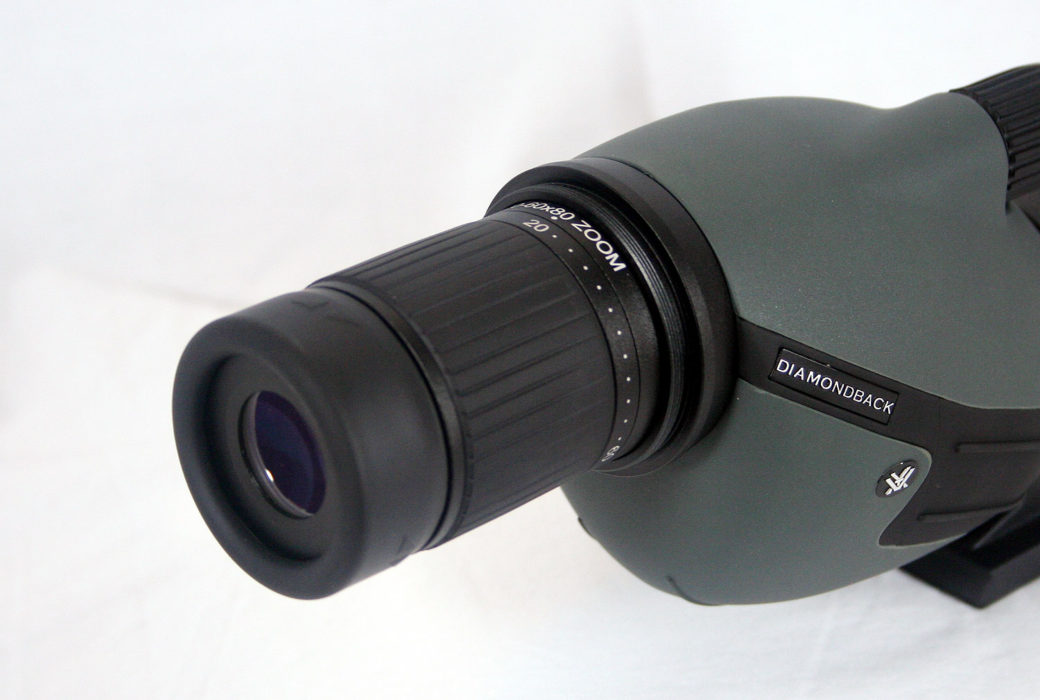 The scope body itself has a hardened rubberized armor on it that is green in color. It is not a full on armor coating like other scopes out there, but it feels durable. It is difficult to tell what the construction of the main tube is made of and the web page and manual do not mention it either, so it is hard to know just how durable it will be. Located on top of the main tube is the focus knob. Some spotting scopes of similar design will have two knobs, a coarse and fine, to really help the operator get a very sharp picture. The Diamondback only has the one knob, though it seems to work pretty well, allowing for quick focusing as well as getting a decently sharp image. It rotates smoothly and did everything we needed it to.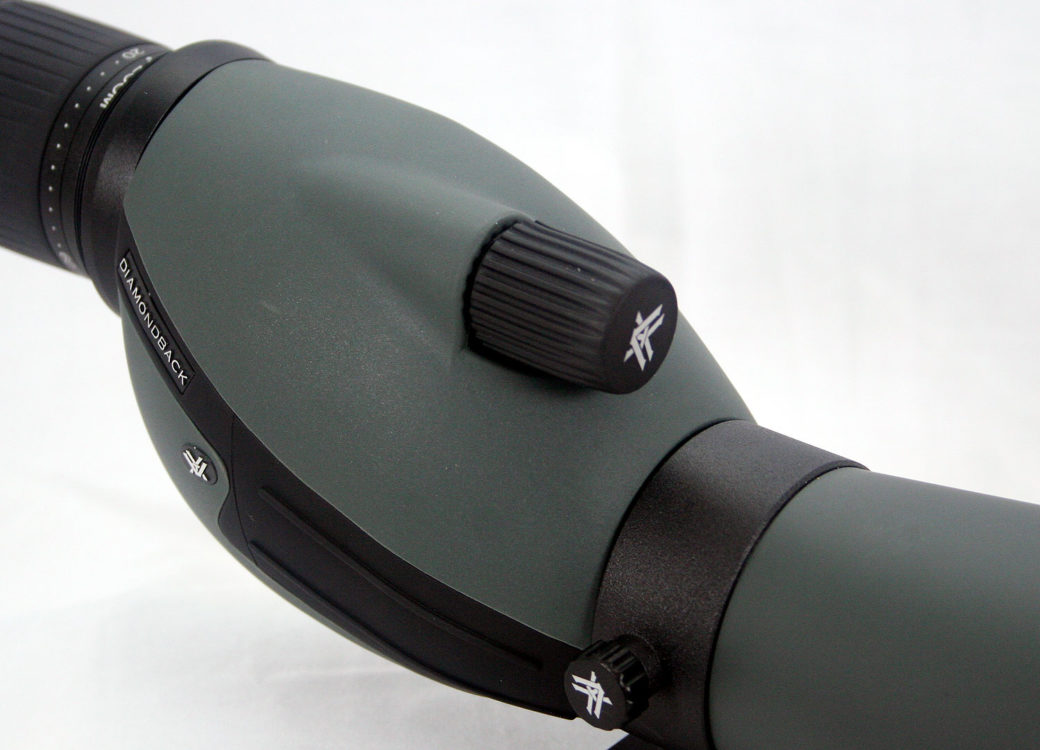 There is a mounting ring around the middle of the tube that allows the scope to be rotated within that ring to orientate the scope sideways or even upside down if the operator preferred. This ring and its flat mounting base appears to be made of a pot metal and while the scope does rotate inside the ring okay, it is a plastic on plastic type of feel that is not exactly smooth. There is a detente at the bottom so the scope "snaps" when it is in the vertical position. This mounting ring works fine, though the lock screw is also plastic and it does not instill much confidence in its durability. The flat base is threaded with the standard tripod thread spec that allows it to be used with all universal tripods and mounts.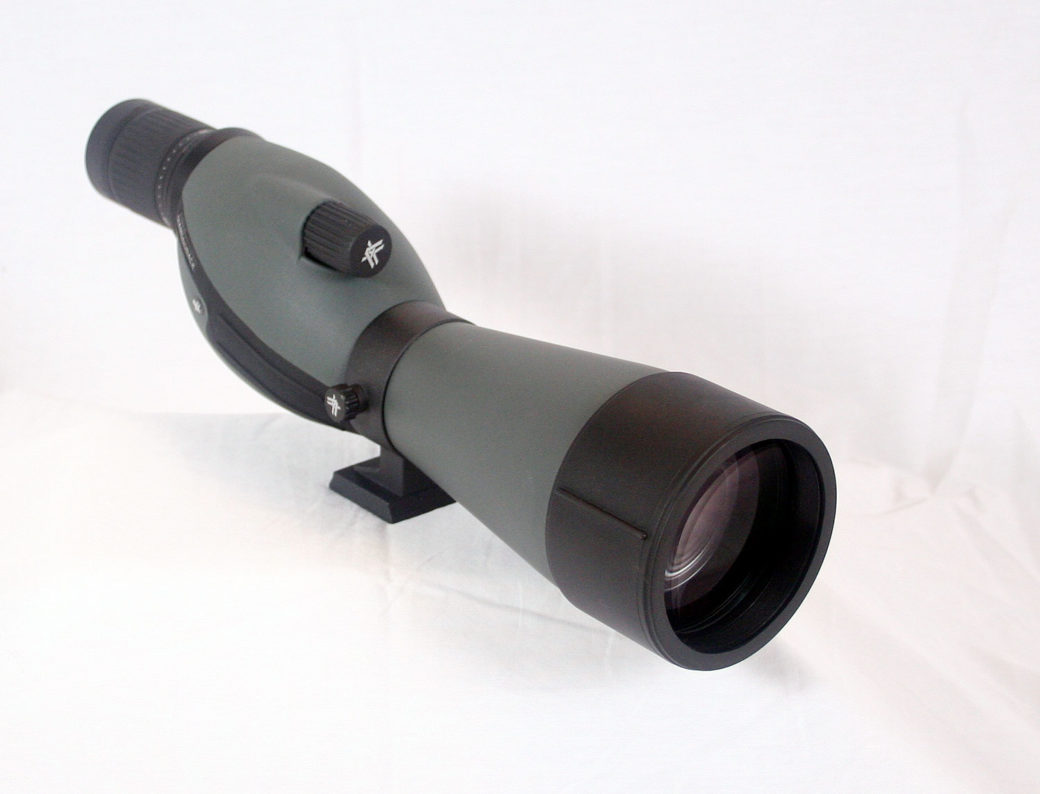 At the front of the spotting scope at the objective lens side, there is an extendable plastic sunshade. The sunshade extends 1.25″ and rotates around 360 degrees. There are two raised ridges on opposite sides that can be used as aiming marks when trying to align the spotting scope with a desired target. The extendable portion of the shade is also a plastic and when extending it or rotating it, it has a rough plastic on plastic feel. While the intent is good, the limited length of the sunshade keeps it from really providing much benefit. There is a lens cap with pinch style locks on it that lock the cap onto the front of the scope pretty good and provides protection of the large 80mm objective lens when the scope is not in use.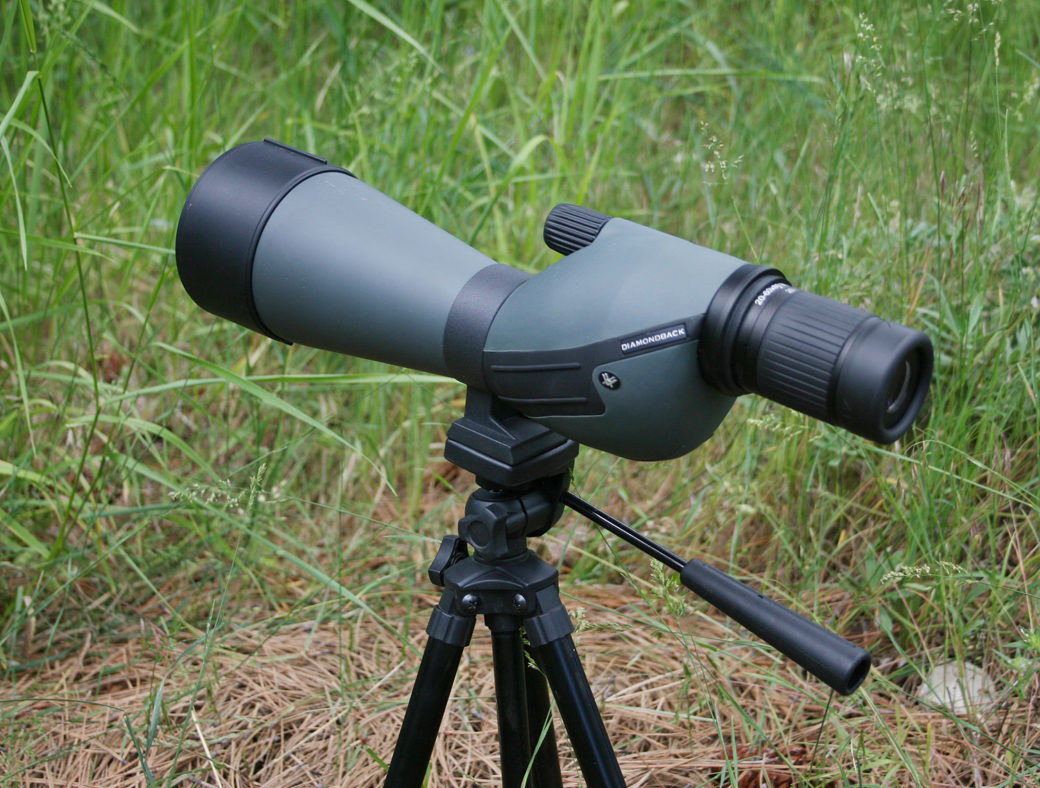 The size and weight of the Diamondback spotter is not bad and it fits right into what you would expect from a spotting scope of this caliber. It weights just under 3 pounds with the plastic bits saving some weight. It is a bit bulky for tactical use, but it isn't too large to prevent its use on a tactical team. Due to the price, we wouldn't feel bad about painting and applying camouflage to the scope.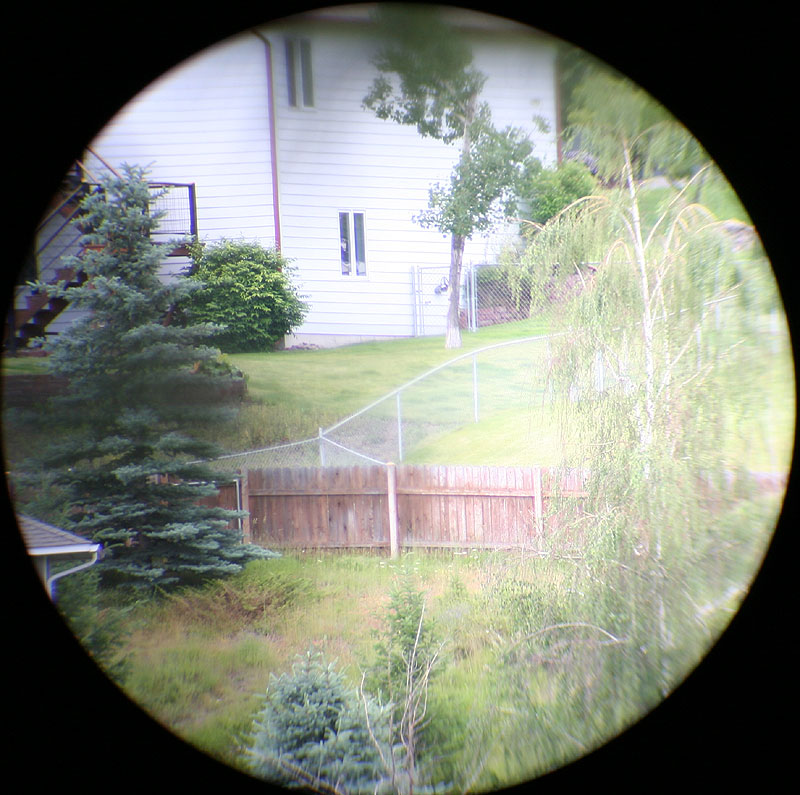 This brings us to the capability of the scope and if it can deliver the performance needed. The optics are actually not bad considering the lower price and we have used it in multiple long range shooting classes with good success. Obviously, as you crank the zoom up, the brightness diminishes and the picture quality degrades. At high magnifications the lack of a fine focus knob hinders that quality further, but we were still able to scope out some bedded down Elk at 2000+ yards with reasonable quality. With the magnification kept down in the 20-40x range the performance is quiet acceptable. At those magnifications, the optics allow for good pickup of trace in varied lighting and weather conditions.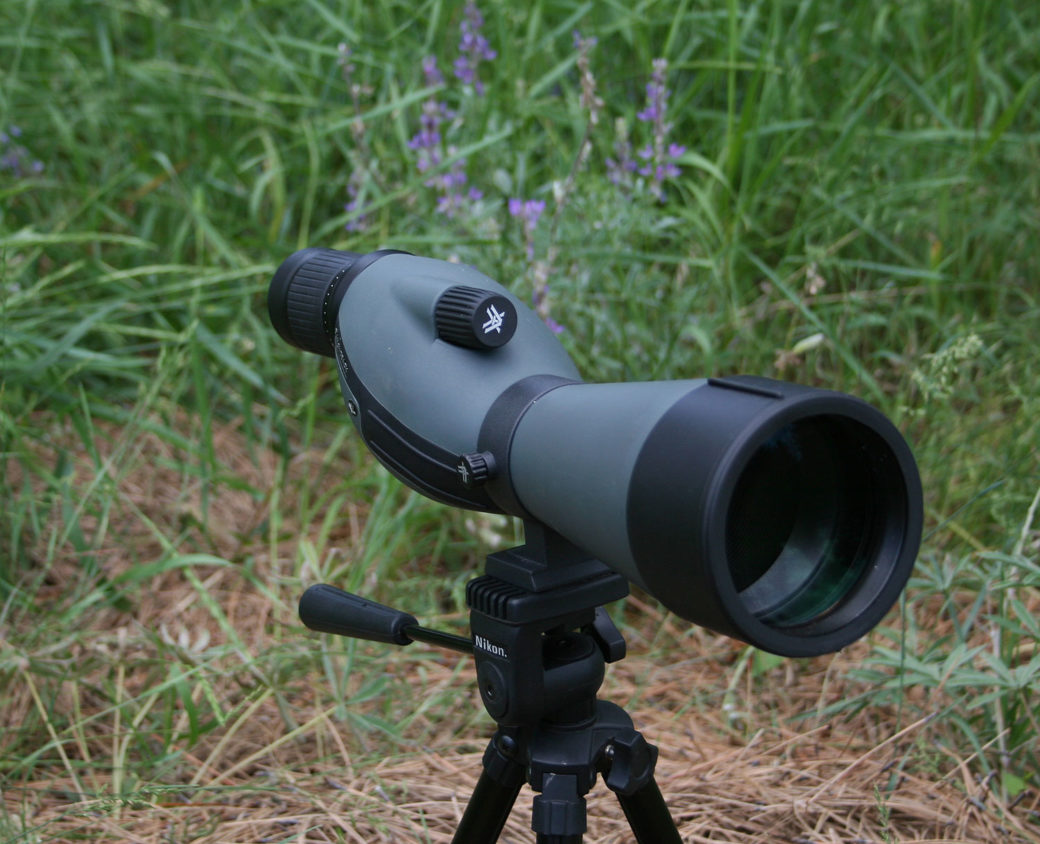 Vortex attempted to keep the eye relief high enough to be able to keep your sunglasses on while using it, but it is still not quiet there, especially with the magnification set to higher levels. The scope is easy to operate and straightforward without any fancy controls or features, it is just a basic scope with decent quality for the price. We are concerned about the plastic bits and their durability, but only time will tell as the scope has held up fine so far. Plastic is one of the areas where Vortex saved some money on this scope. It does need to be mentioned that this spotting scope is covered under the Vortex VIP warranty and they will replace it for life. That does help with the durability issue, but no one likes to deal with a scope going down when in the field, even if it is covered by a warranty.
All in all, it is about what we expected for the price range and the scope will serve as needed. Perhaps the optics are a bit better than we thought, though there is a bit more plastic than we hoped. Just be aware that serious use will tax that durability even further and we would recommend checking out the optics, if possible, before purchase to insure it will do what you need it to. If anything unusual pops up as we continue to use the scope in our classes, we will update this review here. But for now, it is not bad and can work in the tactical role if needed.
Sniper Central