For tactical teams, spotting scopes can be a very difficult to find that meet all the requirements that a sniper team might need. Excellent optics is always high on the list of requirements, but with very high end glass usually comes spotting scopes that are very large, which then runs counter to one of the other primary requirements for a tactical spotting scope, that it be compact in size and light weight. The same goes for a decent size objective lens for good light gathering capability, large field of view as well as good image definition at higher magnifications. There are many superb spotting scopes on the market, but on average the very high end spotting scopes are very large. Vortex optics makes some mid to higher range spotting scopes in their Razor HD line and while we have not done a full evaluation of their full size Razor HD spotting scopes, we have used them and they are a good scope, but when we saw one of their compact spotting scopes in use and it was then offered to us to review, we could not refuse. Here was a potentially higher end spotting scope that was very compact and small that may fit the requirements for sniper teams quiet well, so we took the opportunity to give it a good evaluation and review here.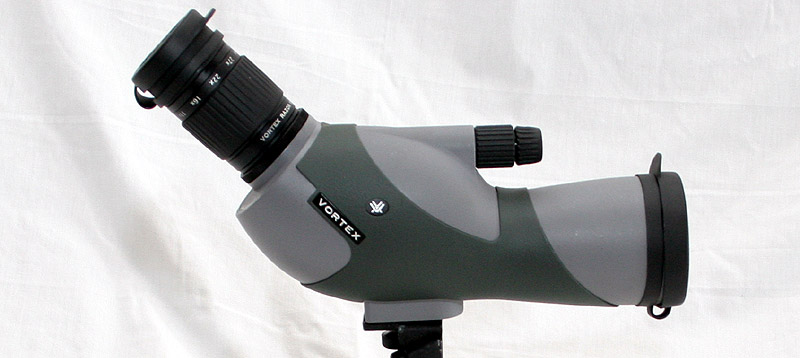 The first thing that is noticed about this Vortex Razord HD spotting scope is that it really is small. The size is compact with a smaller (50mm) objective lens which all combines to make it very lightweight as it does not even weigh 2 lbs. For a tactical team that is doing long stalks or insertions this small and lightweight size can be very handy.
The spotting scope comes with a protective case to help keep the scope safe during transportation, but the case itself is loose fitting and does not provide much use beyond storage. While testing the scope in the field, the case was generally left in the rucksack or vehicle and then just used when the scope was put away for longer term storage. There is a cut out at the bottom of the case to allow the case to remain on the scope while it is mounted on a tripod, but the design and fitting of the case really does not allow this to be done easily and it is just not a very well designed cover.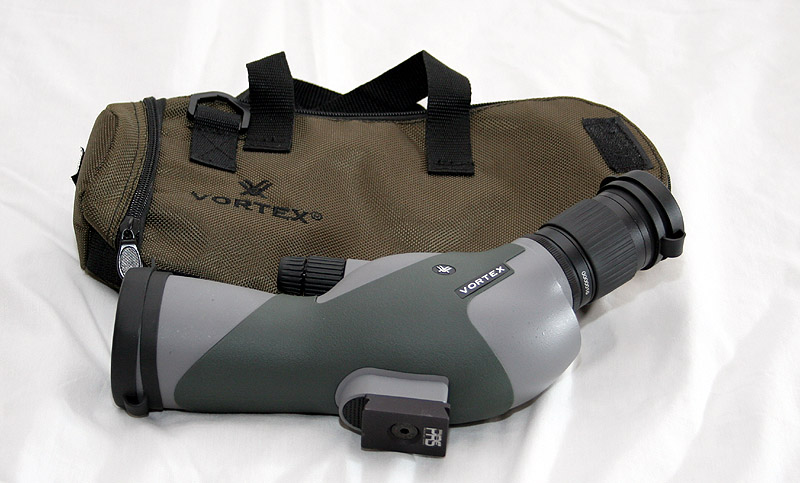 The tube body is a straight tube design and not a folded lightpath design, which allows it to be shorter in the vertical dimension than a setup like the Leupold Mark 4 spotting scope. The smaller objective lens, while providing a compact scope design, does limit the capabilities of what magnification can be used with the scope. This unit has a variable power eyepiece of 11-33x, which obviously is on the lower power side for a spotting scope, but it should be mentioned that the old military M49 spotting scopes were a fixed 20x, and most of the time the trace can be best seen when the spotting scope is between 20-30x, so the magnification on this Vortex is still a useful range. This lower power is part of the tradeoff for a smaller spotting scope size so a lot of these decisions become dependent on the requirements for your team and its needs.
This version of the Razor HD spotting scope is available with either a straight eyepiece or a 45 degree angled eye piece and the one we had here for evaluation had the 45 degree angled eye piece. The angled eye piece does make the scope more comfortable to use for the spotter over a long period of time, but it also forces the spotter to raise their head far too high and therefore causing concealment problems. Unless the spotting scope is mounted extremely low, which would then cause view interference problems, the angled eye piece would cause too much of an exposure problem for a sniper team. The straight eyepiece version would be the preferred setup if concealment is a priority.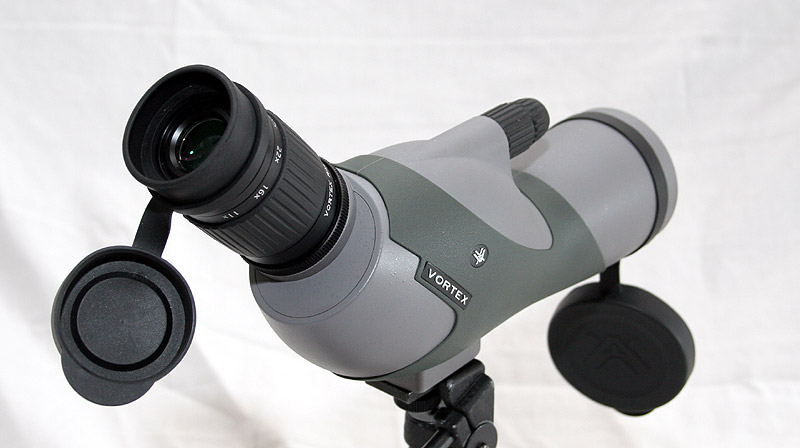 The magnification control is located on the eyepiece itself and it rotates very smoothly from 11-33x. The eyepiece has a quoted eye relief of 20mm, which is better than many spotting scopes, but is still too short for use while wearing eye protection or prescription glasses, even with the rubber eyepiece "rolled" back. Even with the short eye relief, the scope can still be used, but the viewer will not get a full scope picture if using glasses of any sort. Typically a 30-40mm eye relief is desired for easy use in tactical situations with protective or corrective glasses worn.
To focus the scope, there is a coarse and fine focus adjustment toward the middle of the scope and on top of the tube, protruding forward above the tube. The coarse adjustment is closer to the eyepiece and the fine adjustment is furthest forward. They sit a bit higher than is probably best, but it does make the adjustments very easy to find while continuing to keep your eye focused through the scope. The adjustments themselves worked well and it was easy to get a crisply focused image. All of the controls, magnification and focus, are very easy to adjust and provided no problems to use and everything was quick and easy to locate and use.
The tube has a rubber armor coating on it and the dull grey and green colors have a tactical flair, though the white Vortex logo sticks out and is non-tactical, but some tape, paint or marker would take care of it. The scope feels light in your hand and as such it almost seems as if it is not as robust as some of the larger spotting scopes, but there is no reason to believe that that is actually the case. The construction appears to be high quality and the tube seems to be durable enough. The focus controls being so far up and with the scope being so small, it has some of us here at Sniper Central concerned that those focus controls may be become damaged when in the rucksack of a military sniper team, but again, we have no proof that it is indeed a problem. We did want to comment that the lens caps are not the best; they are flimsy and cheaply made.
The overall fit and finish on the scope is of good quality and is about what is expected on a spotting scope in this price range. There are no obvious fit or finish problems and beyond the accessories like the lens caps and scope cover being of lower quality, the scope appears well made and should hold up.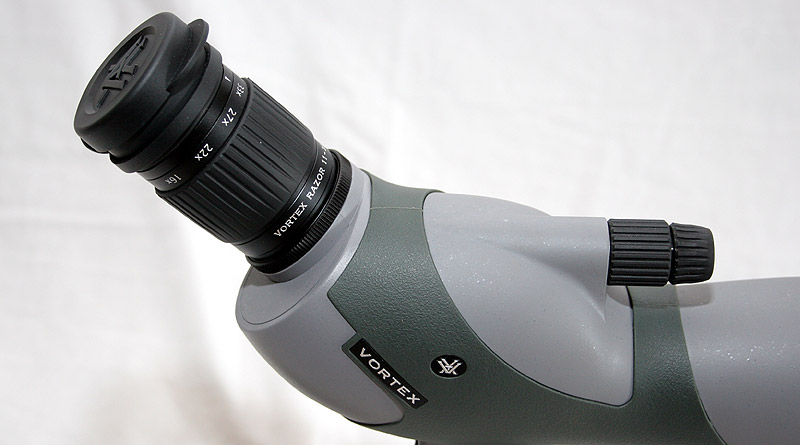 One thing that did impress us with this little spotting scope was the optical quality. The picture is very bright and with the fine focus adjusting, very good image quality is achievable. The color contrast is very good and on a whole, we give the optical quality a high score. It cannot compete directly with the ultra high end scopes from the likes of Zeiss, Leica, Swarovski, or Kowa, but for this price range and especially for the limited objective lens size and the designed mission of this compact scope, it certainly did well enough. We were able to easily see trace in most all lighting and shooting conditions.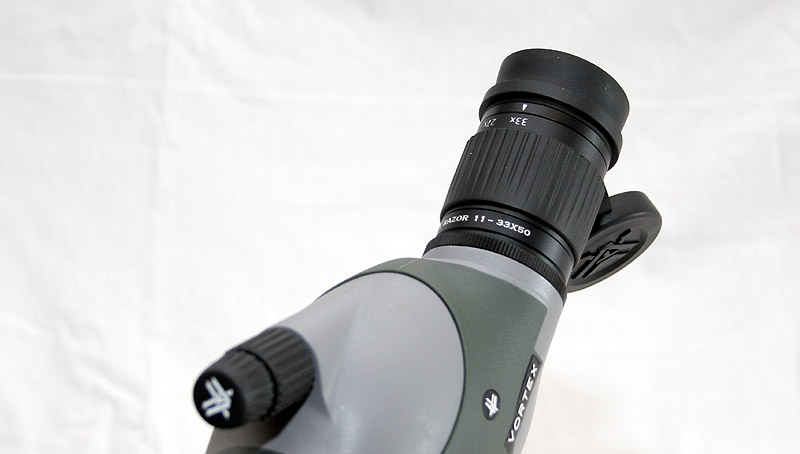 The big reason we wanted to test this spotting scope was to see what might be available to a sniper team that needed to keep things small and light, yet still have the capability of a spotting scope instead of just a set of binoculars or something similar. For that mission, I think Vortex has a good scope here that can work in these mission parameters. The straight eyepiece would certainly be mandatory for concealment reasons, and some modifications to appearance will need to happen to help keep it tactical, but that is nothing new for sniper teams. But the unit is small, light and has good enough quality to do the job. There were some times when more magnification would have been nice, such as for some target detection requirements and identification purposes. But the power range is still plenty usable, especially for the traditional role of a sniper team.
The cost of the scope is below the ultra high end scopes and it can be had for under $1000, which isn't too bad. If your team is in the market for a extremely portable spotting scope that gives you most of the capability of a larger unit, then this little guy is worth looking at. There potentially is some durability concerns over the long haul with such a compact unit, but with proper care, it should hold up and serve your team well.
Sniper Central