Zeiss Optics has a wonderful reputation of excellent quality with rifle scopes, spotting scopes, binoculars and just about anything else that utilizes optical lenses. We have reviewed several of their rifle scopes over the years and have been impressed with their very high end scopes as well as their more moderately priced versions as well. In our quest to find the most practical laser range finder (LRF) for sniper use, we came upon the Zeiss Victory PRF a few years back and have been watching and even using one since then. We figured that it was probably a good time to report our findings on the quality and usability of this LRF. When evaluating a LRF for sniper use we want to have a unit that is capable of providing reliable 1000 yard ranging on non reflective targets, though we would prefer 1500+ if possible. We also look for portability, durability and of course the cost is a factor as well. We usually do not require good optical performance, but we would be happy if optics are good as well. The Zeiss comes with a list price of just under $800 USD which lands it in the middle of the pack of commercial and readily available LRFs that have the above mentioned capabilities. With the PRF, Zeiss claims a reliable 1300 yard ranging performance, which would be good if it can deliver it on non reflective targets.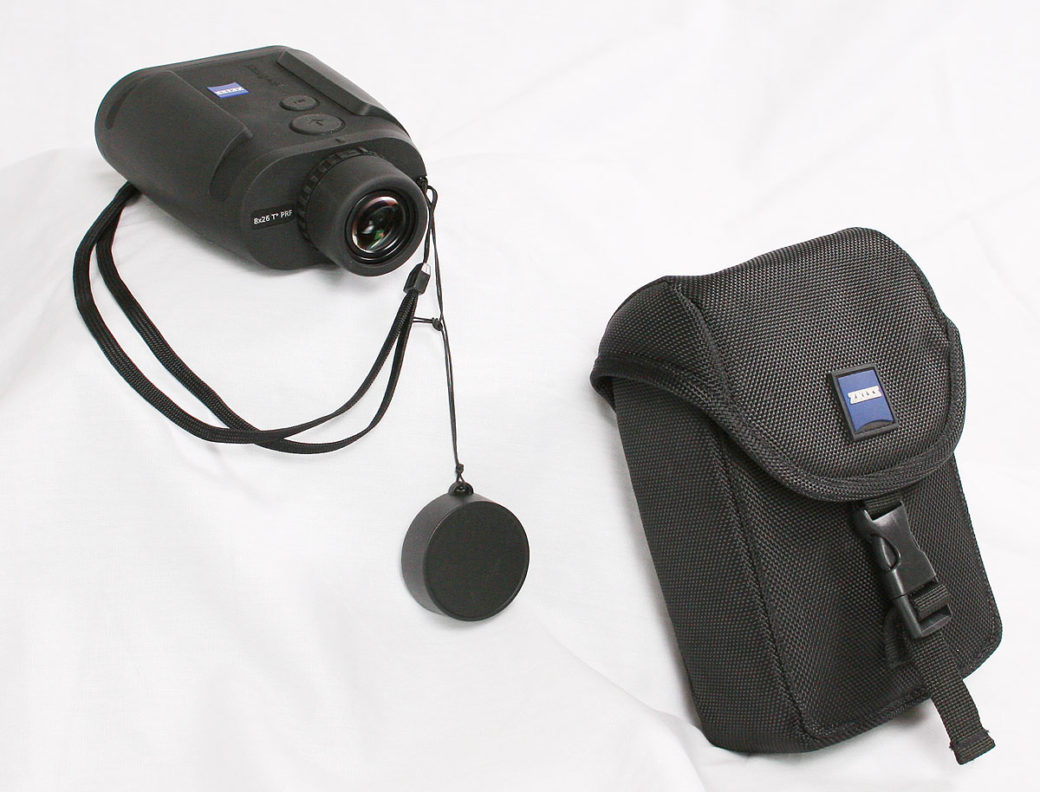 The PRF comes nicely packaged in a very nice box and comes with a protective carrying case and some decent instructions. Everything is well packaged and the typical Zeiss high quality is apparent from the beginning. The documentation is not extensive, but it is detailed enough to answer all of the questions that an operator might have.
The overall size of the Zeiss PRF is actually a bit larger than many of the current handheld portable LRFs on the market today, but it is not too large to prevent it from being manageable. The weight of the unit is not too bad, weighing in just a bit over half a pound with the battery in place. The shape of the PRF is wide and it is intended to be held horizontally instead of vertically like those other smaller LRFs. There is rubber armoring on both sides that provides a very nice gripping area when holding it with both hands as you would a pair of binoculars.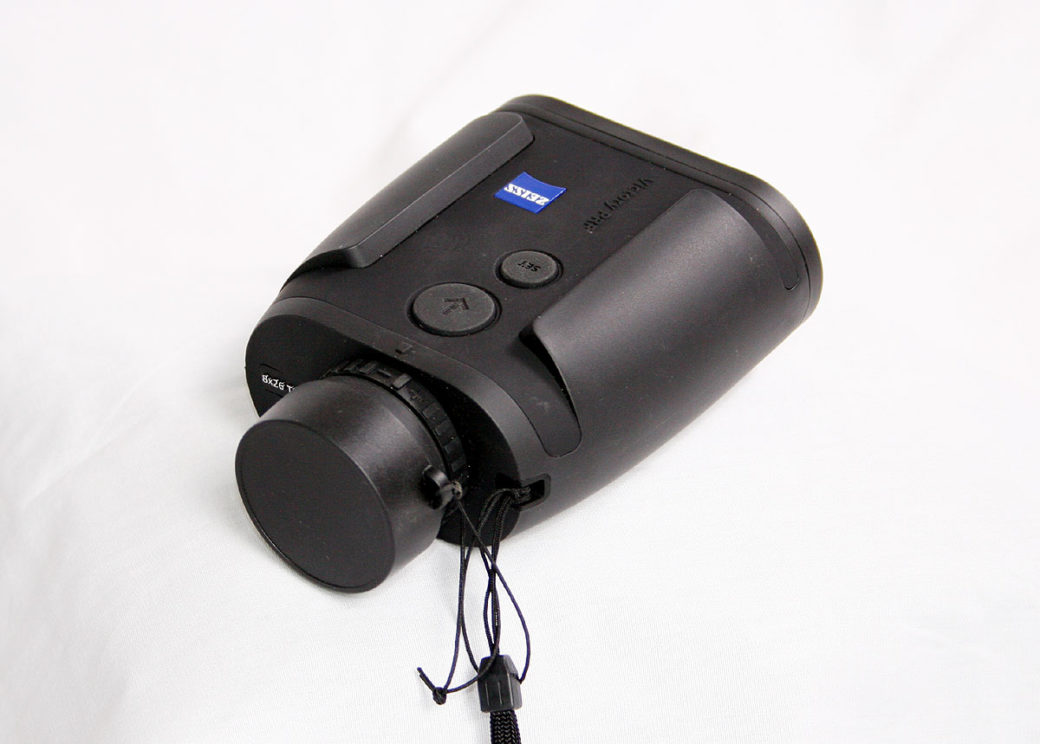 The rear eyepiece has a dioptre adjustment to focus the single eyepiece to the operators eye and provide a sharp focus. There is also a rubber eye cup but beyond that, there is not a lot to describe that you cannot see in the pictures. The 26mm objective lens is small by binocular standards but works fine in this application and is a compromise to keep the unit portable. There is a provided neck lanyard as well. Zeiss does stand behind their product, at least the optical side of it, as they offer a lifetime warranty on the optics on the PRF and a 5 year warranty on the electronics.
The operation of the Victory PRF is simple, press the big button on top and release it, it then takes about a second to measure and come back with a range, plus or minus one yard, to the target. The only other control is the "Set" button that is used to change the settings within the PRF. These settings include things such as meters versus yards or what preset ballistics model to use… more on that later. The battery inserts into the front of the units which is different than most and seems to be a good out of the way location to place it.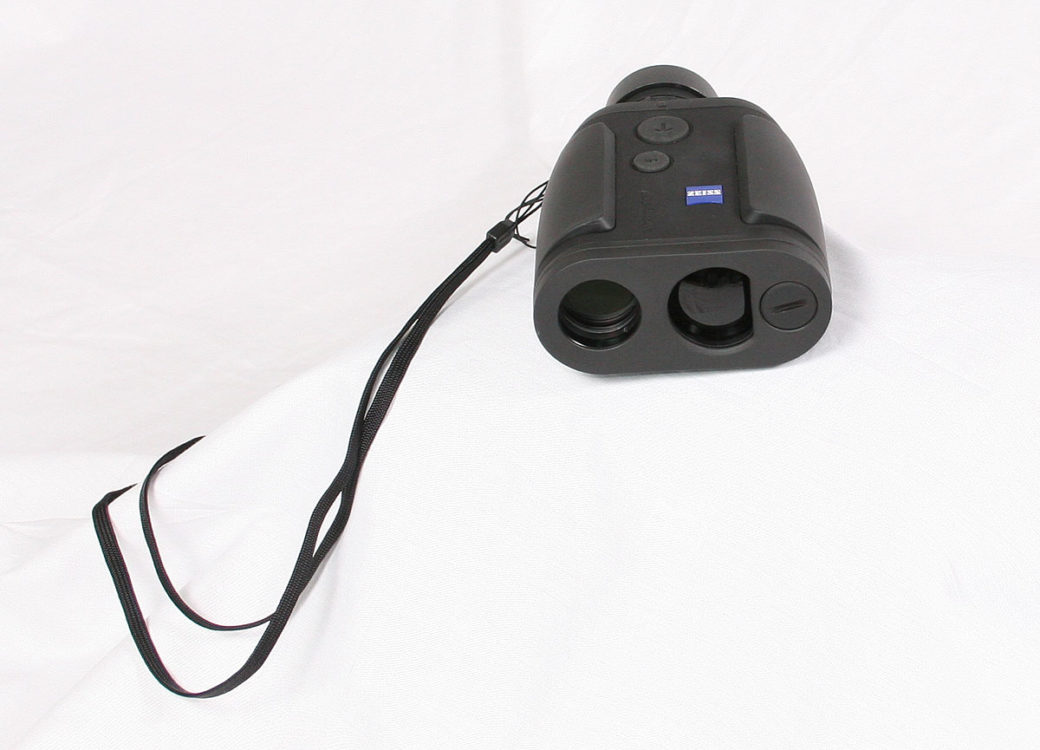 When utilizing the PRF, perhaps the first thing the operator notices when they place it up to their eye is that the optical quality is quiet good. This really should not come as a surprise since it is built by Zeiss who is known for their optical quality. The quality through the monocular is as good as some low to mid range binoculars on the market and in a pinch it could fill the role of binoculars if it had to. There is a decent amount of eye relief that allows the unit to be usable while wearing glasses, though even a bit more eye relief would be ideal. There is also a generous sized field of view and the optics are even purged with nitrogen much like a normal rifle scope or binoculars.
The laser on the unit is quiet good as well, as we were able to get readings on hillsides up to and beyond the claimed 1300 yards. We were even able to see similar performance on trees and other non reflective targets as well. On reflective targets, like the sides of buildings, we were able to go well beyond 1300 yards. Though we do need to note that in order to get these long distance results, the unit needs to be held very stable. If you are holding the PRF off hand like a pair of binos in the standing position, you will not get readings on targets nearly as far away, struggling to get ranges on targets at 1000 yards. Since the ranging actually happens after the button is released, it helps when trying to keep the unit steady, but there is a decent amount of pause after the button is released and before the range comes back. If there is significant movement during that pause it seems that it will fail to compute the range. Stabilizing the unit by using a rest, or placing it on top of a spotting scope, or other creative means will help with getting good results. This is one of the areas where the constant ranging feature on newer LRFs such as the Sig Kilo 2000 really shine.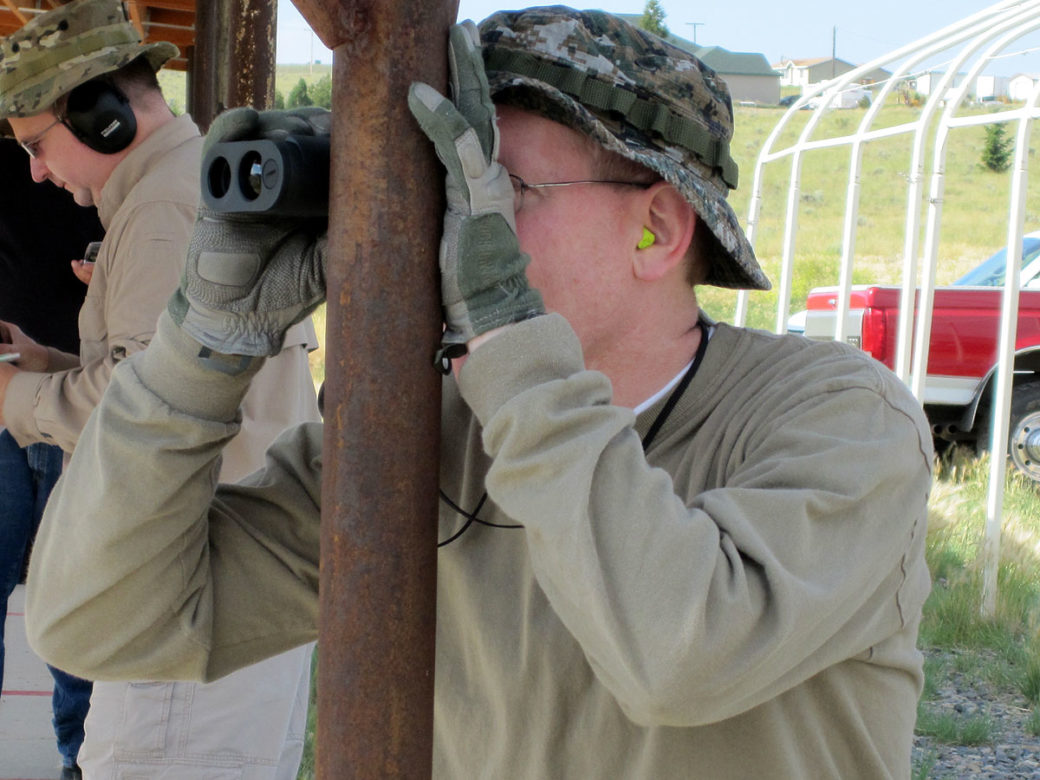 When we evaluate LRFs, we typically do not pay much attention to the ballistic computing features on the LRF if they are present since they will never match your rifle perfectly and as snipers, we need as much precision as possible. In the case of the Zeiss, it is even less important because their calculations are limited to 500 yards, which is nearly pointless for our use. Instead, we focus on inclination as it is important and useful and this is perhaps the biggest hit against the Zeiss as it does not have any angle computation capability. This is likely where they saved some money while still keeping the components and quality of the PRF so high. We would much rather see angle computing incorporated than the limited ballistic information system (BIS) the PRF has.
Overall the unit is a very high quality LRF and the optical quality is very good for a compact LRF. The laser is powerful and can work well for most sniper teams, but the lack of angle computing hurts it a bit, as does the difficulty getting readings while unsupported. But those both can be compensated for. So we concluded that it is not a bad unit at all, but it is still not perfect.