Burris Optics introduced the Fullfield II tactical series of scopes in 2006 and is offered as a lower cost alternative to their XTR line of "Extreme Tactical Riflescopes". The Fullfield line has always been known for good bright and clear optics with a large field of view and as a good value. Burris is a USA based scope manufacturer and has been around for quite a while. I have used several Burris optics through the years and have been pleased with them so far. I decided to try out their latest Fullfield tactical with the ballistic mildot reticule.

The 6.5-20x version of the Fullfield II Tactical is the only one offered with the ballistic mildot, which I found a bit odd for tactical scopes. I thought their 3-9x40mm and 4.5-14x50mm should also be available with mildot, or ballistic mildot reticule. Burris does have a custom shop, which I have used before, that can put that reticule in for you, but at an additional cost that I thought shouldn't be necessary. As it is, the 6.5-20 model is the one we are reviewing here and it does indeed have the ballistic mildots. The reticule calibrated to be accurate at 14x, which is also marked on the eyepiece so you know exactly where to set it. The scopes come with an anodized OD Green exterior finish that looks good, though it may not perfectly match your green finish exactly. For testing, I had it mounted on an all black rifle, and it still looked pretty good. But hey, I like green things!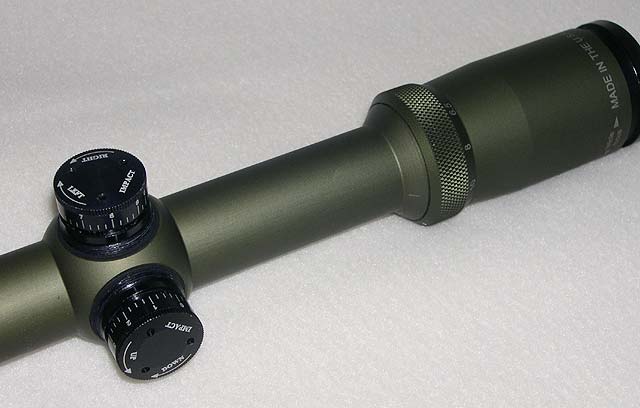 A problem on all burris scopes is that when you adjust the power ring, the entire eye piece rotates. This is only a problem because if you have butler creek flip up scope caps, it rotates as well. This gets annoying in the field, and is the case on this scope as well. The adjustable objective is located on the bell and works as it should.
I would like to spend some time talking about the knobs. The knobs are known from Burris as the TAC-2 knobs and are a lower profile knob with a dust cover. Unfortunately, the knobs felt a bit "loose" or "mushy" and didn't feel as precise as I thought they should. There is an audible click as well as a tactile feel, but it is not as defined or pronounced as I would like. I overshot my desired amount of adjustments a few times. All of that being said, the actual adjustments themselves were precise and repeatable. It shot great through the box and came right back to the point of aim, so I have no complaints there. I just prefer a more defined and precise adjustments on the knobs.
Of even more concern to me with the knobs, is the fact that there is an offset after one full rotation. The knobs go to 9, with 4 clicks between, but then there is only 2 clicks from 9 back to 0. So, after you go one full rotation, you are now stuck on having to remember that the full MOA mark is in-between numbers. Now, with this particular scope, the idea is to use the ballistic mildot reticule to compensate for various ranges, you are not suppose to use the knobs, which will indeed work if that is how you intend to use the scope. The picture below illustrates the offset issue on the knobs.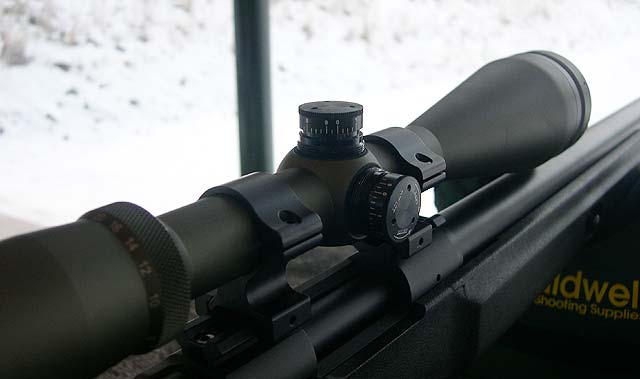 With this particular scope, you really do not have the option of using the knobs to make your elevation compensations, as there are only 30 MOA of up elevation adjustments. So, with the scope centered from the factory, you have 15 MOA up, and 15 down. It is not uncommon to use up to 10 MOA for zeroing, which is what happened in our case here, leaving a mere 5 MOA of up remaining. Now, if you are using that reticule and it's BDC, you are fine, but with this test rifle, we would not be able to zero using the internal adjustments beyond about 200 yards. You could use a 10 or 15 MOA canted base to gain some more adjustments, in fact, you could even use the Burris signature rings with canted inserts to do the same. But you will still not have enough MOA to get you very far using the knobs. Again, if you are using the ballistic portion of the reticule, this is not a problem.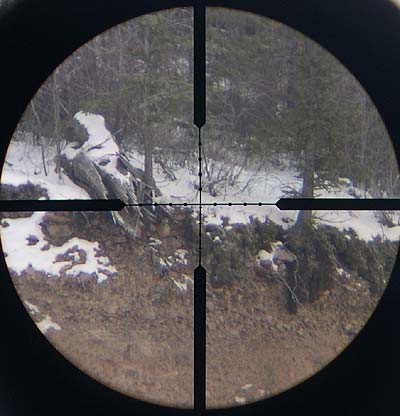 The scope appears to be durable and well made; though that is hard to test with the limited time we had the scope. The optics are clear and the reticule is pretty nice. The stadia are fairly thick when at 20x, but for a tactical scope that is probably desirable so you do not lose the aiming point on a dark background. It is not a target scope with "fine" crosshairs, and it shouldn't be. The only real problem I have with the reticule is that there are only the 5 mils above the horizontal stadia, as the ballistic portion of the reticule occupies the bottom half. So, there is no way to mil a target taller than 5 mils (6′ tall man at 400 yards will measure 5 mils). Not a problem when dealing with human size targets at greater than 400 or so yards, but what about trucks, buildings, doorways or ranges shorter than 400? All that would be required would be to put a single horizontal hash mark on the lower portion of the reticule indicating 5 mils below the horizontal stadia. This is what Holland did with their tactical scope. This would allow for a full 10 mils of measuring and still allow the ballistic portion of the reticule. The bdc/ballistics portion of the reticule is generic enough to be useful for many different loadings, and Burris provides instructions on how to work with the marks and your caliber. It can be an effective system, and quick to use without having to make any adjustments to the knobs.
On the whole, the scope is a solid scope, though I would like some more refinement with the knobs and the reticule. More adjustments would be welcomed also, but that is not totally necessary given the overall design with the ballistic portion of the reticule. Optical and mechanical performance of the scope is commendable and the scope is a solid value with unique features for a scope in this price range.
Sniper Central