The scope reviewed here has since been replaced by the Bushnell Elite Tactical scope which is very similar.
Well, as many of you know, I have built a prototype tactical rifle, and when the time came to test fire the completed rifle, I needed a scope. My old Redfield that I've used as my evaluation scope for several years ended up puking during my review of the Howa. There have been several people asking about the Bushnell Elite 3200 10x40mm Tactical, and the big reason why was because of the affordable price. So, why not, I figured it would be a good opportunity to review a new product while testing the prototype rifle.

Bushnell decided a few years ago to do away with the Bausch & Lomb name and then integrated the B&L line of scopes into Bushnell, giving them the "Elite" model line. The 4200 and 3200 series of B&L scopes became the Bushnell Elite 3200 and 4200 series. The B&L scopes have always been decent scopes for the money, with some of the upper end 4200 scopes being quite good. This particular scope is an Elite 3200 Tactical. Its a fixed 10 power and it has some nice features like mil-dots and large target knobs. But the most attractive feature (to those of us that are not rich) is the price tag. I bought mine for less then $200 out the door.
The scope is decent. The knobs are easy to grip and so far have provided solid clicks (none audible) and has been pretty solid. I like the knobs, they are easy to read, easy to adjust and provide 100 MOA of adjustment, which is a lot for a 1″ tube scope, and should get even the 308 near 1000 meters without too much effort.
The optics are not as clear as I would like, but they are as clear as any of the sub $200 scopes. Compared to my Leupold Mk4, its not nearly as clear and doesn't transmit as much light, but it also 1/5 the price. I did have some difficulty getting a good crisp focus at 100 meters while wearing my glasses. It wasn't bad, but I'd find myself continuously making minor focus adjustments. It was better at further ranges, and without my glasses. Nothing major, but an annoyance.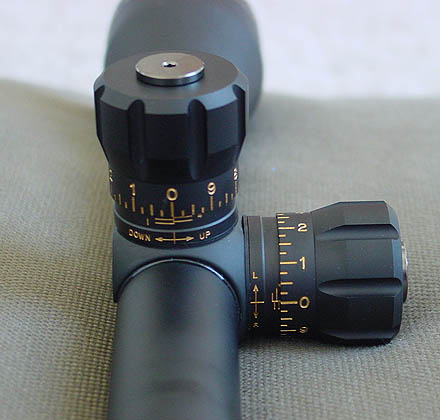 The adjustments have remained right on during all of my shooting up to this point, and mounted on a .300 Win Mag, its a decent test. I have not done any major adjustment tests, and I haven't had the scope for too long, but initially, everything is checking out good.
Overall, the scope is certainly worth the price, and I would say for its price range, I have not used a scope I like better… yet. Of course, if you can afford it, I always recommend buying the best glass you have money for. You generally get what you pay for, especially with scopes. But for an entry level tactical scope, this one will be hard to beat. It makes a very good rival for the Leupold Vari-X II 3-9X Tactical. Currently, I'd still give the edge to the Leupold, but the Leupold is also a bit more money, especially with the mil-dots. Its nice to see some good competition in this price bracket.
Sniper Central