Over about the past decade, the AR-15 (M16) based rifles have really proven themselves as reliable and very accurate semi-auto rifles. As has been a natural progression of the rifles (actually, going back to its original development roots) 308 versions of the design have also become popular. While the AR10 based platforms are not as standardized as the AR15 based rifles, most of the major AR manufacturers have developed their own 308 based rifles. Because they are their own designs, many of the parts will not interchange between manufacturers, unlike the AR15 based rifles. The DPMS Inc. Panther Long Range (LR) rifles is one of the major players in the AR10 rifle market, and was where we went for our first evaluation of an AR10 308 based rifle. This rifle was sold before we reviewed it and was ordered to the specs of the customer, whom we are grateful for working with us on this review (thanks Wayne). This rifle is a DPMS Panther LR-308B which comes standard with an 18″ teflon coated bull barrel. The only additional non-standard option is the fluted barrel. Unless you are buying a rifle from a stocking dealer, expect to way about 10 weeks for a LR-308 rifle ordered from DPMS. It was actually only about 9 weeks for this one to show up and when it did it was nicely shipped in a hard case, wrapped in thick plastic, and with a nice little deployment type kit.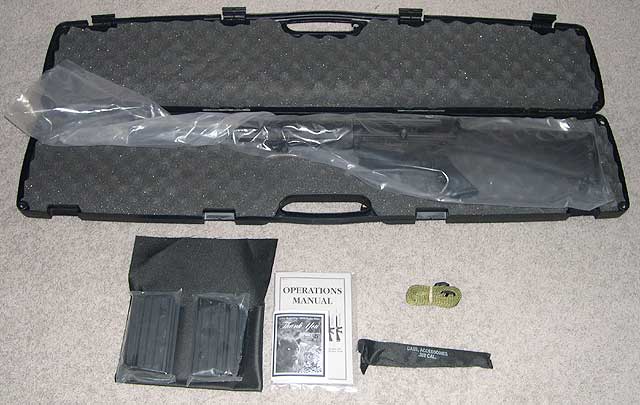 The rifle is well proportioned and a good looking rifle, looking very much like a large AR15 (Imagine that). The matte anodizing is even and smooth and everything feels and looks to be of good quality. There is no movement between the upper and lower receivers and everything functioned smoothly. The one exception was the first time I tried to break the upper and lower receivers apart. The fit was so tight it took about 10 minutes of fiddling and pushing and prodding before I could get the halves to separate. It has been a breeze ever since then and I'm not sure what caused the unwillingness to separate but it all works great now. The upper is of the LR-308 smooth design with no brass deflector or dust cover. This is an added cost option if interested. I prefer the dust cover and brass deflector, but I have no problems with the way it is, and it does give a sleek appearance with no appendages sticking out.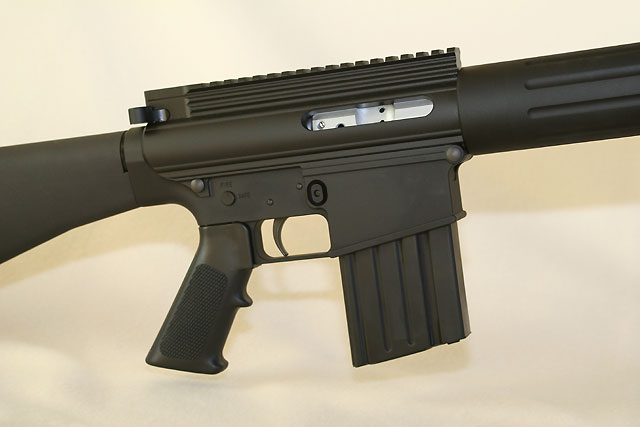 The operation of the rifle is traditional AR as is the breakdown and maintenance. There are small differences in the bolt (besides the size) and other details, but for the end user, the operation is very similar and is easy to pick up for those who are familiar with the AR15/M16. As you would expect with the shorter 18″ barrel, the rifle is fairly compact and easy to point and shoot. It feels well balanced while shouldered. I would argue that a rifle similar to this design would be an excellent candidate for a Designated Marksman Rifle (DMR) and that is how I wanted to approach it for this review. As I mentioned before, I would prefer a brass deflector and dust cover on a DMR, but that is a fairly cheap add-on and not necessary for a personal use rifle. The length of the barrel and overall length of the rifle is probably just about right for a DMR rifle, being very similar to M16A2 and M4 lengths. While the weight of the rifle is a few pounds heavier than a M4, it is certainly manageable. For a DMR rifle I would probably also opt for a longer hand-guard if possible, but the short length one on this rifle posed no problems.

The trigger is traditional AR, terrible. Well, maybe terrible is a bit strongof a word , but when you are used to nice 3-3.5 lbs triggers (or even less) a notchy 7.75 lb trigger is "terrible". For a DMR rifle, it is probably okay, but for a precision rifle, it is not. For those of you not familiar with the role of Designate Marksman (DM), it is to extend the precision range of the standard infantry squad. While not typically fully sniper trained, they are familiar with long range shooting principles and have been trained in those skills. They are attached to the infantry squad and are an integral part of them. Having a rifle that is similar in functionality and can fire standard infantry issued ammo, from the M60/M240 in this case, is desirable. Extreme accuracy is not completely necessary, but I would think 1-1.5 MOA with machine gun ammo would be acceptable. For these reasons, a light precision trigger isn't required, but for a rifle being used by an LE agency or deployable snipers, a replacement would be necessary, and a match trigger is available, but is fairly expensive.

The integral picatinny rail is very nice, but as is typical on AR rifles, you will need to be sure you can get a scope mounted far enough forward for proper eye relief. There are mounting systems by ARMS and others that can aide in this (see our RRA review) though for us, the Sightron 4.5-14x Scope was long enough to allow us to use some standard tactical rings and still get proper eye relief. The rifle has a standard short free float hand-guard and a picatinny gas block in case you need to mount emergency iron sights, which is another very good feature on a DMR rifle which can take a decent amount of abuse riding in an APC or running through the woods, which may make a scope inoperable. The rear stock is a traditional A2 stock with nothing fancy, and works very well on the rifle. There was/is no need for a cheekpiece for this scope, and that is usually not a problem on AR rifles where the mounting point is very low in relation to the eye when there is no carry handle.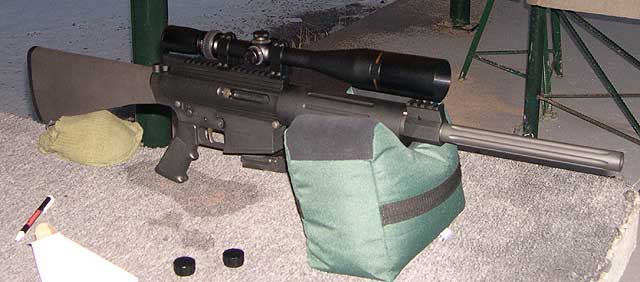 At the range the rifle performed quite well. There were no failure to feeds or jams and the recoil was nicely dampened and mild for the weight of the rifle. The muzzle flip was fairly minimal, especially for an 18″ barrel which allowed for very rapid follow up shots. While follow up shots are fairly important for a sniper, they are even more important for a DM who may find themselves in an all out firefight which snipers try to avoid. Dinging the 300yard, 12″ gong every 1 – 2 seconds using mil-dot hold overs is quite easy and demonstrated excellent capability as a DMR. Though I would suspect many of you are wondering about ultimate accuracy. This is where the trigger really hurt it.
The trigger pull was a measured 7.5 lbs, long, and notchy. Not good for precision shooting and I had a difficult time getting three shots off that I felt were good. The rifle itself demonstrated very good accuracy as I was pretty much calling every flyer with a direction and that is where the bullet was hitting. I had to really concentrate on that trigger pull and remaining steady in order to get a few good groups off, and I'm most certain the potential of the rifle is greater than I was able to achieve. The small group of the day was .40″, but was the only group under .5″ and is pictured on the right in the picture below. The group on the left measured .56″.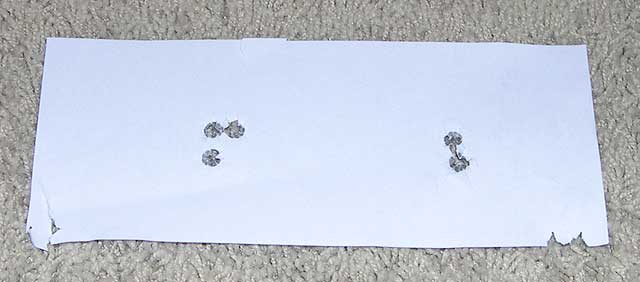 The average for the groups where I really concentrated on precision with both federal GMM 168gr and HSM 175gr was below .7″. As you can see the rifle is accurate, and I believe it can be even more accurate with a good trigger. The question then becomes what is the rifle going to be used for? If it is a personal rifle used for range work, or even for a LE agency as a primary or secondary sniper rifle, then certainly the upgraded trigger is desired. But if the rifle is going to be used as a DMR, I would probably leave the heavier trigger, as it'll be a desired safety factor in infantry combat operations with DM's wearing gloves, hitting the dirt hard, etc. With the heavy trigger it still can be shot sub MOA which is about what I would want with a DMR rifle.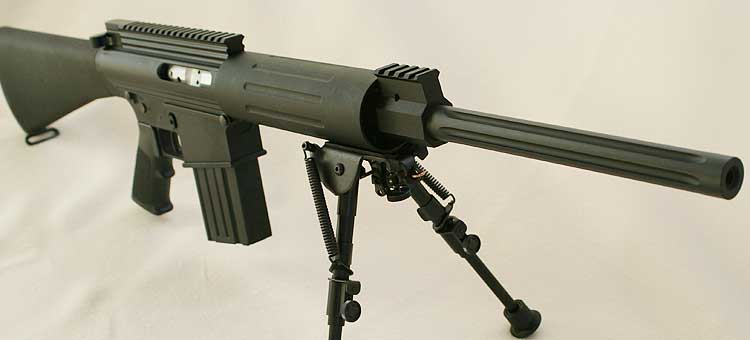 The 19 round magazines appear to be well made and functioned without a problem for me, though I did not fill them all the way and leave them that way for an extended period of time which would probably be a good test. I also wanted to test some surplus 147gr machine gun ammo for accuracy, but I had none available at the time. For a DMR, I would want the rifle setup for use of the machinegun ammo and would desire 1 MOA, though I think 1.5 MOA would probably be good enough. I would prefer the 147gr because all infantry units would already have that ammo on hand and not have to worry about the logistics of M118LR or other specialized ammo. I view the desired precision range on a man sized target to be about 600m with a DMR, and I believe that should be achievable with the 147gr ammo.
I was fairly impressed with the performance of the rifle and I do view that it would fit very well as a DMR rifle, especially with the brass deflector and dust cover option added. The accuracy was very good considering the trigger that came with the rifle. The price of the rifle is quite good considering you are getting a very accurate semi-auto .308 rifle. With an upgraded trigger I would venture to say you would be getting a .5 MOA rifle. All and All, I enjoyed my time with the rifle and wouldn't mind having one myself.