Without a doubt, the McMillan series of stocks have been the industry leader in durable fiberglass stocks for the past 30+ years. But there are some other composite stock makers that are doing well in the industry like HS Precision, Bell & Carlson, Hogue and others. Over the past several years there have been some other new companies that are offering some innovative and new stock designs to the tactical world. One of these companies is Manners Composite Stocks (MCS) located in Kansas City, MO. MCS is offering several tactical stock designs with a claim to a lighter, stronger and more durable composite stock for the tactical and hunting world.

While MCS does offer some hunting and competition stocks, their main focus is on the tactical rifle and they offer several different designs. A member of Sniper Central had a MCS stock on order and kindly had it shipped here first so we could take a good look at one without having to order one and then wait for it to arrive. The particular model here is what is known as the MCS-GAT which is a thumbhole stock that was designed in conjunction with GA Precision (GAT = GA Thumbhole). MCS offers 5 standard solid colors for their stocks, black, OD green, coyote brown, dessert tan, and sand as well as several camouflage patterns as well. Obviously, this one was ordered in black.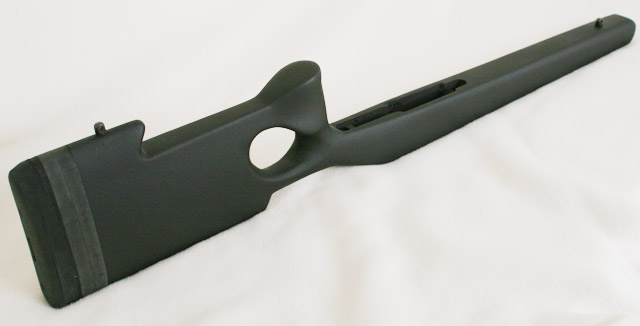 One of the things that MCS is pushing as their advantage is their strength vs. weight on their stocks. When comparing this stock with a McMillan Winchester Marksman stock that we had here on hand, and understanding that the two stock designs are different, we could tell that it is indeed a lighter construction than the McMillan. According to MCS, in order to do this and maintain strength, they use a construction process where the outer shells are made with 35% aircraft grade carbon fiber and 65% fiber glass in multiple layers. They are hand laid with high temperature epoxy resins, placed under a vacuum, and heat cured to obtain the perfect resin to fabric weight ratio. It sounds like a fairly technical process but is based on sound principles and is taking advantage of modern day advances in technology with such things as carbon fiber.
The stocks come fully inletted with a pillar set that is ready to install at the time of bedding. The paint that is used is an industrial grade polyurethane enamel paint that seems like it will hold up well. The overall quality of the stock itself appears to be excellent and is a very well made stock. There is an adjustable spacer system on the stock and the spacers themselves were not quite a perfect fit being just slightly larger than the width of the stock, but overall everything was nicely made.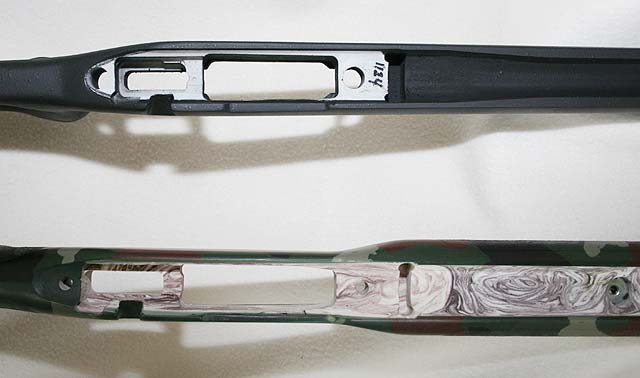 When comparing the inletting of the MCS stock vs. a McMillan, both inletted for a Remington 700, you can see some differences. The inletting for the trigger area is more opened up in the McMillan stock and McMillan has a bit more of an area for the tang to more smoothly blend in. But the MCS comes with pillars and the holes already bored for those pillars. MCS will also cut the pillars to the correct height if you provide your floorplate. The recoil lug area of the Manners is also larger to accommodate a thicker recoil lug, but you can order a McMillan that way as well. This brings up a good point as both companies allow for custom little things like larger recoil lug areas, barrel channels, swivel stud placement and numbers etc. In terms of quality, I am not sure I could pick one manufacturer over the other, they are both excellent.
We obviously did not bed a barreled action to the stock and use it as a complete rifle, but the design of the stock was well thought out and is very comfortable. This stock was setup for a right hand only shooter and the pistol grip area was very nicely contoured. I personally like a bit wider forend to help provide a more stable shooting platform, but it was still functional without issues. There is a nice hook on the butt that has become popular as of late and the comb area is raised fairly high and should provide good eye to scope alignment.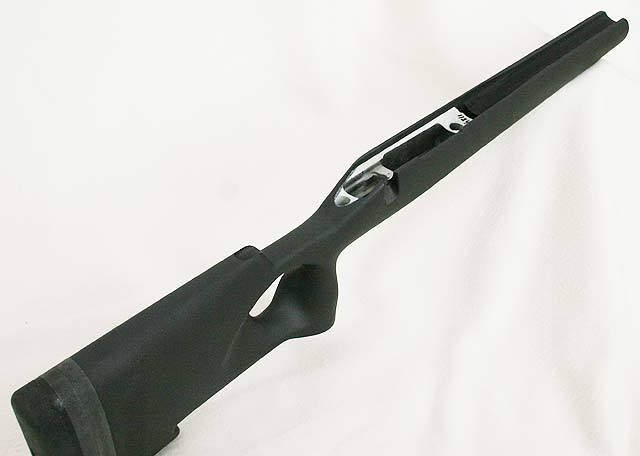 MCS does seem to offer excellent customer support, at least from what we have seen and others are reporting. They are a very customer focused company that seems to really want to get it right. They are offering an excellent stock with their own manufacturing techniques and stock designs. I would like to see some additional options like being able to specify a heavier fill to add weight to a rifle and possibly a design or two that could accommodate a forward bipod spigot like their .50 cal stock, but those are things that may come with time and are not essential for what they are doing. I do like their camouflage options such as their digital camo and other finish options. I guess to summarize this review, I would just say I would not hesitate to use one of their stocks on a rifle project of my own.
Sniper Central