We recently performed a review on the Remington 700 SPS-Varmint to test the suitability of that rifle as a tactical rifle, but this time around we will be testing the Remington 700 SPS Tactical rifle to see how well it performs. The SPS Tactical is only available through Remington premium dealers, but in reality they should be fairly easy to find. These rifles are specifically labeled and marketed as a tactical rifle and as such we will be evaluating it as a tactical rifle and not a varmint rifle filling a tactical rifle role. We ordered a rifle from our supplier and prepared for the evaluation.

The 700 SPS Tactical is setup to be a compact tactical rifle that is easy to transport and usable in any weather condition. To achieve this at a reasonable price, a SPS trademark, Remington used a shortened varmint barrel (20″) and an off the shelf Hogue Over-molded stock. These stocks have been around for a while and are fairly popular with shooters. The design is fairly typical for a rifle stock with a flatter type forend that remains fairly wide to provide a stable shooting platform off of sandbags or other shooting rests. I would prefer a pistol grip that had a bit more girth to it and was a bit more vertical, but it works okay as is.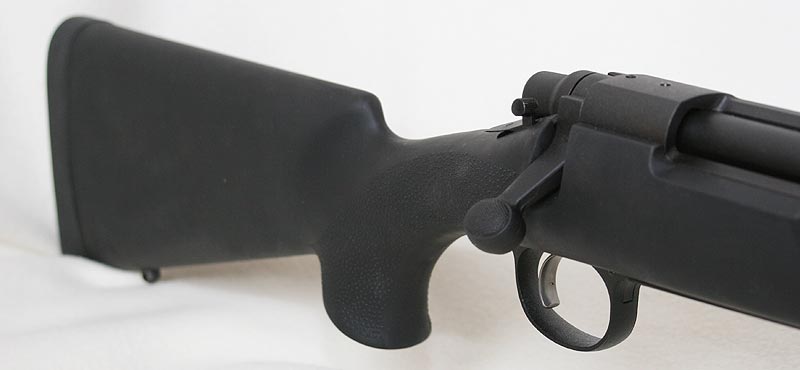 The thing that sets the Hogue stock apart is the soft rubber compound that the exterior is made of. It provides and excellent gripping surface in all weather conditions and is warm to the touch. Another interesting point about it is that it is very quite if you bang it against something. While the audible quietness is perhaps not a major factor to consider, it is still a benefit. The rubber is molded over a ribbed plastic frame like many injection molded stocks, and like those stocks, this stock is not as stiff as I would like a stock to be. In fact, while using a bipod, the forend flexes enough to touch the barrel slightly. While it did not seem to affect the accuracy of this particular rifle, it is still a precision rifle no-no that should be avoided. This stock has the two aluminum pillars which work well enough for an economy rifle like this, obviously glass or aluminum bedding would be preferred, but that would raise the price considerably. The forend also only has a single stud without a specific 2nd stud dedicated for a bipod, making another minor inconvenience.

The Barrel is free floating (until you use a bipod or a sandbag way up front on the forend) and is 20″ in length. It is the standard Remington heavy barrel contour and does have a nice 11 degree target crown. The barrel channel gap on this example was nice and even the whole length, again, unless using it off a bipod causing it to touch at the very end. The action is a typical Remington 700 SPS action with the fairly rough matte finish over the entire barreled action. Unfortunately the SPS Tactical comes with the new Remington X Mark Pro trigger which I am not a big fan of, though I will admit it had a fairly clean 4 pound break. I just do not like the trigger shoe itself, the color, or the adjustment of it… perhaps I'm just a traditionalist. The trigger was kept at its factory setting for all testing here.
Even taking the flaws into consideration, the overall package is not bad for the money. The 20″ barrel is just about right and the rifle balances well and is fairly light and easy to carry in the field. For the money it appears to be a solid package though obviously not perfect, but we still needed to check the performance before making any final conclusions.

The Remington 700P LTR with its fluted 20″ barrel has a reputation of being the most accurate of the mass produced tactical rifles that Remington makes and many people believe that the 18-20″ barrel lengths are ideal for the best accuracy with a .308, though you do give up some velocity. With the trigger left breaking at 4 lbs we expected some decent performance, though the stock sometimes touching the barrel did concern us. We used a Swift 6-18x scope for this evaluation and the groups were fired at 100 yards on about 16x. We used some cheaper 150gr 308 range ammo for the initial sight in, and things were not looking good with groups about 3″. But then we changed to federal gold medal match 168gr ammo, things got better… MUCH better.
Here is a picture of three consecutive groups fired with the gold medal match ammo.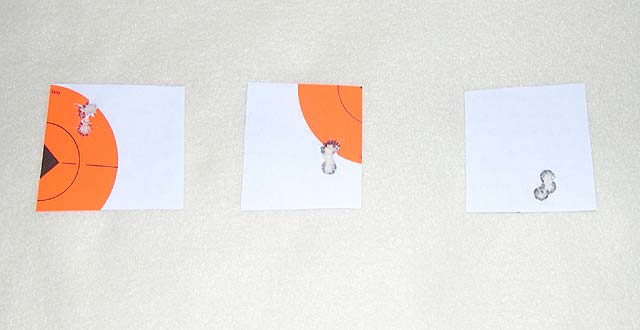 Now, they were not ALL that good primarily because of shooter error, but when you do three in a row like that, it is a pretty good indication of accuracy. All groups were fired at 100 yards using a sandbag upfront and sandsock at the rear. The three groups above measured .381″, .362″ and .313″ respectively. The overall average for all groups fired with Federal GMM was .466″. So, this particular rifle, even with the front of the rubber stock touching the barrel slightly, is clearly sub .5 MOA rifle out of the box. That is quite impressive for a $550 lower end tactical rifle. We did not try any of the other match grade ammunition, but it certainly likes the Federal. The trigger on this one didn't perform too bad at the range, though the recoil, as should be expected with the lighter weight and shorter barrel, was more brisk with more pronounced muzzleflip than a typical 700P or other longer and heavier .308 tactical rifles.
As is not totally uncommon with Remington rifles, the mounting holes were a bit off center and it took a decent amount of left scope adjustments to zero. There was still enough for wind situations, but it is still a sign of a bit of sloppy manufacturing.
In conclusion, it may be wise to mention the direct attack on FN-PBR sales that this rifle will have. The FN PBR is about $300-$400 more expensive, uses the same stock but with the full aluminum bedding block, the action isn't as smooth, and the one I tested was not as accurate. But, the FN-PBR does have a detachable magazine, claw extractor, wider gap in the barrel channel for no stock touching, that full aluminum bedding block, and it is available in some other barrel lengths. But to be honest, FN is probably not very happy about this little rifle, especially if Remington decides to keep it in the lineup after this year. Don't get me wrong, the SPS-Tactical has some legit weaknesses, but at the price, and if they all perform like this one, it will be hard to chose a PBR, or possibly even some other lower end rifles. Of course, you do give up some velocity with the shorter barrel, and some of the workmanship isn't the best, and some minor things like only a single stud up front keep it from being a truly great rifle, but the rifle does shoot very well and is completely functional in its intended role and deserves some consideration.