What is this? Sniper Central is reviewing a .22 LR? Well, yes we are, and for good reason. There is a demand for a means to take out lights and guard dogs when a tactical team is preparing for an entry. This little gem from Tactical Operations fills that role admirably. Tactical Operations has been building these rifles for a number of years now and supplying them to tactical teams around the world.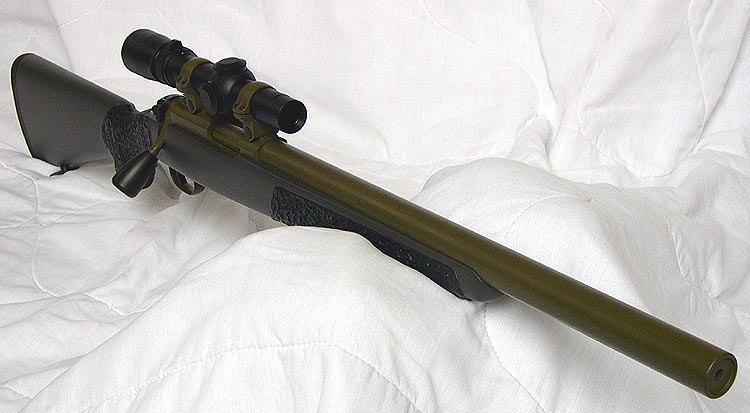 What Tac-Ops does is take a standard ruger 77/22 and then cuts the barrel down and builds and mounts an integral suppressor. The suppressor looks like a standard heavy barrel but in reality is a very effective suppressor. The stock is also modified to fit the larger barrel and is coated in Tac-Ops own paint & epoxy finish, which provides fantastic grip in all weather conditions. There is a single swivel stud on the front and rear. Because of the thin forearm, the mounting of some models of bi-pods is not a perfect fit. All metal work is covered in the amazing Green-T product, and Tac-Ops has even mounted one of their large bolt handles for easy operation with gloved hands.
The overall package is compact and wonderful to handle. Our review rifle has a leupold mark 4 PR 1.5-4x20mm scope mounted on top with the SPR reticule. We'll have a separate review of the scope, but we will state that this makes a very effective combination scope/rifle for its intended purpose. Tac-Ops are strong supporters of Leupold (as are we for that matter) and recommends Leupold optics for all their platforms.
Because of the use of the factory sporter barrel and with the suppressor attached, and because its a .22, accuracy is not up to sniper rifle standard, but that is not the intended design of the rifle either. The purpose of this rifle is to take out porch or street lights and also the occasional guard dog when required. For this purpose, the accuracy and capability of the rifle is good indeed. Also, Tac-Ops related a story to us where a Green Hornet was used to shoot and kill a suspect who drew to fire at officers. As we all know, the .22 LR is deadly with a well placed shot. For this rifle, at 50y, the rifle will shot right about 1″ groups. Beyond 50y, the .22 LR starts to suffer on any rifle, and as such struggles with this rifle also, but we were able to easily hit light bulb sized targets at 25 yards shooting from the offhand position.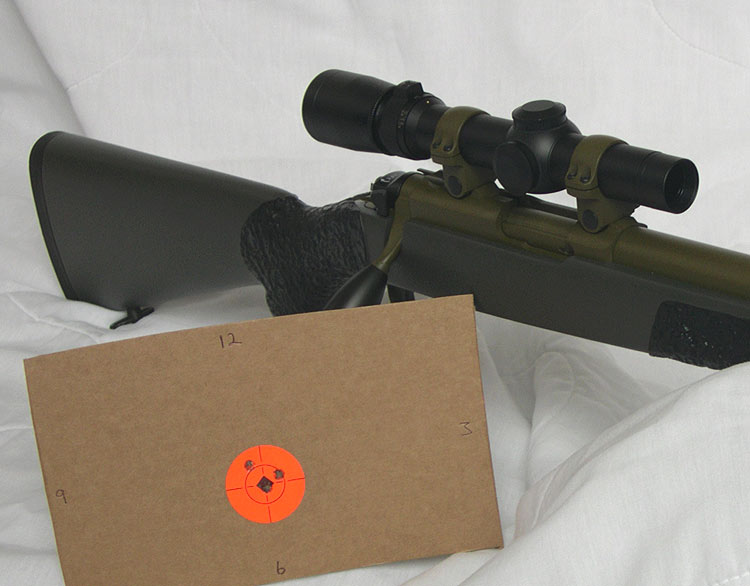 The most amazing thing about this rifle is the suppressor and just how effective it is. We shot CCI green tag competition ammo per Tac-Ops recommendation, which shoots a 40gr bullet at 1070fps. With this ammo the acoustical results were amazing. Tac-Ops builds these rifles in two types, with velocity reducing ports and without. These ports insure that even supersonic .22 ammo becomes subsonic. Our evaluation rifle was fitted with these ports, and they work! The impact of the bullet on the target was FAR louder than any noise caused from the ignition of the cartridge. Just a simple "tick" is about all you hear. The goal is stealth, and the goal has been met!
This rifle is a specialized rifle for a specialized mission that not all tactical teams require. But, the availability of such a tool may open the eyes of those teams that have not thought about the possibilities. For its intended mission, the rifle is fantastic, and not many people realize the level of expertise that Tactical Operations has in building suppressors. I have fired their .308, 22, 9mm and 223 suppressors of various varieties, and they have all been excellent. They even have suppressors for .50 BMG and 12g shotguns. If your team has need for a means to take out lights and guard dogs undetected, you should take a very serious look at the Green Hornet.
Click here if you are interested in purchasing a Green Hornet or other Tac Ops rifle.