The Weatherby Vanguard Varmint Special kind of popped up out of no where, I had no advance knowledge that this rifle was coming out. One day I was looking through a dealer catalog and there it was. The rifle itself didn't really strike me as anything really special, but the price did. The retail price of these rifles should be just a little over $500, not bad at all for a synthetic stocked heavy barrel rifle. So, having not even seen one in person, I went ahead and ordered up a .308 version for Sniper Central evaluation. We have previously had very good experience with the Weatherby TRR and were hoping to have the same with this lower end rifle.

One interesting thing of note is that the rifle we ordered and received from our distributor had the black stock with red spider webbing, but this color combo does not appear in the Weatherby online catalog. Red is an interesting color on a rifle, but it is not too bad, though I may suggest getting the tan with black if you truly plan to use the rifle for tactical use.
For those of you that do not know this, the barreled actions that come on the Weatherby Vanguard series of rifles are produced by Howa over in Japan. Howa makes some pretty good rifles (see review here) for a very reasonable price. The barrels on these rifles are shorter and different contour than Howa's own line of varmint rifles, and it is bedded in a stock not offered with any Howa.
All Weatherby rifles are guaranteed to shoot sub 1.5″ groups at 100 yards and they ship with a test target. The group on the test target that accompanied this rifle measured .79″ (wow, pretty good) that was fired with Weatherby 150gr soft point factory ammo. We expected to do a bit better than this with match ammo, even though we did not have a machine rest to lock it into. But before we get to the performance, let us talk a little about the rifle itself.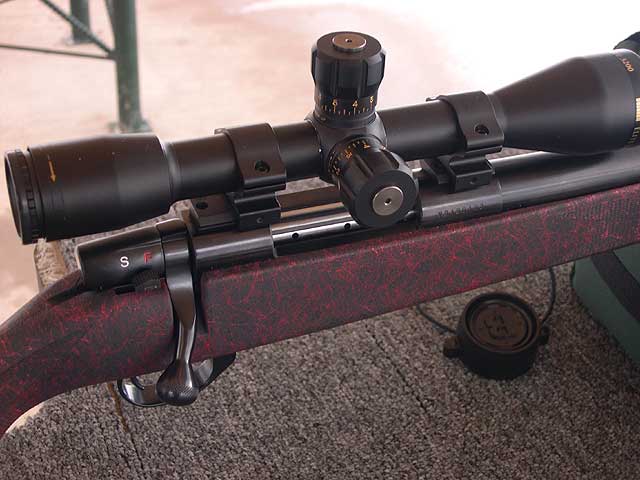 These are a traditional bolt action rifle and there are no real earth shattering new developments on these actions. They are smooth, strong enough and work. The bolts have some small flutes on them to help with preventing grit and grime problems and there are also three gas ports in case of a catastrophic failure. The bolt handle itself is a decent enough shape and easy to handle in most conditions. The trigger is fully adjustable, but they say the sear engagement must be set by a Weatherby service facility. The trigger came from the factory breaking at about 4.5 pounds and with a little bit of take up, not bad for a factory setting, and we left it the way it was for this evaluation. The trigger is a thinner profile and has non slip ribs. The hinged floorplate is nothing fancy and gets the job done.
The stock is a synthetic stock and has a nice Monte Carlo cheek piece to get your eye in line with the scope fairly easily. It has a nice spider webbed non slip finish with a fairly angled pistol grip. I prefer my grips to be more vertical on my tactical rifles, but you get used to it, and it is very similar to hunting rifles. The forend of the stock is thin, with a flat bottom. It is only about 1.25″ wide (I forgot to measure it) and I would much prefer a wider beavertail style forend. But, the flat surface does offer a nice mounting point for a Harris bi-pod, which we used on this rifle during some of the shoots. The barrel is not free floated, and I wonder if there is a little more accuracy potential there if one were to free float the barrel.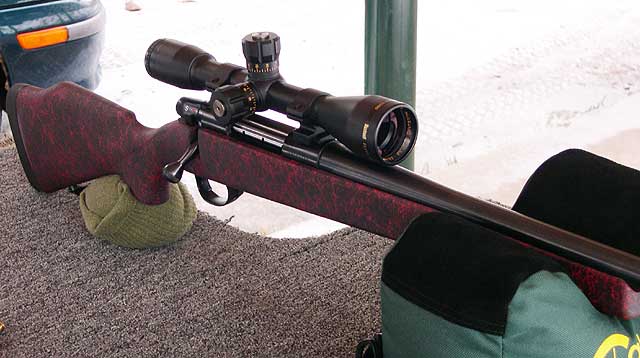 We used some Weaver steel two piece bases, the same model that fits Remington 700 rifles, and then some Leupold rings to mount the Bushnell Elite 3200 tactical 10x scope. With everything mounted and bore sighted, we headed off to the range (several times actually). We used Black Hills 175gr, Federal 168gr, and ABT 175gr match ammo. The rifle functioned with no problems furing all our shooting sessions and was generally pleasant to shoot. The lighter weight and shorter barrel lead to more muzzle flip and recoil than most tactical rifles but was still better than a hunting rifle in the same caliber. We did not run it through the dirt and gravel, but the finish has held up well and in the end, the rifle has been completely functional and capable. The average group size for all the different match loadings has been around that .8″ range that the factory test target produced. The ABT has been around 1.0″ and the federal and black hills a bit less, around that .7″. We did get one nice group with federal GMM that measured .415″ and is featured in the photos on this page.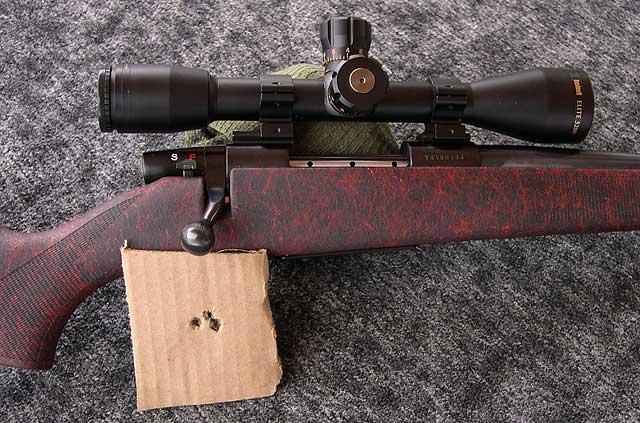 Overall, this rifle is a very solid rifle for the price. The price is as low, and perhaps lower, than the Savage 10FP LE rifles, though the accuracy is not quite as good, the stock is better, and I like the traditional adjustable trigger better than the accu-trigger found on the Savage rifles. The Savage Rifles have heavier barrels and more options, but this Weatherby is a solid offering. This rifle would make a decent and affordable patrol trunk rifle, providing decent accuracy and added high power backup.